Disclosure:
Your support helps keep our site running! We earn referral fees for some of the products & services we recommend.
Learn more
The MLB Network is the official premium channel of Major League Baseball. It features a wide range of content such as live games, studio shows, and other programming that caters to baseball fans throughout the calendar year.
This channel is available through a variety of streaming services. Read on to get all the details!
In a hurry? If you're a baseball fan, you already know you want MLB Network. To save time, here are the services that provide it and great overall coverage:
Sling TV: This low-cost streaming service gives you everything you need in terms of national MLB games with its Sports Extra add on. Great choice for fans on a budget!
FuboTV: Our choice for the best overall sports streaming service — especially if you live in an area that includes one of its supported RSNs. Try it free for 7 days!
DIRECTV STREAM: Although more expensive than the other services, it's Choice Plan ($84.99/mo) includes everything an MLB fan would want into RSNs in virtually every location. Try it risk free with a 14-day money-back guarantee.
How to Watch MLB Network Live Without Cable
Watching MLB Network on a streaming platform may be ideal for a variety of reasons. First, you can generally watch content on almost any device such as a phone, tablet, or traditional television set.
Also, you can choose from multiple providers that offer this channel at a variety of price points. Therefore, you can choose a service provider that meets your needs and budget as opposed to being stuck with whatever the single cable provider in your area has to offer.
Streaming Services With MLB Network
As a premium channel, you will not be able to receive MLB Network using an antenna. However, it is available through multiple streaming services.
FuboTV

The base FuboTV plan (Starter) includes over 100 channels including over 35 that are sports-oriented for $64.99 per month. MLB Network is not part of this plan. You can get it in the Fubo Extra add-on for $7.99/mo more. This includes 47 other channels.
You can also get it with the Sports Plus add-on for $10.99/mo and includes MLB Network Strike Zone, NBA TV, NFL RedZone, Pac-12 Networks, and much more.
FuboTV also comes with the ability to stream on up to 3 devices at once and includes 250 hours of cloud DVR storage.
See our FuboTV review for all the details.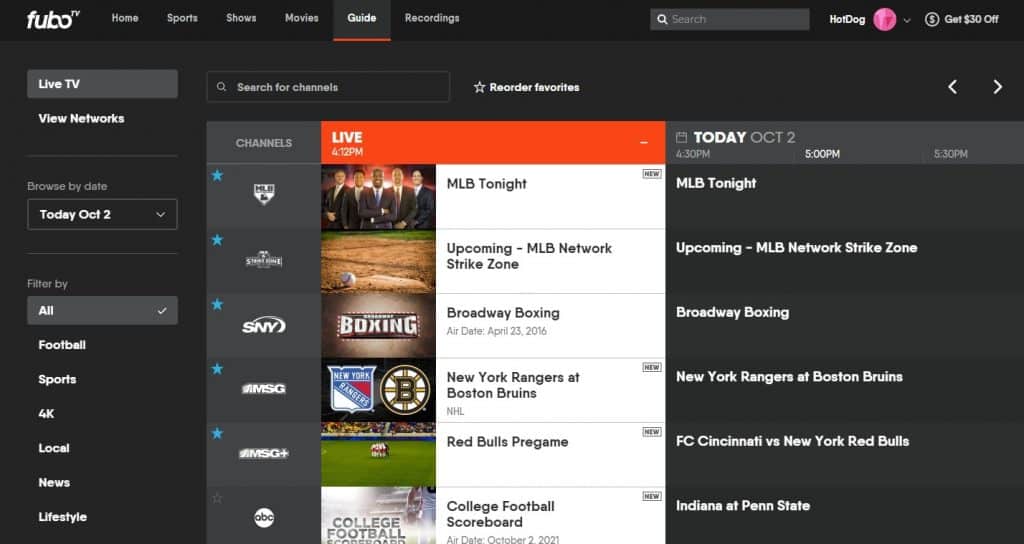 Sling TV

Like FuboTV, Sling TV does not provide MLB Network as part of either of its base plans for $35 per month (or $50 for both).
The MLB Network is available through the Sports Extra package that is another $11/mo. It comes with a number of other channels including MLB Network Strike Zone, NFL RedZone, and NHL Network.
Sling TV allows you to stream on one or three devices at a time, depending upon the channel. It also comes with 50 hours of cloud DVR.
Find out more in our Sling TV review.
DIRECTV STREAM

If you are looking to stream MLB Network through this platform, you can do so by signing up for the DIRECTV STREAM (formerly AT&T TV) Choice package. This package is $84.99 per month and includes access not just to MLB Network but to all the regional sports networks in your area, which will provide access to almost all the games of your local MLB team.
DIRECTV STREAM also provides 20 hours of cloud DVR storage (you can upgrade this). And you can stream it on up to 20 devices at home and 3 away from home — a great deal for large households.
For more details, see our DIRECTV STREAM review.
Other Ways to Get MLB Network
There are a couple of other ways to stream MLB Network:
YouTube TV: For $64.99 per month you get 85+ channels including MLB Network. It doesn't offer much in terms of RSNs, but MLB.TV is available as an add-on.
MLB App: With an MLB account, you can watch if you have a DIRECTV STREAM or YouTube TV account. Alternatively, you can sign up with MLB.TV.
Devices to Watch MLB Network
The streaming services we've discussed support most modern streaming TVs and other devices.
All three support Samsung smart TVs from the past few years. Sling TV and FuboTV also support LG, Vizio, and Android TV-based smart TV. FuboTV supports Hisense TVs.
All the services support the common "stick" devices: Amazon Fire TV, Apple TV, Roku. iOS and Android mobile devices are also universally supported. And they all allow casting with Chromecast either built-in to a device or with an external device.
FuboTV and Sling TV allow you to watch on the Xbox One gaming system. And Sling TV allows you to watch live TV on the Oculus VR device.
Finally, you can watch MLB Network on most web browsers.
Wrapping Up
MLB Network is a premium channel that broadcasts games, studio shows, and other types of programming throughout the year.
Depending on the streaming platform that you use to get this channel, it may be possible to acquire access to regional sports networks. This means that you have the option to watch almost all of your local team's games.
Finally, you will likely be able to stream ESPN, ESPN2, and other national networks that broadcast MLB content. ESPN typically broadcasts games to a national audience on Sunday nights and some other nights throughout the regular season.
FAQs
What are the key differences between MLB Network and MLB Network Strike Zone?
You can watch live coverage of select regular-season games on MLB Network and MLB Network Strike Zone. However, Strike Zone focuses on providing sporadic coverage of all the games going on at any one time while MLB Network tends to broadcast full games. Furthermore, Strike Zone only covers games on Tuesday and Friday nights whereas MLB Network covers games throughout the week.
Why can't you get MLB Network by using an antenna?
Channels such as MLB Network are available through cable or streaming service providers, which don't broadcast their signals over the air. Therefore, they cannot be picked up by an antenna. Many MLB games are, however, broadcast via local channels like ABC, Fox, The CW, and beyond.
Are games on MLB Network subject to league blackout rules?
Generally speaking, games that are shown on MLB Network are subject to league blackout rules. If a game features a team in your local market, it may be necessary to watch that game on a regional or local channel. This is done to ensure that teams are given an opportunity to maximize their audience and the ability to cultivate a fanbase in their area.
You can check your local listings to determine if a game is available on MLB Network in your area. If a game is blacked out, it will likely be replayed later in the night or the next day.
How do I watch sports on channels besides MLB Network?
These guides show how to watch different sports channels without cable: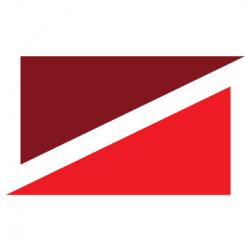 Latest posts by Helen Back
(see all)