Disclosure:
Your support helps keep our site running! We earn referral fees for some of the products & services we recommend.
Learn more
MotorTrend is a popular channel for motor and motorsports enthusiasts. And now cord-cutters can easily access it with a number of different streaming services.
In a hurry? Every major streaming service offers MotorTrend in its base plan. Here are the best services to get it:
Sling TV: Get MotorTrend along with ESPN and Disney for just $35/mo. Save 50% on your first month of Sling TV.
Hulu + Live TV: Probably the best all-around entertainment plan with lots for everyone including Disney+ and ESPN+.
FuboTV: Although more expensive, this is especially good for sports fans with over 110 channels. FuboTV allows you to try out its service free for 7 days.
If you like motorsports, you'll likely enjoy watching the MotorTrend television network. The same is likely true if you have a general interest in cars and anything else that can reach speeds of several hundreds of miles per hour.
The network was originally created in 2002 and has had several names such as Discovery HD and Velocity. It obtained its current name in November 2018 when it was rebranded as an extension of MotorTrend magazine.
What Is MotorTrend?
The MotorTrend television network is a joint venture between Discovery Inc and Source Interlink. This entity is better known as MotorTrend Group, which also oversees the magazine that shares the same name.
MotorTrend's television property broadcasts a mixture of live races, reality television shows, and other programming that is aimed at racing fans and car enthusiasts.
Programming and Shows
There are literally dozens of original programs that are available to stream whenever you want to watch them. A few of the most popular shows include:
American Chopper
Bitchin' Rides
Chasing Classic Cars
Dallas Car Sharks
Faster With Finnegan
Graveyard Carz
Inside West Coast Customs
Iron Resurrection
Mike Brewer's World of Cars
Roadkill.
The network has also acquired a number of programs such as American Hot Rod, Overhaulin', Wheeler Dealers, and the British version of Top Gear.
There is also Top Gear America that focuses primarily on cars, roads, and events familiar to car enthusiasts in the United States.
Finally, the MotorTrend channel often creates content related to NASCAR events such as the Daytona 500.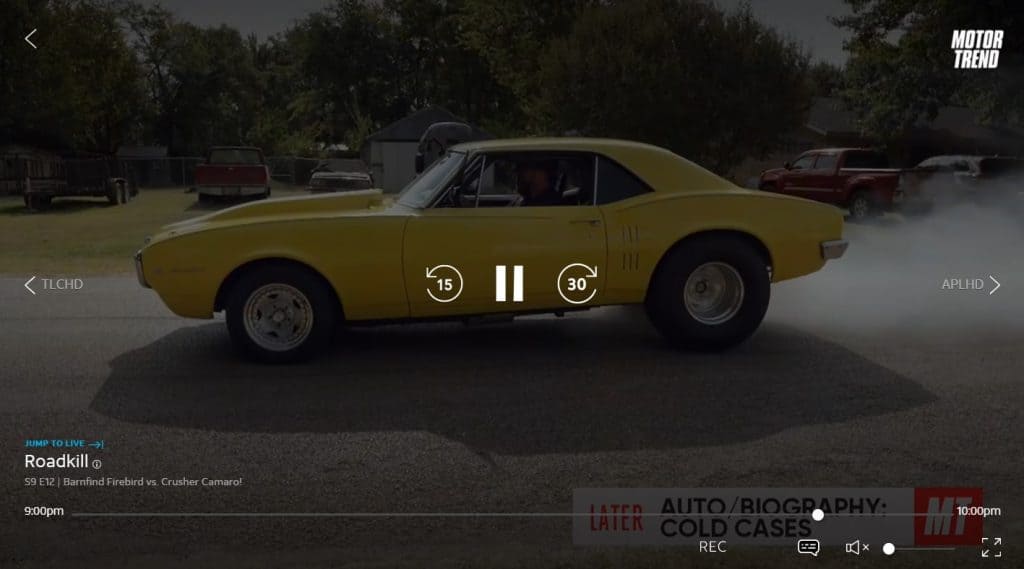 Stream MotorTrend
MotorTrend is not an over-the-air station so you can't watch it via an antenna. But there are many ways to stream it — both live and on-demand.
Live TV Streaming Services
MotorTrend is one of the few channels that all the major streaming services offer in their base plans:
Other Ways to Watch
You can also watch MotorTrend content on-demand through a number of channels.
MotorTrend+: This is MotorTrend On-Demand. It allows you to stream most of the content available on the MotorTrend network and more. It costs $4.99/mo or $44.99/yr.
MotorTrend Go: Use your existing cable subscription to stream live and on-demand content. Only DIRECTV STREAM, FuboTV, Hulu Live, and Philo support this.
Amazon: If you have an Amazon Prime membership, you can get the MotorTrend channel for $4.99 after a 7-day trial. It includes access to MotorTrend's most popular shows. (Amazon Prime review)
YouTube: Subscribing to the MotorTrend YouTube channel provides you with access to dozens of playlists containing a wide variety of automotive content. For example, you can watch clips of your favorite shows, test drives of vintage vehicles and footage that might not be available on any other MotorTrend cable or streaming channel. New stuff is uploaded each day.
TVs and Devices to Stream MotorTrend
Most likely, the streaming systems above support whatever devices you have. They all support the following:
Amazon Fire TV
Android mobile
Apple TV
Chromecast
iOS (iPhone,iPad)

Roku

Web browsers

.
Android TV devices are supported by all the services other than DIRECTV STREAM. Samsung smart TVs are similarly supported by all but Philo and Vidgo. Fubo, Hulu, and Sling all support Xbox gaming systems. Hulu also supports PlayStation units.
These are only the most popular supported devices. Get all the details in our streaming reviews.
Wrapping Up
MotorTrend's television and streaming properties provide you with an affordable and easy way to watch your favorite automotive shows. Furthermore, subscribing to the brand's YouTube channel may be an effective way to connect with others who also share your love of cars.
The MotorTrend network is available with all the major live TV streaming services. We recommend Hulu + Live TV. But if you are on a budget, Philo is a good way to go.
FAQs
Does Amazon provide the MotorTrend live stream?
Unfortunately, Amazon does not provide any live streams of MotorTrend's content. Instead, it only offers the ability to watch the most popular shows and events. However, the content should be available as soon as it goes live. To get a live stream, you need to sign-up with a live TV streaming service.
Does MotorTrend show sports?
As a general rule, MotorTrend does not show live or taped sporting events. However, every so often, you may find coverage of an auto race or some other event that auto enthusiasts may find interesting. Typically, auto races are shown on ESPN, Fox, and other traditional broadcast outlets.
Latest posts by Frank Moraes
(see all)