So you're looking for a way to watch the Madison Square Garden (MSG) Network without cable? Previously, accessing MSG Network would be a problem for cord-cutters. None of the streaming services offered it. But there are now a couple of easy ways to watch MSG without cable TV.
Follow along and we'll provide all the details you need.
In a hurry? If you just want to start streaming MSG and don't care about the details, these two services will let you watch MSG without cable:
FuboTV: Known for its great sports coverage, you get MSG and SportsNet NY. FuboTV allows you to try out its service free for 7 days.
DIRECTV STREAM: Although more expensive, it also provides the YES Network (Yankees, Nets). A 5-day free trial is now available for DIRECTV STREAM.
MSG Network is short for Madison Square Gardens Network. It features sports that are featured at Madison Square Gardens and in the surrounding areas. These include the New York Knicks along with three NHL teams. In total, two of the teams are owned by MSG Entertainment (Madison Square Garden Entertainment Corp).
The full name is MSG Networks Inc (MSGN). There are a lot of moving parts to the enterprise including the channels, some of the teams, and the arena itself. If you are a Knicks fan, or a fan of hockey in New York generally, you really need to get access to MSG Network.
MSG Network Channels
The network has two primary channels: MSG Network and MSG+. They also have two spill-over channels, MSG2 and MSG+2, for those times when more than two games are happening simultaneously or there is other content to broadcast. They also feature MSG Western New York.
In the past, you needed cable to get MSG, but it is now available to stream. You just need an internet connection, a supported TV or device, the right location, and the right live TV streaming service. Read on to find out which!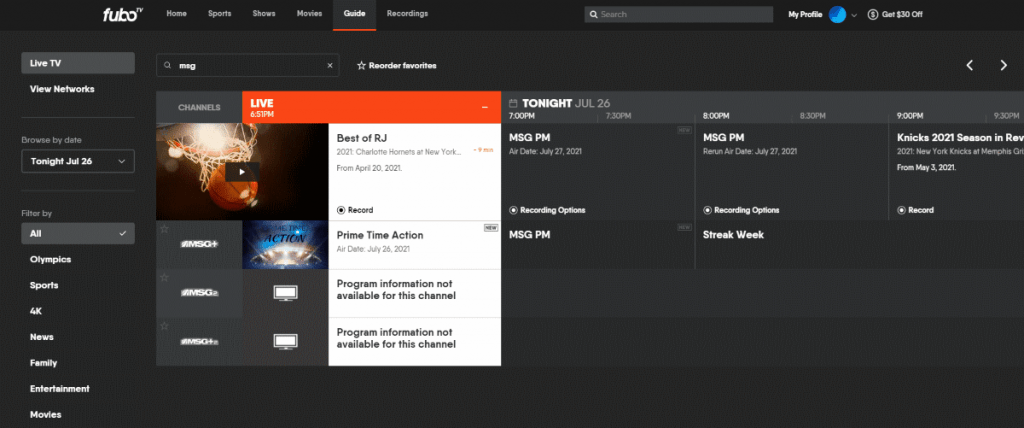 Sign Up for a Free 7-Day Fubo Trial
Streaming Services with MSG Network
Let's take a closer look at the streaming services with the MSG network. Bear in mind, even if you do subscribe to these streaming services, MSG will only be available if you're in its supported broadcast region that includes parts of New York, New Jersey, Connecticut, and Pennsylvania.
FuboTV

| | |
| --- | --- |
| RSNs | MSG, MSG+, SportsNet NY |
| Total Channels | 100+ |
| Cloud DVR | 1000 hours |
| Simultaneous Screens | 10 |
| Free Trial | ✅ |
| FuboTV Price | $69.99/mo |
You can watch the MSG Network with FuboTV's online streaming service. The program is available with FuboTv's Pro plan, which costs $69.99/month. FuboTV has both the MSG Network and MSG+, so you can watch almost all of the tri-state area sports teams. You also get SportsNet NY, which is the RSN for the New York Mets.
FuboTV is well known for its live sports channel lineup. It offers over 100 live TV channels in its base plan. Of these, over 35 are sports channels including all the big ones: CBS Sports Network, ESPN, ESPN2, FS1, FS2, 9 beIN Sports, 4 Big Ten Network, 12 TUDN, NFL Network, Golf Channel, and more!
If this isn't enough, FuboTV offers a great selection of sports and non-sports add-ons and a large library of on-demand content.
If this has you interested, check out our thorough discussions of FuboTV:
Sign Up for a Free 7-Day Fubo Trial
DIRECTV STREAM

| | |
| --- | --- |
| RSNs | MSG, MSG+, SportsNet NY, YES |
| Total Channels | 90+ |
| Cloud DVR | Unlimited (online sign-up) |
| Simultaneous Screens | 20 (home) and 3 (away) |
| Free Trial | ✅ |
| DIRECTV STREAM Price | $89.99/mo |
DIRECTV STREAM (formerly AT&T TV) offers MSG with its Choice plan and above. It costs $89.99/mo and comes with 90+ live TV channels. Although it is more expensive than FuboTV, it also provides you with access to the YES Network and its coverage of the New York Yankees (MLB), Brooklyn Nets (NBA), and New York City FC (MLS).
The general sports coverage from DirecTV is also not as good as FuboTV, but it covers the bases: ESPN, ESPN2, ESPNU, FS1, NBA TV, and more. Like FuboTV, it also provides a full slate of local channels: ABC, CBS, Fox, and NBC. But it includes some that FuboTV does not like TNT, TBS, and A&E.
Learn more about DIRECTV STREAM:
Get DIRECTV STREAM Free for 5 Days
Are There Other Ways to Get MSG?
If you want to avoid cable and satellite TV, FuboTV and DirecTV are your only alternatives although we consider them quite good, given that they offer more for less money.
There is one other way to stream MSG but it won't give you access if you don't already have a subscription with a supported MSG provider. MSG GO is available in the app store of most devices. It allows you to stream the MSG Network channels. But you can only use it via TV Everywhere with an existing provider.
Unfortunately, MSG GO currently only supports DirecTV. You can't use it with your FuboTV account.
Superpower Your Live TV Streaming With a VPN
You can't beat a VPN for privacy, security, and access. We have used them for years as an important part of our streaming toolkit and we recommend ExpressVPN.
TV and Mobile Devices for MSG Network
Most of the popular smart TVs and streaming devices are compatible with the services that have the MSG Network channel. If you can access the MSG Network from one of these streaming services, you can use most devices to watch it.
DirecTV supports the following:
Amazon Fire TV
Android mobile devices
Apple TV
Chromecasts
iOS (iPhone, iPad, iPod Touch)
Roku
Samsung smart TVs
Web Browsers
DirecTV device.
FuboTV works with all of those devices except for the DirecTV device. It also works with:
Android TV
Hisense smart TVs
LG smart TVs
Xbox One.
What Is MSG Network
The Madison Square Garden Network, usually referred to as simply MSG Network or even MSG, is a regional sports network (RSN). It provides coverage of local professional and amateur sports for the local (greater New York area) audience.
Sign Up for a Free 7-Day Fubo Trial
Where Is MSG Network Available
MSG Network provides a service to subscribers in parts of New York, New Jersey, Connecticut, and Pennsylvania. In order to get MSG, you must live inside this coverage area. So people in, say, Florida cannot get MSG even it is available from their provider.
You can check to make sure by using your zip code, but this is roughly the coverage:
New York: Entire state
Connecticut: Western half of the state including Hartford
Pennsylvania: Only the very northeastern tip of the state
New Jersey: Nothern part of the state including Newark but not even as south as Princeton.
MSG Network Content
MSG Network offers a total of 4 channels, which air both professional and amateur sports.
Pro Sports
MSG is unusual in that it doesn't cover baseball at all. But it makes up for that by covering a wide range of teams in other sports:
New York Knicks (NBA)
New Jersey Devils (NHL)
New York Islanders (NHL)
New York Rangers (NHL)
Buffalo Sabres (NHL)
New York Red Bulls (MLS).
MSG provides pregame and postgame shows — most notably for Knicks and Rangers games.
Note that playoff games are not broadcast on MSG. These are reserved for national channels.
They also feature the New York Riptide professional box lacrosse team. And they feature content about (but no games of) the New York Giants.
They used to feature games of the NBA G Westchester Knicks and WNBA New York Liberty but they don't generally do so anymore.
They also show a collection of archived events including tennis and NASCAR.
Amateur Sports
Additionally, MSG Network broadcast a lot of NCAA events. In particular, it airs ACC, America East, MAA, and Northeast conference games. It also features football and basketball games from Big 12, Pac-12, and SEC.
They also feature occasional high school sports and analysis.
Note that MSG doesn't broadcast nationally televised games. So if a game is on NBC or ESPN, you will need to watch it there. But FuboTV and DIRECTV STREAM both offer all the national sports channels.
MSG Network Shows
The primary focus of MSG Network is broadcasting live sporting events. But they also broadcast TV shows like Connections, Unfiltered Knicks, and Weidman's World.
The Betting Exchange: A daily look at sports from a betting perspective.
Connections: Talk show featuring former pros.
The Bettor Half Hour: More betting analysis with Alex Monaco.
The MSG 150: Sports news and analysis during the NBA season. Featuring Bill Pidto.
MSG PM: News and analysis with Monica McNutt and Kazeem Famuyide.
There is original programming like Unfiltered Knicks and Unfiltered Rangers.
Unblock Your Favorite Movies and Shows With a VPN
If you can't watch your favorite movies and shows because of your location, a VPN will allow you to get the access you are entitled to, plus extra security and unequalled privacy. Check out our VPN Guide for everything you need to know, including our top pick ExpressVPN.
MSG Network Commentators
MSG Network's New York Knicks telecasts are accompanied by the voices of Mike Breen (play-by-play), who also commentates on nationally televised games on ABC and ESPN, Knicks legend Walt Frazier (analyst), and Rebecca Haarlow (team reporter).
New Jersey Devils games are described by Steve Cangialosi (play-by-play) and Ken Daneyko (analyst). Cangialosi took on his role in 2011-12 while Daneyko, who won three Stanley Cups in his 20 seasons with the Devils, has been a part of these broadcasts since 2014-15.
Meanwhile, Brendan Burke describes the action at New York Islanders games as play-by-play announcer while Butch Goring, who won four Stanley Cups with the team, contributes to the broadcasts as analyst.
Legendary play-by-play announcer Rick Jeanneret closed out his career with the Buffalo Sabres in 2021-22, calling 20 games, while Dan Dunleavy took on that role for the team's other 62 regular-season contests. Rob Ray was color analyst with both.
When Steve Cangialosi is not busy with the Devils, he's calling the action on the pitch at New York Red Bulls matches. He has served in this role for 15 seasons. Shep Messing joins the broadcasts as game analyst while Michelle Gingras receives airtime as sideline reporter.
Wrapping It Up
Finding a way to stream MSG Network is challenging because even if you find a streaming service that offers the channel, you might not be in a supported region. If you can't get MSG Network, here is information for watching your favorite teams without cable:
FuboTV is our top choice for MSG streaming. FuboTV allows you to try out its service free for 7 days.
Sign Up for a Free 7-Day Fubo Trial
FAQs
Can I watch MSG on FuboTV if I'm traveling?
You can watch MSG on FuboTV if you're traveling outside the MSG coverage area. But you need to log in from your original home address at least once in 30 days. FuboTV will set your location to the zip code you entered on your billing address.
Why is MSG not in my FuboTV channel list?
MSG Network is included with all FuboTV English-language plans but only if you live in the MSG coverage area. If you don't see it in your channel list, it probably means that your location doesn't qualify you to get MSG. If you think this is incorrect, double-check your billing address and contact FuboTV customer support.
How can I watch MSG for free?
You can't watch MSG for free other than by visiting a friend who has it. MSG Network is a paid service. It doesn't broadcast over the air; you must get it from a provider. If you find MSG streaming online for free, it is an illegal stream and we highly recommend avoiding it. Read more about streaming scams.
Can you cast MSG GO to a Chromecast?
You can cast the MSG GO app to Chromecast and other streaming devices. The MSG GO app has recently been updated to include these casting features. You can also use AirPlay to watch MSG GO content on an Apple TV. The performance is better than when casting to another device such as Chromecast, Roku, or a FireStick.
Does YouTube TV offer MSG Network?
Although YouTube TV does offer some RSNs, they are limited. It does, however, offer SportsNet NY if you are a Mets fan. The same goes for Hulu + Live TV: few RSNs but SportsNet NY for subscribers in the greater New York area. Sling TV and Vidgo do not offer any RSNs.
How can I watch the other Metropolitan division rivals?
For more about the other teams in the Metropolitan Division besides Rangers, Islanders, and Devils, see these articles:
Sign Up for a Free 7-Day Fubo Trial
How can I watch the Sabres' divisional rivals?
For more about the other teams in the Atlantic Division, see these articles:
How can I watch the Knicks' divisional rivals?
For more about the other teams in the Atlantic Division, see these articles:
How can I watch the Red Bulls' conference rivals?
The other teams in the Eastern Conference can be similar streamed. See the following:
How do I watch other sports channel without cable?
We've written a lot of guides to streaming sports:
Ditch "Big Cable" Now – 3 Simple Steps to Cut the Cord
Pick the right streaming service
Get the content you deserve with the best VPN.
Supercharge your internet provider
That's it — you'll save money, take back control, and enjoy TV more!
Latest posts by Frank Moraes
(see all)