MSNBC is NBC's "cable news" channel — a direct competitor of FOX News and CNN. The channel features fan-favorite programs include The Rachel Maddow Show, The Last Word with Lawrence O'Donnell, and Morning Joe.
Today, you don't need cable to enjoy its programs. All the major streaming services provide live streams of MSNBC. Read on for all the details!
In a rush? If you just want to start streaming MSNBC right now, here's a quick rundown:
How to Get MSNBC Without Cable
At one time, cutting cable meant losing channels like MSNBC. But today, staying informed without cable has never been simpler.
A number of streaming services and packages allow you to enjoy your favorite MSNBC programs for a far lower price than with a cable or satellite subscription.
FuboTV: News, Sports, and Everything Else

Total Channels
110+
News Channels
MSNBC, FOX News
ABC, CBS, FOX, NBC
Cloud DVR storage
750 hours
FuboTV Price
$69.99/mo
Free Trial
✔️ Try it now
FuboTV was founded in an effort to fill the gap in international sports coverage on cable, and its focus on sports is still evident. Of the over 110 channels in the basic plan, 38 are sports-related. But over the years, FuboTV broadened its offerings. Today, it's one of the best overall streaming services.
MSNBC comes with FuboTV's base plan for $69.99/mo. This also includes FOX News. CNN, however, is not available. In order to keep costs down, FuboTV dropped all its Turner channels in 2000, so if CNN is critical to you, look to another service.
But FuboTV has you covered in terms of news. The base plan includes 11 other national news and information channels. What's more, you get the four network affiliates in your area: ABC, CBS, FOX, and NBC.
To find out more, check out these resources: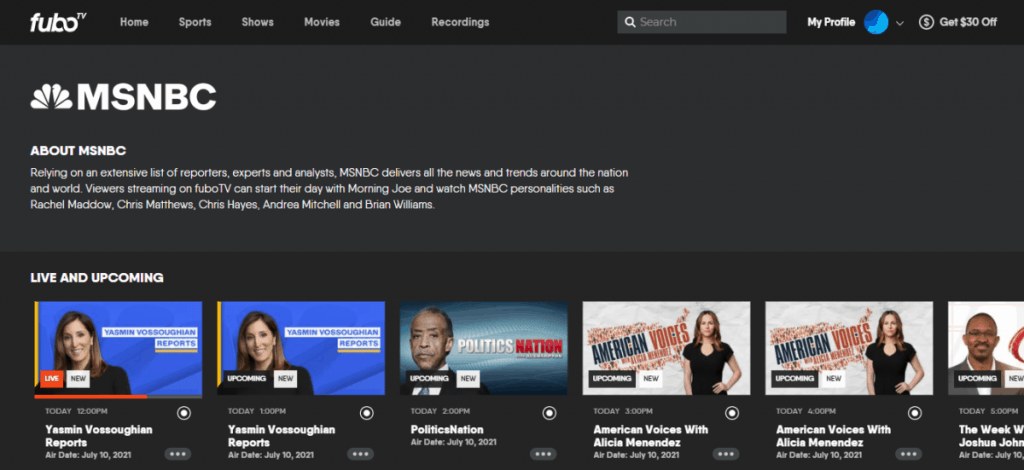 DIRECTV STREAM: Easy Transition From Cable With the Channels You Love

Total Channels
75+
News Channels
MSNBC, CNN, FOX News
ABC, CBS, FOX, NBC
Cloud DVR Storage
Unlimited*
DIRECTV STREAM Price
$69.99/mo
Free Trial
✔️
* Online signup only
DIRECTV STREAM (formerly AT&T TV) offers 65+ channels for $69.99/mo. These include all the cable news channels: MSNBC, CNN, and FOX News. And they also provide excellent support for local network affiliates NBC, CBS, ABC, and FOX.
Although DIRECTV STREAM is a bit more expensive than the other streaming services, they all you to stream on up to 20 TVs and devices simultaneously. That makes them a great choice if you have a large household with varying interests.
For more information, see our DIRECTV STREAM review.
Sling TV: Low Cost News

Total Channels
40+
News Channels
MSNBC, CNN, FOX News
FOX, NBC*
Cloud DVR Storage
50 hours
Sling TV Price
$35.00/mo
Free Trial
❌
* You can get access to more local channels via Sling TV by using an HD Antenna. It comes free when you prepay two months of Sling TV.
Sling TV's Blue plan is designed for news and entertainment with 40+ channels for only $35/mo. These include MSNBC, CNN, and FOX. You also get the local affiliates of FOX and NBC in most areas. Currently, save $10 on your first month of Sling TV.
Forty channels may not sound like a lot, but Sling provides a good selection including favorites like AMC, Cartoon Network, E, Lifetime, and SyFy. And you even get the sports channels FS1 and the NFL Network. For $15 more per month, you can add the Orange plan, which gives you channels like ESPN and Disney.
If this sounds interesting, here's more information with all the details:
Hulu + Live TV: Broad Package With Great On-Demand Content

Total Channels
85+
News Channels
MSNBC, CNN, FOX News
ABC, CBS, FOX, NBC
Cloud DVR Storage
Unlimited*
Hulu + Live TV Price
$69.99/mo
Free Trial
❌
*9 month storage
Hulu is known for its industry-leading on-demand selection of recently aired TV shows. The addition of its Live TV package adds over 85 live channels, including MSNBC, CNN, FOX News, and more!
Hulu + Live TV also offers exceptional coverage of local affiliate channels for ABC, CBS, NBC, and Fox. And, of course, they provide a broad selection of other channels.
For more information, check out the following:
Other Ways to Stream MSNBC
There are other ways you can stream MSNBC:
TVs and Mobile Devices for Watching MSNBC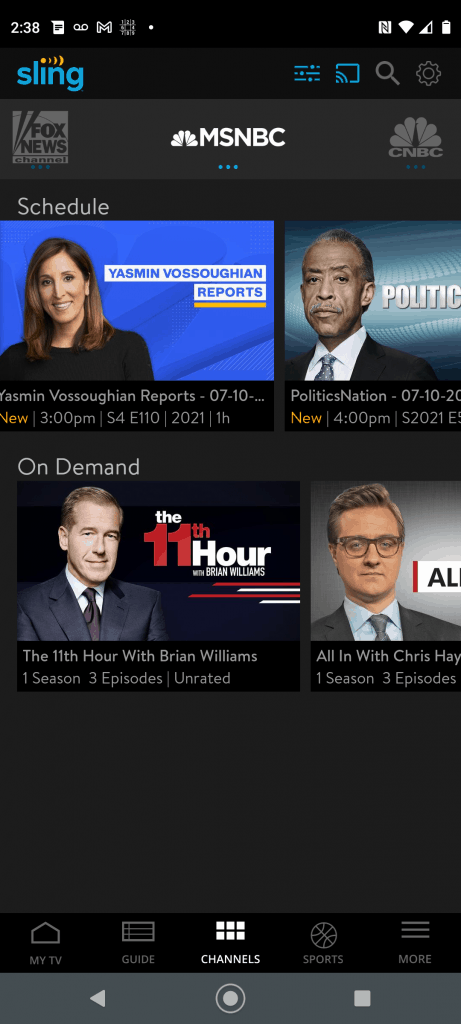 We're all familiar with the good old box TV, but today's streaming services need something a little more advanced. But not much!
Luckily, it's easy to stream MSNBC with a number of devices and smart TVs. In fact, you will have no problem watching MSNBC on pretty much any piece of hardware you have around.
All the streaming services support the major smart TVs from Samsung and others that support Android TV. And they all support the Android and iOS (iPhone, iPad) devices. And the TV devices like Amazon Fire TV, Apple TV, and Roku.
You can also watch MSNBC via a web browser. If you do so from laptop, you can connect it to your TV via an HDMI cable and view it from there.
Most of the streaming services also allow you to stream on the Xbox One. Only DIRECTV STREAM doesn't allow that, but they make up for that by supporting their own device that replaces the traditional set top box.
The main thing to remember is that streaming services today support almost everything that is currently in use. If you have something unusual, you may have problems. But it's not likely. Even the Oculus is supported by Sling TV!
Wrapping Up
Staying informed is essential, and MSNBC is there for you. Now you have the tools to access it in the post-cable world. There's no reason to cling to the way we've always done things when there are better (and cheaper) options for the future.
To find more of your favorite channels without cable, hop on over to our guide!
FAQs
Is MSNBC free?
Apart from, say, signing up for a free trial with Hulu or FuboTV, there is no way to get MSNBC for free. It is a traditional "cable channel" and so you need to get it through a streaming service if you want to avoid the cable and satellite companies. But you can get it and a whole lot more from Sling TV for just $35/mo.
How can I watch MSNBC with an antenna?
MSNBC is not broadcast over the air, so you can't set up an antenna and watch it. But it's still a great idea to get an antenna. In most areas, they allow you to stream a ton of HD channels — including the local affiliates that provide local and national news.
Can I find local news without cable?
Yes, you can get all of the local news channels without cable. For a long time, local channels were the Achilles' heel of the streaming industry. But the past couple of years has seen their almost universal inclusion in streaming plans. You can also get them via antenna. See our local channel guide for all the details.
How can I watch other news channels?
Here are our guides for watching other news channels:
Latest posts by Frank Moraes
(see all)