MTV has evolved a lot over the last few decades but it remains a popular channel. If you are thinking of cutting the cord, you don't need to live without it. Read on to learn all your options.
FuboTV: With 100+ channels, it offers something for everyone. FuboTV allows you to try out its service free for 7 days.
DIRECTV STREAM: Provides everything you expect from cable with many options. A 5-day free trial is now available for DIRECTV STREAM.
Sling TV: Probably the best streaming service in terms of customization with a super low price. Save 50% on your first month of Sling TV.
If you grew up in the 1980s, there is a good chance that you spent your evenings and weekends watching your favorite bands on MTV. Although the network has evolved significantly since its debut roughly 40 years ago, there is still plenty of quality content that caters to teens and adults alike.
As a general rule, MTV is available through all of the major streaming services, which means that it should be easy to get even if you don't have cable.
How to Watch MTV Live Without Cable
Since MTV is a cable network, you will not be able to use an antenna to access any of its content. This is because there is no signal for the antenna to acquire over the air. However, if you have access to streaming services, you can watch it without a cable subscription.
You may also be able to get content through the MTV app. But to use it, you may need to sign in with your streaming provider's information. So it isn't a way to get MTV independently.
Streaming Services With MTV
There are many potential benefits to watching MTV through a streaming service. For example, most platforms offer access to other channels in the MTV family such as MTV2 and MTV Classic.
What's more, you can cancel your service at any time, which means that you don't have to pay to use a platform that doesn't meet your needs and budget. Plus it makes transferring your service easy when you move.
Overall, streaming services put you in control of your viewing.
FuboTV

FuboTV is another full cable replacement service that offers over 105 channels including MTV in its base (Pro) plan for $69.99 per month. The Fubo Extra add-on ($7.99/mo) also includes MTV2, MTVU, and MTV Live along with another 45 live TV channels.
If you are a fan, FuboTV is especially worth checking out with over 35 sports channels. All plans come with the ability to watch on up to ten devices at once and 750 hours of cloud DVR storage.
See our FuboTV review for more information.
DIRECTV STREAM

DIRECTV STREAM (formerly AT&T TV) is the last of the full cable replacement streaming services. Its base plan is $69.99/mo and includes MTV and MTV2. MTV Classic is available with the Ultimate plan ($104.99/mo). And you can get MTV Live with the Movies Extra add-on for $5 more.
All DIRECTV STREAM plans include cloud DVR storage and a generous 20 simultaneous streaming devices.
Find out more in our DIRECTV STREAM review.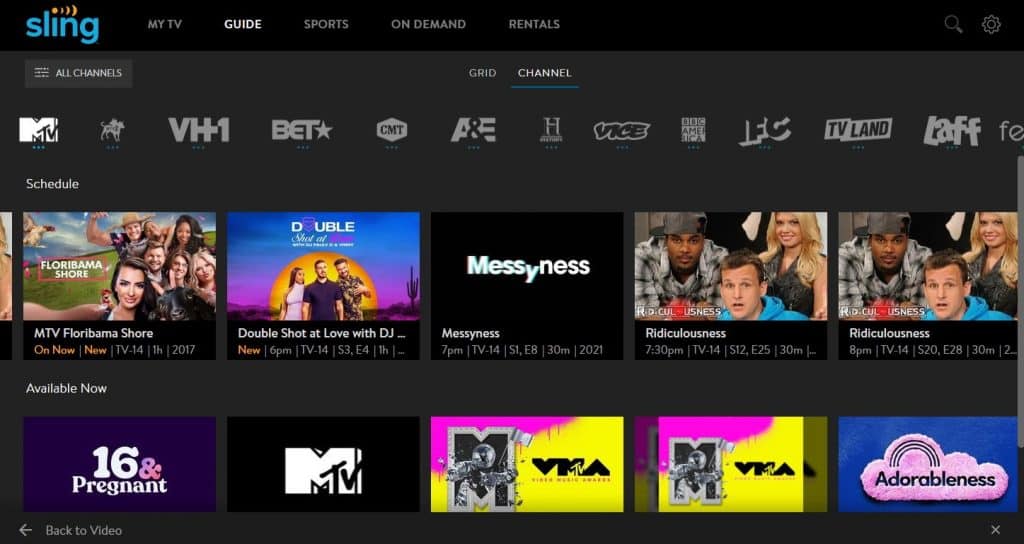 Sling TV

MTV is available as part of the Sling Comedy Extra add-on package, which costs $6 per month. This channel is available as an add-on whether you have the Sling Blue or Sling Orange base package.
You can sign up for either package for $35 a month or bundle both together for $50 per month.
The Sling Comedy Extra package (regardless of base plan) gives you both MTV and MTV2. You also get Paramount Network, Laff, and Revolt. For more information, see our Sling TV review.
Hulu + Live TV

MTV is available on the Hulu + Live TV base package that costs $69.99 per month. It's a lot more expensive than other plans, but it is a full cable-replacement service with 85+ channels including lots of sports and all the local channels. And it includes an outstanding on-demand library, Disney+, and ESPN+.
This package also comes with the Paramount Network and other music channels such as BET and VH1. You can get MTV2, MTV Classic, and 14 other channels by adding the Hulu Entertainment package to your service plan for $7.99 per month.
Hulu allows you to stream on up to two devices at once and comes with unlimited cloud DVR (9 month storage). Our Hulu + Live TV review provides all the details.
Philo

Philo offers more than 60 channels as part of its basic package that costs just $25 a month. These channels include MTV, MTV2, and MTV Classic. You will also get access to MTV Live, which features concerts and other events featuring acts representing a wide variety of musical genres. You also get BET and VH1.
So how does Philo provide so much for such a low price?
It doesn't offer any local channels and basically no sports. You can get around the local channels limitation by installing an HD antenna, which is easy to do and works great. There isn't anything you can do about sports but if that isn't a thing, Philo may be a great fit for you!
Its plan allows you to stream on up to three devices at once, which works well if your household doesn't always agree about what to watch. And most impressive, it offers an unlimited DVR.
Find out more in our Philo review.
Vidgo

Vidgo offers a very simple service with no add-ons. You get 100+ channels including MTV, BET, and VH1 for $59.95 per month. The rest of their channel lineup includes a good selection of sports and entertainment channels like ESPN and Paramount.
One disappointment with Vidgo is that it does not include a cloud DVR. However, you can stream on up to 3 devices simultaneously.
Our Vidgo review includes all the details.
Other Ways to Get MTV
There are other ways to get MTV:
YouTube TV: Offers MTV, MTV2, and MTV Classic in its 85+ channel package for $64.99 per month.
Paramount+: Paramount Global's premium streaming service doesn't offer a live stream of MTV but it does offer most of the shows you will find on it. The base plan is $4.99 per month or $49.99 per year. The Premium plan features mostly commercial-free viewing as well as the live stream of your local CBS affiliate for $9.99 a month or $99.99 per year.
PlutoTV: Offers some archived MTV. You will find MTV content scattered around other on-demand services.
TVs and Other Devices to Watch MTV
You need a streaming device to watch MTV. At its simplest, this can be a web browser. But there is no reason that you and your friends need to gather around your computer to watch.
All the streaming services all you to view on your smartphone or tablet as long as they support Android and iOS.
You can also stream on your smart TV — even 4K models. Samsung TVs are widely supported (but not by Philo or Vidgo). Vizio and LG smart TVs are supported by FuboTV, Hulu, and Sling TV. All the services (except DIRECTV STREAM) support Android TV-based devices and TVs.
And all the services support the common "stick" devices: Amazon Fire TV, Apple TV, and Roku.
Wrapping Up
Although MTV is no longer just a music channel, it does offer a lot of content that viewers of most ages will enjoy.
The primary MTV network focuses on reality television and other content geared toward a modern teen audience. However, MTV2, MTV Classic, and other channels within the MTV family tend to focus on what made the network famous late in the 20th century.
These networks are available on just about every major streaming platform, which means that you'll have the opportunity to obtain your favorite programming without going over your budget.
FAQs
Is MTV available outside of the United States?
MTV is available throughout most of North America, South America, and Europe. International MTV stations are controlled by ViacomCBS Networks EMEAA, which also has affiliates in Africa and many countries throughout Asia. Furthermore, you may be able to get access to Paramount+ if you live outside of the United States.
Does Paramount Global own any other music-oriented networks?
Paramount Global (formerly ViacomCBS) owns a variety of networks that don't carry the MTV brand. Among the more popular networks include VH1, BET Jams, and NickMusic. VH1 tends to cater to an older demographic while BET Jams and NickMusic cater to urban and younger content consumers. These networks can be found through some streaming plans.
How can I watch other entertainment channels without cable?
These guides will help you watch the major entertainment channels:
Latest posts by Frank Moraes
(see all)