In the 2021-2022 season, NBA TV will televise 107 games. Beyond being a fan of any given team, if you are a basketball fan, you want NBA TV. And thankfully, it is available outside the cable and satellite companies.
In a hurry? If you just want to start watching NBA TV, these services provide it and a lot more:
Fubo: The best streaming service for international sports also provides 150+ well-selected channels. Fubo allows you to try out its service with a free trial.
DIRECTV STREAM: Get a great channel lineup with the best selection of RSNs in the industry. A 5-day free trial is now available for DIRECTV STREAM.
Sling TV: This low-cost service allows you to select just the channel lineup you want. Save 50% on Sling TV now.
If you can't watch your favorite sports because of your location, get ExpressVPN to access the content you deserve.
Unfortunately, we don't know a streaming service in that covers this sport. But if you've already paid for the right service, and just can't watch because of your location, there is an easy way to get the content you deserve. You need a VPN, like one of the following.
| | | |
| --- | --- | --- |
| | ExpressVPN: Known as "The VPN that just works," it combines remarkable ease of use with with state-of-the-art power, speed, security, and privacy. Get three extra free months when you sign up for a year. Unleash your streaming with this top-rated VPN. | Sign Up Now |
| | Hotspot Shield: Connect to servers in 80+ different countries and 25+ US cities. HotSpot Shield features extremely fast servers and connections and is specially tuned for use with streaming services. And you can try it risk-free with a 7-day free trial and a 45-day money-back guarantee! | Sign Up Now |
| | CyberGhost: Great low-cost service with ultra-fast servers in 90+ countries for smooth live sports streaming. It also provides great security and privacy. See if it's right for you with a free 24-hour trial and test it out with a 45-day money-back guarantee. | Sign Up Now |
If you're overwhelmed and not sure where to begin, you'll find all the answers in our full VPN guide.
If you are a hardcore basketball fan, you'll likely spend many hours watching NBA TV. This channel features coverage of select preseason, regular season, and playoff games from around the league.
It also offers multiple hours of reality television, interviews with retired legends, and other original programming every week throughout the year.
Any game that is broadcast on NBA TV can be downloaded for future viewing. And you can also watch games in multiple languages.
Although NBA TV is not as widely available as other channels like NFL Network, there are still a number of quality streaming services that provide it.
How to Watch NBA TV Live Without Cable
NBA TV is a pay television station. It is not available over the air via an antenna. So you need to get it through a third-party provider. In the past, that meant a cable or satellite service. But today, NBA TV is available from a number of streaming services.
To use a streaming service, you need a solid internet connection because that is the medium that the channel flows through. With that, you can sign up with any live TV streaming service that offers NBA TV and watch it on a TV or other streaming device.
Unblock Your Favorite Movies and Shows With a VPN
If you can't watch your favorite movies and shows because of your location, a VPN will allow you to get the access you are entitled to, plus extra security and unequalled privacy. Check out our VPN Guide for everything you need to know, including our top pick ExpressVPN.
Other brands worth checking out include Hotspot Shield and CyberGhost.
Streaming Services With NBA TV
There are many potential benefits to watching NBA TV through a streaming service as opposed to doing so through your cable provider. For example, you don't need to sign a contract, which means that you aren't stuck paying for a service that you might not use after a month or two. Or paying a premium to get out of a contract.
Furthermore, opting for a nontraditional service may be ideal for those who move on a regular basis. With most streaming platforms, you don't have to deal with the hassle of canceling, transferring, or activating your service just because your address changed. (Note, however, that the channels you receive will change — but this shouldn't affect NBA TV.)
If you are looking to stream NBA TV, you can do so through SlingTV, FuboTV, and DIRECTV STREAM. Let's take a closer look at how much these services cost and what you get for your money.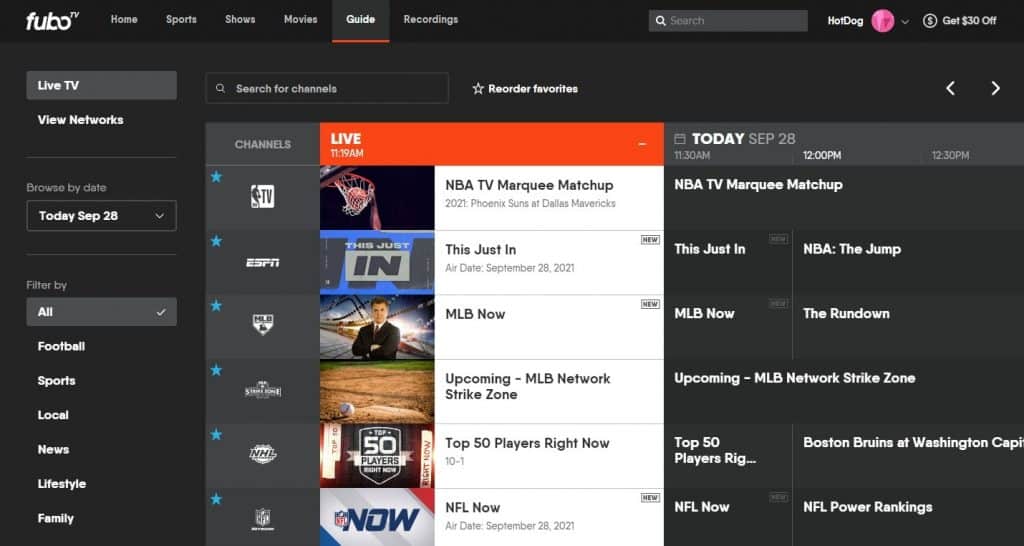 FuboTV

There are various ways to get NBA TV from FuboTV. Start with its base plan of 100+ (35+ sports) channels for $69.99/mo. Then you can add Fubo Extra for $7.99/mo gives you it as part of 48 more channels including MLB Network and NHL Network.
If you want even more sports, you can get Sports Plus with NFL Redzone add-on for $10.99/mo. It provides 26 sports channels covering the full range of college and pro leagues.
Additionally, in many areas, FuboTV provides the regional sports network (RSN) that airs almost all the games of the local team. This is true of Washington Wizards, Boston Celtics, Chicago Bulls, Houston Rockets, New York Knicks, Sacramento Kings, Golden State Warriors, Philadelphia 76ers, and Portland Trail Blazers.
To learn more, read our detailed FuboTV review.
SlingTV

Sling TV offers a special deal for NBA fans. Its Orange plan includes ESPN, ESPN2, and ESPN3 for $35/mo. But you can add to this the NBA League Pass package for $29 a month, which includes NBA TV.
NBA League Pass allows you to watch every game from around the league on any given night throughout the regular season except for games that are blacked out in your area. (If you want to catch the games of your local NBA team, check out FuboTV and DIRECTV STREAM because they offer this through their RSNs.)
For more information see our Sling TV review.
DIRECTV STREAM

NBA TV is available through the DIRECTV STREAM (formerly AT&T TV) Choice package. This package is more expensive than the others at $89.99 a month. But there is a good reason to spend the extra money: regional sports networks.
If your home team wasn't in the list above for FuboTV, rest assured, DIRECTV STREAM has you covered. Plus the Choice plan comes with roughly 100 other channels including MLB Network, NHL Network, and general channels like ESPN and FS1.
Read our DIRECTV STREAM review for all the details.
Get DIRECTV STREAM Free for 5 Days
Other Ways to Get NBA TV
There are other ways to stream NBA TV:
NBA TV: For $6.99/mo, you can get NBA TV directly and watch it on the NBA app.
YouTube TV: Offers NBA TV and 85+ other channels as part of its base plan. They also have an NBA League Pass deal but Sling TV is much cheaper.
Amazon Prime: Get NBA League Pass with NBA TV for $199.00/yr.
NBA App: You can use this to watch NBA TV using a direct subscription or using TV Everywhere with your cable, satellite, or streaming subscription.
Superpower Your Live TV Streaming With a VPN
You can't beat a VPN for privacy, security, and access. We have used them for years as an important part of our streaming toolkit and we recommend ExpressVPN. Other brands worth checking out include Hotspot Shield and CyberGhost.
TVs and Devices to Watch NBA TV
You should be able to use whatever devices you currently use to stream video for NBA TV.
All three we've discussed explicitly support recent Samsung smart TVs. Sling TV and FuboTV also support smart TVs from LG, Vizio, and models Android TV compatible models. FuboTV also supports Hisense TVs.
You are also good if you have any of the popular "stick" devices: Amazon Fire TV, Apple TV, Roku. Android and iOS mobile devices are the same. And so is casting using Chromecast.
Finally, FuboTV and Sling TV support the Xbox One. Sling TV also supports the Oculus VR device.
Of course, you can also watch in a web browser but it isn't necessary for your whole household to huddle around the computer to watch games.
Wrapping Up
There are many ways to gain access to NBA TV even if you are a basketball fan who doesn't want to pay for cable. It is available on FuboTV, SlingTV, and DIRECTV STREAM. Your viewing habits and budget will determine which service is best for you.
It's important to note that NBA TV is not the same as NBA League Pass. The key difference is that NBA TV serves as the league's primary cable content provider while NBA League Pass is dedicated to coverage of games featuring its 30 teams.
However, you can gain access to both networks through SlingTV, YouTube TV, Amazon, and directly from the NBA.
Unlike most cable providers, you do not need to sign a contract when subscribing to your preferred streaming service. This means that you can cancel or modify your existing subscription whenever you want.
Furthermore, many streaming services offer free trials, which can make it easier to select a platform and plan that meets your needs.
FAQs
Can I get NBA TV without paying for it?
Limited NBA TV content may be made available as part of a free preview for prospective customers. However, there is no way to get full access to this network without paying for it. But you can get it for a very low cost: the NBA TV plan is only $6.99/mo or $59.99/yr.
Can I watch every game on NBA TV?
NBA TV does not air every game. In a typical season, it will broadcast about 100 games featuring as many different teams as possible. In addition, the channel often takes live looks around the league, which means that you'll be able to see snippets of every game being played on a given day.
What's the difference between NBA TV and NBA League Pass?
NBA TV offers live coverage of a limited number of games per year, and there is no guarantee that your particular team will be featured during a specific broadcast window. NBA League Pass provides access to every game that is played during the regular season with the exception of blackout games in your location.
You can also buy a season pass for a specific team. This may be an ideal choice for those who are fans of a single franchise and don't care to watch the other teams play on a regular basis.
Note, however, that if your favorite team is local to you, you need to sign up with a streaming service that offers your local RSNs like FuboTV and DIRECTV STREAM.
Is there a way to watch NBA TV on Roku?
Yes, you can watch NBA TV on your Roku device. Sling TV, FuboTV, and DIRECTV STREAM all support the vast majority of Roku devices and similar ones like Amazon Fire TV and Apple TV. There is also the NBA app itself that you can use to watch on your Roku device.
Does Hulu have NBA TV?
No, Hulu does not offer NBA TV at this time. It does, however, offer other channels such as ESPN and TNT that carry a lot of live NBA basketball both during the season and during the playoffs. It also offers coverage of other sports like the NFL and NCAA.
Does NBA TV blackout games?
If your local team is on NBA TV, the game will be blacked out. You'll only be able to watch on the local affiliate television station. Because of this, if you are a fan of your local NBA team, you should see about getting access to your regional sports networks, which will air pretty much all regular-season games.
Can I watch NBA TV games on NBA League Pass?
NBA TV games are blacked out on NBA League Pass. So you can't watch those games unless you also get an NBA TV subscription. If you get League Pass through Sling TV, it also provides NBA TV. If you get it directly from the NBA, you can add NBA TV for an additional fee.
If you have questions about how to watch NBA TV online without cable you can leave them in the comments. You can also visit our guide on how to watch sports online without cable for more information.
Ditch "Big Cable" Now – 3 Simple Steps to Cut the Cord
Pick the right streaming service
Get the content you deserve with the best VPN.
Supercharge your internet provider
That's it — you'll save money, take back control, and enjoy TV more!
Page Updates
▼
▲
Updated some sub-sections. Updated some section headings. Image changes.

Image changes. Added links. Various changes.

Added buttons for streaming services. Added VPN info. Image changes. Added useful links. Misc changes to content.

Added links to streaming services. Added some links. Various changes to content. Deleted unneeded sub-section.

Updated some sub-sections. Added some more links. Various changes.

Image changes. Added links. Mentioned offers.

Updated some sub-sections. Mentioned offers. Pricing updates.

Added FAQ section. Added table of contents. Added new section. Updated one section. Updated some sub-sections. Changed some content in main section. Cleaned up list.
Latest posts by Frank Moraes
(see all)