NBCSN used to be the sports network from NBC. It offered fans the option to watch plenty of sports coverage of NASCAR, Premier League (EPL) soccer, and more. But NBC shut the channel down at the beginning of 2022. But the content is still around. It's just been shuffled to a number of other NCA-related channels. Regard on to learn more
In a hurry? Any streaming service that provides you with NBCUniversal channels (especially NBC and USA). These are our favorites:
Fubo: With 150+ channels, it offers something for everyone. Fubo allows you to try out its service with a free trial.
DIRECTV STREAM: Provides everything you expect from cable with many options. A 5-day free trial is now available for DIRECTV STREAM.
Sling TV: Probably the best streaming service in terms of customization with a super low price. Save 50% on one month now!
If you can't watch your favorite sports, TV and movies because of your location, try ExpressVPN to get access to the content you deserve. Signup now.
Unfortunately, we don't know a streaming service in that offers this TV channel. But if you've already paid for the right service, and just can't watch because of your location, there is an easy way to get the sports, movies, and TV you deserve. You need a VPN, like one of the following.
| | | |
| --- | --- | --- |
| | ExpressVPN: Known as "The VPN that just works," it combines remarkable ease of use with with state-of-the-art power, speed, security, and privacy. Get three extra free months when you sign up for a year. Unleash your streaming with this top-rated VPN. | Sign Up Now |
| | Surfshark: Surfshark: Secure and easy to use with thousands of servers around the world. Of special note is its excellent collection of servers inside the US, which is great for regional sports lie NFL, MLB, and NBA. Get it now with an incredible 82% discount on a 24-month plan. | Sign Up Now |
| | NordVPN: One of the top VPNs with extremely fast servers all over the world. Great for streaming with tested perfomance on the biggest servers and included ad-blocking. Currently offering 70% discount on 2-year plans. | Sign Up Now |
If you're overwhelmed and not sure where to begin, you'll find all the answers in our full VPN guide.
The NBC Sports Network (NBCSN) was meant to be NBCUniversal's version of ESPN. The network carried a variety of events such as weekly NASCAR races and Premier League soccer matches. But it never really did reach the heights of ESPN or FS1 or CBSSN.
In early 2021, NBC announced that it would shut down NBCSN at the end of the year. As a result, it is shifting where the content is shown. In particular, USA will now show a lot more sports and be the primary home of English-language EPL coverage.
Note that the national network NBC Sports Network has been shut down. NBC also provides a number of regional sports networks (RSNs). These are channels that cover sports in a particular area for fans in that area. They are normally the home of most (in some cases all) games played by local teams in MLB, NBA, NHL, and MLS. They also offer other coverage including college and even high school games.
NBC Sports California: Oakland Athletics (MLB), Sacramento Kings (NBA), San Jose Sharks (NHL), San Jose Earthquakes (MLS)
NBC Sports Bay Area: San Francisco Giants (MLB), Golden State Warriors (NBA), San Jose Earthquakes (MLS)
NBC Sports Philadelphia: Philadelphia Phillies (MLB), Philadelphia 76ers (NBA), Philadelphia Flyers (NHL)
NBC Sports Washington: Washington Wizards (NBA), Washington Capitals (NHL), Washington Mystics (WNBA)
NBC Sports Boston: Boston Celtics (NBA), New England Revolution (MLS)
NBC Sports Chicago: Chicago White Sox (MLB), Chicago Bulls (NBA), Chicago Blackhawks (NHL).
How to Substitute for NBCSN Without Cable
NBCSN was an all-sports cable channel. It has not been replaced with a different single channel. The main thing that has happened is that NBCUniversal has moved the most important content from NBCSN and put it on USA Network. Content will also move to NBC itself, Golf Channel, and Tennis Channel.
A lot of stuff that would have aired on NBCSN will appear on NBC's streaming service Peacock. Much of that will be simulcast on its live channels but a large amount will also be exclusive.
There are four primary streaming services that offer NBCUniversal channels. These services offer a variety of other sports channels such as Fox Sports 1 (FS1), ESPN, and CBS Sports Network. You'll also likely be able to get access to NBC as well as the regional NBC Sports networks.
FuboTV

NBCSN alternatives are available on all FuboTV packages. The cheapest is the Pro Plan for $74.99/mo. This provides you with over 110 channels including ESPN, ESPN2, FS1, FS2, and CBS Sports Network.
For this price, you also get any of the NBC Sports RSNs in your region. So if you live in San Francisco, you will get NBC Sports Bay Area as well as NBC Sports California.
FuboTV also comes with 1000 hours of cloud DVR storage. And you can stream on up to 10 devices simultaneously so there is no problem if people in your household can't agree on what to watch.
For all the details, see our complete FuboTV review.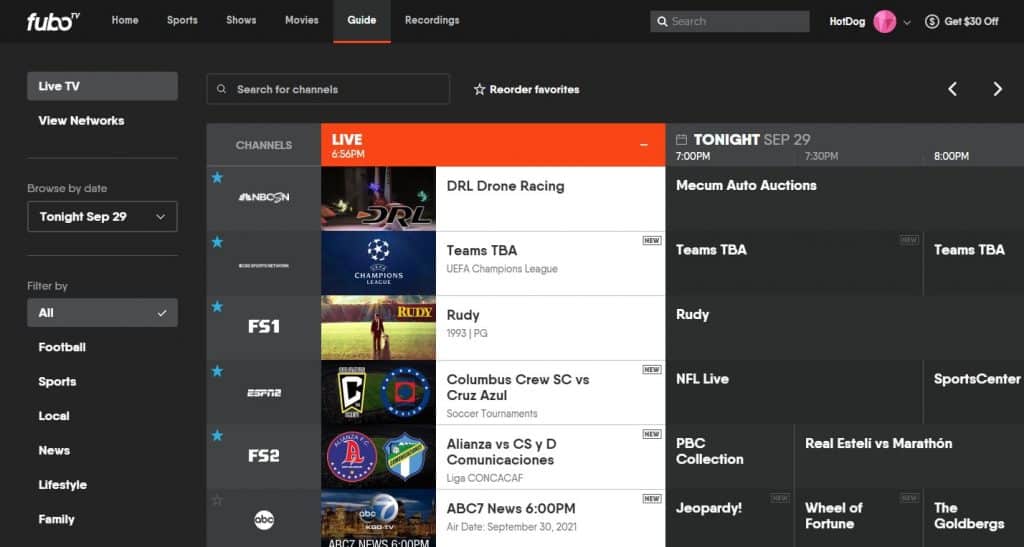 DIRECTV STREAM

DIRECTV STREAM (formerly AT&T TV) has a base Entertainment package for $74.99/mo, which includes NBC, USA, as well as other sports channels like ESPN and FS1.
You may want to upgrade to the Choice plan for $99.99/mo, however. This also gets you MLB Network and NBA TV. But more important, it gives you access to pretty much all of the RSNs throughout the nation — many more than from Hulu + Live TV or even FuboTV.
All DIRECTV STREAM plans come with unlimited cloud DVR storage as long as you sign-up online. That isn't a lot but you can upgrade it to unlimited for an extra $10/mo. More impressive, however, is that DIRECTV STREAM provides the ability to watch on unlimited devices at home and 3 on the road. This is a great thing for large households.
For more information, see our DIRECTV STREAM review.
Get DIRECTV STREAM Free for 5 Days
SlingTV

NBC and USA are available through the Sling Blue package for $40.00/mo. This includes the FS1, NFL Network, TBS, TNT, and 35+ other channels.
If you want, you can get the Blue-Orange plan for $55.00/mo and this includes ESPN, ESPN2, and ESPN3. Or you can add the Sports Extra package for $11/mo. This gives you 12 more sports channels including NFL RedZone, MLB Network, NBA TV, and NHL Network.
The Blue plan comes with 50 hours of cloud DVR and the ability to stream on up to 3 devices at the same time. See our Sling TV review for all the details.
Hulu + Live TV

As with FuboTV, you'll get access to the major national sports channels: CBS Sports Network, ESPN, ESPN2, FS1, and FS2 through Hulu + Live TV. In total, you get 85+ live channels for $69.99/mo.
Additionally, Hulu offers the same NBC Sports RSNs as does FuboTV (although FuboTV offers others as well). And it comes with unlimited DVR (9 month storage) and streaming on 2 simultaneous screens.
Finally, all Hulu + Live TV subscribers get ESPN+ and Disney+ with the base price. See our Hulu + Live TV review for more information.
Other Ways to Substitute NBCSN
Youtube TV does offer NBC and USA with its base plan for $72.99/mo. You will also get the standard national sports channels: CBS Sports Network, ESPN, ESPN2, FS1, and FS2.
All the sports that air on NBCUniversal channels are available through the NBC Sports app, which you can download to most streaming devices. However, you will need to log in with TV Everywhere using your cable or streaming service provider before you can use it to watch.
Unblock Your Favorite Movies and Shows With a VPN
If you can't watch your favorite movies and shows because of your location, a VPN will allow you to get the access you are entitled to, plus extra security and unequalled privacy. Check out our VPN Guide for everything you need to know, including our top pick ExpressVPN.
Other brands worth checking out include Hotspot Shield and CyberGhost.
TVs and Other Streaming Devices to Watch NBCSN
Most likely, whatever TV or streaming device you have will be fine to watch NBCSN.
All of the streaming services we've discussed above work on these devices:
Amazon Fire TV
Android mobile devices
Apple TV
Google Chromecast
iOS devices (iPhone, iPad)
Roku
Samsung Smart TVs
Web browsers.
All the services except for DIRECTV STREAM work on smart TVs from LG, Vizio, and those based on Android TV. They also support the Xbox One gaming system.
Hulu + Live TV also supports the PlayStation and Nintendo Switch.
DIRECTV STREAM also has its own streaming device for $120 or $5/mo for 24 months, which may be convenient.
There are other devices supported. If you have questions, check with our reviews linked to above.
Wrapping Up
NBCSN was a national cable network that was designed to compete with networks such as ESPN and FS1. Most of the major streaming services offer the NBCUniversal channels that are now showing the same content. So it should be no problem getting it with the right package for you.
Superpower Your Live TV Streaming With a VPN
You can't beat a VPN for privacy, security, and access. We have used them for years as an important part of our streaming toolkit and we recommend ExpressVPN. Other brands worth checking out include Hotspot Shield and CyberGhost.
FAQs
Is NBCSN shut down?
It was reported in early 2021 that NBCSN would be shutting down as of the start of 2022. Not much was said about it through the year. We did see that during the Tokyo Olympics, NBCSN was mostly an afterthought. The truth is that NBCSN never became as competitive with ESPN and FS1 as NBCUniversal had hoped. And without much notice, NBCSN ended with the year.
However, this does not mean NBC Sports is going away. It still has contracts with NASCAR and EPL and other events. Coverage will continue. So even though NBCSN may be gone, the broader NBC Sports is just restructuring.
Going forward, major events will be shifted to other channels that are controlled by NBCUniversal — specifically the USA Network. And USA is available in more homes than NBCSN was, so this reorganization effort will likely allow events to be seen by a greater number of people.
Where can I watch Premier League games not shown on USA?
USA and Peacock are now the joint home of live Premier League coverage. Every Saturday morning, one Premier League game is broadcast to a national audience on NBC and, we think, simulcast on Peacock as well. Other than that, four matches are on USA and five are on Peacock. Sling TV provides a great low-cost opportunity to watch the non-Peacock fixtures. See our Sling TV Premier League guide and schedule for more details.
Where can I watch NASCAR events not shown on NBCSN?
NASCAR events are generally divided between Fox channels (first half of the season) and NBC channels (second half of the season). Those early races will appear primarily on FS1 with some on Fox. The later races will be mostly on USA with some on NBC.
Ditch "Big Cable" Now – 3 Simple Steps to Cut the Cord
Pick the right streaming service
Get the content you deserve with the best VPN.
Supercharge your internet provider
That's it — you'll save money, take back control, and enjoy TV more!
Page Updates
▼
▲
Updated some sub-sections. Updated some section headings. Added links.

Image changes. Additional links. Reworded some things.

Added buttons for streaming services. Image changes. Pricing updates. Additional links.

Added VPN info. Image changes. Additional links. Various changes to content.

Added buttons for streaming services. Updated some sub-sections. Image changes. Pricing updates.

Image changes. Pricing updates. Added useful links.

Added links to streaming services. Mentioned channel info. Updated one section. Updated some sub-sections. Pricing updates. Cleaned up list.
Latest posts by Frank Moraes
(see all)