If you're worried that cutting the cable means you'll have to abandon the Boston teams, don't! Read on and we'll explain the great options you have. It's easier than you think!
In a hurry? There's a lot to know about your options. But if you just want to know the best ways to watch NESN (and NESN+) today, these two streaming services offer it along with an excellent selection of general channels:
FuboTV: Get NESN and 38 other sports channels in their 110+ channel line-up for only $69.99/mo. FuboTV allows you to try out its service free for 7 days.
DIRECTV STREAM: Although a bit more expensive at $89.99/mo, it is the king of RSN programming. A 5-day free trial is now available for DIRECTV STREAM.
How to Get NESN Without Cable
If you are a fan of the local MLB, NBA, or NHL team, you really need access to your local RSN. Otherwise, you'll miss most home games due to blackouts and a simple lack of access.
RSNs are what we used to call "cable channels" — when cable was the only game in town. As a result, they are not broadcast over the air (OTA) and thus can't be seen via a TV antenna. But today you can get most RSNs via streaming services. But not all RSNs are available from all services.
NESN Commentators
Dave O'Brien is the primary play-by-play announcer for NESN's Boston Red Sox broadcasts while Mike Monaco provides his play-by-play commenting skills at times as well. Color analysts include Dennis Eckersley, Tony Massarotti, Kevin Millar, and Kevin Youkilis while Jahmai Webster acts as sideline reporter.
Over at TD Garden, Jack Edwards (play-by-play) and Andy Brickley (analyst) heat up the ice at Boston Bruins games with their energetic commentary. Edwards has done so since 2005-06, Brickley since 2000-01.
NESN Streaming Services
The major streaming services offer access to some RSNs. Hulu + Live TV and YouTube TV offer only a handful. FuboTV offers a lot more. But DirecTV is by far the best — providing access to almost every RSN.
FuboTV and DirecTV are currently the only streaming services that provide access to NESN. In addition, they both offer access to NBC Sports Boston, the other RSN in the area, which provides access to the Boston Celtics (NBA) and the New England Revolution (MLS).
FuboTV

New England-Area RSNs
NESN, NESN+, NBC Sports Boston
Major Sports Channels
CBS Sports Network, ESPN, ESPN2, FS1, FS2,
Golf Channel, NFL Network
Total Channels
110+
Cloud DVR
750 hours
Simultaneous Screens
10
Free Trial
✅
FuboTV Price
$69.99/mo
Currently, the best way to watch NESN is probably with FuboTV. It was originally a soccer streaming service but over the years, it has grown to be one of the best overall streamers with broad access to news, entertainment, and family programming. It is also arguably the best overall sports streaming service covering everything and providing a huge number of events in 4K each year.
The Fubo Standard plan costs $69.99/mo and includes 110+ channels including NESN. Additionally, Fubo offers 38 sports channels including ESPN, FS1, 7 from beIN Sports, 11 from TUDN. It also includes the local channels in most areas as well as a full range of other channels.
If you want more information about FuboTV, check out these articles:
DIRECTV STREAM (Formerly AT&T TV)

| | |
| --- | --- |
| New England-Area RSNs | NESN, NESN+, NBC Sports Boston |
| Major Sports Channels | ESPN, ESPN2, FS1 |
| Total Channels | 90+ |
| Cloud DVR | Unlimited (online sign-up) |
| Simultaneous Screens | 20 (home) and 3 (away) |
| Free Trial | ✅ |
| DirecTV Price | $89.99/mo |
DirecTV's lowest-price (Entertainment) plan costs only $69.99/mo but it doesn't provide access to RSNs. To get access to NESN, you need the Choice plan ($89.99/mo) or above.
DirecTV has a wide selection of channels focused on news, entertainment, and family-friend content. They also provide a good selection of sports channels although they strangely don't provide the NFL Network with any of their plans.
Perhaps the best thing about DirecTV is that it allows you to stream on up to 20 screens simultaneously. So if you have a large household, it is an excellent choice.
Other Ways to Get NESN?
At this time, there really aren't other ways to get NESN. But there are a couple of options to watch Red Sox and Bruins games — as long as you do not live in the New England area:
MLB.tv: This service gives you live access to every out-market game in the regular season that isn't also nationally televised.
ESPN+: There used to be NHL.tv, a service like MLB.tv that gives access to every out-of-market NHL game. This is now part of ESPN+, which is a good service even without the NHL coverage.
NESN also has a website and an app that allows you to stream live. The problem is that this isn't a different way to get the channel. You need DirecTV or FuboTV subscription use it. But it may be worth having anyway.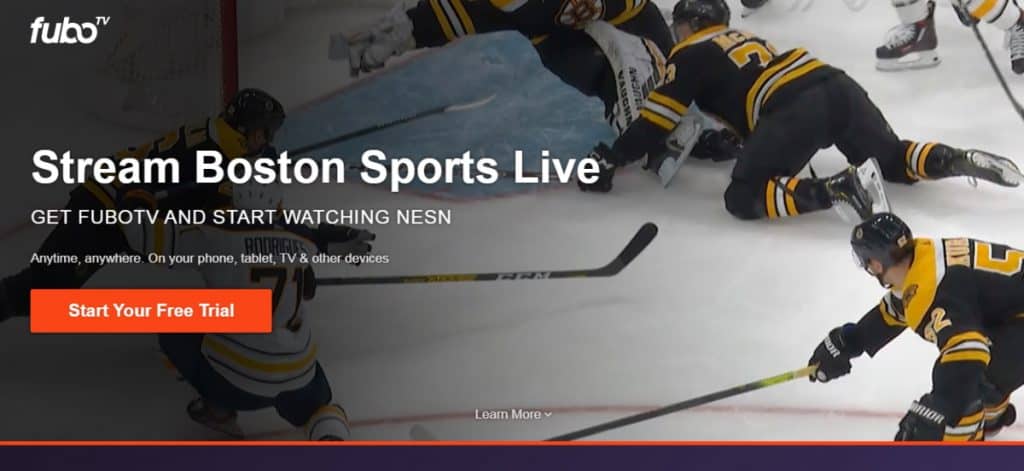 TVs and Mobile Devices for NESN
FuboTV and DirecTV have their own apps that run on smart TVs and other devices. Both support the vast majority of equipment that is in use but FuboTV supports a bit more. See below for details.
Devices for FuboTV Only
FuboTV supports smart TVs from Hisense and LG. You can generally use any device that supports Android TV like TVs from Sony, Sharp, and TCL.
You can also use FuboTV with the Xbox One.
DirecTV Set-Top Box
DirecTV provides its own set-top for using the service. This will probably be easier for less-technical companies since it is the way that cable is distributed.
It has the advantage of making both your hardware and streaming service the same so you have one company to turn to when you need to fix any TV problems.
Devices Supported by DirecTV and FuboTV
Both services support Samsung smart TVs for the last 5 years. Similarly, if you have a TV that can accept Chromecast, you should be set if you have a supported mobile device:
Android: any of the many smartphones that run this operating system.
iOS: any of the Apple devices (iPhones, iPads).
And both FuboTV and DirecTV support all the major streaming media players:
Amazon Fire TV
Apple TV
Roku.
Finally, you can watch these streaming services on your computer. If you happen to be using a laptop, you can also connect it via an HDMI cable to your TV and watch it that way.
The bottom line is that both DirecTV and FuboTV almost certainly support whatever hardware you have. But if you have any questions, you should contact them and make sure.
Wrapping Up
NESN is the go-to channel for all the Boston Red Sox and Boston Bruins games. You have two options if you want to get it without cable: FuboTV and DIRECTV STREAM. Both also provide NESN+ and NBC Sports Boston.
FuboTV is cheaper and offers a better selection of channels — especially for the sports fan. But DirecTV offers a great deal for viewers in large households. Regardless of which you choose, you won't miss any of the action with your local MLB and NHL teams!
FAQs
Can I Get NESN on Hulu?
NESN is not currently available on Hulu + Live TV. However, that could change in the future. Hulu currently provides RSNs for San Francisco Bay Area, California, Chicago, New York (SportsNet but not MSG or YES), Northwest (Portland), Philadelphia, and Washington DC. So it's worth checking back!
Why Did YouTube TV Stop Carrying NESN?
YouTube TV stopped carrying NESN as of November 2020. The exact reason is unclear. The only information YouTube TV has shared about the issue so far is that their contract with NESN had expired and they were unable to reach a new settlement. So it is probably a question of the channel cost compared to its value to their subscribers.
YouTube TV is unlikely to get back NESN any time soon. There have been no updates regarding the issue since it was dropped from the service.
What is an RSN?
An RSN, or regional sports network, is a TV channel that focuses on the sports in a particular area. Such channels are distributed to subscribers in that area. Originally, these channels were available only through cable providers but are now available through some satellite and streaming services.
What teams does NESN serve?
NESN's programming focuses on the Boston Red Sox in MLB and the Boston Bruins in the NHL. The other regional sports network in that area is NBC Sports Boston. They serve the Boston Celtics in the NBA and the New England Revolution in MLS. Sports fans in this area may also want to check out the RSNs in the surrounding areas like New York.
How can I watch the Red Sox's divisional rivals?
To watch the other American League East teams, check out these articles:
How can I watch the Bruins' divisional rivals?
To watch the other teams in the Atlantic Division, see these articles:
What RSNs are there besides NESN?
There are RSNs all over the US. They are only available to subscribers in those areas. Many of them have multiple channels.
How can I watch other sports channels without cable?
The following articles provide details about watching without cable.
Latest posts by Frank Moraes
(see all)