Cord-cutters need not worry that they have to abandon their favorite Boston teams! Read on and we'll explain the great options you have for streaming NESN. It's easier than you think!
In a hurry? There's a lot to know about your options. But if you just want to know the best ways to watch NESN (and NESN+) today, these two streaming services offer it along with an excellent selection of general channels:
Fubo: Get over 150 channels including a great selection of RSNs starting at $85.98/mo. Fubo allows you to try out its service with a free trial.
DIRECTV STREAM: Sets you up with every regional channel in your area and 100+ others for $99.99/mo. A 5-day free trial is now available for DIRECTV STREAM.
If you can't watch your favorite sports because of your location, get ExpressVPN to access the content you deserve.
Oops! The two streaming services aren't available in . But if you've already paid for the right service, and just can't watch because of your location, there is an easy way to get the content you deserve. You need a VPN, like one of the following.
| | | |
| --- | --- | --- |
| | ExpressVPN: Known as "The VPN that just works," it combines remarkable ease of use with with state-of-the-art power, speed, security, and privacy. Get three extra free months when you sign up for a year. Unleash your streaming with this top-rated VPN. | Sign Up Now |
| | Surfshark: Surfshark: Secure and easy to use with thousands of servers around the world. Of special note is its excellent collection of servers inside the US, which is great for regional sports lie NFL, MLB, and NBA. Get it now with an incredible 82% discount on a 24-month plan. | Sign Up Now |
| | NordVPN: One of the top VPNs with extremely fast servers all over the world. Great for streaming with tested perfomance on the biggest servers and included ad-blocking. Currently offering 70% discount on 2-year plans. | Sign Up Now |
If you're overwhelmed and not sure where to begin, you'll find all the answers in our full VPN guide.
Boston is a major hub for both Major League Baseball and the National Hockey League. The Red Sox were formed in 1901 (although they were known as the Americans at that time). And the Bruins started in 1924 — the year that the NHL moved outside of Canada and became international.
The New England Sports Network (or NESN as it is more commonly known) is dedicated to these two teams specifically and Boston sports more generally. Read on to learn how subscribers in the area can stream this unique channel.
NESN Streaming Services
The major live TV streaming services offer access to some RSNs. Hulu + Live TV and YouTube TV offer only a handful. FuboTV offers a lot more. But DirecTV is by far the best — providing access to almost every RSN.
FuboTV and DirecTV are currently the only streaming services that provide access to NESN. In addition, they both offer access to NBC Sports Boston, the other RSN in the area, which provides access to the Boston Celtics (NBA).
FuboTV for NESN

New England-Area RSNs
NESN, NESN+, NBC Sports Boston
Major Sports Channels
B1G, CBSSN, ESPN, ESPN2, FS1, FS2,
Golf Channel, NFL Network
Total Channels
130+
Cloud DVR
1000 hours
Simultaneous Screens
10
Free Trial
✅
FuboTV Price
$88.98/mo
Currently, the best way to watch NESN is probably with FuboTV. It was originally a soccer streaming service but over the years, it has grown to be one of the best overall streamers with broad access to news, entertainment, and family programming. It is also arguably the best overall sports streaming service covering everything and providing a huge number of events in 4K each year — including home Red Sox games.
The Fubo Standard plan costs $88.98/mo and includes 130+ channels including NESN. Additionally, Fubo offers 38 sports channels including ESPN, FS1, 7 from beIN Sports, 11 from TUDN. It also includes the local channels in most areas as well as a full range of other channels.
If you want more information about FuboTV, check out these articles:
DIRECTV STREAM for NESN

| | |
| --- | --- |
| New England-Area RSNs | NESN, NESN+, NBC Sports Boston |
| Major Sports Channels | B1G, ESPN, ESPN2, ESPNU, FS1, Golf Channel |
| Total Channels | 105+ |
| Cloud DVR | Unlimited (online sign-up) |
| Simultaneous Screens | Unlimited (home) and 3 (away) |
| Free Trial | ✅ |
| DirecTV Price | $99.99/mo |
DIRECTV STREAM's lowest-price (Entertainment) plan costs only $74.99/mo but it doesn't provide access to RSNs. To get access to NESN, you need the Choice plan ($99.99/mo) or above.
DIRECTV STREAM has a great channel lineup focused on news, entertainment, and family-friend content. They also provide a good selection of sports channels including all those featuring the Red Sox should they make the playoffs.
Perhaps the best thing about DirecTV is that it allows you to stream on up to 20 screens simultaneously. So if you have a large household, it is an excellent choice.
Get DIRECTV STREAM Free for 5 Days
NESN 360
NESN was the first RSN to start its own direct-to-consumer streaming service. It's called NESN 360. But despite the name, it is still limited to subscribers in its traditional broadcasting markets.
It's the same as getting it through a streaming service or cable/satellite provider. You get the NESN channel and NESN+ for spillover. There are two plans:
Monthly: $29.99/mo
Yearly: $329.99/yr, which comes out to $27.50/mo, which isn't a great savings but also includes 4 Red Sox game tickets.
NESN 360 also provides on-demand access to Red Sox and Bruins games that are broadcast nationally (and thus aren't on NESN live). These are available after the games have completed.
There are some potential downsides of NESN 360:
You don't get any other channels like CBS Sports Network, ESPN, or FS1.
You don't get NBC Sports Boston, which airs virtually all of the Boston Celtics games.
NESN 360 currently only supports viewing through its website, nesn.com, or with apps on Amazon Fire TV, Apple TV, Google TV, Roku, or mobile devices with Android or iOS (iPhone, iPad).
Superpower Your Live TV Streaming With a VPN
You can't beat a VPN for privacy, security, and access. We have used them for years as an important part of our streaming toolkit and we recommend ExpressVPN. Other brands worth checking out include Hotspot Shield and CyberGhost.
Other Ways to Get NESN?
There are a couple of options to watch live Red Sox and Bruins games — as long as you do not live in the New England area:
MLB.tv: This service gives you live access to every out-market game in the regular season that isn't also nationally televised.
NESN also has a website and an app that allows you to stream live. The problem is that this isn't a different way to get the channel. You need DirecTV or FuboTV subscription use it. But it may be worth having anyway.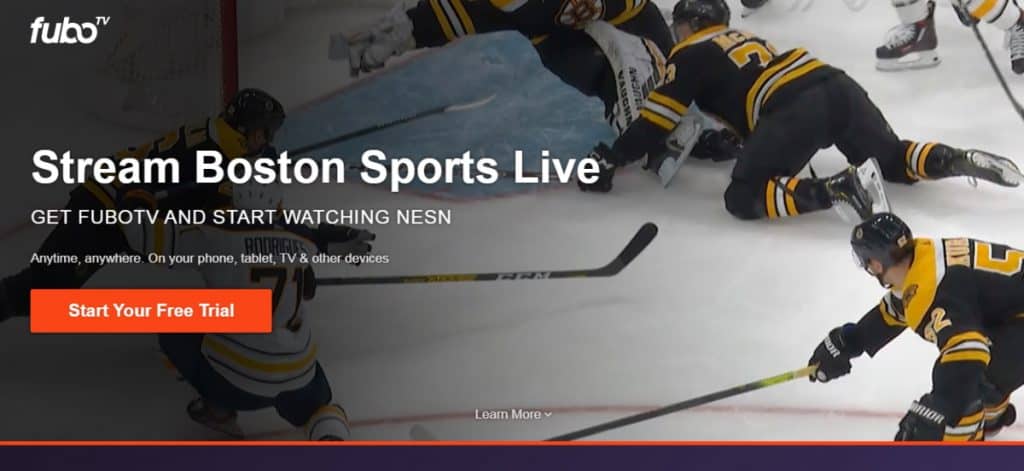 TVs and Mobile Devices to Live Stream NESN
FuboTV and DirecTV have their own apps that run on smart TVs and other devices. Both support the vast majority of equipment that is in use but FuboTV supports a bit more. See below for details.
Devices for FuboTV Only
FuboTV supports smart TVs from Hisense and LG. You can generally use any device that supports Android TV like TVs from Sony, Sharp, and TCL.
You can also use FuboTV with the Xbox One.
DirecTV Set-Top Box
DirecTV provides its own set-top for using the service. This will probably be easier for less-technical companies since it is the way that cable is distributed.
It has the advantage of making both your hardware and streaming service the same so you have one company to turn to when you need to fix any TV problems.
Devices Supported by DirecTV and FuboTV
Both services support Samsung smart TVs for the last 5 years. Similarly, if you have a TV that can accept Chromecast, you should be set if you have a supported mobile device:
Android: any of the many smartphones that run this operating system.
iOS: any of the Apple devices (iPhones, iPads).
And both FuboTV and DirecTV support all the major streaming media players:
Amazon Fire TV
Apple TV
Roku.
Finally, you can watch these streaming services on your computer. If you happen to be using a laptop, you can also connect it via an HDMI cable to your TV and watch it that way.
The bottom line is that both DirecTV and FuboTV almost certainly support whatever hardware you have. But if you have any questions, you should contact them and make sure.
NESN 4K
NESN offers Boston Red Sox games in 4K. DIRECTV STREAM does not currently offer this but FuboTV does.
About NESN
New England Sports Network (NESN) is a regional sports network (RSN) broadcast out of Watertown, MA. It is the home of the Boston Red Sox (MLB) and the Boston Bruins (NHL).
Founded in 1984, it is owned by the Red Sox's parent company, Fenway Sports Group (which owns Fenway Park), and the concessions company Delaware North (which owns TD Garden, home of the Bruins).
NESN Regional Availability
Like all RSNs, NESN is only available in a limited broadcast area. But in its case, it is a fairly large area.
NESN is available to subscribers throughout Maine, Massachusetts, New Hampshire, Vermont, and Rhode Island. It is also available throughout Connecticut except for the southwest corner of the state, which is part of the New York broadcasting area (MSG, SportsNet New York, and YES Network).
NESN Content: Live Games and Beyond
The focus of NESN is the broadcasting of live games of their two primary teams. They show the vast majority of the Red Sox's 162 games and the Bruin's 82 games. These include pregame and postgame shows featuring news and analysis.
Unlike some RSNs, NESN does a good job of filling up its schedule with interesting content rather than infomercials. It airs a good amount of college athletics. This tends to focus on UMass and normally includes a fair number of men's and women's basketball games. There are also ACC and Hockey East events.
It also airs live Connecticut Sun and Worcester Red Sox games. Additionally, there are other sporting events although not necessarily live. And it features some programing related to fantasy sports and sports betting like new episodes of Follow the Money.
NESN also offers a number of original shows. A number are more lifestyle-oriented but should appeal to Bruins and Red Sox fans. These include Charlie Moore Outdoors, Dining Playbook, Dirty Water TV, Friday Night Fenway, Golf Destination, NESN Clubhouse, The Red Sox Report, The Ultimate Red Sox Show, and Wicked Bites.
They also show notable older games under the titles Bruins Classics and Red Sox Classics.
NESN Live Broadcast Commentators
NESN features a lot of well-known announcers and other on-air talent.
Dave O'Brien took over from longtime Red Sox play-by-play announce Don Orsillo (who moved to Bally Sports San Diego) in 2016. Mike Monaco provides his play-by-play commenting skills at times as well. Color analysts include Dennis Eckersley, Tony Massarotti, Kevin Millar, and Kevin Youkilis while Jahmai Webster acts as sideline reporter.
Over at TD Garden, Jack Edwards (play-by-play) and Andy Brickley (analyst) heat up the ice at Boston Bruins games with their energetic commentary. Edwards has done so since 2005-06, Brickley since 2000-01.
Unblock Your Favorite Movies and Shows With a VPN
If you can't watch your favorite movies and shows because of your location, a VPN will allow you to get the access you are entitled to, plus extra security and unequalled privacy. Check out our VPN Guide for everything you need to know, including our top pick ExpressVPN.
Other brands worth checking out include Hotspot Shield and CyberGhost.
Wrapping Up
NESN is the go-to channel for all the Boston Red Sox and Boston Bruins games. And cord-cutters have two options to get NESN without cable/satellite: FuboTV and DIRECTV STREAM. Both also provide NESN+ and NBC Sports Boston so you will never miss a home run or a goal.
FuboTV is cheaper and offers a better selection of channels — especially for the sports fan. But DirecTV offers a great deal for viewers in large households. Regardless of which you choose, you won't miss any of the action with your local MLB and NHL teams!
We recommend FuboTV for Red Sox and Bruins fans. Fubo allows you to try out its service with a free trial.
FAQs
Does NESN air New England Patriots games?
NESN does not air any New England Patriots games. In fact, no RSN airs NFL games. Instead, these games are featured on Amazon Prime (Thursday Night Football), NBC (Sunday Night Football), ESPN (Monday Night Football), or regionally on Sunday afternoons through local CBS and Fox affiliates. NESN does, however, provide news and commentary related to the Patriots.
Are you just wondering whether the Pats are playing today or not? Your wondering is at an end.
What is NESN National?
NESN offers its feed to providers outside its traditional broadcast area as NESN National. However, all Red Sox and Bruins games are blacked out. It does, however, still offer the many New England and Boston-focused sports and lifestyle shows. Fans and others with a connection to the area may find it interesting.
Does NESN broadcast Red Sox spring training games?
NESN normally broadcasts the vast majority of Rox Sox spring training games. In 2023, this included 27 out of a total of 32 games. The other games will usually be found on MLB Network. It comes with the DIRECTV STREAM Choice package. And you can add it to FuboTV for $7.99/mo with the Fubo Extra plan.
Can I Get NESN on Hulu?
NESN is not currently available on Hulu + Live TV. However, that could change in the future. Hulu currently provides RSNs for San Francisco Bay Area, California, Chicago, New York (SportsNet but not MSG or YES), Northwest (Portland), Philadelphia, and Washington DC. So it's worth checking back!
Why Did YouTube TV Stop Carrying NESN?
YouTube TV stopped carrying NESN as of November 2020. The exact reason is unclear. The only information YouTube TV has shared about the issue so far is that their contract with NESN had expired and they were unable to reach a new settlement. So it is probably a question of the channel cost compared to its value to their subscribers.
YouTube TV is unlikely to get back NESN any time soon. There have been no updates regarding the issue since it was dropped from the service.
Does Sling TV offer NESN?
Sling TV does not offer NESN. In fact, Sling TV, as a low-cost streaming service doesn't offer any RSNs. RSNs are some of the most expensive channels to license, so it just doesn't make sense for Sling to carry it. However, you could subscribe to Sling TV to get the national channels you want and supplement it with NESN 360.
What is an RSN?
An RSN, or regional sports network, is a TV channel that focuses on the sports in a particular area. Such channels are distributed to subscribers in that area. Originally, these channels were available only through cable providers but are now available through some satellite and streaming services.
What happened to Jerry Remy?
Jerry Remy died October 30th, 2021 after a long battle with lung cancer. He was a second baseman for the Red Sox from the 1978-79 through the 1983-1984 seasons. From 1988 onward, he provided color commentary for NESN Red Sox games. He continued to broadcast up to three months before his death.
Does NESN broadcast Boston Celtics games?
Although NESN is focused on Boston sports, it does not broadcast Celtics games. Instead, the Boston Celtics are broadcast on NBC Sports Boston. But this really isn't a problem because both DIRECTV STREAM and FuboTV offer NBC Sports Boston to subscribers in the New England area.
Does NESN broadcast the New England Revolution?
NESN has never broadcast New England Revolution games — or any Major League Soccer (MLS) matches. That honor used to go to NBC Sports Boston but the Revolution left for the new MLS Season Pass. If you are a serious Revolution fan, you can watch every match for $14.99/mo or $99/yr.
How can I watch the Red Sox's divisional rivals?
To watch the other American League East teams, check out these articles:
How can I watch the Bruins' divisional rivals?
To watch the other teams in the Atlantic Division, see these articles:
Ditch "Big Cable" Now – 3 Simple Steps to Cut the Cord
Pick the right streaming service
Get the content you deserve with the best VPN.
Supercharge your internet provider
That's it — you'll save money, take back control, and enjoy TV more!
Page Updates
▼
▲
Added buttons for streaming services. Updated some sub-sections. Updated some section headings. Changes to some sections. Deleted unneeded sub-section.

Added new section. Added VPN info. Added sub-section. Updated some section headings. Added useful links. Various content updates.

Added buttons for streaming services. Added sub-section. Linking. Pricing updates. Changed a few bits of content.

Added sub-section. Added useful links. Pricing updates. Image changes.

Updated some sub-sections. Updated some section headings. Pricing updates.

Added sub-section. Updated some sub-sections. Pricing updates. Mentioned offers.

Updates to a section. Updated one section.

Updated one section. Mentioned offers. Pricing updates.
Latest posts by Frank Moraes
(see all)