NewsNation offers a compelling mix of entertainment TV shows during the day and straight news all night. It's an appealing combination that avoids the repetition that comes with the 24-hour news stations. And cord cutters have a lot of options for watching it. Below we detail them all.
In a hurry? If you want to start watching NewsNation now and don't especially care about the details, these streaming services provide it and a whole lot more:
Fubo: With 150+ channels, it offers something for everyone. Fubo allows you to try out its service with a free trial.
DIRECTV STREAM: Provides everything you expect from cable with many options. A 5-day free trial is now available for DIRECTV STREAM.
Sling TV: Probably the best streaming service in terms of customization with a super low price and a 50% discount on your first month!
If you can't watch your favorite sports, TV and movies because of your location, try ExpressVPN to get access to the content you deserve. Signup now.
Unfortunately, we don't know a streaming service in that offers this TV channel. But if you've already paid for the right service, and just can't watch because of your location, there is an easy way to get the sports, movies, and TV you deserve. You need a VPN, like one of the following.
| | | |
| --- | --- | --- |
| | ExpressVPN: Known as "The VPN that just works," it combines remarkable ease of use with with state-of-the-art power, speed, security, and privacy. Get three extra free months when you sign up for a year. Unleash your streaming with this top-rated VPN. | Sign Up Now |
| | Surfshark: Surfshark: Secure and easy to use with thousands of servers around the world. Of special note is its excellent collection of servers inside the US, which is great for regional sports lie NFL, MLB, and NBA. Get it now with an incredible 82% discount on a 24-month plan. | Sign Up Now |
| | NordVPN: One of the top VPNs with extremely fast servers all over the world. Great for streaming with tested perfomance on the biggest servers and included ad-blocking. Currently offering 70% discount on 2-year plans. | Sign Up Now |
If you're overwhelmed and not sure where to begin, you'll find all the answers in our full VPN guide.
Have you ever wondered what a national prime-time newscast made up largely of local stories would sound like? A newscast to be the flagship of a channel whose founding mission is to provide straight down the middle unbiased, nonpartisan, neutral news?
Well, Nexstar Media is the company crazy enough to try it, and they've tapped former Chicago-based superstation WGN America as ground-zero for this journalistic experiment. On September 1, 2020 NewsNation debuted on WGN America. It was a three-hour prime time news block.
On March 1, 2021, Nexstar moved into Phase 2 by relaunching WGN America itself as NewsNation, renaming their nightly news broadcast NewsNation Prime.
Nexstar remains convinced that there's a market for unbiased news, even if Fox News, MSNBC, and CNN are permanent fixtures in cable's top five channels. If you're in that market, you don't need cable to get more than "just the facts" coverage.
Read on to find out how you can watch NewsNation and leave your cable bill on the editing room floor.
How to Watch NewsNation Live Without Cable
NewsNation is owned by Nexstar Media Group, the single biggest owner of American TV stations. Nexstar's first cable news network, NewsNation is going up against the major network newscasts and all the preexisting cable news and weather networks.
This is a lot of competition: ABC, NBC, CBS, Black News Channel, CNN, HLN, Fox News, MSNBC, Newsmax, One America News Network, AccuWeather Network, WeatherNation, and The Weather Channel.
WGN America may have started life as an OTA (over the air) broadcast network in Chicago, but it was converted to a regular basic cable channel in 2014 (you can read the full story in the FAQ below). As a result, you can no longer pick it up with an antenna, even if you happen to live in Chicago. You need a pay subscription with a TV provider to watch, but that provider doesn't have to be a cable company.
Wouldn't you rather be able to have a choice about who provides your TV service? Especially if those choices cost less and require no time commitment, equipment rentals, or annoying installation visits?
OTT ("over the top") streaming services give you those choices. Which services carry NewsNation? Keep reading.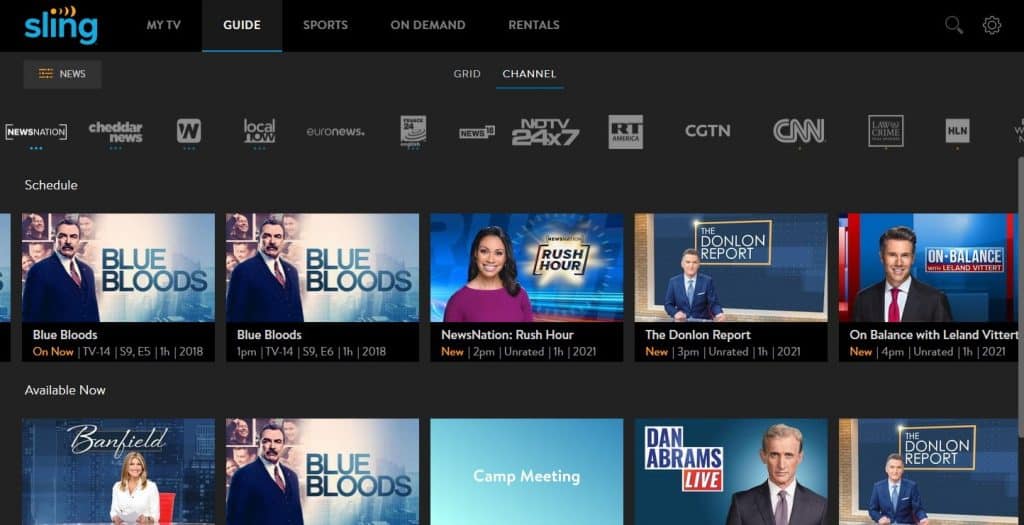 Unblock Your Favorite Movies and Shows With a VPN
If you can't watch your favorite movies and shows because of your location, a VPN will allow you to get the access you are entitled to, plus extra security and unequalled privacy. Check out our VPN Guide for everything you need to know, including our top pick ExpressVPN.
Other brands worth checking out include Hotspot Shield and CyberGhost.
Streaming Services with NewsNation
Good evening, and welcome to HotDog.com News. Tonight, we'll be talking about streaming services that carry NewsNation.
But first, Philo: Is the bargain-priced TV provider worth it? Maybe, but not if you're signing up to watch NewsNation. Philo is the only major streaming service that doesn't carry the newly-launched news channel.
Now, Jim, you have a report on FuboTV?
FuboTV

Thanks, Teri. FuboTV may look like any other streaming service on the surface, but about a third of its approximately 130 channels are, in fact, sports-related. The service starts at $74.99/mo, I'm told, and that includes 1000 hours of cloud DVR storage and all your local stations, as well as NewsNation.
Would-be cord-cutters should be aware that the service does not carry Black News Channel, CNN, or Headline News. But it does provide 13 total news and information channels. Back to you, Teri.
Sling TV

Hi, Teri, thanks. I'm here reporting on-site from my living room with my TV, where I've just installed the Sling TV app and I'm loading it up right now. I opted for Sling Blue, which runs $40.00/mo. Save 50% on Sling TV now!
With Sling Blue I get CNN, NBC, Fox News, Headline News, and MSNBC. In order to watch NewsNation, though, I had to get the additional News Extra, which is $6 more per month. It provides 13 other news channels including Newsmax and WeatherNation. I also get 50 hours of cloud DVR storage — not the most, but not the least either. Not bad — though I think I may need to watch for a few more hours, for, uh, research purposes, of course. Check in later, Teri?
DIRECTV STREAM

Thanks, Jim. FuboTV may focus on sports, though not to the exclusion of everything else, but coming up, we have a service that covers a broad range of channels. Here's Alex with the story.
Thanks, Teri. Over 100 channels. Unlimited cloud DVR storage as long as you sign-up online. Access to your local sports events. You may remember DIRECTV STREAM as AT&T TV. Its Choice Package includes NewsNation as well as nearly every other news and weather station available in addition to your local network channels.
But it doesn't come cheap. You can expect to pay $99.99/mo for this level of service. But that's the price… of entertainment. Back to you, Teri.
Thanks, Alex. Let's move on to Nick to tell us about Sling TV. Nick?
Get DIRECTV STREAM Free for 5 Days
Hulu + Live TV

Thanks, Nick. Up next, Hulu + Live TV: is it more Hulu, or more Live TV? Our man on the street Dan has been investigating. Dan?
Thanks, Teri. To answer your question: I think it's hard to say. The Live TV service does offer over 85 channels — including NewsNation, CNN, Fox News, MSNBC so you've got all your ideological bases covered. And it comes with Disney+, and ESPN+ which should please everyone in the household. You also get unlimited cloud DVR (9 months of storage), plus live streams of all your local networks.
On the other hand, Hulu's on-demand library has an estimated 3,000 titles, many of them current series with new episodes available the day after they air. So it's a tough call. But you get both for just $69.99/mo. So there's no need to choose. Teri?
Thanks, Dan, for that informative report!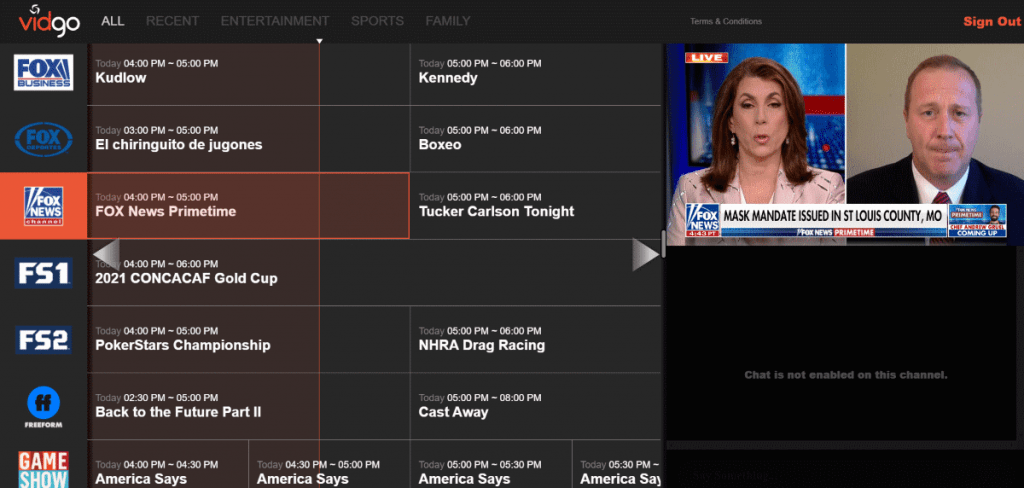 Vidgo

Our last item of the night — new streaming service Vidgo and new channel NewsNation: a perfect match? Over to you, Ed.
Thanks, Teri. I don't know about a perfect match, but it looks like NewsNation could be bringing some balance to a news lineup that skews decidedly right. Vidgo has over 110 channels in its Plus plan, for $69.99/mo.
There's no CNN or MSNBC but they do carry Fox News, NewsMax, and One America News. There's also a Premium package with even more channels for $84.99/mo, but it doesn't contain any extra news channels.
Oh! I'm told Vidgo does not have any DVR functionality or on-demand content, though you can watch shows up to 3 days after they air. Back to you, Teri.
Thanks, Ed. This has been the evening edition of HotDog.com News, thanks for joining us.
Other Ways to Stream NewsNation
Hang on, news fans! There are a couple more ways you can watch NewsNation:
YouTube TV: Similar to Hulu + Live TV (though definitely closer to Live TV than Hulu), it offers 100 channels — including NewsNation — for $72.99/mo.
NewsNation Now: NewsNation's website/mobile app for live streaming. Unfortunately, you can only access it with a pay TV provider login, so it's not very helpful when looking for a cable alternative.
Superpower Your Live TV Streaming With a VPN
You can't beat a VPN for privacy, security, and access. We have used them for years as an important part of our streaming toolkit and we recommend ExpressVPN. Other brands worth checking out include Hotspot Shield and CyberGhost.
TVs and Streaming Devices for NewsNation
While limited to viewing on TVs in the past, it is now possible to watch on a wide variety of devices. The streaming services we've highlighted above support most of what's in use today.
This includes the standard TV devices Amazon Fire TV, Apple TV, and Roku. It also includes mobile devices running Android and iOS. And it includes all the major web browsers. You can use mobile devices and some web browsers to cast to your TV via Chromecast.
Except for DIRECTV STREAM, all the services support smart TVs and devices built on Android TV. Except for Vidgo, they all support recent Samsung smart TVs. Hulu + Live TV, FuboTV, and Sling TV all work with LG and Vizio smart TVs. They also support the Xbox One gaming system. And Hulu supports the PlayStation.
Other devices are supported. Our individual streaming services reviews contain complete lists.
Wrapping Up
So if you've got a hankering for prime time news without opinionated rants, you don't have to miss a minute of Marni Hughes or Banfield. Just sign up for one of the services reported above and you can send your cable bill on permanent assignment to your trash can.
Our best recommendation for streaming NewsNation is FuboTV. Fubo allows you to try out its service with a free trial.
FAQs
What happened to WGN America?
WGN-TV Channel 9 began in 1948 as a local TV station in Chicago, Illinois. You can still watch the original WGN9 in Chicago just like any other local station. In 1978, WGN went satellite and became the US's second superstation after WTBS. WGN first gained popularity in the Midwest and Great Lakes regions, then later nationwide. It was particularly well-known for its broadcasts of Chicago Cubs games and the local children's show Bozo the Clown.
Due to regulatory changes on national broadcast rights for syndicated programs, in 1990 the national WGN feed was separated from the local one. The two continued to diverge throughout the nineties and early aughts as Tribune lost national syndication rights to more and more WGN-TV programs.
Then in 2014, the final nail in the coffin: Tribune converted the national WGN feed — now called WGN America — into a regular basic cable channel. This completely severed the two feeds, with WGN America relegated to mostly reruns with a few original series.
By 2016, Tribune Media had blown some serious cash on WGN America's original programming, none of which had taken off. Nexstar Media Group agreed to buy the media company and the transfer was completed in 2019.
This brings us up to the present, in which Nexstar is attempting to turn the channel formerly known as WGN America into the next news channel craze.
What does NewsNation show other than news?
NewsNation is a news channel primarily at night. During the day, they offer a varied lineup of comedy, drama, and police procedurals. Shows currently running include In the Heat of the Night, Blue Bloods, JAG, Murder, She Wrote, Last Man Standing, and Elementary. It also features popular movies.
How do I watch other news channels?
See our guides for streaming other news channels:
Ditch "Big Cable" Now – 3 Simple Steps to Cut the Cord
Pick the right streaming service
Get the content you deserve with the best VPN.
Supercharge your internet provider
That's it — you'll save money, take back control, and enjoy TV more!
Page Updates
▼
▲
Updated some sub-sections. Updated some section headings.

Added streaming info. Cross linking. Various changes to content.

Added buttons for streaming services. Added links to streaming services. Image changes. Various content updates. Formatting.

Added buttons for streaming services. Added VPN info. Added links to streaming services. Image changes. Updated some sub-sections. Added links.

Added sub-section. Image changes. Pricing updates. Misc content updates.

Image changes. Pricing updates. Additional links.

Added links to streaming services. Updated some sub-sections. Updated some section headings. Linking.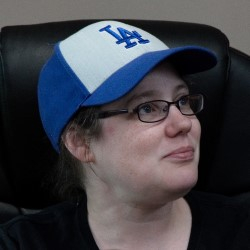 Latest posts by Alanna Baker
(see all)