For fans who want a complete view of the season, NFL RedZone is essential. But you don't need cable to get full access.
Read on to find out how you can dump cable and still enjoy NFL RedZone throughout the season.
In a hurry? All the services that offer NFL RedZone offer great overall NFL coverage. Any of these streaming services should make you very happy:
Fubo: The best streaming service for international sports also provides 130+ well-selected channels. Fubo allows you to try out its service free for 7 days.
Sling TV: This low-cost service allows you to select just the channel lineup you want. Save with Sling TV.
If you can't watch your favorite sports because of your location, get ExpressVPN to access the content you deserve.
Unfortunately, we don't know a streaming service in that covers this sport. But if you've already paid for the right service, and just can't watch because of your location, there is an easy way to get the content you deserve. You need a VPN, like one of the following.
| | | |
| --- | --- | --- |
| | ExpressVPN: Known as "The VPN that just works," it combines remarkable ease of use with with state-of-the-art power, speed, security, and privacy. Get three extra free months when you sign up for a year. Unleash your streaming with this top-rated VPN. | Sign Up Now |
| | Surfshark: Surfshark: Secure and easy to use with thousands of servers around the world. Of special note is its excellent collection of servers inside the US, which is great for regional sports lie NFL, MLB, and NBA. Get it now with an incredible 82% discount on a 24-month plan. | Sign Up Now |
| | NordVPN: One of the top VPNs with extremely fast servers all over the world. Great for streaming with tested perfomance on the biggest servers and included ad-blocking. Currently offering 70% discount on 2-year plans. | Sign Up Now |
If you're overwhelmed and not sure where to begin, you'll find all the answers in our full VPN guide.
NFL RedZone is a subsidiary of the NFL Network and it provides fans with coverage of football games around the clock. You no longer have to wait until Sunday to watch football.
Sunday mornings begin with Scott Hanson and seven straight hours of live football games. The Octobox allows you to see eight games at once.
If Fantasy Football is your thing, NFL RedZone is the perfect companion. You will be able to keep up your fantasy league and make the necessary adjustments to your team.
Learn to watch the whole NFL season and not just the most critical parts with our NFL Out-of-Market Game Guide.
How to Watch NFL RedZone Without Cable
NFL RedZone cannot be accessed with an antenna so that was always out. But with the rise of live TV streaming services, it is easy to enjoy RedZone throughout the season.
All you need is a good internet connection and a suitable streaming device (which you probably already own). Beyond that, all you need to do is select the right streaming service. And we will discuss that below.
Sign Up for a Free 7-Day Fubo Trial
Unblock Your Favorite Movies and Shows With a VPN
If you can't watch your favorite movies and shows because of your location, a VPN will allow you to get the access you are entitled to, plus extra security and unequalled privacy. Check out our VPN Guide for everything you need to know, including our top pick ExpressVPN.
Streaming Services With NFL RedZone
There is an easy solution as to how to watch NFL RedZone without cable: sign up with a streaming service like Hulu + Live TV or Sling TV. They allow you to watch their own apps or external apps from NFL and other providers.
FuboTV

| | |
| --- | --- |
| NFL Channels | CBS, ESPN, Fox, NBC, NFL Network |
| Total Channels | 110+ |
| Cloud DVR | 1000 hours |
| Simultaneous Screens | 10 |
| Free Trial | ✅ |
| FuboTV Price | $74.99/mo |
The base FuboTV plan includes all the channels you need to watch the whole NFL season: CBS, ESPN, Fox, NBC, and NFL Network. In order to get NFL RedZone, you will need to choose the Sports Plus with NFL RedZone channel add-ons.
This add-on will cost $10.99 on top of the base plan price. And you get 25 other sports channels including NBA TV, MLB Network, Strike Zone, and ESPNU.
The base, Pro, plan is $74.99/mo and includes family share (stream on up to 10 TVs/devices at once), 1000 hours of cloud DVR storage, and gives you access to over 110 channels including over 35 that are sports-oriented.
Sign Up for a Free 7-Day Fubo Trial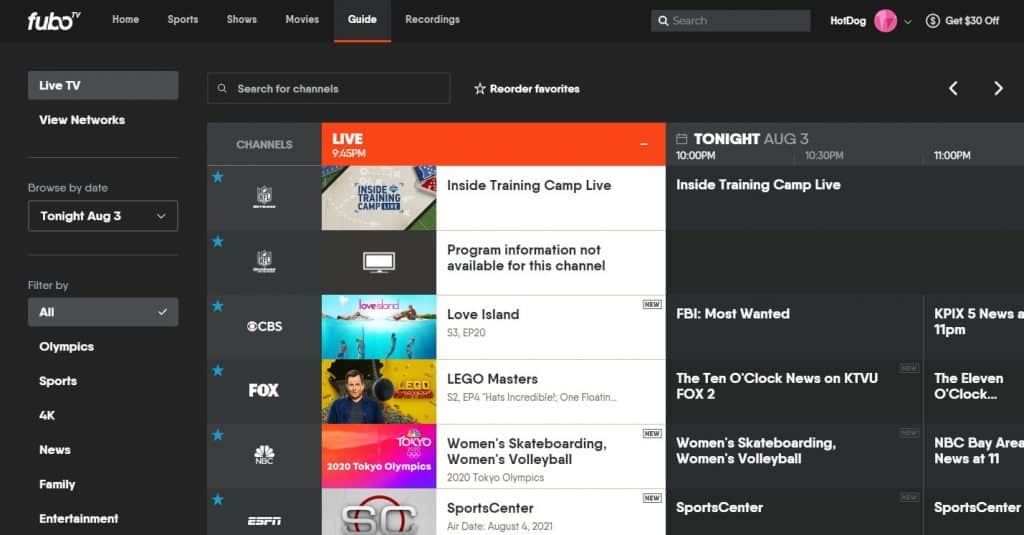 Sling

| | |
| --- | --- |
| NFL Channels | Fox, NBC, NFL Network |
| Total Channels | 40+ |
| Cloud DVR | 50 hours |
| Simultaneous Screens | 3 |
| Free Trial | ❌ |
| Sling TV Price* | $40.00/mo |
Sling TV offers a good base plan, Sling Blue, for $40.00/mo that gives you Fox, NBC, and NFL Network. You can also get their Blue/Orange plan for $55.00/mo, which includes ESPN, ESPN2, and ESPN3.
In order to watch NFL RedZone, you need the Sports Extra add-on. For $11/mo you get it as well as 11 other channels including NBA TV, B1G Network, Golf Channel, beIN Sports, MLB Network, and Olympic Channel.
Sling TV also makes it really easy to integrate an antenna with its system. So you can also potentially get CBS to have the full complement of NFL channels. Alternatively, you could subscribe to Paramount+.
Hulu + Live TV

| | |
| --- | --- |
| NFL Channels | CBS, ESPN, Fox, NBC, NFL Network |
| Total Channels | 85+ |
| Cloud DVR | Unlimited (9 month storage) |
| Simultaneous Screens | 2 |
| Free Trial | ❌ |
| Hulu Price | $69.99/mo |
Hulu is the most popular live TV streaming service. For $69.99/mo, you get 85+ channels. And it offers a lot for sports fans. The base plan includes 5 ESPN channels in addition to the channel lineup needed for live NFL games: CBS, ESPN, Fox, NBC, and NFL Network. You also get Disney+ and ESPN+.
To get NFL RedZone, you will need the Sports Add-on, which comes with 5 other (but frankly random) channels: TVG and TVG2 (horse racing), MAVTV (motorsports), and Outdoor Channel and Sportsman Channel (hunting/fishing). The add-on costs $9.99/mo.
Vidgo

| | |
| --- | --- |
| Base Channels | ESPN, Fox, NBC, NFL Network, NFL RedZone |
| Total Channels | 150+ |
| Cloud DVR | ❌ |
| Simultaneous Screens | 3 |
| Free Trial | ❌ |
| Vidgo Price | $84.99/mo |
Vidgo offers NFL RedZone with its Premium plan. This plan costs $84.99/mo and offers 150+ channels. It's a great deal for sports fans with almost all the ESPN channels: ESPN, ESPN2, ESPNU, ESPN Deportes, ESPNews, and the ACC, SEC, and Longhorn Networks. Vidgo also provides FS1, FS2, and several other college sports networks.
The one missing NFL channel on Vidgo is CBS. You could combine your subscription with a Paramount+ Premium subscription for $9.99/mo. Or you could invest in an antenna. Regardless, it's a good deal for football fans!
One issue for some fans is that Vidgo only offers 20 hours of cloud DVR storage. But you can stream on up to 3 devices at once.
Other Ways to Get NFL RedZone
NFL RedZone is not available as a standalone subscription. But there are other ways to watch it or similar:
NFL App: You can live stream NFL RedZone using the NFL app, or at NFL.com. The catch is that you need to be a TV subscriber so you can login via TV Everywhere. So you will need a subscription to FuboTV or another service.
NFL+: Although it does not seem to provide direct access to NFL RedZone, it does provide access to many of the same features like condensed game replays.
YouTube TV: Another streaming service that is very similar to Hulu + Live TV with 85+ channels. You can get NFL RedZone as an add-on with a small collection of odd sports channels.
Superpower Your Live TV Streaming With a VPN
You can't beat a VPN for privacy, security, and access. We have used them for years as an important part of our streaming toolkit and we recommend ExpressVPN.
Streaming TVs and Devices for NFL RedZone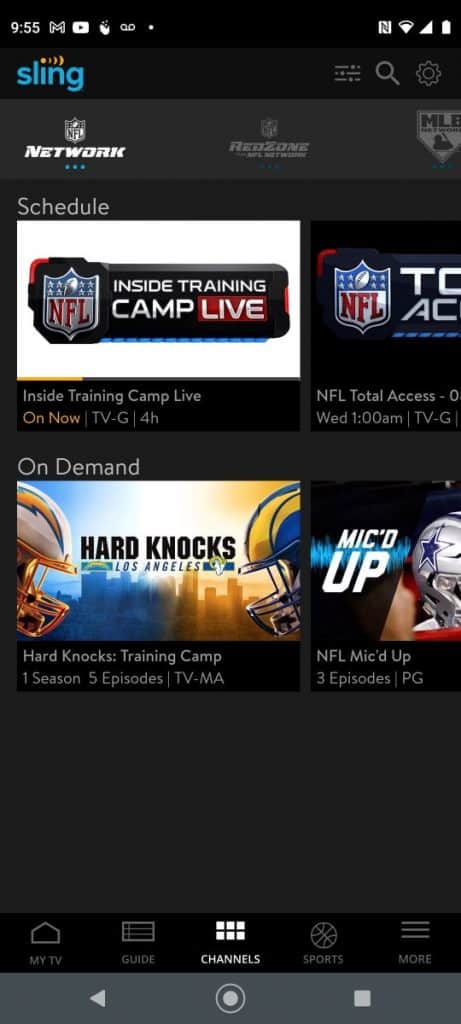 Just as with cable, you need a supported smart TV or streaming device to watch NFL RedZone. All the services we've discussed support smart TVs running the Android TV operating system.
Sling TV, FuboTV, and Hulu also support the Samsung and LG smart TVs. FuboTV supports Hisense TVs. FuboTV and Hulu support Vizio SmartCast TVs.
The following devices that run apps on your TV are universally supported:
Amazon Fire TV
Apple TV
Roku.
Mobile Devices
Pretty much all smartphones and tablets are universally supported:
Android Phones
iOS devices (iPhones, iPads).
You can also run all the services in web browsers, which can be used connected physically or cast to a TV. All the services also support Chromecast.
Gaming Consoles
If you like to watch sports on your gaming console, you are in luck. Except for Vidgo, all the services support Xbox. Hulu also works on the PlayStation and Echo Show.
And you can even use Sling TV on the Oculus.
Sign Up for a Free 7-Day Fubo Trial
Wrapping Up
For any football fan, NFL RedZone is a must-have. You will have access to Sunday football games and can even watch eight games at once. This is a football fans' greatest dream fulfilled.
We recommend FuboTV for streaming NFL RedZone. Fubo allows you to try out its service free for 7 days.
FAQs
How Does NFL RedZone Work?
NFL RedZone is a live broadcast TV channel focused on Sunday afternoon games. The "red zone" refers to the area of the football field between the 20-yard line and the endzone. NFL RedZone features live highlights from games where the offense gets inside the red zone. With this channel, you get every touchdown from every Sunday game. NFL RedZone is your go-to source for football.
What live football can I watch on NFL RedZone?
Preseason coverage varies but is generally limited to five games, less in some years, and is usually part of a free preview for non-subscribers. It doesn't air at all during the playoffs or Super Bowl. NFL RedZone's meat and potatoes is regular season Sunday afternoon games.
RedZone doesn't do entire games from beginning to end. Instead, it features "whip around" coverage of the dozen or so games being played any given Sunday.
Does NFL RedZone show anything other than live Sunday afternoon football?
Nope. It signs on at Eastern, five minutes before kickoff(s), and signs off at 8 pm Eastern or whenever the last late afternoon game ends, after its signature touchdown montage. If all games happen to go to commercial or be in halftime at the same time, there may be a brief studio interlude with commentary, replays, or Scott Hanson reporting the latest stats.
What's the difference between NFL RedZone and…?
NFL Sunday Ticket: NFL Sunday Ticket is also for Sunday afternoon games, but it lets you watch the whole game live. (Sunday Ticket Review)
NFL Game Pass: No longer offered in the US, Game Pass let you watch all the regular season out-of-market games on-demand, available immediately after they aired live. It's been replaced by NFL+.
NFL+: Local and primetime regular and postseason live games up to the Super Bowl, plus out-of-market preseason games, but only available on your phone or tablet. Upgrade to Premium for full or condensed replays.
NFL Network: 24/7 coverage of the world of the NFL. Preseason games air here, as well as the NFL Draft, the playoffs, and the Super Bowl.
What is the cheapest way to watch RedZone?
That would be Sling Blue + Sports Extra. Sling's base package is $40.00/mo, the Sports Extra is $11, so you're paying a grand total of $46. This is easily half the price of most of the other services, and a comfortable distance ahead of second-place Vidgo Premium at $84.99/mo.
Can you subscribe to just NFL RedZone?
No, unfortunately the NFL doesn't offer RedZone as a stand-alone subscription, or even as part of its OTT services like NFL+ or Sunday Ticket. You can only get RedZone as part of a pay TV package. But come on, you know Scott Hanson is worth it.
What services stream NFL RedZone?
Almost all of them, but the catch is that they all offer it in an add-on or higher-than-base tier. FuboTV has it in its Sports Plus add-on (which is included in the Ultimate tier), Hulu Live has it in the Sports Add-on, Sling TV includes it with the Sports Extra, Vidgo reserves it for Premium members, and YouTube TV keeps it in the Sports Plus Add-on.
DIRECTV STREAM and Philo do not carry it.
How can you watch NFL RedZone for free?
You can't. The RedZone team sometimes does their wrap-around coverage for one or more preseason games as a free preview. Also, fuboTV, Sling TV, and YouTube TV all have free trials. But if you want to watch all the Sundays all season, you'll need to fork over the cash.
How can I watch other NFL channels without cable?
All of the channels that you need to enjoy the NFL season are easy to get without cable. These articles explain everything you need to know:
How do I watch channels besides NFL Redzone without cable?
These guides show you how to watch other sports channels:
Ditch "Big Cable" Now – 3 Simple Steps to Cut the Cord
Pick the right streaming service
Get the content you deserve with the best VPN.
Supercharge your internet provider
That's it — you'll save money, take back control, and enjoy TV more!
Page Updates
▼
▲
Updated some sub-sections. Updated some section headings. Image changes.

Image changes. Mentioned offers. Pricing updates.

Added a few links. Misc changes to content.

Added VPN info. Added info about guide. Added links. Mentioned offers. Pricing updates.

Added buttons for streaming services. Put related links. Various changes.

Updated some sub-sections. Added links. Pricing updates.

Added sub-section. Pricing updates. Image changes. Linking.

Updated some section headings.
Latest posts by Frank Moraes
(see all)