NFL Network is an important channel for football fans. It airs live games, math analysis, and documentaries. Although once NFL Network was only available through cable, that is no longer true. Read on to see all your options to stream the channel online.
In a hurry? If you just want to start watching NFL Network and don't care about the details, these streaming services will serve you well:
How to Watch NFL Network Live Without Cable
NFL Network started as a cable channel back in 2003. It airs live games throughout the NFL season in addition to providing 24/7 coverage with player and game analysis, documentaries, and classic games.
It isn't broadcast over the air anymore, so you can't get NFL Network with a TV antenna. Instead, you must get it from a third-party streaming provider. Today, NFL Network is available from all the major online live TV streaming services except AT&T TV.
All you need is an internet connection, streaming device (like a TV or mobile phone), and a subscription to a streaming service that offers NFL Network. Once you sign up for the streaming service, you're set to go.
Streaming Services with NFL Network
As you plan for the upcoming NFL season, you are likely looking into the different ways on how to watch NFL Network online without cable. With so many different streaming services available, it shouldn't be hard to find NFL Network and its slate of games this fall.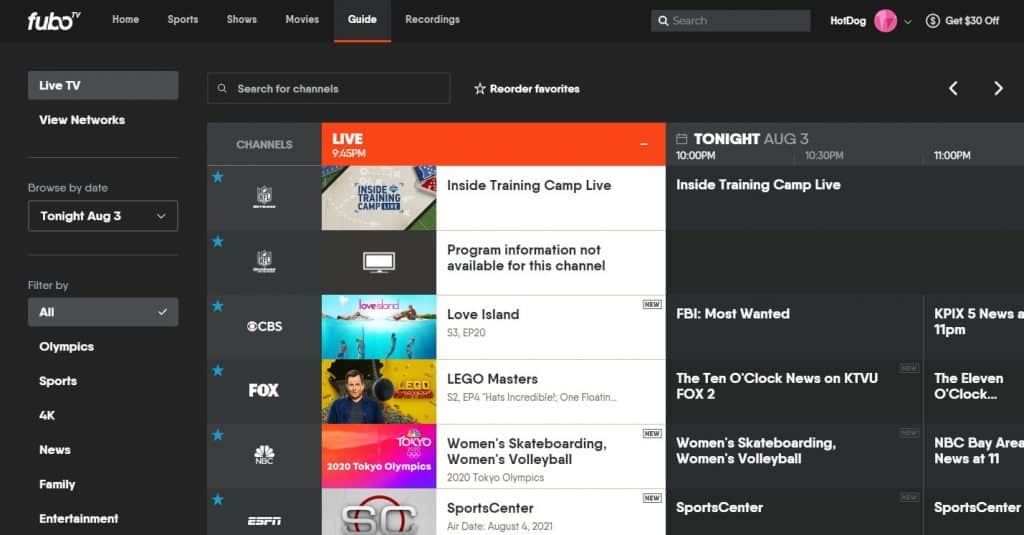 FuboTV

| | |
| --- | --- |
| NFL Channels | CBS, ESPN, Fox, NBC, NFL Network |
| Total Channels | 105+ |
| Cloud DVR | 750 hours |
| Simultaneous Screens | 10 (2 away) |
| Free Trial | ✅ |
| FuboTV Price | $69.99/mo |
FuboTV is one of the top streaming services when it comes to sports. For just $69.99/mo, you get NFL Network and the other NFL channels: CBS, ESPN, FOX, and NBC.
The standard FuboTV plan (Pro) comes with over 100 channels — 35+ of them sports-oriented in addition to all the network affiliates in most areas. It also comes with a generous 750 hours of cloud DVR storage and the ability to watch on up to ten devices/TVs at the same time.
If you want NFL RedZone, FuboTV offers it as part of its Sports Plus add-on. For $10.99/mo, you get NFL RedZone and 25 other additional sports channels including MLB Network, NBA TV, and NHL Network.
For more information, see the following articles:
Sling TV

| | |
| --- | --- |
| NFL Channels | Fox, NBC, NFL Network |
| Total Channels | 40+ |
| Cloud DVR | 50 hours |
| Simultaneous Screens | 3 |
| Free Trial | ❌ |
| Sling TV Price* | $35.00/mo |
The Sling Blue plan comes with NFL Network and 40+ other channels for just $35/mo. Otherwise, it isn't a great plan for sports. It does, however, offer local affiliates of FOX, which airs two games each Sunday, and NBC, which airs Sunday Night Football.
You can also get ESPN, if you opt for the Blue/Orange plan for $50.
Sling TV provides the option of integrating an antenna with its streaming platform. If you sign-up for just two months in advance, they will send you an antenna for free. This should allow you to get all your local affiliates including CBS in one low-cost plan.
Sling TV comes with 50 hours of cloud DVR storage and you can use it with up to three devices at one time. If you aren't sure about Sling TV, you can save $10 on Sling TV.
Or, check out our detailed articles on Sling TV:
Hulu + Live TV

| | |
| --- | --- |
| NFL Channels | CBS, ESPN, Fox, NBC, NFL Network |
| Total Channels | 85+ |
| Cloud DVR | Unlimited (9 month storage) |
| Simultaneous Screens | 2 |
| Free Trial | ❌ |
| Hulu Price | $69.99/mo |
Not long ago, Hulu was a disappointment for NFL fans. But since the start of the 2021 season, Hulu + Live TV offers NFL Network. This is part of its 85+ live TV streaming plan, which includes CBS, ESPN, FOX, and NBC — all the channels you need to watch the NFL live! And you get ESPN+ and Disney+.
Hulu is also offering NFL RedZone as an add-on for $9.99/mo. It comes with a handful of other channels focusing on horse racing (TVG, TVG2), hunting (Outdoor Channel, Sportsman Channel), and motorsports (MAVTV).
Check out Hulu Live for $69.99/mo.. You can read more about Hulu in these articles:
Vidgo

| | |
| --- | --- |
| NFL Channels | ESPN, Fox, NFL Network |
| Total Channels | 100+ |
| Cloud DVR | ❌ |
| Simultaneous Screens | 3 |
| Free Trial | ❌ |
| Vidgo Price* | $59.95/mo |
Vidgo is one of the younger streaming services on the market today. For $59.95/mo, you get 100+ channels. These include NFL Network as well as ESPN and FOX. Missing channels include CBS, which airs two games each Sunday, and NBC, which airs Sunday Night Football.
Unforunately for those who prefer to record NFL games, Vidgo doesn't include a DVR. You can, of course, install your own. Check out Vidgo for $59.95/mo.
For more on Vidgo, see the following guides: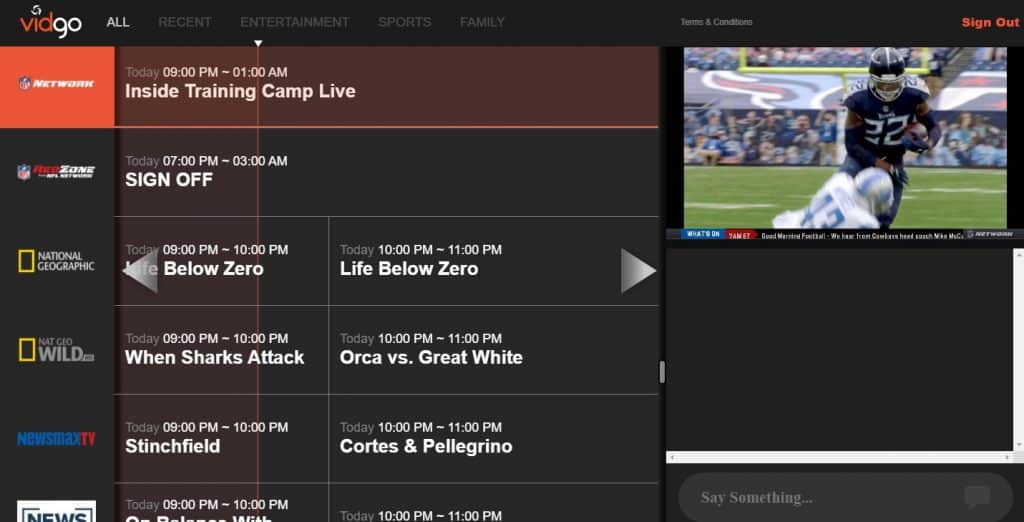 Other Ways to Get NFL Network
There are other ways to watch NFL Network:
TVs and Devices to Watch NFL Network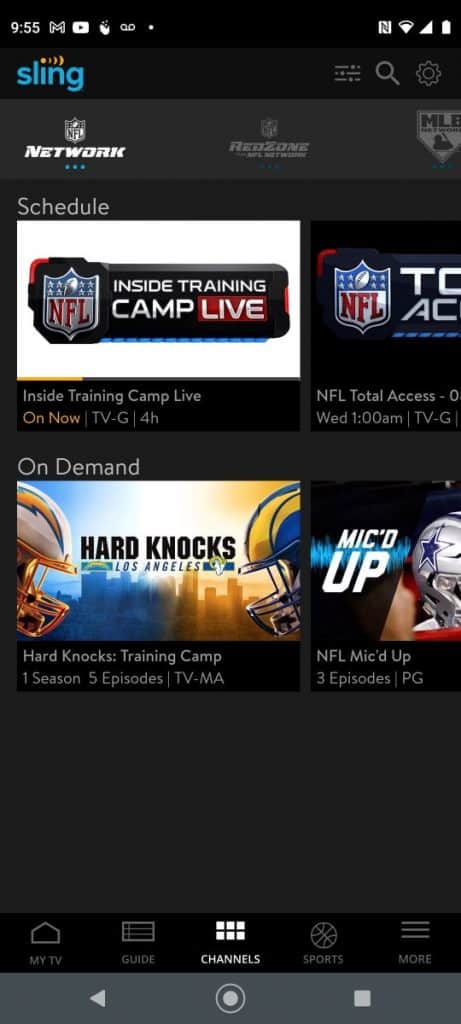 All of the streaming services that we've highlighted support the vast majority of the devices currently in use.
All but Vidgo explicitly support the Samsung and LG smart TVs of the past few years. FuboTV also supports the Hisense TVs. But all the services support smart TVs based on Android TV.
All the standard TV devices are supported: Amazon Fire TV, Apple TV, Chromecast, and Roku. And mobile devices based on Android and iOS (iPhone, iPad) are supported.
Finally, FuboTV, Hulu, and Sling TV all support the Xbox One. Hulu also supports the PlayStation and Nintendo Switch. And Sling TV supports the Oculus.
And finally, everyone supports the major web browsers. Devices that run such browsers can often be hooked up to TVs, too.
Wrapping Up
Want to know how to watch NFL Network live when cutting the cable cord? You have plenty of options out there right now and they seem to be growing with each season.
Whether you subscribe to FuboTV, Sling TV, Hulu + Live TV, or Vidgo, you will be able to enjoy all all the action from the pre-season all the way through to the Super Bowl.
FAQs
What shows are on NFL Network?
Aside from Thursday Night Football, NFL Network airs a host of programs and shows that every NFL fan will enjoy. There are news programs, draft specials, documentaries, classic games, and much more. NFL Network original shows include A Football Life, Good Morning Football, and America's Game. You will have no trouble finding something interesting to watch even in the offseason.
Can I watch the NFL Network for free?
The NFL Network is not available anywhere for free. Whether you pay for a cable subscription or subscribe to a streaming service, you will need to pay in order to access NFL Network. The good news is that the streaming services mentioned earlier do not charge extra for viewers to watch NFL Network. It is included in their basic packages.
Is NFL Network available on Amazon Prime?
If you remember, Amazon Prime aired some Thursday Night Football games in previous seasons. Some will also air in 2021. Beginning with the 2022 season, all of the Thursday Night Football games will air on Amazon Prime. The NFL Network itself is not available on Amazon Prime.
How can I watch sports on channels other than NFL Network without cable?
These articles provide explain how to watch sports without cable.
Latest posts by Frank Moraes
(see all)