Disclosure:
Your support helps keep our site running! We earn referral fees for some of the products & services we recommend.
Learn more
If you and your kids can't live without NickToons, you aren't alone. And you don't need to sign-up for a long-term cable or satellite contract to get it. You can get NickToons contract-free for very little money. Read on to learn how.
In a hurry? All of the major live TV streaming services make NickToons available. Here are our top choices:
Hulu + Live TV: An all-around great entertainment package for the whole family including ESPN+ and Disney+.
Sling TV: This is a great way to get NickToons. Save 50% on your first month of Sling TV.
Philo: Although it doesn't have any local or sports channels, it offers great family entertainment for little money. Try out Philo free for 7 days.
It's difficult to overstate the influence of NickToons, Nickelodeon's unique animated series, over the last thirty years. And today, the NickToons channel remains a reliable place to catch reruns of The Fairly OddParents, SpongeBob SquarePants, The Loud House, and more.
What makes NickToons different from other animated series? Read on.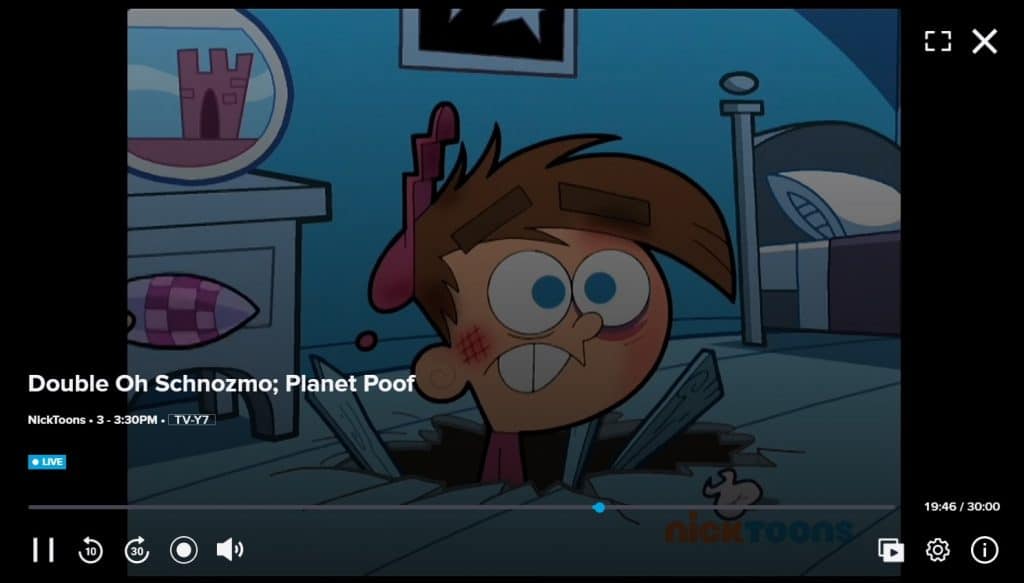 What Is NickToons
In 1991, emboldened by Fox's then recent primetime animated hit, The Simpsons, Nickelodeon green-lit three pilots of wholly original, creator-driven series. They offered completely different animation styles that perfectly captured their own individual flavors: Rugrats, Doug, and Ren & Stimpy. The humor was situational and relatable sometimes and scatological and slapstick other times.
Nick opened its own animation studio, producing SpongeBob SquarePants in 1999. In 2002, NickToons got its own spin-off channel, which traded shows back and forth with its parent channel. In 2009, Nick's parent company Paramount Global bought Teenage Mutant Ninja Turtles, the first non-original franchise, and rebooted the animated TV series in 2012.
As streaming services have grown in popularity (and old-fashioned live TV viewers decline), NickToons now mainly airs reruns of Nickelodeon series, mostly animated, many NickToons (and a few live-action, despite the name).
In 2019, Nick released its first "straight-to-Netflix NickToon," Pinky Malinky, and later the same year, Nickelodeon and Netflix announced a multi-year agreement for the original kids' network to produce original series and movies for the King of Streaming.
Other franchises, like SpongeBob SquarePants, have moved to Paramount+, Nick's parent company's streaming service.
NickToons Shows
Some notable NickToons (there are many):
Rugrats: A baby's-eye-view of life from one-year-old Tommy Pickles as he and his friends Chuckie, Phil, and Lil and his three-year-old cousin Angelica try to figure out how stuff works.
Ren & Stimpy: An uptight chihuahua and his goofy feline roommate/best friend blunder through ordinary situations. Hijinks ensue! Kind of like Seinfeld crossed with The Odd Couple, but with a grade-school sense of (potty) humor.
SpongeBob SquarePants: A pineapple-dwelling fry cook sponge and his starfish best friend navigate the vagaries of crabby neighbors, crabbier employers, and boating lessons.
Teenage Mutant Ninja Turtles (2012): Anthropomorphic teen turtles, their anthropomorphic rat sensei, and human friend April O'Neil use ninjitsu to protect New York from their nemesis The Shredder and an alien invasion.
The Loud House: The chaotic life and times of Lincoln Loud, the only boy in a family with 11 kids.
Sister Channels
NickToons is part of the Nickelodeon gang of channels, which also contains the original Nick, Nick Jr, TeenNick, and NickMusic.
All the Nick channels are owned by Paramount Global (formerly ViacomCBS), which also owns CBS, Paramount Network, MTV (and its spinoffs), Comedy Central, BET (and its sister-channels), TV Land, and the Smithsonian Channel. It also has a few smaller channels like CMT, Dabl, Logo, and POP TV, the premium channel Showtime, and co-owns The CW with WarnerMedia.
Much of the content on these channels can be found on Paramount+.
Alternatives
Other animation options include Cartoon Network and its older, weirder alter-ego Adult Swim, Boomerang, and Kartoon Channel. Obviously these channels are popular with kids, but they also remain guilty (or not-so-guilty) pleasures for grown-ups too.
Other mixed live-action and animation channels for kids are Disney, Disney Junior, Disney XD, and Universal Kids.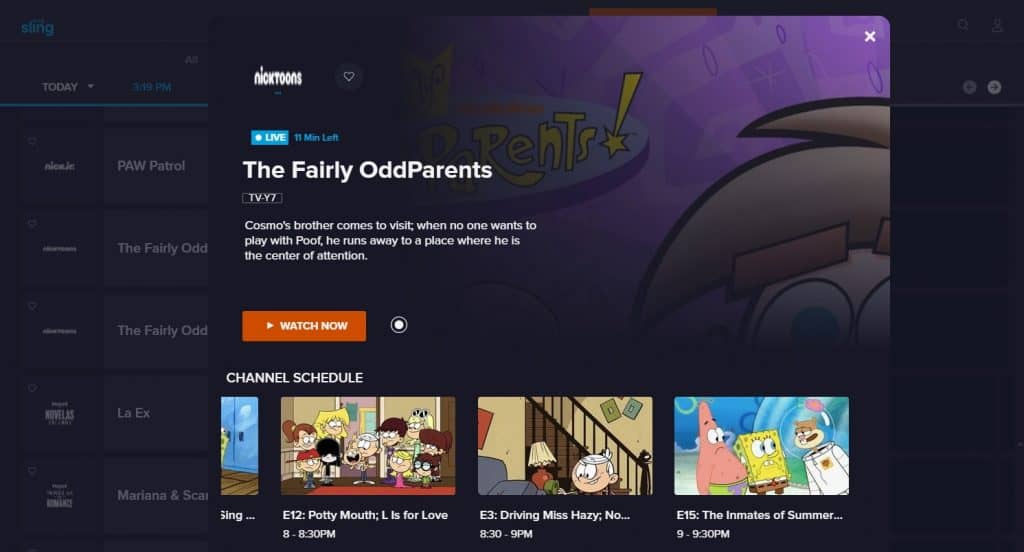 Stream NickToons
NickToons is found on every service that has Nickelodeon, which is to say, all of them.
Philo

Philo keeps its monthly price down by skimping on the high-priced channels, but it maintains a (relatively) large lineup by getting tons of the lower priced ones — like the Paramount Global channels.
It's got NickToons, including the rest of the Nicks except NickMusic (which almost no one has), Paramount Network, MTV, Comedy Central, and more. It also has unlimited DVR. Best part: it's just $25 per month.
Its plan comes with unlimited cloud DVR and streaming on up to three devices at the same time. See our Philo review for more.
Hulu + Live TV

Hulu + Live TV runs at the opposite end of the pricing spectrum from Philo, $69.99/mo. But there are three excellent reasons to sign up anyway. It includes (1) Hulu (the original on-demand service), (2) Disney+, and (3) ESPN+.
They're all included with the 85+ live channels you get in the base package, which also contains almost all the Paramount Global channels listed above. Almost all — unfortunately, NickToons and TeenNick are in the Entertainment Add-on, which you can get for an additional $7.99/mo.
The base plan comes with unlimited cloud DVR (9 month storage) and simultaneous streaming on up to two devices. For more, see our Hulu + Live TV review.
Sling TV

Sling TV is cheaper than most of the other options, but also a little more complicated. Choose a base service from Sling Orange or Blue (Orange has Disney but you can only watch on one screen at a time) for $35/mo (or both for $50/mo). Both include AMC, Cartoon Network, Comedy Central, BET, and Nick Jr.
You can add the Kids Extra for $6/mo to get NickToons, TeenNick, and more. There are also a la carte premium channels that you can subscribe to, like Kartoon Channel, which usually cost just a few extra dollars.
All Sling TV plans come with 50 hours of cloud DVR. See our Sling TV review for more information.
FuboTV

Even though FuboTV is nominally a sports-focused service, with over 100 live TV channels, it has an excellent lineup for family entertainment for $69.99/mo. NickToons, TeenNick, and NickMusic are all included in the Fubo Extra add-on for $7.99/mo more. Or you can get the 170+ channel Elite plan for $79.99/mo.
Either plan includes 1,000 hours of cloud DVR storage, up to 10 screens streaming at a time, all your local stations, 4K UHD where available, and the best international sports coverage around.
Get complete details in our FuboTV review.
DIRECTV STREAM

DIRECTV STREAM (formerly AT&T TV) is committed to making sure you keep all the trappings of cable, while still keeping things flexible. But while they may be on the cheap side for cable, they're on the pricier side of streaming.
Still, you do get a lot of the most popular channels — over 100 for $89.99/mo in the Choice Package, including Nickelodeon, The Disney Channel, Nick Jr., and NickToons, plus regional sports networks that cover your home MLB, NBA, NHL, and MLS games.
All plans come with unlimited cloud DVR storage (online sign up required) and streaming on up to 20 devices at home and 3 away. Check out our DIRECTV STREAM review for more.
Vidgo

Vidgo has two English plans: Plus ($59.95/mo) and Premium ($79.95/mo). NickToons comes with both. NickMusic and TeenNick are only on the Premium plan. You can stream on up to 3 devices but Vidgo has not yet released a full DVR. See our Vidgo review for more.
YouTube TV

YouTube TV is $64.99, and NickToons is in the base package with 85+ live TV channels, unlimited cloud DVR, and streaming on up to 3 devices.
Other Ways to Stream NickToons
There are other ways to get NickToons content:
Netflix: Lots of NickToons can be found on Netflix, including the Netflix-exclusive Pinky Malinky. Others are older ones that Nick is licensing to the on-demand streaming service. Either way, though, you can often catch your NickToons faves on Netflix.
Paramount+: Paramount Global's own on-demand streaming service has the most comprehensive back-library of Nick shows, including NickToons, available. (Paramount+ review)
Streaming Devices and TVs for NickToons
All the services we've discussed support these devices:
Amazon Fire TV
Android mobile
Apple TV
Chromecast
iOS (iPhone,iPad)

Roku

Web browsers

.
They all also support Android TV devices (except DIRECTV STREAM). They support Samsung smart TVs (except Philo and Vidgo). Hulu, Sling, Fubo, and YouTube support Xbox gaming systems. Hulu and YouTube support PlayStation. Hulu alone supports Nintendo Switch gaming units.
For complete information, see our streaming reviews (linked to above).
Wrapping Up
So NickToons, as an institution and an artform, is still going strong — just not on the NickToons channel as much anymore. But if you or your kid are a fan of The Loud House, Fairly OddParents, or SpongeBob SquarePants (or spin-off The Patrick Star Show), you'll find hours of entertainment on NickToons! Philo is the simplest and cheapest way to get NickToons. Try Philo free for 7 days.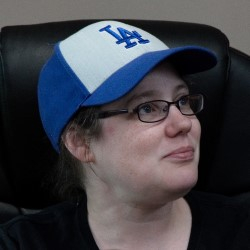 Latest posts by Alanna Baker
(see all)