The Olympic Channel may not be the most important channel for watching the Olympic Games themselves but it's essential for following Olympic competition all year — especially for American fans. Read on to learn how to stream it without a cable or satellite contract.
In a hurry? The Olympic Channel is widely available from streaming services that provide access to NBCUniversal channels. These are our top for the top streaming services offering it:
FuboTV: The best streaming service for international sports also provides 120+ well-selected channels. FuboTV allows you to try out its service free for 7 days.
Sling TV: This low-cost service allows you to select just the channel lineup you want. Save a bundle with Sling TV.
DIRECTV STREAM: Get a great channel lineup with the best selection of RSNs in the industry. A 5-day free trial is now available for DIRECTV STREAM.
If you can't watch your favorite sports because of your location, get ExpressVPN to access the content you deserve.
Unfortunately, we don't know a streaming service in that covers this sport. But if you've already paid for the right service, and just can't watch because of your location, there is an easy way to get the content you deserve. You need a VPN, like one of the following.
ExpressVPN: Premium VPN provider that just works, with 3,000+ locations in 94 countries. Supports five simultaneous devices and comes with a 30-day money-back guarantee. (ExpressVPN review)
Surfshark: Connect to over 3,200 servers in 99 countries (+ tonnes of US metro areas). Try it with a 7-day free trial.
NordVPN: Connect to over 5,000 premium servers in 60+ countries. Comes with a 30-day money-back guarantee!
If you're overwhelmed and not sure where to begin, you'll find all the answers in our full VPN guide.
Every two years, the world gathers together to celebrate athletes from all over the world. In February 2022, the Winter Games will take place in Beijing, and in 2024, the Summer Games will take place in Paris.
While you wait with anticipation for the Beijing Olympics to start, you can keep tabs on your favorite competitors by watching the Olympic Channel.
Sign Up for a Free 7-Day Fubo Trial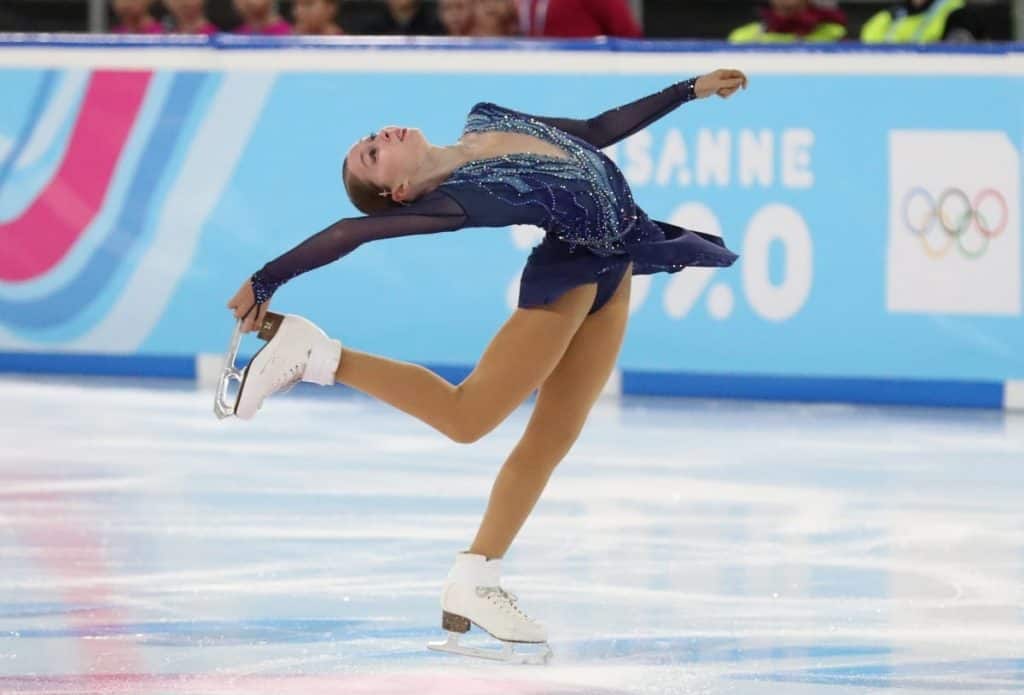 What Is the Olympic Channel?
The Olympic Channel is a joint venture between NBCUniversal, NBC Olympics, and the United States Olympic Committee (USOC). It broadcasts a variety of content featuring American athletes as they compete in regional, national, and international events. It also features original programming produced by the USOC as well as historic content that is owned by NBC and its various sports properties.
During the games themselves, this channel usually hosts a daily highlight and recap show. The purpose of this show is to help you stay informed about the key sports events and stories that you might have missed out on while asleep or at work.
The network may also provide a simulcast of the recap shows that are shown on NBC, USA, or other channels that often broadcast key live events either live or on a tape delay (eg, The Golf Channel and CNBC for the Tokyo Olympics).
Prior to July 2017, the Olympic Channel was known by several names such as Bravo HD+ and Universal HD. The network was originally supposed to serve as a vehicle for NBCUniversal to showcase shows, movies, and other content that the company had the rights to. However, the channel was forced to rebrand again because of a decline in viewer interest for channels that didn't offer original programming.
This channel is part of a global platform created by the International Olympic Committee (IOC). The goal of the Olympic Channel is to create and retain interest in this event during years in which they are not scheduled to occur.
Unblock Your Favorite Movies and Shows With a VPN
If you can't watch your favorite movies and shows because of your location, a VPN will allow you to get the access you are entitled to, plus extra security and unequalled privacy. Check out our VPN Guide for everything you need to know, including our top pick ExpressVPN.
Stream Olympic Channel
The Olympic Channel is cable only. So you can't watch it via an antenna. But the good news is that most of the primary streaming services offer it either in their base plans or as an add-on. The two main exceptions are Philo and Vidgo, neither of which offer any NBC Universal channels.
FuboTV

FuboTV is the best streaming service for international sports fans so of course they provide Olympic Channel in their base plan. It comes with over 110 total channels (35+ are sports-oriented) for $74.99/mo. This includes all your local channels and an excellent selection of entertainment, news, family, and more programming.
For $7.99/mo, you can get Fubo Extra with 45+ additional channels including even more sports, movies, lifestyle, family, and music programming. You also get 1000 hours of cloud DVR storage and the ability to stream on up to 10 devices at the same time. FuboTV allows you to try out its service free for 7 days.
See our FuboTV review for more information.
Sign Up for a Free 7-Day Fubo Trial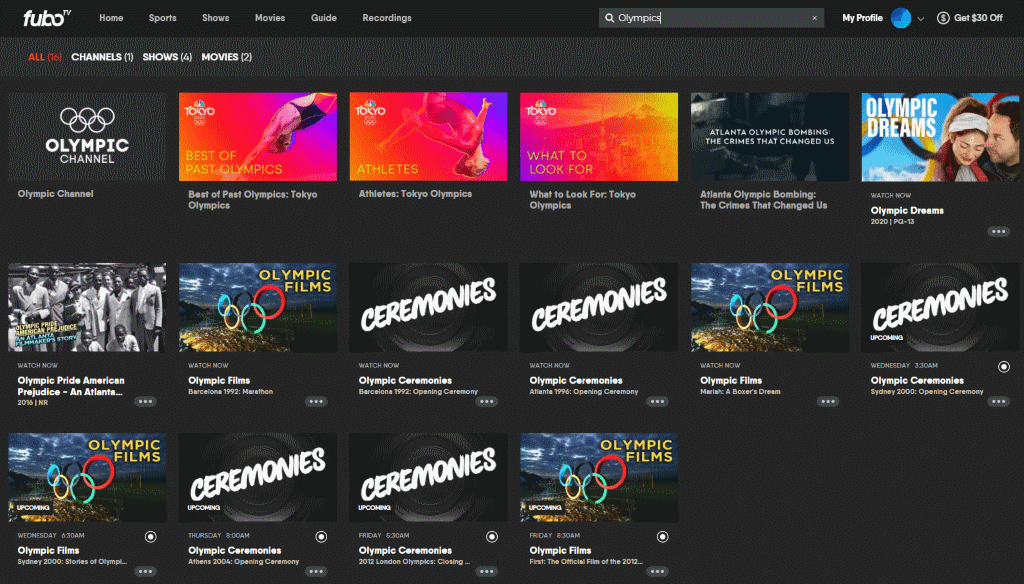 DIRECTV STREAM

DIRECTV STREAM (formerly AT&T TV) offers roughly 80 channels in its base (Entertainment) plan for $74.99/mo. This includes all your local affiliates as well as important channels like USA and TBS.
To get Olympic Channel, you need to upgrade to the Ultimate Plan, which offers 130+ channels for $99.99/mo. This also gives you access to DIRECTV STREAM's unmatched selection of regional sports networks (RSNs).
All plans come with unlimited cloud DVR storage as long as you sign-up online and streaming on unlimited devices at home. New customers get 5-day free trial with DIRECTV STREAM.
For more, see our DIRECTV STREAM review.
Get DIRECTV STREAM Free for 5 Days
Sling TV

Sling Blue provides subscribers with NBC and USA for just $40.00/mo, which makes it a good choice to watch the Olympics. It comes with 50 hours of cloud DVR storage and simultaneous streaming on up to 3 devices. Save 50% on Sling TV now!
If you want Olympic Channel, you will need the Sports Extra add-on for $11/mo more. This provides you with a total of 12 extra channels including MLB Network, NBA TV, and beIN Sports.
There are many options, so check out our Sling TV review.
Hulu + Live TV

Hulu + Live TV takes the standard Hulu on-demand plan, adds 85+ live TV channels, ESPN+ and Disney+ to create an awesome entertainment package. Its channel lineup offers a broad selection of sports, entertainment, local, and family. And you get it all for $69.99/mo.
You can watch Hulu Live on up to 2 screens at a time and have unlimited cloud DVR with up to 9 months of storage. For details, see our Hulu + Live TV review.
Other Ways to Stream the Olympic Channel
There are other ways to watch Olympic Channel.
YouTube TV: This service is similar to Hulu + Live TV, but costs a bit less but doesn't provide ESPN+ and Disney+.
Peacock: NBCUniversal's on-demand streaming service doesn't include Olympic Channel, but it will provide great coverage of the Olympics themselves.
Olympic Channel App: You can watch via this app but you will need a TV provider (streaming/cable/satellite) to access it. You can also use the NBC Sports app.
Superpower Your Live TV Streaming With a VPN
You can't beat a VPN for privacy, security, and access. We have used them for years as an important part of our streaming toolkit and we recommend ExpressVPN.
Devices and TVs to Stream the Olympic Channel
The streaming industry supports most devices these days. All the ones we've discussed support the following:
Amazon Fire TV
Android mobile devices
Apple TV
Chromecast
iOS devices (iPhone, iPad)
Roku
Samsung Smart TVs
Web browsers.
DIRECTV STREAM also has its own device that you can buy from them.
The services besides DIRECTV STREAM all support LG, VIZIO, and Android TV-compatible smart TVs as well as Xbox One gaming system. Hulu + Live TV also supports the PlayStation and Nintendo Switch.
See our streaming service reviews for less-popular devices that are supported.
Wrapping Up
If you are a fan of soccer, ice skating, gymnastics, or other prominent Olympic sports, you'll get a lot of enjoyment from watching the Olympic Channel. Although this channel does not actually broadcast much of the Olympics themselves, you'll get to watch qualifying events and other key competitions throughout the year.
You will also likely get a chance to watch classic moments from previous competitions that may have taken place before you were born or were old enough to appreciate what you witnessed.
You have a number of non-cable options for accessing the Olympic Channel. We recommend FuboTV for more intense sports fans. But if you are on a budget, Sling TV is the way to go.
Sign Up for a Free 7-Day Fubo Trial
Frequently Asked Questions
Is there more than one Olympic Channel?
The Olympic Channel that is run by NBCUniversal is the American version of a network that is owned and operated by the IOC. Therefore, in a sense, it can be seen as an offshoot of the IOC's programming efforts even though the American channel is its own entity. The international version of this channel showcases a broader range of countries and sports.
The IOC has said that it wants to establish networks similar to the one launched in the United States in other countries. The international version of the Olympic Channel was launched in August 2016 at the conclusion of that year's Summer Games.
Will the 2022 Olympics be shown on the Olympic Channel?
It's likely that some sports events that take place during the Olympics will be showcased on the Olympic Channel. However, the vast majority of the events that take place in Beijing will be shown on NBC, USA, and other networks that are owned by NBCUniversal. There is also a good chance that the Olympics will be available to those who subscribe to Peacock.
How can I watch other sports channels besides Olympic?
These guides show you how to watch other channels that show a significant amount of sports:
Ditch "Big Cable" Now – 3 Simple Steps to Cut the Cord
Pick the right streaming service
Get the content you deserve with the best VPN.
Supercharge your internet provider
That's it — you'll save money, take back control, and enjoy TV more!
Latest posts by Frank Moraes
(see all)