If you are a fan of NCAA sports in the west, then the Pac 12 Network is a must for you. Of course, it isn't just one channel — it's seven. Read on to find out all the details.
In a hurry? You don't need to get into the details to get the Pac 12 Network. These live TV streaming services will give you what you desire:
FuboTV: The ultimate sports streaming service, it's a bit more expensive but you get a lot more. Fubo allows you to try out its service free for 7 days.
Sling TV: It offers the six regional Pac 12 Network channels and is a great deal with a bunch of other sports channels. Save 50% on Sling TV now!
Vidgo: Probably the best streaming service if NCAA sports are your thing, all 7 Pac 12 Network channels come with the base plan. Try one month for $64.95.
If you enjoy following college teams (especially Pac-12 football) such as USC, Arizona, or Utah, you'll want to subscribe to the Pac-12 Network. In addition to the primary national network, there are six regional networks dedicated to providing exclusive coverage of teams located in the western United States.
Each channel focuses on the two teams in its coverage area. The national channel will often air live games playing on a specific regional channel.
Pac-12 Network: National
Pac-12 Arizona: University of Arizona and Arizona State University
Pac-12 Bay Area: University of California and Stanford University
Pac-12 Los Angeles: UCLA and University of Southern California
Pac-12 Mountain: University of Colorado and University of Utah
Pac-12 Oregon: University of Oregon and Oregon State University
Pac-12 Washington: University of Washington and Washington State University.
Sign Up for a Free 7-Day Fubo Trial
How to Watch the Pac-12 Network Live Without Cable
The Pac-12 Network is a premium cable TV channel that cannot be picked up by an antenna. To get access to this channel, you will need to sign up with a third-party provider. In the past, that meant a cable or satellite company. Today, you have a few choices with streaming services.
It's worth noting that these platforms have their own app that can be used to access content from a variety of devices. However, you will need to sign up for one of the providers to get access. You can't sign up for Pac-12 Network directly.
Unblock Your Favorite Movies and Shows With a VPN
If you can't watch your favorite movies and shows because of your location, a VPN will allow you to get the access you are entitled to, plus extra security and unequalled privacy. Check out our VPN Guide for everything you need to know, including our top pick ExpressVPN.
Streaming Services With Pac-12 Network
While you may be able to get Pac-12 Network through your cable TV provider, there are many benefits for opting to do so through a live TV streaming service. For example, you don't need to sign a contract. Streaming services are all month-to-month.
Let's take a look at the various ways that you can live stream the Pac-12 Network and how you can determine which one best meets your needs and budget.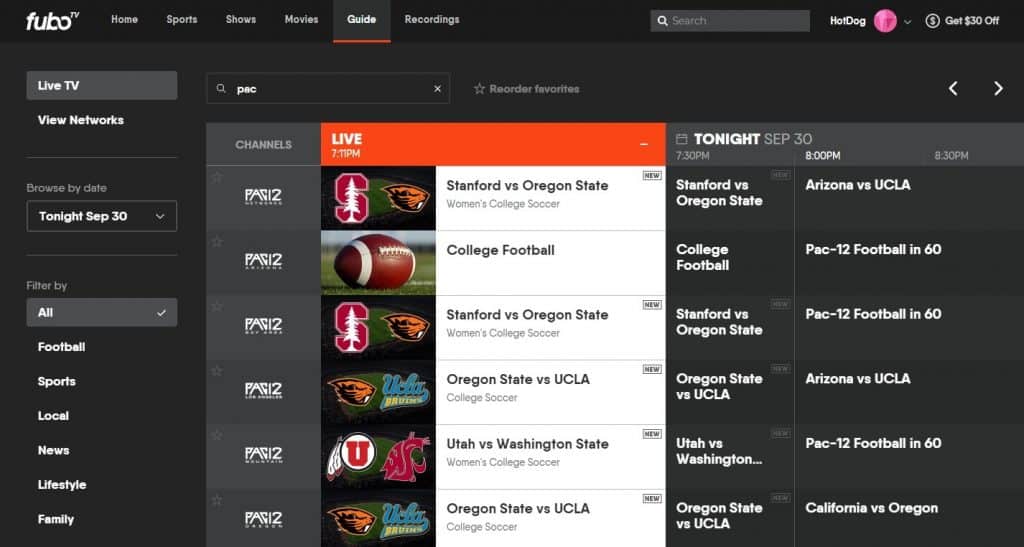 FuboTV

The base FuboTV plan (Pro) offers you over 120 channels including over 35 that are sports-oriented for $74.99/mo. But it does not include any of the Pac-12 Network channels.
With the Fubo Extra add-on for $7.99/mo, you get the national Pac-12 Network as well as the Pac-12 regional station in your area (if you live in one). But if you want all seven Pac-12 Network channels, you can get the Sports Plus add-on for $10.99/mo, which includes 19 other live sports channels including MLB Network, NBA TV, NHL Network, and the conference networks ACCN and SECN.
Included with all plans are ESPN, ESPN2, FS1, FS2, CBS Sports Network, and a plethora of beIN Sports and TUDN networks. You also get four Big 10 Network channels.
Finally, all FuboTV plans come with at least 1000 hours of cloud DVR storage and the ability to live stream on up to 10 devices at once. Find out more in our FuboTV review.
Sign Up for a Free 7-Day Fubo Trial
Sling TV

The NCAA Men's and Women's Division I National Lacrosse Tournaments are going on through May 29 — watch with Sling TV for less!
Sling TV has two packages: Sling Blue and Sling Orange, each at $40.00/mo, offering between 30 and 50 channels. You can also get them together for $55.00/mo. Neither plan includes the Pac-12 Network.
But with the Sports Extra add-on for $11/mo, you get the six regional Pac-12 Network channels (but not the national one) in addition to 11 other channels including NFL RedZone, NBA TV, and MLB Network.
The Blue plan includes NFL Network, FS1, and Stadium. The Orange plan includes ESPN, ESPN2, and ESPN3. It also (perhaps oddly) includes family channels like Disney. They both come with 50 hours of cloud DVR storage. And you can watch on up to 3 devices at once, but it depends upon the channel.
See our Sling TV review for more information. You can also check out our guide to March Madness coverage and schedule. And if you're also a fan of NCAA hockey, you should see our guide to the Men's Division I Tournament in late March/early April.
Vidgo

Vidgo provides you with all seven Pac-12 Network channels with its base plan for $69.99/mo. These are part of its 100+ channel lineup. Vidgo makes things very simple. There are no add-ons — just a single plan with a ton of channels. (They do offer a Spanish-language plan for those interested.)
You'll also get other channels that are important to NCAA fans: the Atlantic Coast Conference Network (ACCN), Big Ten Network (BTN or B1G), Longhorn Network, and the Southeastern Conference (SEC) Network. Vidgo also offers most of the ESPN family of networks including ESPNU as well as Fox Sports 1 (FS1), Fox Sports 2 (FS2), NFL Network, and NFL RedZone!
The one downside of Vidgo is that they do not offer you a cloud DVR. But it's still the ultimate deal for NCAA fans. See our Vidgo review for details.
Are There Other Ways to Get the Pac-12 Network?
The only way to get this network without signing up for a streaming service is to subscribe to a cable or satellite package like Dish Network that includes this network. You can contact your cable TV company to learn more about whether this channel is available in your area.
Although this network is not available on YouTube TV, it may be possible to obtain clips from live games through YouTube itself. Hulu + Live TV and DIRECTV STREAM (formerly AT&T TV) also do not provide access to Pac-12 Network channels.
You can also get lots of information and even whole games at pac-12.com.
Superpower Your Live TV Streaming With a VPN
You can't beat a VPN for privacy, security, and access. We have used them for years as an important part of our streaming toolkit and we recommend ExpressVPN.
TVs and Other Devices for Pac-12 Network
The streaming services above allow you to watch Pac-12 Network channels on the most important devices:
Amazon Fire TV
Android mobile devices
Android TV
Apple TV
Google Chromecast
iOS devices (iPhone, iPad)
Roku
Web browsers.
Both FuboTV and Sling TV work on smart TVs from Samsung, LG, and Vizio. They also support the Xbox One gaming system. Sling TV even supports the Oculus VR system.
These are the most popular devices. If you don't see your device, look at our reviews (links above) for details.
In addition, you can use the Pac-12 Now app, but it requires you to log in with a third-party provider (like FuboTV) and isn't supported on many devices.
Sign Up for a Free 7-Day Fubo Trial
Wrapping Up
The Pac-12 Network is the primary broadcast home for the Pac-12 Conference — whether it is popular things like college football, mid-interest like baseball (schedule), or more niche like college volleyball.
It includes some of the most popular teams in the nation such as USC, UCLA, and Oregon. Other schools in this conference include Washington State, Utah and Colorado. In addition to a national network, there are six regional networks focused on providing content based on teams in a given geographic area.
Vidgo is probably your best choice for Pac-12 Network coverage. But FuboTV is great if you care about a wide range of live sports. And Sling TV is the low-cost champion.
These platforms also offer national networks such as ESPN, FS1 and others that provide broadcasts of select live games involving Pac-12 teams. This may allow you to watch live content even if it isn't made available on the Pac-12 Network itself.
FAQs
Can I get access to Pac-12 regional networks from anywhere in the country?
Yes, you can get access to regional networks such as Pac-12 Mountain, Oregon, and California by signing up for any of the live TV streaming services discussed above. You can get the national version of the Pac-12 Network through these services as well as through SlingTV. In most cases, you'll be able to watch these channels within minutes of activating your streaming platform account.
Why do Pac-12 fans need ESPN, FS1, and other national networks?
National sports networks provide you with an additional opportunity to watch games that might not be aired live on the Pac-12 Network. Furthermore, it provides you with an additional outlet to hear commentary from sports insiders about the state of the Pac-12 throughout the year. In some cases, having access to multiple national networks may keep you abreast of national storylines that might impact the Pac-12 sports.
How do I watch channels other than Pac-12 Network without cable?
These channel-specific sports guides will explain how to watch without cable.
Ditch "Big Cable" Now – 3 Simple Steps to Cut the Cord
Pick the right streaming service
Get the content you deserve with the best VPN.
Supercharge your internet provider
That's it — you'll save money, take back control, and enjoy TV more!
Page Updates
▼
▲
Added links to streaming services. Updated some section headings. Updated some sub-sections. Added useful links.

Added links. Image changes. Mentioned offers.

Added VPN info. Added links. Reworded some things.

Added buttons for streaming services. Image changes. Additional links. Mentioned offers. Deleted unneeded sub-section.

Image changes. Linking. Pricing updates.

Pricing updates. Mentioned offers. Additional links.
Latest posts by Frank Moraes
(see all)