If reality TV is your thing, the Paramount Network is one of the best channels. But that shouldn't stop you from cutting the cord. Paramount and similar channels are widely available online. Read on to learn more.
In a hurry? If you already know you want to cut the cord, these streaming services offer great plans including the Paramount Channel:
Fubo: With 150+ channels, it offers something for everyone. Fubo allows you to try out its service with a free trial!
Philo: Super inexpensive live TV streaming service with 7-day free trial.
Sling TV: Probably the best streaming service in terms of customization with a 50% discount your first month.
If you can't watch your favorite sports, TV and movies because of your location, try ExpressVPN to get access to the content you deserve. Signup now.
Unfortunately, we don't know a streaming service in that offers this TV channel. But if you've already paid for the right service, and just can't watch because of your location, there is an easy way to get the sports, movies, and TV you deserve. You need a VPN, like one of the following.
| | | |
| --- | --- | --- |
| | ExpressVPN: Known as "The VPN that just works," it combines remarkable ease of use with with state-of-the-art power, speed, security, and privacy. Get three extra free months when you sign up for a year. Unleash your streaming with this top-rated VPN. | Sign Up Now |
| | Hotspot Shield: Connect to servers in 80+ different countries and 25+ US cities. HotSpot Shield features extremely fast servers and connections and is specially tuned for use with streaming services. And you can try it risk-free with a 7-day free trial and a 45-day money-back guarantee! | Sign Up Now |
| | CyberGhost: Great low-cost service with ultra-fast servers in 90+ countries for smooth live sports streaming. It also provides great security and privacy. See if it's right for you with a free 24-hour trial and test it out with a 45-day money-back guarantee. | Sign Up Now |
If you're overwhelmed and not sure where to begin, you'll find all the answers in our full VPN guide.
The Paramount Network has had a bit of an identity crisis over the last few decades. Originally founded as The Nashville Network in 1983, it then became The National Network in 2000, finally landing as Spike TV in 2003.
Just as it was settling into its new role as a reliable place to catch MMA bouts or Star Trek reruns, in 2018 it got relaunched again as the Paramount Network, the flagship channel of Paramount Studios.
Currently, the Paramount Network is home to original unscripted reality series, assorted films, and sitcom reruns. Its biggest mainstream hit is its fictional drama series Yellowstone, set to start its fourth season in November.
But you don't need a cable subscription to follow Jon Taffer or the ups and downs of the Dutton family. Keep reading to find out how.
How to Watch Paramount Network Live Without Cable
Paramount is owned by Viacom, which merged with CBS a few years ago. So Paramount is the flagship to a rather motley fleet of Paramount Global (formerly ViacomCBS) stations: CBS, Comedy Central, Logo, Pop TV, Smithsonian Channel, TV Land, VH1, CMT, MTV (and its variations), Nickelodeon (and its variations), BET, Showtime, and — shared with WarnerMedia — The CW.
Paramount aspires to prestige TV greatness alongside FX and AMC. And Yellowstone, for one, has been widely acclaimed. But other channels are more in line with Paramount's more signature quirky reality shows like TruTV, TLC, and Discovery.
Paramount Network is not an OTA (over the air) channel, so you can't just tune in with an antenna. You need a pay-TV account. But that account no longer has to be with your local cable provider.
You can use an OTT (over the top) online streaming service. It works just like cable, but you get the programming over the internet instead of through a cable or satellite. There are no contracts, no installation appointments, and the services are cheaper. Read on to find out which services carry the Paramount Network.
Unblock Your Favorite Movies and Shows With a VPN
If you can't watch your favorite movies and shows because of your location, a VPN will allow you to get the access you are entitled to, plus extra security and unequalled privacy. Check out our VPN Guide for everything you need to know, including our top pick ExpressVPN.
Other brands worth checking out include Hotspot Shield and CyberGhost.
Streaming Services with Paramount Network
The great news for you as an aspiring cord-cutter is that Paramount Network is on every single major streaming service. In other words, you can't get a streaming service that doesn't carry it. So let's take a look at the pros and cons of each so you can make an informed decision.
FuboTV

FuboTV is all about that sweet sports action, so if you're a big fan of athletic competition, you should give it some serious consideration. Another big plus is that it includes all your local broadcast stations from the major networks. FuboTV is a full cable replacement service.
Fubo's base package is the Pro, and you get over 130 channels for $74.99/mo. You can stream on up to 10 devices at a time and you also get 1000 hours of cloud DVR.
The Pro comes with Paramount Network and Paramount Global's greatest cable hits like Comedy Central, Nickelodeon, and MTV. But it also has all your reality channel faves — TLC and Discovery — plus all the great original series on FX and AMC. The only one missing from the party is TruTV.
Get all the details in our FuboTV review.
Philo

Philo is the bargain diamond-in-the-rough of streaming services. Over 60 channels, for the low fee of $25/mo. That's it.
They've got a 7-day free trial, unlimited cloud DVR storage, and 3 simultaneous streams per account. One downside is that they don't include any local networks, but you can usually pick them up with an antenna (totally free) if you really want.
Aside from Paramount Network, they have TLC, Discovery, and AMC, but no TruTV or FX. Check out our Philo review for more information.
Sling TV

Sling TV is a great low-cost streaming service that is highly customizable. You can get all the best reality and drama channels with Sling Blue ($40.00/mo). Save 50% on Sling TV now!
If you are going for the Paramount Network — And who wouldn't, right? — you'll need the Comedy Extra, which is just $6/mo more and gives you other great channels like MTV, TruTV, and Laff.
Find out more in our Sling TV review.
DIRECTV STREAM

DIRECTV STREAM (formerly AT&T TV) is the cable replacement system on this list that most resembles actual cable, so it could be a good choice if you want to keep your TV setup as familiar as possible.
They've even got a cable-box-like device for streaming, which you can use if you choose to purchase it from them. (You can also use third-party devices — see below.)
It's the highest-priced option on this list, however. The base plan — Entertainment plan — is $74.99/mo, which has over 75 channels. Those channels include Paramount and most of its Paramount Global sister-stations, TruTV, TLC, Discovery, FX, and AMC. The only other one on the list that has them all is Sling TV.
Get DIRECTV STREAM Free for 5 Days
Hulu + Live TV

Hulu + Live TV is a solid streaming cable-replacement service. It includes over 85 channels for $69.99/mo, unlimited Cloud DVR with 9 months of storage, and the ability to watch on up to 2 screens at a time. Plus it comes with Hulu's up-to-last-night on-demand library!
Hulu Live has all the Paramount Global channels, including Paramount Network, of course, plus TruTV, TLC, Discovery, and FX. It does not carry AMC however.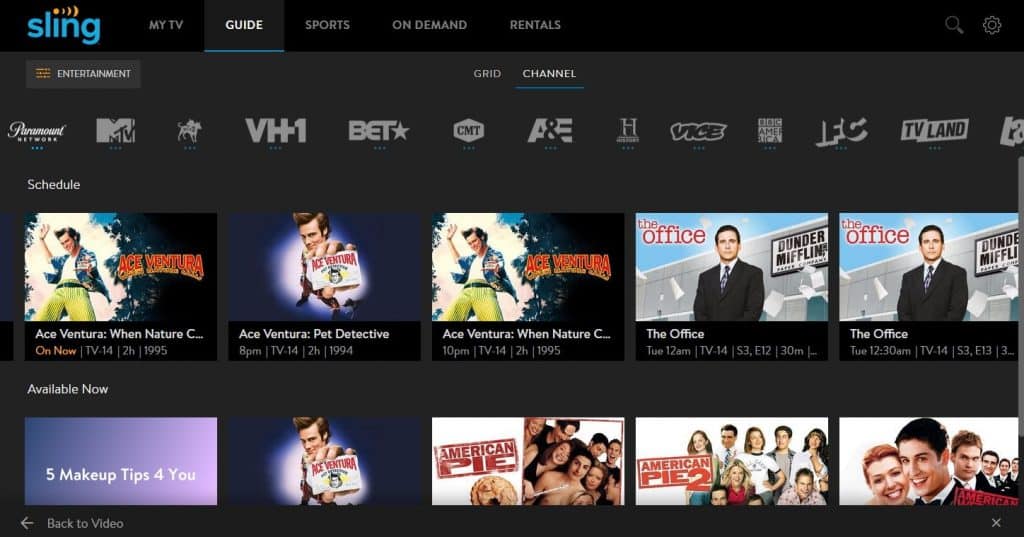 Vidgo

If Sling TV, with all its packages and add-ons and premium channels, is just too much hassle, then Vidgo may be a good choice. It offers 110+ channels for $69.99/mo. You can stream on up to 3 devices simultaneously but they do not include any cloud DVR storage.
They keep their cost low by skipping some of the more expensive licensing deals, so you won't find TruTV or AMC on their channel listing. But TLC, Discovery, and FX are all there along with the Paramount Network. And so are a number of sports, news, and local channels.
Read our Vidgo review for all the details.
Other Ways to Stream Paramount Network
There are other options to get Paramount Network without cable:
YouTube TV: Carries Paramount Network in a plan that's similar to Hulu's with 100+ channels for $72.99/mo.
Paramount+: Much (though not all) of Paramount Network's content can be found on-demand.
On-demand: Some Paramount series are available to stream or for purchase on various platforms like Amazon Prime Video.
Paramount App: Allows you to watch live but requires third-party login via TV Everywhere.
Superpower Your Live TV Streaming With a VPN
You can't beat a VPN for privacy, security, and access. We have used them for years as an important part of our streaming toolkit and we recommend ExpressVPN. Other brands worth checking out include Hotspot Shield and CyberGhost.
TVs and Devices for Paramount Network
Paramount Network can be streamed on most devices with most streaming services. The equipment you already own is most likely supported.
All of the streaming services we discussed above support these devices:
All smartphones and tablets with Android or iOS are also supported. And all but DIRECTV STREAM support TVs running Android TV. And web browsers are also universally supported.
Philo and Vidgo don't support Samsung smart TVs but the other services do. Hulu, FuboTV, and Sling TV also support Vizio and LG smart TVs. They also support Xbox One. Hulu supports other gaming devices.
There are various other devices that are supported. As mentioned above, DIRECTV STREAM has its own device. If we haven't mentioned your device, check our streaming reviews for more details.
Wrapping Up
Paramount Network definitely has some great shows you don't want to miss. And you don't need to hang on to your cable contract to avoid this.
Just sign up for one of the streaming services discussed here and you can catch all The Last Cowboy you want!
FAQ
What kind of shows can I watch on Paramount Network?
In September 2020, Paramount Global, Paramount's parent company, announced it would be rebranding Paramount Network yet again to the Paramount Movie Network. In preparation for this, most of the current unscripted reality series that have been the backbone of Paramount's programming have been either announced as canceled outright or moved to another Paramount Global station. Hit drama Yellowstone will continue, with Season 3 just wrapped in August, and Season 4 set to start in November.
No further announcement has been made about when programming changes will be coming down, so as of now, several current and recent Paramount original series still featured on their website include:
Yellowstone
Bar Rescue
The Last Cowboy
Ink Master
Wife Swap
Marriage Rescue
Rest in Power: The Trayvon Martin Story
Lip Sync Battle.
Syndicated sitcoms currently airing include:
Mom
Two and a Half Men
The Office
Seinfeld
Friends.
Ditch "Big Cable" Now – 3 Simple Steps to Cut the Cord
Pick the right streaming service
Get the content you deserve with the best VPN.
Supercharge your internet provider
That's it — you'll save money, take back control, and enjoy TV more!
Page Updates
▼
▲
Updated some sub-sections. Updated some section headings. Misc changes to content. Deleted unneeded sub-section.

Updated some sub-sections. Image changes. Added a few links.

Added buttons for streaming services. Added VPN info. Added links to streaming services. Updated some sub-sections. Image changes. Additional links.

Pricing updates. Reworded some things.

Image changes. Pricing updates. More links.

Pricing updates. Additional links. Various changes to content.

Added FAQ section. Added table of contents. Added links to streaming services. Updated some sub-sections. Reworked one section. Updates to a section. Cleaned up list. Deleted unneeded sub-section.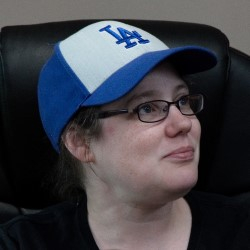 Latest posts by Alanna Baker
(see all)