Even after the end of Schitt's Creek, Pop TV is one of the best general entertainment channels around. And despite being a "cable" channel, you don't need cable to access it. Read on to learn everything you need to know.
In a hurry? The top live TV streaming services offer Pop TV. These are our favorites:
Fubo: With 130+ channels, it offers something for everyone. Fubo allows you to try out its service with a free trial.
DIRECTV STREAM: Makes it easy to switch from cable to streaming with their 75+ channel Entertainment plan and options for much more. A 5-day free trial is now available for DIRECTV STREAM.
If you can't watch your favorite movies and shows because of your location, try ExpressVPN to get access to the content you deserve.
Unfortunately, we don't know a streaming service in that offers this TV channel. But if you've already paid for the right service, and just can't watch because of your location, there is an easy way to get the sports, movies, and TV you deserve. You need a VPN, like one of the following.
| | | |
| --- | --- | --- |
| | ExpressVPN: Known as "The VPN that just works," it combines remarkable ease of use with with state-of-the-art power, speed, security, and privacy. Get three extra free months when you sign up for a year. Unleash your streaming with this top-rated VPN. | Sign Up Now |
| | Surfshark: Surfshark: Secure and easy to use with thousands of servers around the world. Of special note is its excellent collection of servers inside the US, which is great for regional sports lie NFL, MLB, and NBA. Get it now with an incredible 82% discount on a 24-month plan. | Sign Up Now |
| | NordVPN: One of the top VPNs with extremely fast servers all over the world. Great for streaming with tested perfomance on the biggest servers and included ad-blocking. Currently offering 70% discount on 2-year plans. | Sign Up Now |
If you're overwhelmed and not sure where to begin, you'll find all the answers in our full VPN guide.
Pop TV, which is officially known simply as Pop despite having a domain name of PopTV.com, is a pop-culture channel best known for its airing of Schitt's Creek. Previously, it was the TV Guide Channel, which provided updated television listings in the days before extensive online availability of that information.
Streaming Pop TV can be done through numerous streaming services, including Hulu + Live TV ($69.99/mo), FuboTV ($74.99/mo), DIRECTV STREAM ($99.99/mo), and YouTube TV ($72.99/mo).
Pop TV Basics
The short version of the story of Pop TV is that it used to be an electronic television guide that you could watch to see which shows, movies, sports events, concerts, and other events you want to watch. That was before it transitioned to a regular pay television channel that focuses on pop culture.
When it launched in 1981, it provided those television listings in a relatively slow format, resulting in most viewers needing to spend several minutes to see all of the channels. The audio was often provided by a local radio station that focused on music.
In the late 2000s, it started to focus more so on general entertainment, specifically dramas and sitcoms. However, it wasn't until 2015 that it took on its Pop moniker. Its previous names were Electronic Program Guide, Prevue Guide, Prevue Channel, TV Guide Channel, TV Guide Network, and TVGN.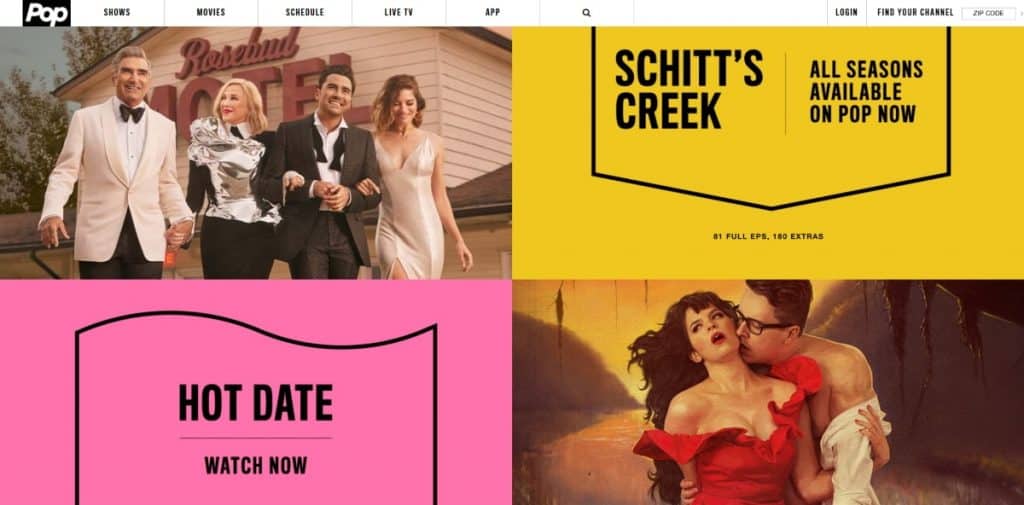 Programming
Here is a list of some of the popular shows that have or are airing on Pop TV:
Beverly Hills, 90210: This series was one of the most popular franchises of the 1990s as Brandon and Brenda adapted to life in California after moving from Minnesota. Nearly 300 episodes were produced.
Big Brother: After Dark: A Big Brother spinoff that differs from the original in that it focuses on what happens in the Big Brother house after the sun goes down.
Charmed: This show features three sisters who are witches and who do their best to protect others from warlocks and demons. It was broadcast from 1998-2006 and really helped raise the WB's profile.
Clique: This is a British show that originally aired on the BBC. Its main focus is a group of young women attending a university in Edinburgh, Scotland, and what happens to them there.
ER: One of the most popular shows of the 1990s and 2000s. Featuring characters in an emergency room in Chicago, it has won numerous Emmy Awards and set the stage for the success of Grey's Anatomy.
Florida Girls: This is a short-run series that received high reviews, including an 85% rating on Rotten Tomatoes. It ran for just 10 episodes and features women in a trailer park looking to leave it.
Gilmore Girls: This show, which was originally broadcast from 2000-2007, is another one that really raised the WB's profile with its impressive reviews and devoted fans. Lorelai and Rory are its main characters.
Hot Date: Pop TV broadcast the two seasons that this show aired from 2017-19. It is a comedy that features funny insights into the modern day dating and relationship world while focusing on a couple.
One Day at a Time: This is a reboot of a series by the same name that aired from 1975-1984. The original version was one of CBS's staples at the time while the current edition has received near unanimous praise.
Schitt's Creek: This program, which is arguably Pop's premiere show, was originally solely a Canadian production airing on CBC. After the first season, CBC and Pop TV combined to produce it.
Wolf Creek: Another international program that Pop brings to American audiences. It is an Australian horror series that features an American tourist there looking for revenge on a would-be killer.
Unblock Your Favorite Movies and Shows With a VPN
If you can't watch your favorite movies and shows because of your location, a VPN will allow you to get the access you are entitled to, plus extra security and unequalled privacy. Check out our VPN Guide for everything you need to know, including our top pick ExpressVPN.
Other brands worth checking out include Hotspot Shield and CyberGhost.
Stream Pop
Several multi-channel streaming services provide live access to Pop TV while its programing may also be viewed in other ways after having been aired.
FuboTV

FuboTV ($74.99/mo) provides 130+ channels. Known for its live sports coverage, it also provides Pop and other entertainment channels like VH1, TLC, Animal Planet, MTV, Comedy Central, and TV Land. Fubo allows you to try out its service with a free trial.
All Fubo plans come with 1000 hours of cloud DVR and simultaneous streaming on 10 devices. Our FuboTV review has more details.
DIRECTV STREAM

DIRECTV STREAM (formerly AT&T TV) provides viewers with roughly 100 live TV channels through its Choice plan ($99.99/mo). That includes Pop TV. Also included are TLC, USA, TNT, Discovery, CNN, and Comedy Central. You can also pay for a higher tier, such as its Ultimate plan ($109.99/mo) or Premier plan ($154.99/mo). A 5-day free trial is now available for DIRECTV STREAM.
If you sign-up online, all plans come with unlimited cloud DVR storage and streaming on unlimited devices at the same time. See our DIRECTV STREAM review for more.
Get DIRECTV STREAM Free for 5 Days
Hulu + Live TV

Hulu + Live TV ($69.99/mo) offers subscribers with a way to stream Pop TV as well as channels such as MTV, Lifetime, National Geographic, TBS, TNT, and Animal Planet. You also enjoy free access to ESPN+ and Disney+.
The plan comes with unlimited cloud DVR (9 months of storage) and streaming on up to two devices at once. See our Hulu + Live TV review for more information.
YouTube TV

If you are looking for streaming access to Pop TV, consider a subscription to YouTube TV ($72.99/mo). Also included for that price are MTV, MTV Classic, TBS, TNT, Travel Channel, IFC, AMC, and Comedy Central.
On-Demand Options
Specific Pop TV shows are available on-demand in various places:
PopTV.com: A small selection of complete episodes is available for viewing for free on the channel's official website.
Pop Now: The Pop TV app is available on Android, iOS, and Roku. It allows you to watch a significant amount of Pop TV's content, including every episode of Schitt's Creek, at no cost. It also provides access to other content that can be watched if you log in with TV Everywhere credentials.
Other: There are also other options for watching full episodes of shows broadcast on Pop. For example, Nightcap is available through Hulu as well while you can watch Schitt's Creek through Netflix. Also, access to episodes of various shows may be purchased through Amazon Prime Video, iTunes, Google Play, and Vudu.
TVs and Devices to Live Stream Pop TV
The streaming systems we've discussed above most likely support whatever devices you currently use. These include:
Amazon Fire TV
Android mobile
Apple TV
Chromecast
iOS (iPhone,iPad)

Roku

Web browsers

.
DIRECTV STREAM has its own device that you can purchase from them if you would like.
All the services but DIRECTV STREAM also support Android TV-compatible, VIZIO, LG, and Samsung smart TVs in addition to Xbox gaming systems. Hulu and YouTube support PlayStation units.
This is an incomplete list with only the most popular devices. See our streaming service reviews for complete lists.
Superpower Your Live TV Streaming With a VPN
You can't beat a VPN for privacy, security, and access. We have used them for years as an important part of our streaming toolkit and we recommend ExpressVPN. Other brands worth checking out include Hotspot Shield and CyberGhost.
Wrapping Up
Pop TV is where you can watch shows such as Charmed and ER. If you are looking for Pop as part of an overall entertainment package, we recommend Hulu + Live TV.
FAQs
Is Pop TV related to Pop in the UK?
The US version of Pop TV has no connection with Pop, a channel that broadcasts to the UK and Ireland. It isn't alone in this regard. There are a few channels named Pop or Pop TV throughout the world that have nothing to do with the US version. Other ones may be found in Slovenia and Pakistan.
Can I watch Pop TV for free?
You cannot watch a live broadcast of whatever is airing on Pop TV at any given time for free except through a free trial from a live TV streaming service. But you can watch select episodes for free on the channel's official website, PopTV.com, and you can watch a lot more, including all of Schitt's Creek, through Pop Now.
Ditch "Big Cable" Now – 3 Simple Steps to Cut the Cord
Pick the right streaming service
Get the content you deserve with the best VPN.
Supercharge your internet provider
That's it — you'll save money, take back control, and enjoy TV more!
Page Updates
▼
▲
Added some more links. Various changes.

Image changes. Added useful links. Changes to formatting.

Image changes. Mentioned offers. Misc changes.

Added VPN info. Added buttons for streaming services. Image changes. Various content updates.

Added buttons for streaming services. Added sub-section. More links. Changed a few bits of content.

Added sub-section. Image changes. Added some more links. Various changes to content.

Pricing updates. Misc content updates.

Added links to streaming services. Added sub-section. Mentioned channel info. Changes to sections. Updates to a section. Updated some sub-sections. Deleted unneeded sub-section.
Latest posts by Frank Moraes
(see all)