If you care about the rural lifestyle — either from inside or out — RFD-TV is a channel you will enjoy. And it isn't necessary to sign-up for a long cable or satellite contract to enjoy it. Read on to learn your options!
In a hurry? Not all streaming services offer RFD-TV but there are three strong ones that do:
DIRECTV STREAM: RFD-TV comes with its base plan, which also includes all your local channels — roughly 80 in all. A 5-day free trial is now available for DIRECTV STREAM.
Sling TV: Get RFD-TV and The Cowboy Channel with its Heartland Extra add-on for a great low-cost option. Save 50% on Sling TV now!
Vidgo: Its Premium plan costs a bit more but it comes with over 140 channels. Try one month for $59.95.
If you're a denizen of the Great American Heartland, you probably already know all about this channel that most coastal city-dwellers have never heard of: RFD-TV. The stated mission of Patrick Gottsch's Rural Media Group (RMG), RFD-TV's parent company, is to reconnect "city with country."
A farm-bred native of Elkhorn, Nebraska, Gottsch sees tremendous opportunity in the millions who live in what many media execs dismiss as "flyover states." Read on to find out the best ways to watch "Rural America's Most Important Network."
Get DIRECTV STREAM Free for 5 Days
What Is RFD-TV
Former farmer and Chicago Mercantile Exchange broker Patrick Gottsch first attempted to launch RFD in 1988. But the channel didn't really get off the ground until it finally got picked up by Dish Network in 2000 and DIRECTV in 2002.
In 2007, it went HD, and in 2009, it opened its own rural news bureaus in Washington, DC and London. Another international bureau opened in 2017 in Sao Paulo, Brazil. Also in 2017, RFD's sister-network The Cowboy Channel (covering rodeo and other Western sports) was launched.
Today, RMG is a family-owned and run business consisting of RFD-TV, The Cowboy Channel, and Rural Radio 147 (agribusiness and rodeo news on SiriusXM 147).
RFD-TV is the first channel to focus on agricultural business, horses, rural lifestyles, and country music and entertainment. It also features six hours daily of live news relevant to rural America.
Other channels cover elements of RFD-TV's programming, like country music. But no other channel quite fills the same niche by targeting the average midwestern farmer, rancher, or equestrian.
GAC Family and GAC Living both feature country lifestyle programming, while CMT and Country Network Plus have a steady supply of country music. And for more classic Western movies and shows, you can tune to Grit, Heroes & Icons, or INSP to catch The Virginian, Bonanza, and more.
But only RFD-TV has the whole package.
RFD-TV Shows
RFD's programs include a wide selection of content:
Syndicated newsmagazines
Live news updates and agriculture commodity market information
Rural lifestyle programs (home improvement and design, cooking, etc)
Classic rural-themed TV like Hee Haw and Gunsmoke
Country music (as well as polka and Southern gospel)
Televangelism early mornings and Sundays.
Featured shows include:
This Week in Agribusiness: Max Armstrong and Orion Samuelson discuss issues relevant to growers, including farming tech, industry developments, and agricultural political policy. Greg Soulje provides the weather outlook for the next week.
Rural Evening News: Janet Adkison, Tammi Arender, and Christina Loren give you weeknight evening reports on agriculture news from around the globe. Reported-on topics cover auctions, cattle, farm equipment, ranch, real estate, and more. Repeats late-night and again in the morning.
My Bluegrass Story: A 13-episode limited series presented by the Bluegrass Music Hall of Fame & Museum. Features live performances of guest artists and their stories.
Cow Guy Close: Scott Shellady, aka the Cow Guy, covers the close of markets daily and analyzes commodities and equities markets developments with industry experts.
Coop Dreams: Reality show featuring suburban Brad Hauter and family's adventures in raising chickens and homesteading.
Old Iron Adventures: Basically Antique Roadshow with farm equipment auctions: old-time tractors, trucks, and memorabilia, and the stories behind them. Hosted by the vintage power experts at Aumann Auctions.
Where the Food Comes From: Chip Carter hosts an in-depth look at where the grub on your table comes from and how it gets there, from seed to supermarket. Highlights often-overlooked aspects of the global food supply chain such as laboratory research, pest control tech, and legislative policy.
Get DIRECTV STREAM Free for 5 Days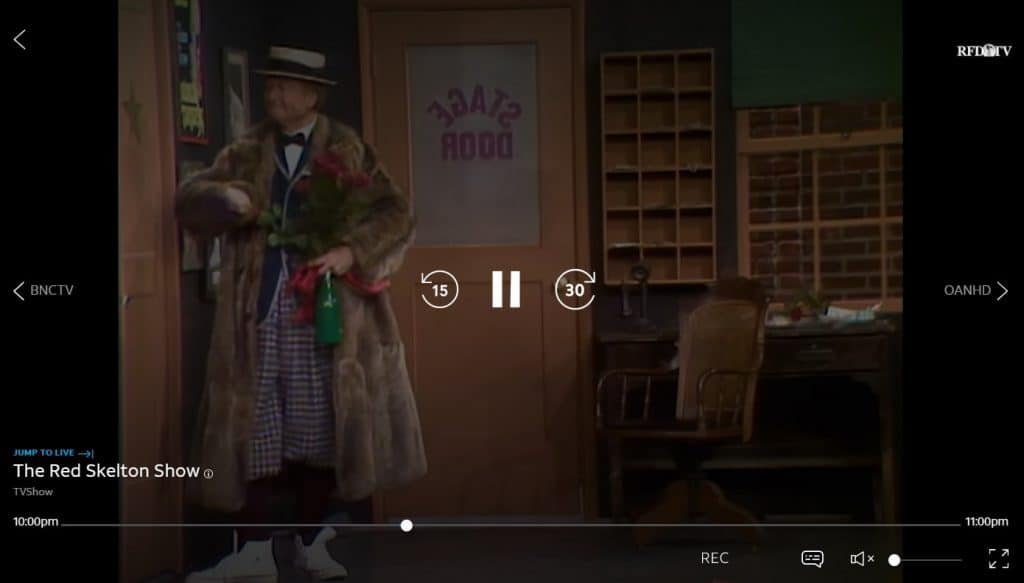 Unblock Your Favorite Movies and Shows With a VPN
If you can't watch your favorite movies and shows because of your location, a VPN will allow you to get the access you are entitled to, plus extra security and unequalled privacy. Check out our VPN Guide for everything you need to know, including our top pick ExpressVPN.
Stream RFD-TV
One of Gottsch's biggest challenges in running RFD-TV comes from convincing TV providers (mainly based in New York and Philadelphia) to carry it. Currently, it's carried on most traditional satellite and cable companies, as well as the smaller telecoms that are more available in rural areas.
The two biggest live TV streaming services — Hulu + Live TV and YouTube TV — do not include it in their lineup. But you can find it on DIRECTV STREAM, Sling TV, and Vidgo. Let's get down to details.
DIRECTV STREAM

The DIRECTV STREAM (formerly AT&T TV) Entertainment Package has roughly 80 of the most popular pay channels, including RFD-TV and CMT, for $74.99/mo. If you upgrade to the Choice Package, which is $99.99/mo, you get GAC Family and Heroes & Icons as well, plus your regional sports networks so you can follow your home team. The downside is that it does not offer The Cowboy Channel. New customers get 5-day free trial with DIRECTV STREAM.
If you subscribe online, it comes with unlimited cloud DVR and streaming on unlimited devices at once. See our DIRECT STREAM review for more information.
Get DIRECTV STREAM Free for 5 Days
Sling TV

Sling TV is by far the cheapest way to get RFD-TV. You subscribe to a $40.00/mo base package with 30-40 channels, and then add on any favorites you want. Kind of like a pay-TV sundae bar. Save 50% With Sling TV. Fans of all things country will appreciate the Heartland Extra for $6/mo more. It includes RFD-TV as well as The Cowboy Channel, GAC Family and Living, INSP, and more.
You may also like the Hollywood Extra (also $6/mo), with Grit and Heroes & Icons for extra classic Western goodness. And if you peruse the premium channels, you'll see Country Network Plus ($3/mo), an on-demand source for country music and related programming.
All Sling base plans come with 50 hours of cloud DVR. Sling Blue allows you to watch on up to 3 devices at once but Sling Orange is limited to one. Get all the information in our Sling TV review.
Vidgo

Vidgo is a great service for the price — its specialties are conservative news, college sports, and fodder for family movie night. Unfortunately, RFD-TV (along with The Cowboy Channel and GAC Family, and over 130 other channels) is found only on the top-tier Premium plan for $79.95/mo — still a good deal.
There is no cloud DVR available with Vidgo but it does allow you to stream on up to 3 devices at once. See our Vidgo review for details.
Other Streaming Options
You don't have to turn to live TV streaming services to get RFD-TV. Here are other options.
RFD-TV Now
RFD provides its own streaming service for $9.99/mo ($89.99/yr), which offers a live stream of the channel, plus an on-demand selection of nearly everything it airs. It is available over the web on iOS and Android mobile, and via Roku or Amazon Fire TV.
Note that while RFD-TV live-streams a simulcast of the NFR from The Cowboy Channel, the NFR performances are not included in the RFD-TV Now subscription.
SelectTV
SelectTV's big thing is putting together all the content from your streaming services and serving it up to you in one nice, easy-to-navigate interface. In other words, you don't have to try to remember if the show you were watching is on Netflix or Amazon, or if the new series your friend told you about is on Disney+ or Paramount+. It charges $3.99/mo for this.
But for just a few bucks more, you can also get some live TV channels. So for $6.99/mo, you can get RFD-TV, The Cowboy Channel, and a handful of others, including INSP, UPtv, and The Outdoor Channel.
Devices to Stream RFD-TV
The live TV streaming services we've highlight all support the major devices in use these days:
Amazon Fire TV
Android mobile
Apple TV
Chromecast
iOS (iPhone, iPad)
Roku.
Additionally, DIRECTV STREAM supports its own device that you can purchase directly. DIRECTV STREAM and Sling TV both support Samsung smart TVs. Vidgo and Sling TV support Android TV-based devices.
Sling TV supports many other devices including LG and VIZIO smart TVs and Xbox and Oculus gaming systems.
Superpower Your Live TV Streaming With a VPN
You can't beat a VPN for privacy, security, and access. We have used them for years as an important part of our streaming toolkit and we recommend ExpressVPN.
Wrapping Up
So let the city folks have their weTV and Bravo. Who needs them when you've got The Big Joe Polka Show and Machinery Pete TV? As for the city people: check out Small Town Big Deal or Where the Food Comes From — you just might become a fan.
Get DIRECTV STREAM Free for 5 Days
FAQs
What does RFD stand for?
RFD stands for Rural Free Delivery. This was the name for the then-controversial hard-won US Postal Service program to expand direct mail delivery to rural recipients. It began on a trial basis in 1896 and was made permanent in 1902. Like its namesake, RFD-TV helps rural America avoid isolation and stay informed on agricultural markets and the weather.
Can I get RFD-TV for free?
Unlike its postal namesake, RFD-TV is not, alas, free. You can watch a handful of specials free on RFD-TV Now, but aside from that, the cheapest you'll get away with is forking over $6.99/mo for SelectTV's Value Plan. Almost as cheap is an RFD-TV Now subscription for $89.99/yr (which works out to $7.50/mo).
How can I watch entertainment channels other than RFD-TV?
See the following options for entertainment channels:
How do I watch other news channels apart from RFD-TV?
See other news channels:
Ditch "Big Cable" Now – 3 Simple Steps to Cut the Cord
Pick the right streaming service
Get the content you deserve with the best VPN.
Supercharge your internet provider
That's it — you'll save money, take back control, and enjoy TV more!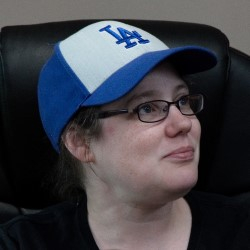 Latest posts by Alanna Baker
(see all)