One of the most highly competitive conferences in college sports is the SEC. That's what makes the SEC Network so great. It shows everything SEC-related for fans. But can you watch SEC Network without cable?
In a hurry? If you don't want to dive into details and just want to start streaming SEC Network and related channels, these are our top picks:
Fubo: The best streaming service for international sports also provides 130+ well-selected channels. Fubo allows you to try out its service free for 7 days.
DIRECTV STREAM: Get a great channel lineup with the best selection of RSNs in the industry. A 5-day free trial is now available for DIRECTV STREAM.
Sling TV: This low-cost service allows you to select just the channel lineup you want. Save 50% on Sling TV now.
If you can't watch your favorite sports because of your location, get ExpressVPN to access the content you deserve.
Unfortunately, we don't know a streaming service in that covers this sport. But if you've already paid for the right service, and just can't watch because of your location, there is an easy way to get the content you deserve. You need a VPN, like one of the following.
| | | |
| --- | --- | --- |
| | ExpressVPN: Known as "The VPN that just works," it combines remarkable ease of use with with state-of-the-art power, speed, security, and privacy. Get three extra free months when you sign up for a year. Unleash your streaming with this top-rated VPN. | Sign Up Now |
| | Surfshark: Surfshark: Secure and easy to use with thousands of servers around the world. Of special note is its excellent collection of servers inside the US, which is great for regional sports lie NFL, MLB, and NBA. Get it now with an incredible 82% discount on a 24-month plan. | Sign Up Now |
| | NordVPN: One of the top VPNs with extremely fast servers all over the world. Great for streaming with tested perfomance on the biggest servers and included ad-blocking. Currently offering 70% discount on 2-year plans. | Sign Up Now |
If you're overwhelmed and not sure where to begin, you'll find all the answers in our full VPN guide.
If you're a college football fan, there is a good chance that you watch at least one Southeastern Conference (SEC) team in a given week. This is because Alabama, Auburn, and LSU are among the best teams in the country and are always in national title contention.
One of the easiest ways to keep up with your favorite SEC teams is to subscribe to the SEC Network. Let's take a look at the easiest ways to obtain access to this channel without the need for a cable subscription.
Sign Up for a Free 7-Day Fubo Trial
How to Watch SEC Network Live Without Cable
The Southeast Conference is divided into two: East and West. They each have seven teams:
East
Florida Gators
Missouri Tigers
Vanderbilt Commodores
The conference includes many of the most popular schools in terms of sports, especially football games. So you will find many games featuring SEC action on other channels. Some of these, like ABC, are available for free via antenna. They are also featured on national channels like CBS Sports Network.
But the SEC Network itself is a pay-TV service and you must get it via a third-party provider. It is part of the ESPN NCAA channels, which also include ACC Network and Longhorn Network.
To get SEC Network without cable or satellite, you need a streaming service. Thankfully, most of the major ones offer it.
SEC Network+
There is also a digital channel, SEC Network+, which features live and on-demand games and shows. A couple of streaming services offer it along with the TV channel SEC Network.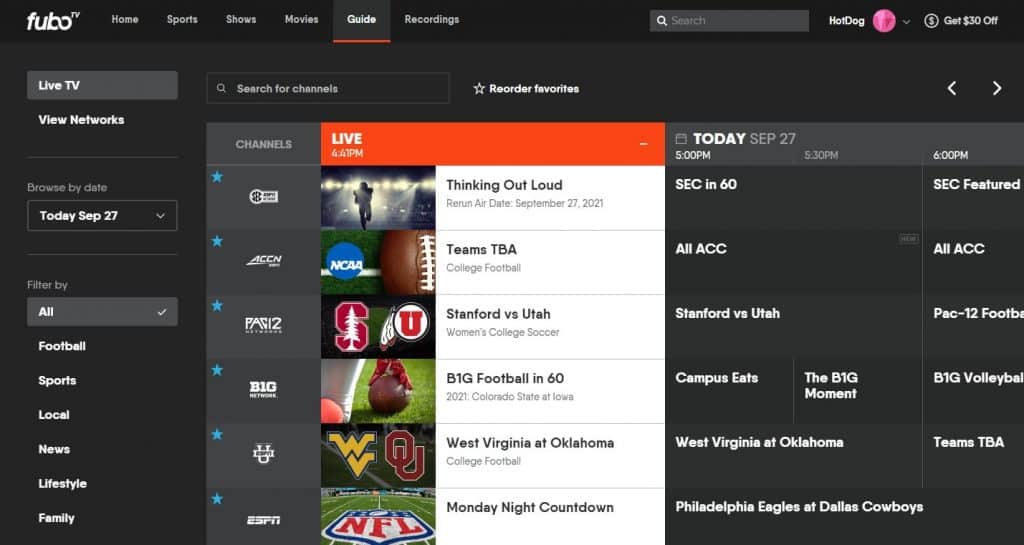 Unblock Your Favorite Movies and Shows With a VPN
If you can't watch your favorite movies and shows because of your location, a VPN will allow you to get the access you are entitled to, plus extra security and unequalled privacy. Check out our VPN Guide for everything you need to know, including our top pick ExpressVPN.
Streaming Services With SEC Network
Signing up for a streaming service allows you to watch SEC Network without the need to pay for other cable channels that you don't want or need.
There are five major service providers who offer the chance to watch this network even if you have chosen to cut the cord for good.
FuboTV

FuboTV is known for its excellent sports coverage. Of its 130+ channels, a third are focused on sports for $74.99/mo. But SEC Network does not come with its base plan.
There are multiple ways to stream SEC Network through FuboTV. The cheapest is to order Fubo Extra for $7.99/mo. This adds 48 other channels including ESPNU, ACC Network, and Pac-12 Network. You will also get MLB Network, NBA TV, and NHL Network.
FuboTV also comes with 1000 hours of cloud DVR and the ability to watch on 10 devices at once. Get all the details in our FuboTV review.
Sign Up for a Free 7-Day Fubo Trial
SlingTV

The SEC Network and SEC Network+ are both available for streaming when you sign up for the Sling Orange plan ($40.00/mo) along with the Sports Extra add-on ($11/mo). This is a great deal for sports fans.
The base Orange plan comes with ESPN, ESPN2, and ESPN3 along with 30 other channels. Sports Extra adds 14 other channels including ACC Network, Pac-12 Network, ESPNU, as well as MLB Network, NBA TV, and NHL Network. The Longhorn Network is also included, which may be of special interest given that the Texas Longhorns and the Oklahoma Sooners are moving to the SEC in 2025. And if you're also a fan of NCAA hockey, you should see our guide to the Men's Division I Tournament in late March/early April.
Sling TV also comes with 50 hours of cloud DVR. Find out more in our Sling TV review. You can also check out our guide to March Madness coverage and schedule.
DIRECTV STREAM

DIRECTV STREAM (formerly AT&T TV) is available on four separate service tiers ranging from $74.99/mo to $154.99/mo. You will need the Choice plan ($99.99/mo) to get SEC Network along with ACC Network, Big Ten Network, and ESPNU. It also comes with NBA TV and MLB Network.
At this level, DIRECTV STREAM also provides the widest coverage of regional sports networks in the industry.
All plans come with unlimited cloud DVR (online orders only) and an unmatched unlimited simultaneous screens, which is great if you live in a large household. Find out more in our DIRECTV STREAM review.
Get DIRECTV STREAM Free for 5 Days
Hulu + Live TV

The SEC Network and SEC Network+ are two of the more than 85 channels that you'll get with Hulu + Live TV for $69.99/mo. It also comes with ACC Network, ESPNU, and ESPN College Extra. You will also get all the local network affiliates in your area. And you get ESPN+ and Disney+!
If you're willing to pay an extra $8/mo, you can get ESPN+ (and Disney+) which will greatly increase your sports coverage.
Hulu + Live TV comes with unlimited cloud DVR (9 month storage) and the ability to stream on two simultaneously. See our Hulu + Live TV review for more information.
Vidgo

Vidgo includes SEC Network in its single service package that includes a total of 110+ channels. It is a great service for NCAA fans with the channels, ESPNU, ACC Network, Big Ten Network, Longhorn Network, and all 7 Pac-12 Network channels. And for pro football fans, they provide NFL Network and NFL RedZone.
You will pay $69.99/mo for as long as you decide to keep your account active. Its main downside is that it does not come with a cloud DVR. But it does allow you to stream on up to 3 devices at once.
For more information about Vidgo, see our detailed review.
Other Ways to Get SEC Network
There is an SEC Network app that you can use to watch SEC football, other live games, studio shows, and other content that might appear on this channel. However, you will need to have access to the channel through a streaming service using TV Everywhere.
You can also download the ESPN app (formerly WatchESPN) to live stream SEC Network content whenever you want it. However, as with the SEC Network app, you will need to have access to both ESPN and SEC Network through your streaming service.
We discussed adding ESPN+ to your Hulu + Live TV account. You can also get the standalone version ($69.99/mo), which will give you access to a lot of SEC games.
If you subscribe to YouTube TV, you will get the SEC Network as part of its 85+ channel lineup.
Superpower Your Live TV Streaming With a VPN
You can't beat a VPN for privacy, security, and access. We have used them for years as an important part of our streaming toolkit and we recommend ExpressVPN.
TVs/Devices to Watch SEC Network
Most likely, whatever streaming device you own is supported by the services that we've highlighted above.
Samsung smart TVs are supported by all the services except for Vidgo. Hulu, Sling, and Fubo support LG and Vizio smart TVs. The Hisense is supported by FuboTV. All except for DIRECTV STREAM support Android TV-based systems.
The popular devices that plug into your TV's HDMI port are universally supported: Amazon Fire TV, Apple TV, and Roku. The same goes for mobile devices based on Android and iOS. And you can use them to cast to your TV with Chromecast.
Finally, Sling TV, FuboTV, and Hulu support the Xbox One. Additionally, Hulu supports the PlayStation and Nintendo Switch. And you can use the Oculus with Sling TV.
And of course, you can watch via a web browser on most devices. There are other supported devices; see our stream services reviews for details.
Sign Up for a Free 7-Day Fubo Trial
Wrapping Up
The best reason to get SEC Network is that you'll have instant access to games, highlights, and commentary regarding your favorite teams.
If you are just a college sports fan in general, you will want to watch some of the best teams in the country battling it out throughout the season. During the offseason, you can get the latest news regarding top recruits, head coaching hires, and other issues that you care about.
Getting SEC Network is as easy as signing up for your favorite streaming service. Whatever your choice, you can start watching Alabama football, Auburn basketball, or Texas A&M baseball in a matter of minutes. The best part is that you can do these things without the need to pay for cable television.
FAQs
What do I need to start watching the SEC Network?
The first thing you need to start watching SEC Network without cable is a reliable internet connection. If you're reading this, you probably already have one. Then you'll need to sign up for a streaming service such as Sling TV or FuboTV. After doing so, you can choose to watch this network directly through the service itself or through the SEC Network app.
Do I have to sign a contract to watch SEC Network?
The streaming services that carry SEC Network don't require you to sign a contract as a condition of signing up. The service is month-to-month. You pay for it and you get a month of access. So you can cancel whenever you'd like without penalty. It is worth noting that some services will terminate your subscription the day that you choose to cancel.
How can I watch other sports channels without cable?
These guides will show you how to watch other sports channels without cable:
Ditch "Big Cable" Now – 3 Simple Steps to Cut the Cord
Pick the right streaming service
Get the content you deserve with the best VPN.
Supercharge your internet provider
That's it — you'll save money, take back control, and enjoy TV more!
Page Updates
▼
▲
Updated some sub-sections. Updated some section headings. Added a few links.

Added links. Image changes. Pricing updates.

Image changes. Cross linking. Misc changes to content.

Added VPN info. Added buttons for streaming services. Image changes. Various changes to content.

Added buttons for streaming services. Updated some sub-sections. Image changes. Pricing updates.

Image changes. Added useful links. Misc changes.

More links. Pricing updates. Misc content updates.

Added table of contents. Added links to streaming services. Pricing updates. Added a few links. Small layout changes.
Latest posts by Frank Moraes
(see all)