Telemundo is one of the most popular American Spanish-language TV networks in the country. It offers a mix of reality TV, sports, telenovelas, cartoons, news, and even movies. If you don't have cable or a digital antenna, you can also watch Telemundo live online.
The rest of this article will offer all of the details you need to stream Telemundo live or on-demand with all of your favorite streaming devices.
FuboTV: With 100+ channels, it offers something for everyone. FuboTV allows you to try out its service free for 7 days.
DIRECTV STREAM: Makes it easy to switch from cable to streaming with their 75+ channel Entertainment plan and options for much more. A 5-day free trial is now available for DIRECTV STREAM.
Hulu + Live TV: This service adds 85+ live TV channel to their outstanding on demand service as well as Disney+ and ESPN+.
Telemundo has grown from little WKAQ-TV in San Juan, Puerto Rico to be the leading US producer of Spanish-language TV in the world. While they still play the second violín to rival Univision in some time slots, they are the #1 primetime Spanish-language channel among 18 to 49-year-olds three years running.
Telemundo is an "over the air" (OTA) network, just like ABC, NBC, and CBS. This means it has a "network feed" of national content that it broadcasts, such as Telemundo-produced series, Noticias Nacionales (national news), and major sporting events. In addition, the local affiliate stations also produce their own content, such as local news and sports.
On Telemundo, you can catch Spanish-language coverage of both the Olympics and the FIFA World Cup, as well as original telenovelas and other series, and movies — some produced in Spanish and some translated from English or other languages.
How to Watch Telemundo Live Without Cable
NBC bought Telemundo in 2001, and it remains part of the larger NBCUniversal media family. Its hermanas-stations include the more bilingual Universo and TeleXitos, which runs action-adventure TV and films from the last 40 years, dubbed in Spanish.
Telemundo is available in over eighty media markets throughout the US and its territories. So if you happen to be among the almost 60% of Americans who live within their broadcast reach, the cheapest way to watch Telemundo is by buying an antenna and tuning into the OTA signal for free.
No subscription, no monthly fees, no sign-in required.
But, if you are unable or unwilling to get an antenna and access it the old-fashioned way, you can always use one of these streaming service alternatives.
Streaming Services with Telemundo
Out of the three streaming services that are known for local channel coverage, only two corporate heavyweights carry Telemundo affiliates: Hulu + Live TV and DIRECTV STREAM (formerly AT&T).
They both also carry a number of other Spanish-language stations, often bundled together. But it might be better to go with a lesser-known company that has been impressing us the last couple of years.
FuboTV
| | |
| --- | --- |
| Relevant Channels | Telemundo, UniMás, Univision |
| Total Channels | 105+ |
| Cloud DVR | 750 hours |
| Simultaneous Screens | 10 |
| Free Trial | ✅ |
| FuboTV Price | $69.99/mo |
FuboTV does two things really, really well. The first is sports — a third of their channel lineup is devoted to sports. But the second great thing they do is hook you up with your friendly neighborhood broadcast network affiliate.
This is great news for you if you're into Spanish-language channels because that includes not just Telemundo, but, (depending on your area) Univision, Galavision, Estrella TV, and UniMás.
This is in addition to dozens of other channels, and all the other local networks: ABC, NBC, Fox, CBS, The CW, and others.
These all come with all three packages starting with the Pro at $69.99/mo (with free for 7 days) for 105+ channels, 750 hours of cloud DVR, and up to 10 simultaneous streams.
FuboTV also offers two Spanish-language add-ons:
CONMEBOL & More ($6.99/mo): A mix of 16 English and Spanish international sports channels.
Latino Plus ($19.99/mo): 16 Spanish-language channels offering a mix of sports and entertainment programming.
Entretenimiento Plus ($4.99/mo): 9 music and entertainment channels from Spain, Mexico, and elsewhere.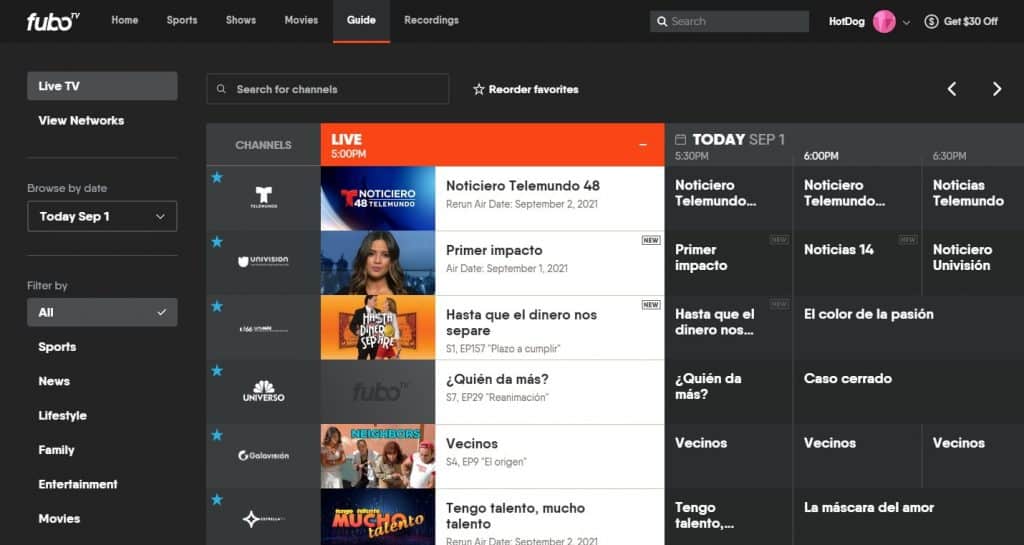 DIRECTV STREAM

| | |
| --- | --- |
| Relevant Channels | Telemundo, Univision |
| Total Channels | 75+ |
| Cloud DVR | Unlimited* |
| Simultaneous Screens | 20 |
| Free Trial* | ✅ |
| DIRECTV STREAM Price | $69.99/mo |
* Online signup only.
DIRECTV STREAM (formerly AT&T TV), like FuboTV and Hulu, includes local affiliates of the Big 4, plus Telemundo, Univision, and others in all its packages, starting with the 75+ channel Entertainment package at $69.99/mo.
If you upgrade to the 90+ channel Choice package or higher, regional sports networks are included, plus free HBO Max for 3 months.
For hispanohablantes, DIRECTV STREAM has two add-ons: Deportes ($5/mo) and Español ($15/mo). Deportes comes with at least four sports channels, and Español includes these sports channels plus Univision, Discovery Channel en Español, Cinelatino, and Estrella TV.
Hulu + Live TV
| | |
| --- | --- |
| Relevant Channels | Telemundo |
| Total Channels | 85+ |
| Cloud DVR | Unlimited* |
| Simultaneous Screens | 2 |
| Free Trial | ❌ |
| Hulu Price | $69.99/mo |
*9 month storage
Hulu + Live TV combines its great library of on-demand TV with over 85 channels, unlimited cloud DVR (9 month storage), and up to two screens at a time for just $69.99/mo. It also comes with ESPN+ and Disney+.
But the best news for Telemundo fans is that they typically carry a full complement of your local network stations. That's ABC, NBC, CBS, Fox, and, yes, Telemundo.
Even better, they also have the Español Add-on for $4.99/mo. This includes Universo, CNN en Español, Discovery en Español, Fox Deportes, Discovery Familia, ESPN Deportes, and History Channel en Español.
Other Ways to Stream Telemundo
Here are some other ways to get Telemundo without cable:
Antenna: Totally free aside from the upfront cost for the antenna itself. Check out Sling TV for their special deal that includes an antenna and integrates with their streaming channels.
Locast: A non-profit service that offers streaming over the internet for local networks. Currently serving over half the US (by population), it's free to watch. But a $5/mo donation provides the service without interruptions.
YouTube TV: This live streaming service gives you over 85 channels, including Telemundo, for $64.99/mo.
Telemundo Apps: There are several of these connected with local affiliates, such as Telemundo Nuevo México.
NBC.com: Stream through the website (this requires that you login with your provider credentials).
Peacock: Some Telemundo content is available to stream on this NBC platform.
Watching Telemundo on Your TV or Streaming Device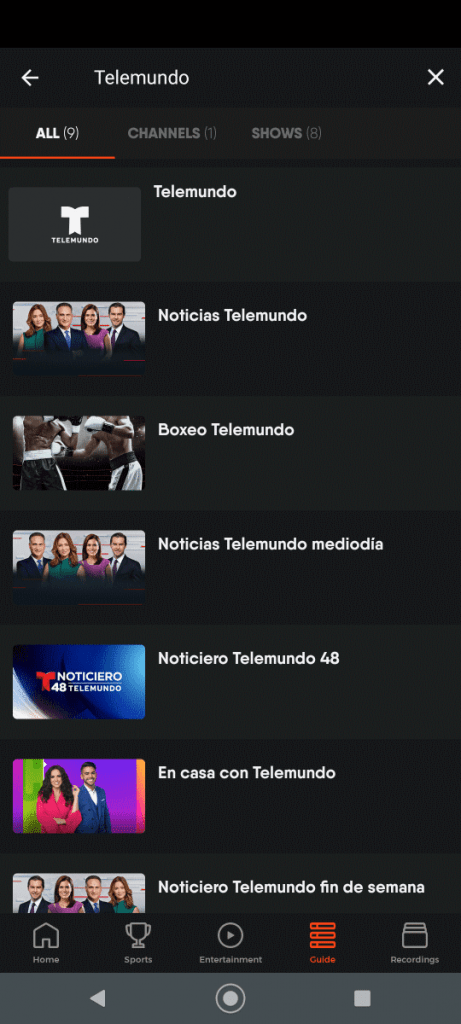 The three services we've highlighted above allow you to stream on most devices:
Android: phone and tablet
iOS: iPhone, iPad, iPod Touch
Chromecast: built-in and standalone units
TV "Sticks": Amazon Fire TV, Apple TV, and Roku
Samsung Smart TVs: select models
Web browsers: Chrome, Edge, Firefox, Safari.
FuboTV and Hulu support a number of other TVs and devices. They both support Android TV-powered units. FuboTV supports Hisense TVs.
Both support LG smart TVs and the Xbox gaming console. And Hulu supports the Nintendo Switch and PlayStation.
Wrapping Up
You don't have to miss out on Falsa Identidad or La Casa de los Famosos just because you want to say adios to your cable service. Just sign up for one of the streaming services discussed here, and you can catch all the drama of Café, con Aroma de Mujer night after night!
FAQ
What shows can I watch on Telemundo?
Telemundo is home to the Latin American Music Awards and the Billboard Latin Music Awards, plus its own Premios Tu Mundo ("Your World Awards") in recognition of Latinos in media.
But it is perhaps best known for its addictive telenovelas and riveting crime dramas. Popular shows currently on the air include:
Café con Aroma de Mujer
Hercai: Amor y Venganza
Malverde: El Santo Patrón
La Casa de los Famosos
Suelta la sopa
Caso Cerrado
Más sabe el Diablo
Pasión de Gavilanes.
Where can I watch Telemundo?
Telemundo is a broadcast network, just like NBC or Fox. Anyone with an antenna can tune into the signal, totally free. But if that's too much hassle, you can also get Telemundo through several of the biggest streaming services: FuboTV, Hulu + Live TV, DIRECTV STREAM, and YouTube TV.
If you're a fan of deportes as well as telenovelas, FuboTV and DirecTV are especially good choices. If you want to be able to watch past shows on-demand, Hulu's Live TV is probably a better option.
Telemundo programs are also available through on-demand services like Hulu — which has an extensive collection including the megahit El Señor de los Cielos. Other sources are Netflix and Peacock.
Where are Telemundo's shows produced?
Most of Telemundo's TV consists of first-run original series filmed and produced at Telemundo Studios, located just outside Miami, Florida. Some shows are co-productions with other studios or imported series from other countries. Some of these studios include Colombian TV network Caracol, Promofilm in Argentina, RTI Colombia, and Mexican production company Argos Comunicación.
Telemundo also airs English-language American movies dubbed in Spanish alongside films produced in Spanish originating in a variety of Latin American countries.
How can I watch Telemundo in English?
The short answer: you can't watch Telemundo in English. Telemundo broadcasts exclusively in Spanish, targeting a Spanish-speaking audience. But if, say, you really dig telenovelas but English is your primary (or only) language, you'll be thrilled to know that Telemundo was the first American Spanish-language station to present its programming with English subtitles. Subtitles are typically limited to weekday primetime and are produced in-house.
How can I watch other local channels online without cable?
Want to get information on how to watch other local channels without cable? Check out the guides below.
How can I watch other entertainment channels without cable?
To watch other entertainment channels, see the options below: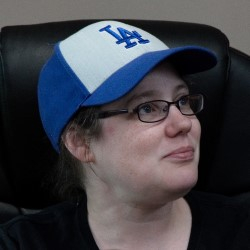 Latest posts by Alanna Baker
(see all)