TLC's shows are often polarizing, but one thing is undeniable: viewers can't get enough of them. Fortunately, you don't need a cable subscription to catch up on what's been going on with the channel's various quirky characters. You can find all the details you need to watch TLC without cable below.
In a hurry? If you don't want to dive into the details and just want to know how you can watch TLC without cable, these services should make you happy:
How to Watch TLC Live Without Cable
TLC is only available through a TV provider, never over-the-air. It is widely known for its reality-based programming, centering around odd families, unusual medical issues, unconventional relationships, and personal stories of human interest. It's part of the Discovery group of pay channels.
Your best bet for watching TLC live is with a commercial streaming service. These are delivered to you via the internet and displayed on streaming devices — everything from your smartphone all the way up to your giant-screen TV.
Among TV streaming services, TLC is typically included in the base package. That means you don't have to shell out top dollar to stay on top of the drama on You, Me & My Ex.
Sign Up for a Free 7-Day Fubo Trial
Unblock Your Favorite Movies and Shows With a VPN
If you can't watch your favorite movies and shows because of your location, a VPN will allow you to get the access you are entitled to, plus extra security and unequalled privacy. Check out our VPN Guide for everything you need to know, including our top pick ExpressVPN.
Streaming Services with TLC
Unlike your local cable provider, you have many TV streaming services to choose from. All of them generally follow the same model: you pay a monthly fee and you get access to a set of channels.
Different services have different channels in their packages, and different options for add-ons, so you can choose which one best fits your viewing habits at a price within your budget.
FuboTV: Stream TLC With a Side of Sports
FuboTV is best-known as a sports fan's dream come true. Of its 110+ channels, 35+ are sports-oriented. But don't worry, they have TLC, plus plenty of other non-sports channels too, such as Food Network, Bravo, E!, HGTV, and FX.
FuboTV also provides a good selection of add-ons for additional general channels. For example, the Fubo Extra add-on gives you 45 additional channels for just $7.99/mo. You can also get premium channels like MGM+, Starz, and Showtime.
With the basic plan, you can stream on up to ten screens at once. You also get 1000 hours of DVR storage.
FuboTV is available starting at $74.99/mo for the basic Pro plan. Or you can pay a little more Elite plan. With any plan, you get a seven-day free trial. For more information, see the following:
Sign Up for a Free 7-Day Fubo Trial
Philo: Cheapest Way To Stream TLC
Philo focuses on entertainment, lifestyle, and knowledge channels. One downside is that, unlike some other TV streaming services such as Hulu + Live TV, Philo does not offer any network affiliates (ABC, CBS, NBC, Fox). In most areas, however, this can be remedied with a simple antenna.
Philo, at $25/mo, is the lowest-priced service on this list. Along with TLC, Philo's 60+ channels include other favorites like Discovery Channel, Discovery Family, Discovery Life, HGTV, Food Network, and many more. Its cloud DVR allows unlimited TV shows and movies to be saved for up to a full year.
Subscribers get a free seven-day trial and can stream on up to three different devices simultaneously. For more information, see the following:
Sling TV: TLC With Flexible Channel Packages
Sling TV was the first streaming service to have app-based live-streaming channels (instead of just on-demand listings) when it launched in 2015. It is one of the most affordable streaming services, and the cheapest to offer network channels (but only Fox and NBC).
They have two basic plans: Orange and Blue, which are both $40.00/mo. Sling Blue includes 40+ channels with 3 simultaneous screens to stream on. Sling Orange only offers 30+ channels but includes ESPN. Both plans provide 50 hours of Cloud DVR storage. You can get them together for a total of 50+ channels for $55.00/mo.
TLC is only available on Sling Blue, along with Discovery Channel, E!, Bravo, National Geographic, and others. Sling TV does not have a free trial. For more information, see the following: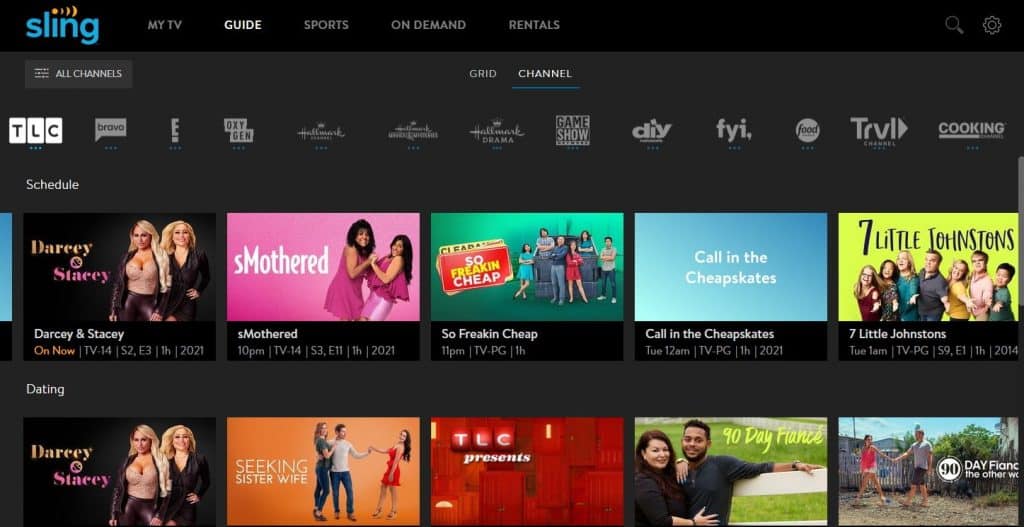 DIRECTV STREAM: TLC Along With Lots of Local Networks
DIRECTV STREAM (formerly AT&T TV) is the highest-priced option on this list. But it has advantages. TLC comes with its basic (Entertainment) plan, which includes over 75+ live channels and local stations for $74.99/mo. You also get access to 40,000 on-demand titles.
DIRECTV STREAM provides unlimited DVR as long as you sign-up online.
One of the best things about DIRECTV STREAM is that it allows you to stream on unlimited screens at once. This is great if you have a large household. It also allows you to stream on up to three devices at once when you are away from home.
They also make it easy to move from cable by providing their own streaming device if you wish to use it.
See our DIRECTV STREAM review for details.
Get DIRECTV STREAM Free for 5 Days
Hulu + Live TV: Stream TLC Live Plus So. Much. On-Demand.
Hulu is practically synonymous with its encyclopedic on-demand offerings, but with Hulu + Live TV, they add 85+ live TV channels. You get both the on-demand and live content for $69.99/mo.
They provide local affiliates (eg, ABC, CBS) in most areas as well as pay channels like TLC. You can also get premium add-ons (eg, HBO, Showtime) or bundle Hulu Live's service with Disney+ or ESPN+.
In addition to streaming all your favorite channels, Hulu also produces highly-rated, award-winning, exclusive original programming of its own, such as The Handmaiden's Tale.
The base package supports up to six user profiles streaming on up to two screens at a time and unlimited cloud DVR (9 month storage). See the following for more information:
Vidgo
Second only to FuboTV's 100+ channel Pro pack, Vidgo offers the most with 100+ in its current line-up. It has limited local stations only offering ABC and Fox affiliates. But otherwise, it offers a full complement of popular pay channels.
You can watch on up to three devices at the same time. But Vidgo has no DVR capability. But you can use an external DVR system if you don't mind setting it up.
Regularly $69.99/mo. For more information, see the following: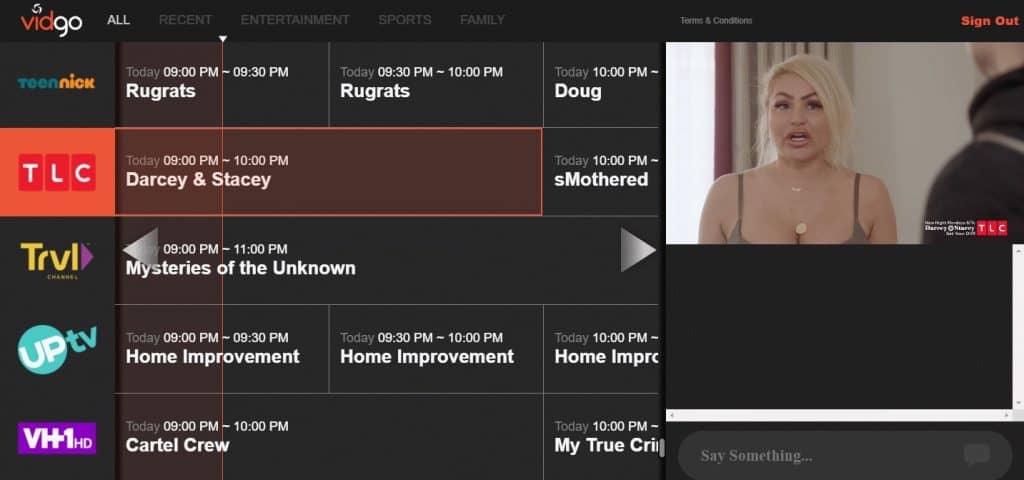 Other Ways to Stream TLC
TLC is also available via a few other ways:
Superpower Your Live TV Streaming With a VPN
You can't beat a VPN for privacy, security, and access. We have used them for years as an important part of our streaming toolkit and we recommend ExpressVPN.
Watch TLC With Most Streaming Devices
If you have a reasonably new smart TV or another streaming device, you should be set to use any of the streaming services we've discussed.
Pretty much all modern TVs can be cast to. You can use any service to cast its video stream to your TV. This is an increasingly popular way to watch.
Most of the services directly support some smart TVs — particularly Samsung. FuboTV, Hulu, and Sling support LG smart TVs. Only FuboTV offers support for Hisense TVs.
TVs that support Android TV can be used with any of the services except for DIRECTV STREAM. And all of them support standard devices like Amazon Fire TV, Apple TV, and Roku.
They also all support mobile devices running Android and iOS (iPhone, iPad).
FuboTV, Hulu, and Sling also support the Xbox One. Hulu also supports the PlayStation.
There are other supported devices. If you haven't seen yours listed here, contact the streaming service. But generally speaking, almost all the major devices are supported.
Sign Up for a Free 7-Day Fubo Trial
Wrapping Up
TLC shows have some of the most loyal fans around, but just because you're hooked on 90 Day Fiance doesn't mean you have to be hooked to your cable provider.
The repeat viewership TLC shows generate makes it a valuable property for any streaming service to carry — and they do.
So go for it! Ditch that cable subscription and Doubling Down With the Derricos for less!
FAQs
Can I watch TLC for free?
Unfortunately, TLC is a pay channel. This used to mean you could only get it through a cable or satellite service provider, but increasingly it simply means that it requires a paid subscription which, more and more often, takes the form of an online streaming service.
Is TLC available on Amazon Prime?
There is no live TLC stream or even a TLC channel on Amazon Prime. You can, however, find some TLC shows available on demand. These include My 600-lb Life, Dr Pimple Popper, and 90 Day Fiancé. And you can get broader access to TLC by signing up for the Discovery+ channel, which costs $4.99/mo.
How do I stream other entertainment channels?
The following guides will show you how to stream other popular channels: