Turner Network Television (TNT) is one of the more popular cable networks from WarnerMedia Studios & Networks and their content can usually be seen all over the world.
If you are looking to cut the cord and are wondering if you can still watch TNT, you don't have to worry. Read on to learn all your options!
In a hurry? If you don't want to get into all the details about what streaming services offer, these three companies will provide you with a great viewing experience:
Sling TV: The top low-cost streaming service provides a great base channel lineup in both its plans. Save with Sling TV.
DIRECTV STREAM: Makes it easy to switch from cable to streaming with their 75+ channel Entertainment plan and options for much more. A 5-day free trial is now available for DIRECTV STREAM.
Hulu + Live TV: This service adds 85+ live TV channel to their outstanding on demand service as well as Disney+ and ESPN+.
If you can't watch your favorite movies and shows because of your location, try ExpressVPN to get access to the content you deserve.
Unfortunately, we don't know a streaming service in that offers this TV channel. But if you've already paid for the right service, and just can't watch because of your location, there is an easy way to get the sports, movies, and TV you deserve. You need a VPN, like one of the following.
ExpressVPN: Premium VPN provider that just works, with 3,000+ locations in 94 countries. Supports five simultaneous devices and comes with a 30-day money-back guarantee. (ExpressVPN review)
Surfshark: Connect to over 3,200 servers in 99 countries (+ tonnes of US metro areas). Try it with a 7-day free trial.
NordVPN: Connect to over 5,000 premium servers in 60+ countries. Comes with a 30-day money-back guarantee!
If you're overwhelmed and not sure where to begin, you'll find all the answers in our full VPN guide.
How to Watch TNT Live Without Cable
The only way to watch the TNT channel without cable or satellite is through online streaming services. But due to its popularity, TNT is fairly easy to find.
TNT normally comes with the other primary "Turner channels." These are CNN, TBS, Turner Classic Movies (TCM), Boomerang, and Cartoon Network (CN). Normally, if a service offers TNT, it also offers the others. That's the way it is with Hulu + Live TV and Sling TV. And services like FuboTV and Vidgo, which don't offer TNT, also don't offer the other Turner channels.
Get DIRECTV STREAM Free for 5 Days
To stream TNT, you need three things:
An internet connection: if you are reading this, you already have this one covered.
A compatable streaming device: the major streaming services support almost all TVs and devices, so this shouldn't be a problem.
A service that offers TNT: and that's what we will talk about now!
Unblock Your Favorite Movies and Shows With a VPN
If you can't watch your favorite movies and shows because of your location, a VPN will allow you to get the access you are entitled to, plus extra security and unequalled privacy. Check out our VPN Guide for everything you need to know, including our top pick ExpressVPN.
Streaming Services with TNT
Streaming services offer convenient and cheap ways to watch TNT. But the Turner channels are not cheap for services to add to their channel lineups. As a result, only a handful offer TNT and the others.
DIRECTV STREAM

| | |
| --- | --- |
| Turner Channels | CNN, TNT, TBS, truTV, TCM, Boomerang, CN |
| Total Channels | 75+ |
| Cloud DVR Storage* | Unlimited |
| Simultaneous Screens | 20 |
| Free Trial | ✅ |
| DIRECTV STREAM Price | $69.99/mo |
* Online signup only
DIRECTV STREAM (formerly AT&T TV) offers a variety of packages, but its base plan (Entertainment) includes all of the Turner channels along with 75+ others for $69.99/mo. It offers a number of other plans. The Choice plan for $89.99/mo comes with 90+ TV channels including HBO MAX for the first year.
One highlight of DIRECTV STREAM's service is the ability to stream on up to 20 TVs and devices at the same time — excellent for large households!
For more information see our DIRECTV STREAM review.
Get DIRECTV STREAM Free for 5 Days
Sling TV

| | |
| --- | --- |
| Turner Channels | CNN, TNT, TBS, CN |
| Turner Add-Ons | TCM, truTV, Boomerang |
| Total Channels | 40+ |
| Cloud DVR Storage | 50 hours |
| Simultaneous Screens | 3 |
| Free Trial | ❌ |
| Sling TV Price* | $35.00/mo |
* Currently, Sling TV provides 50% off your first month of service.
Sling TV is a great low-cost streaming service, and the cheapest option to stream TNT. For just $35/mo, you get 40+ channels including CNN, TNT, TBS, and Cartoon Network. TruTV is available for an extra $6/mo with the Comedy Extra add-on. Turner Classic Movies is available for an extra $6/mo with the Hollywood Extra add-on. And Boomerang is available for $6/mo with the Kids Extra add-on. So, you can get all the Turner channels for just $53/mo!
The Sling Blue plan also provides the local NBC and Fox affiliates in most areas. And the plan is rounded out with a good selection including A&E, BBC America, Epix Drive-in, FS1, History, NFL Network, SyFy, and USA. Or go with Sling Orange for ESPN and Disney. You can get both for $50/mo.
Learn more about Sling TV: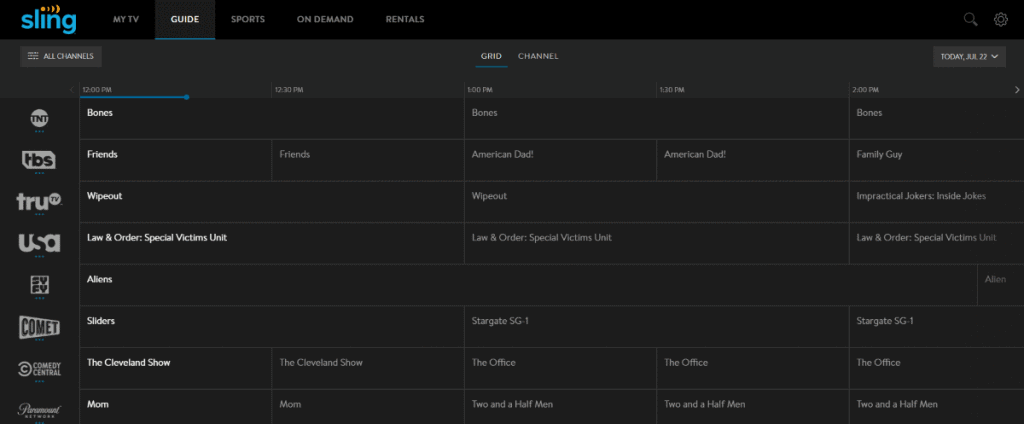 Hulu + Live TV

| | |
| --- | --- |
| Turner Channels | CNN, TNT, TBS, truTV, TCM, Boomerang, CN |
| Total Channels | 85+ |
| Cloud DVR Storage | Unlimited* |
| Simultaneous Screens | 2 |
| Free Trial | ❌ |
| Hulu Price | $69.99/mo |
*9 month storage
Hulu + Live TV is the most popular live TV streaming service in the world. It is a complete cable replacement service with 85+ channels including all the Turner channels in its base plan for $69.99/mo.
Also included are a wide variety of local (ABC, CBS, Fox, NBC), entertainment (BET, FXM, SyFy), sports (ESPN, FS1), and family (Disney, Nick Jr) channels.
For more information about Hulu Live TV, see the following:

Other Ways to Get TNT
There are other ways to watch TNT:
TNT App: It features a slick but simple interface to watch TNT — both live and on-demand. You need an account with Hulu + Live TV or DIRECTV STREAM to use it. (For some reason, Sling TV is not supported.) You can download it through the Google, Apple, or Amazon App Stores.
Amazon Prime: Although it doesn't provide live streaming of TNT, you can get a lot of TNT content on demand.
YouTube TV: Offers a good overall streaming service similar to Hulu + Live TV.
Get DIRECTV STREAM Free for 5 Days
Superpower Your Live TV Streaming With a VPN
You can't beat a VPN for privacy, security, and access. We have used them for years as an important part of our streaming toolkit and we recommend ExpressVPN.
TVs and Mobile Devices for TNT
Just like you need a TV to watch live channels from a cable TV provider, you need some device to watch TNT via streaming services. Below we have listed everyday streaming devices, alongside the services they can support.
Smart TVs and TV Devices
All the streaming services we've discussed support the Samsung smart TVs of the past 5 years. Sling and Hulu both support LG TVs as well as any TV that has built-in Android TV. And Hulu supports the VIZIO SmartCast TV.
If you own an Amazon Fire TV, Apple TV, or Roku, you can use them to watch the streaming services.
Mobile Devices
All streaming services offer mobile device compatibility. Phones and tablets running Android or iOS (iPhone, iPad) are covered. DIRECTV STREAM even supports the iPod Touch.
Additionally, you can use your mobile devices with Chromecast to cast directly to your smart TV.
Gaming Consoles
You can even watch TNT content on your favorite gaming consoles. If you have a Nintendo, Xbox, or PlayStation device, you can stream using Hulu + Live TV. Sling TV also supports streaming but only on the Xbox One.
Wrapping Up
Regardless of which service you choose, watching TNT on a streaming service is going to save you a lot of money compared to cable service. And with no contracts, you can always cancel anytime.
FAQs
What is TNT?
TNT stands for Turner Network Television. It was first launched as an overflow channel for its sister-station TBS. It now features syndicated drama series during the day, overnight, and on Saturday mornings. Prime time evenings and most weekend slots generally show theatrical-release movies, original productions, and some sports.
Can I stream TNT for free?
No. Sure, you can get a free trial for a few days, couple weeks, but there is no legal long-term free source of TNT. You cannot pick it up with an antenna. Your cheapest option is Sling TV, which gets you TNT (and TBS) for $35/mo. Your next cheapest is YouTube TV at $64.99/mo.
Which streaming services offer TNT?
DIRECTV STREAM, Hulu Live, Sling TV, and YouTube TV all carry the Turner networks, including TNT and TBS. DIRECTV STREAM has the best local sports coverage, Sling is the cheapest, YouTube TV has the most channels, and Hulu Live comes with Disney+ and ESPN+.
Is TNT on Hulu?
Yes! Hulu + Live TV carries TNT, along with the other Turner networks: CNN, TBS, Turner Classic Movies, Boomerang, Cartoon Network, and truTV. You can get these a many more channels for $69.99/mo. Note that you cannot get the live TNT channel with just the Hulu on-demand service, which is only $6.99/mo, though it does have some TNT shows.
Is TNT on fuboTV?
Alas, no. FuboTV stopped carrying all the channels from WarnerMedia — the Turner networks and HBO — back in 2020. It remains to be seen if or how the recent Warner-Discovery merger will affect Fubo's carriage, since it does currently carry Discovery channels. Stay tuned for more information!
What live sports air on TNT?
TNT airs a lot of sports, but not like it used to. Many contracts have been cut. For example, NASCAR no longer airs on the channel. It still offers good coverage of NBA and college basketball. It also airs some MLB games. One area where TNT has recently expanded its NHL coverage.
How do I watch TNT on Roku?
You can only watch TNT on Roku with a paid TV provider, either a traditional satellite or cable service (that supports Roku, such as Spectrum), or one of the streaming services listed above (all of them support Roku). You can either download the TNT app from the app store (for all but Sling) and log in with your provider's credentials, or you can watch through your provider's app (DIRECTV STREAM app, Hulu + Live TV app, Sling TV app, etc.)
How can I contact TNT?
TNT has an extensive support area on its website, tntdrama.com. If you can't find an answer to your question, there is a "Contact Us" button which will bring up a contact form where you can enter your information and get a response back addressing your particular situation.
What are the most popular TV shows on TNT?
There is plenty of entertainment content on TNT. It's always aired a lot of movies. You can binge hours of syndicated urban fantasy during the day with Charmed, Supernatural, and Lucifer. Plus it has a bunch of popular originals too:
The Alienist
All Elite Wrestling
Animal Kingdom
Good Behavior
Rich & Shameless
Snowpiercer.
How do I watch channels other than TNT without cable?
These guides will help you watch other entertainment channels without cable:
How can I watch sports networks other than TNT?
Other sports networks can be found here:
Ditch "Big Cable" Now – 3 Simple Steps to Cut the Cord
Pick the right streaming service
Get the content you deserve with the best VPN.
Supercharge your internet provider
That's it — you'll save money, take back control, and enjoy TV more!
Latest posts by Frank Moraes
(see all)