Although Travel Channel still offers some travel-related content, its focus these days is paranormal content. If this is your thing, you will have no problem getting the channel. Every major live TV streaming service offers it. Read below for all your options!
In a hurry? If you want Travel Channel as part of a great overall streaming service, these are our top choices:
Fubo: With 130+ channels, it offers something for everyone. Fubo allows you to try out its service free for 7 days!
Philo: Super inexpensive live TV streaming service with 7-day free trial.
Sling TV: Probably the best streaming service in terms of customization with a $10 discount your first month.
If you can't watch your favorite sports, TV and movies because of your location, try ExpressVPN to get access to the content you deserve. Signup now.
Unfortunately, we don't know a streaming service in that offers this TV channel. But if you've already paid for the right service, and just can't watch because of your location, there is an easy way to get the sports, movies, and TV you deserve. You need a VPN, like one of the following.
| | | |
| --- | --- | --- |
| | ExpressVPN: Known as "The VPN that just works," it combines remarkable ease of use with with state-of-the-art power, speed, security, and privacy. Get three extra free months when you sign up for a year. Unleash your streaming with this top-rated VPN. | Sign Up Now |
| | Surfshark: Surfshark: Secure and easy to use with thousands of servers around the world. Of special note is its excellent collection of servers inside the US, which is great for regional sports lie NFL, MLB, and NBA. Get it now with an incredible 82% discount on a 24-month plan. | Sign Up Now |
| | NordVPN: One of the top VPNs with extremely fast servers all over the world. Great for streaming with tested perfomance on the biggest servers and included ad-blocking. Currently offering 70% discount on 2-year plans. | Sign Up Now |
If you're overwhelmed and not sure where to begin, you'll find all the answers in our full VPN guide.
Once upon a time, the Travel Channel was a top source of information for those who enjoyed learning more about the world around them. However, these days, the network is mostly dedicated to paranormal content.
Let's take a closer look at some of its more popular shows, its sister stations, and how you can watch this channel without the need to pay for a cable television package.
Sign Up for a Free 7-Day Fubo Trial
What Is Travel Channel?
The Travel Channel was originally launched in 1987 by TWA Marketing Services. It was intended to inspire people to buy tickets on TWA airplanes. In 1997, the channel was acquired by Discovery and held by the company until 2007.
In 2018, Discovery reacquired the channel when it purchased Scripps Networks Interactive (SNI). It was at this point that the channel transitioned from travel to paranormal content.
In 2021, it was announced that a portion of Travel Channel's existing program lineup would transition to Discovery+, which is a premium streaming service.
Programming and Shows
The Dead Files: A retired NYPD detective teams up with a professional medium to investigate alleged paranormal activities throughout the United States. The pair aim to help homeowners learn more about what is happening and how to cope with it.
Destination Fear: A paranormal researcher takes his friend and sister to the scariest locations in America. While there, the crew is subject to staged stunts designed to test their mental fortitude.
Famously Afraid: Celebrities tell stories of the times that they saw ghosts or encountered other unexplained phenomena. Howie Mandel, Montell Williams, and Tori Spelling are among those who have talked about their experiences.
Ghost Adventures: A team of paranormal experts partners with technology experts to investigate hauntings and similar activities. After talking with witnesses, the team will spend an entire night inside at a given sight to find out what is really going on.
Kindred Spirits: A pair of paranormal researchers visit the homes that are claimed to be haunted. The team tries to contact the spirits in an effort to learn more about them and why they are there.
Mountain Monsters: The Appalachian Mountains are home to a number of mythical animals such as the Mothman and Kentucky Wolfman. This show aims to find out if these creatures may really exist.
Note that many of these programs are starting their exodus to Discovery+. Any programs that are still on Travel Channel are likely to make their way to the streaming platform at some point in the near future.
Sister Channels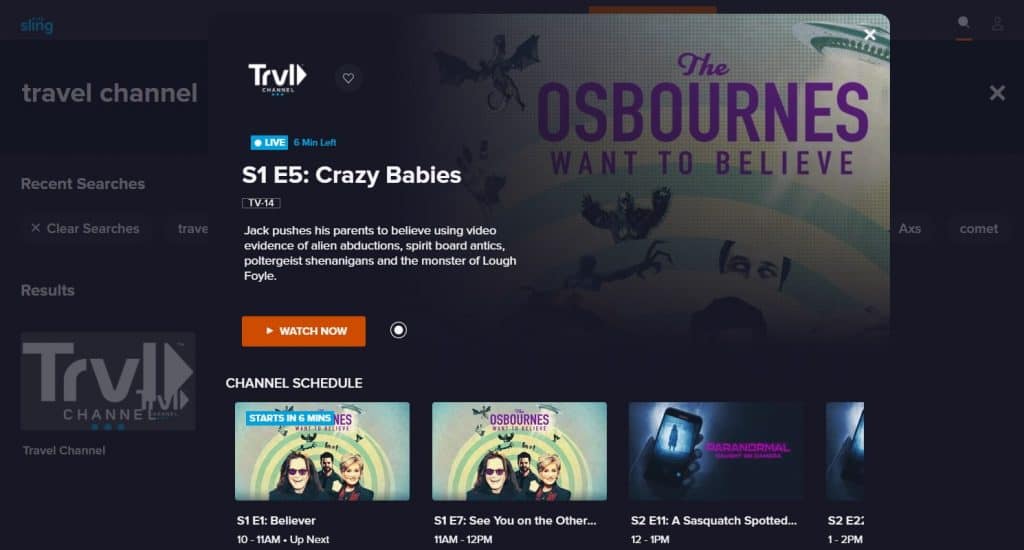 Unblock Your Favorite Movies and Shows With a VPN
If you can't watch your favorite movies and shows because of your location, a VPN will allow you to get the access you are entitled to, plus extra security and unequalled privacy. Check out our VPN Guide for everything you need to know, including our top pick ExpressVPN.
Stream Travel Channel
Travel Channel is not available via antenna. If you want to watch, you need to pay for it. Apart from cable and satellite, your only option is a streaming service. But you have a lot of options inside that.
Sign Up for a Free 7-Day Fubo Trial
Live TV Streaming Services
All of the major live TV Streaming Services offer Travel Channel.
FuboTV: The Pro plan provides 110+ live TV channels including Travel for $74.99/mo. It also comes with 1000 hours of cloud DVR storage and simultaneous streaming on up to 10 devices. (FuboTV review)
Philo: Just $25/mo for 60+ channels, including Travel, Food Network, and Discovery. It does not include any sports and local channels. But you do get unlimited cloud DVR storage and simultaneous streaming on up to 3 devices. (Philo review)
Sling TV: Travel Channels comes with either the Sling Blue (40+ channels like NBC and Fox) or Sling Orange (30+ channels like Disney and ESPN) for $40.00/mo. The Blue plan allows you to stream on up to 3 devices but you are limited to one with Orange. Both plans come with 50 hours of cloud DVR. (Sling TV review)
DIRECTV STREAM (formerly AT&T TV): Travel Channel comes with the Choice plan, which has roughly 100 channels for $99.99/mo. You also get access to its outstanding selection of regional sports networks. The plan comes with unlimited cloud DVR (online sign-up required) and streaming on unlimited devices at once. (DIRECTV STREAM review)
Hulu + Live TV: Get ESPN+, Disney+, and 85 live TV channels for $69.99/mo. The plan comes with unlimited cloud DVR (9-month storage) and streaming on up to 2 devices. (Hulu + Live TV review)
Vidgo: Get Travel Channel with its base plan of 110+ channels for $69.99/mo. It allows you to stream on up to 3 devices at once. But there is no cloud DVR. (Vidgo review)
YouTube TV: Offers 85+ live channels for $72.99/mo.
You can also watch live and on-demand content through the Travel Channel GO app. Note that you need to have a TV provider. Other than Sling, all of them allow you to do this.
Sign Up for a Free 7-Day Fubo Trial
Streaming Discovery+
For $4.99 a month, this platform offers more than 55,000 episodes of hit shows that air on networks owned by Discovery. In addition, you'll get access to original content that you won't be able to watch elsewhere. For instance, you'll be able to watch natural history documentaries presented by the BBC after subscribing.
An ad-free version of this platform is available for $6.99 a month. Alternate versions of Discovery+ are available to prospective subscribers who live outside of the United States.
Devices to Live Stream Travel Channel
All of the streaming services support the following devices:
Amazon Fire TV
Apple TV
Android mobile
Chromecast
iOS devices
Roku
Web browsers.
Android TV-compatible, LG, Samsung, and VIZIO smart TVs and Xbox gaming system are supported by most services. Hulu and YouTube support PlayStation units.
See our streaming reviews for more information.
Superpower Your Live TV Streaming With a VPN
You can't beat a VPN for privacy, security, and access. We have used them for years as an important part of our streaming toolkit and we recommend ExpressVPN.
Wrapping Up
Despite the name, Travel Channel is your destination for shows about ghosts, strange creatures, and other unexplained phenomena. You can get access to this channel through most major streaming services. We recommend FuboTV. You can also get Travel Channel by subscribing to Discovery+.
Sign Up for a Free 7-Day Fubo Trial
FAQs
Does Amazon offer Travel Channel?
You cannot get the Travel Channel through Amazon. However, you can get Discovery+ on Amazon Prime ($4.99/mo), which means that you'll have access to most shows that have aired on this network. As a general rule, you can choose to watch single episodes or full seasons of your favorite shows using Discovery+ through Amazon.
How do I watch entertainment channels besides Travel?
Our channel guides provide all the information you need.
Ditch "Big Cable" Now – 3 Simple Steps to Cut the Cord
Pick the right streaming service
Get the content you deserve with the best VPN.
Supercharge your internet provider
That's it — you'll save money, take back control, and enjoy TV more!
Page Updates
▼
▲
Updated some sub-sections. Updated some section headings. Image changes.

Added some more links. Various changes.

Added buttons for streaming services. Mentioned offers. Image changes. Various changes.

Added VPN info. Pricing updates. Image changes.

Pricing updates. Reworded some things.

Mentioned channel info. Added sub-section. Mentioned offers. Pricing updates. Small layout changes.
Latest posts by Frank Moraes
(see all)