TruTV has changed a lot over the years, but it now stands as one of the best overall channels for entertainment with a focus on comedy with a healthy dose of sports. Although it is one of the base "cable channels," it is not necessary to have cable to enjoy it. Read on to learn your options.
In a hurry? Any of the following services will provide you with access to TruTV and many other channels:
DIRECTV STREAM: Makes it easy to switch from cable to streaming with their 75+ channel Entertainment plan and options for much more. A 5-day free trial is now available for DIRECTV STREAM.
Sling TV: The top low-cost streaming service provides a great base channel lineup in both its plans. Save 50% with Sling TV.
Hulu + Live TV: This total entertainment streaming service provides a great on-demand selection and all the essential live TV channels.
If you can't watch your favorite movies and shows because of your location, try ExpressVPN to get access to the content you deserve.
Unfortunately, we don't know a streaming service in that offers this TV channel. But if you've already paid for the right service, and just can't watch because of your location, there is an easy way to get the sports, movies, and TV you deserve. You need a VPN, like one of the following.
| | | |
| --- | --- | --- |
| | ExpressVPN: Known as "The VPN that just works," it combines remarkable ease of use with with state-of-the-art power, speed, security, and privacy. Get three extra free months when you sign up for a year. Unleash your streaming with this top-rated VPN. | Sign Up Now |
| | Hotspot Shield: Connect to servers in 80+ different countries and 25+ US cities. HotSpot Shield features extremely fast servers and connections and is specially tuned for use with streaming services. And you can try it risk-free with a 7-day free trial and a 45-day money-back guarantee! | Sign Up Now |
| | CyberGhost: Great low-cost service with ultra-fast servers in 90+ countries for smooth live sports streaming. It also provides great security and privacy. See if it's right for you with a free 24-hour trial and test it out with a 45-day money-back guarantee. | Sign Up Now |
If you're overwhelmed and not sure where to begin, you'll find all the answers in our full VPN guide.
TruTV was launched in 2008, rising phoenix-like from the ashes of CourtTV. At the time, it was still very much a drama- and action-based reality network — so "real" that the channel's staff felt the need to coin a new word for it: "actuality."
Courtroom coverage was reduced to the "In Session" programming block from 9 am to 3 pm, then whittled away until it was removed altogether.
By 2014, the station's content had completely shifted to comedic-themed reality shows, semi-scripted docuseries, sketch comedy, and reality competitions aimed at "funseekers." Some syndicated series and films were also thrown into the mix.
The joke is on your cable company, though, if they think you need their expensive contracts to catch the latest Backyard Bar Wars. Just check out the streaming services discussed below, and you'll be the last one laughing.
March Madness on TruTV
March Madness 2022 is a long way out so we don't know what teams will be competing. But we know when it will be happening. TruTV will be showing First Four and first- and second-round coverage.
Selection Sunday: March 13
First Four: March 15, 16
First/Second Rounds: March 17, 18, 19, 20
Sweet 16/Elite 8: March 24, 25, 26, 27
Final Four: April 2, 4
NCAA Championship: 9 p.m. Monday, April 5 (ET)
Here's the full schedule:
| | | |
| --- | --- | --- |
| Round | Date | City |
| Selection Sunday | March 13 | N/A |
| First Four | March 15 and 16 | Dayton, Ohio |
| First/Second | March 17 and 19 | Buffalo, New York |
| First/Second | March 17 and 19 | Cincinnati, Ohio |
| First/Second | March 17 and 19 | Fort Worth, Texas |
| First/Second | March 17 and 19 | Portland, Oregon |
| First/Second | March 18 and 20 | Greenville, South Carolina |
| First/Second | March 18 and 20 | Milwaukee, Wisconsin |
| First/Second | March 18 and 20 | Pittsburgh, Pennsylvania |
| First/Second | March 18 and 20 | San Diego, California |
| Sweet 16/Elite Eight | March 24 and 26 | San Antonio, Texas |
| Sweet 16/Elite Eight | March 24 and 26 | San Francisco, California |
| Sweet 16/Elite Eight | March 25 and 27 | Chicago, Illinois |
| Sweet 16/Elite Eight | March 25 and 27 | Philadelphia, Pennsylvania |
| Final Four | April 2 and 4 | New Orleans |
Unblock Your Favorite Movies and Shows With a VPN
If you can't watch your favorite movies and shows because of your location, a VPN will allow you to get the access you are entitled to, plus extra security and unequalled privacy. Check out our VPN Guide for everything you need to know, including our top pick ExpressVPN.
Other brands worth checking out include Hotspot Shield and CyberGhost.
How to Watch TruTV Live Without Cable
TruTV is currently marketed together with its closest sibling stations, TBS (more standard scripted comedy) and TNT (scripted drama), which were in turn part of the Turner Broadcasting family, which also included CNN, HLN, Cartoon Network/Adult Swim, Boomerang, and Turner Classic Movies. Turner Broadcasting is currently owned by WarnerMedia, making TruTV a step-sibling of HBO, Cinemax, and The CW.
Unfortunately, you can't get TruTV with an antenna, because it's not an over-the-air network (think NBC, ABC, CBS). It's considered a "pay" or "cable" channel because you can only watch it if your local cable or satellite provider — like Xfinity or Verizon — makes it available.
At least, that's how it used to work.
These days, more and more people turn to OTT (over-the-top) services that find alternate methods to deliver the same TV channels. No year-long commitments, no hidden fees, no waiting around all day for the cable guy to come just to plug in a few cords.
You can get all your favorite shows, live, just like you watch them on cable, through a streaming service that provides all the TV you love over the internet.
Streaming Services With TruTV
Another great advantage to streaming services is that you have choices. Usually at least two or three (and sometimes up to six or more) give you access to the channels you want.
Each service has its own pros and cons. You can choose one that works best for you. TruTV is carried by several of the biggest services: Hulu + Live TV, Sling TV, and DIRECTV STREAM (formerly AT&T TV).
Let's talk details.
Sling TV

The great strength of Sling TV is its flexibility. You can get around 40 channels or over a hundred. It's the most customizable service out there. It's cheap too. Sling Blue gives you TruTV plus 40+ other channels for just $40.00/mo!
This plan also comes with Cartoon Network (Adult Swim), Comedy Central, FX, TBS, and TNT. You also get your local NBC and Fox affiliates in most areas. Plus, you can watch on up to three devices at the same time if your household doesn't always agree on what to watch. And you get 50 hours of cloud DVR.
Sling TV doesn't have a free trial. Save 50% on Sling TV now! Read our thorough review for more information. You can also check out our guide to March Madness coverage and schedule.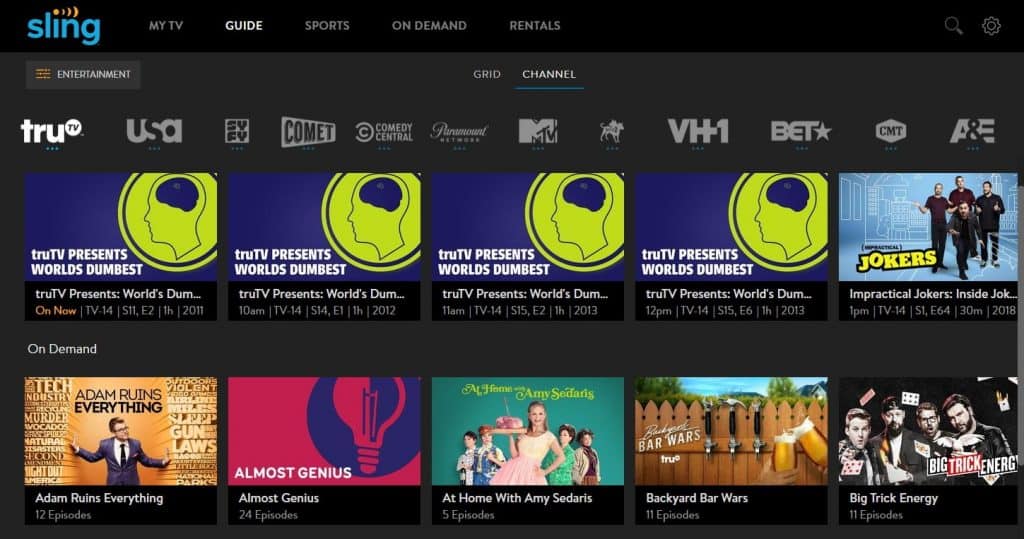 DIRECTV STREAM

DIRECTV STREAM (formerly AT&T TV) carries TruTV and all the Warner sister stations (including TBS) in its base Entertainment package. You get Comedy Central, FXX, TV Land, and TLC.
DIRECTV STREAM offers four tiers of service. The lowest level is the Entertainment Plan with 75+ channels for $74.99/mo. The top-level is the Premier with 140+ channels for $154.99/mo. That plan might sound expensive but it comes with a ton of premium channels from HBO, Showtime, Starz, and MGM+.
All packages come with an upgradable unlimited cloud DVR (as long as you sign up online) and the ability to watch on unlimited different devices in the same home (and remotely). All TV packages also come with a full slate of local broadcast channels.
For details, see our DIRECTV STREAM review.
Get DIRECTV STREAM Free for 5 Days
Hulu + Live TV

Good old reliable Hulu + Live TV has got your back when it comes to Turner-WarnerMedia channels: it's got them all. You get TruTV plus over 85 other channels, unlimited Cloud DVR with 9 month storage, and the ability to watch on up to 2 screens at a time, for $69.99/mo.
But wait, there's more! They'll even throw in access to their huge on-demand library, and Disney+, and ESPN+. Still not convinced? In most areas, your local network affiliates are included in the deal (including The CW). And, HBO and Cinemax are available as premium channels for a little extra.
If you're still hunting up laughs, they also carry Comedy Central, FXX, and TV Land, plus TLC for more reality-based escapism. Read our Hulu + Live TV review for more information.
Superpower Your Live TV Streaming With a VPN
You can't beat a VPN for privacy, security, and access. We have used them for years as an important part of our streaming toolkit and we recommend ExpressVPN. Other brands worth checking out include Hotspot Shield and CyberGhost.
Other Ways to Stream TruTV
Searching for more ways to keep up with Fast Foodies? Here are more ways to stream TruTV:
YouTube TV: Similar to Hulu + Live TV, you can get TruTV, TBS, TNT, plus over 80 other channels, including local networks.
On-demand: TruTV's shows are available to stream on several services. The most comprehensive collection is on HBO Max (since both HBO and truTV are part of WarnerMedia's Entertainment division). You can also find some series on Amazon Prime Video and Vudu.
TruTV App: Offers a live-stream of the channel plus on-demand content of former and current original series. It requires you to sign in with your TV provider so if you don't already have a cable TV subscription or compatible streaming service it won't do you much good.
TVs and Other Devices for Watching TruTV
Most modern TVs and streaming devices will allow you to watch TruTV with the services we've discussed. In particular, all of the following are supported:
Smartphones/Tablets
Casting

Chromecast devices
Chromecast-enabled TVs

TV Stick Devices

Amazon Fire TV
Apple TV
Roku

Samsung TVs
Web browsers
DIRECTV STREAM offers its own device (like a cable box), which is expensive ($120), but may make the transition from cable to streaming easier.
Hulu + Live TV and Sling TV support Android TV devices and smart TVs from LG and Vizio. They also both support the Xbox One. There are a number of less popular devices that are also supported; see our streaming reviews for more details.
Wrapping Up
So whether you love the hilarious firefighter hijinks of Tacoma FD or you go in more for the mind-bending street magic of Big Trick Energy, you don't have to put up with your cable bill any longer.
Make the switch to one of these streaming services, and keep right on laughing with Impractical Jokers and all your other TruTV favorites.
FAQ
What TV shows can I watch on TruTV?
TruTV stays pretty true to its current theme of taking a standard reality premise and giving it a comedic twist.
The network's two oldest original shows are still running and still popular: Impractical Jokers (four friends issue and complete outrageous public dares) and The Carbonaro Effect (a magician catches people's reactions to spontaneous tricks on a hidden camera). Other current top original series include:
Adam Ruins Everything
Backyard Bar Wars
Big Trick Energy
Double Cross with Blake Griffin
Fast Foodies
Hot Ones: the Game Show
It's Personal with Amy Hoggart
Tacoma FD
Tirdy Works
Top Secret Videos.

TruTV, because of a deal between Turner Sports and CBS, also airs NCAA Division I Championship games (March Madness) "First Four" and parts of the first and second rounds. Or, as SBNation puts it, "You're watching college hoops on a comedy channel that used to cover courtroom proceedings."
Ditch "Big Cable" Now – 3 Simple Steps to Cut the Cord
Pick the right streaming service
Get the content you deserve with the best VPN.
Supercharge your internet provider
That's it — you'll save money, take back control, and enjoy TV more!
Page Updates
▼
▲
Added links to streaming services. Updated some section headings. Updated some sub-sections. Image changes.

Updated some sub-sections. Added links. Image changes.

Image changes. Mentioned offers. Changed a few bits of content.

Added buttons for streaming services. Added VPN info. Image changes. Put related links. Mentioned offers.

Changed some content in main section. Updated some sub-sections. Image changes.

Added info about guide. Added links. Image changes. Pricing updates.

Added links to streaming services. Pricing updates. Added some links. Formatting changes.

Reworked one section. Updated one section.

Added sub-section. Added some more links. Changed a few bits of content.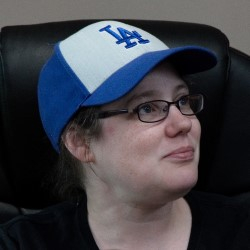 Latest posts by Alanna Baker
(see all)