English Premier League is back.

Stream it live on NBCUniversal channels with Fubo!
Univision is one of the most popular Spanish-language channels on American television. Like most networks you'll find on TV, Univision offers a wide mix of content including sports, news, and general entertainment. And you can easily watch it with a cable subscription.
In a hurry? If you've decided to cut the cord these services will give you a great service including Univision:
FuboTV: Offers over 105 channels including a bunch of sports with Univision widely available. FuboTV allows you to try out its service free for 7 days.
DIRECTV STREAM: Provides 4 plans with a base of roughly 85 well-rounded channels. A 5-day free trial is now available for DIRECTV STREAM.
Univision is the largest and oldest Spanish-language TV network in the US. Its roots go all the way back to 1955 when the first Spanish-only TV station was launched in San Antonio, TX. In 1962, the San Antonio station and KMEX in LA together formed the Spanish International Network, which was reorganized as Univision in 1987.
It's perhaps best known to non-Latino Americans as the home of Sabado Gigante, which, at 29 years, is Univision's longest-running show. The network consistently runs fifth in overall ratings, after NBC, ABC, CBS, and Fox but ahead of The CW. And it's not unusual for some time slots or specials to do even better among the 18-34 and 18-49 demographics.
The best part is, you don't need a cable company at all to find out why it's so popular. If you fancy getting hooked on a telenovela or taking in a Euro 2020 partido de fútbol (soccer match), read on!
How to Watch Univision Live Without Cable
Univision is the flagship channel of Univision Communications, which also broadcasts companion network UniMás and estaciones hermanas Galavisión, Univision Tlnovelas, and TUDN, Univision's deportes network.
Other Spanish-language channels based in the United States include Telemundo, TeleXitos, Azteca, and Estrella TV.
Univision is both an OTA (over-the-air) broadcast station like CBS, ABC, and NBC and carried as a basic cable channel by most American cable providers. This means that if you happen to live in or near a media market with a large Latino community, you can pick it up with a simple antenna.
If that's not an option for you (or you just don't want the bother), you can still watch Univision without a cable company. There are a growing number of OTT (over-the-top) services that stream channels directly to your TV (or other devices, like tablets).
We'll talk about them in more detail below.
Unblock Your Favorite Movies and Shows With a VPN
If you can't watch your favorite movies and shows because of your location, a VPN will allow you to get the access you are entitled to, plus extra security and unequalled privacy. Check out our VPN Guide for everything you need to know, including our top pick ExpressVPN.
Other brands worth checking out include Hotspot Shield and CyberGhost.
Streaming Services with Univision
As discussed above, Univision can be picked up via antenna in over 60 US media markets. While all the major OTT streaming services have some Spanish-language channels available, only two have Univision: FuboTV and DIRECTV STREAM.
But if you already have another service, or they're too pricey for you, there is another option, Univision Now, which we'll talk about in more detail later.
FuboTV for Univision

FuboTV was created as a sports platform, and it shows in their masivo number of sports stations. But they also have plenty of non-sports stations as well. Their plans come with a minimum of 1000 hours of Cloud DVR storage, plus the ability to watch on at least three different devices at the same time.
The base (Pro) FuboTV includes Univision, Telemundo, Galavisión, and UniMás along with the 105+ other channels for $69.99/mo. The rest of their lineup includes a broad range of channels with over 35 that are sports-oriented.
A free for 7 days is available for this.
They also offer the Latino Plus plan, which features 30+ Spanish-language plans for $32.99/mo. This plan only allows you to stream on up to two devices and does not come with a free trial.
FuboTV also offers a number of Spanish-language add-ons: International Sports Plus, Latino Plus, and Entretenimiento Plus. For more information about FuboTV, check out our exhaustive review.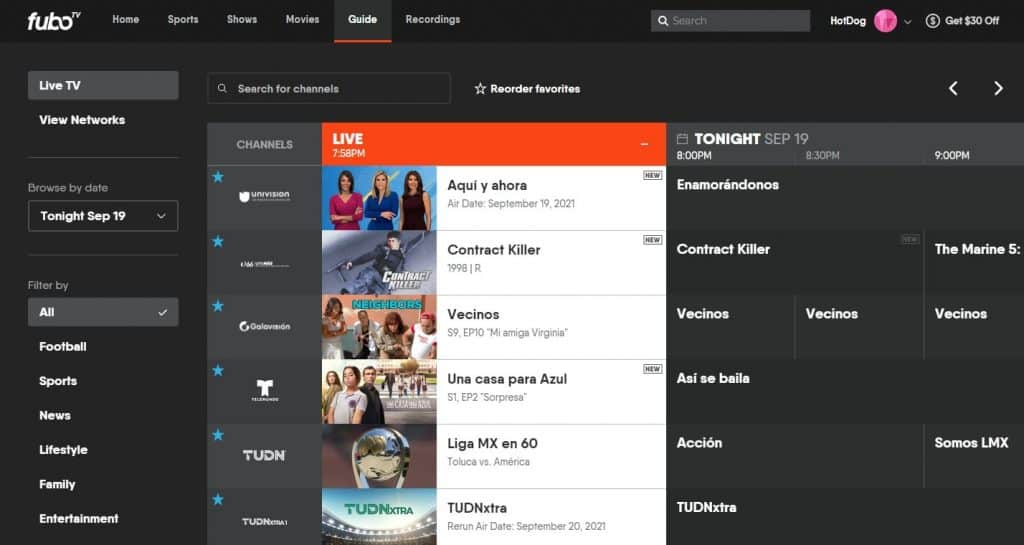 DIRECTV STREAM

The base DIRECTV STREAM (formerly AT&T TV) package with the 75+ channel Entertainment Plan is $69.99/mo. You also get unlimited Cloud DVR storage (online sign up required) and you can stream on up to 20 devices in your home, far more than any other service.
Like Fubo, DIRECTV STREAM carries local Univision affiliates, as well as Univision East HD, the cable feed, along with Galavisión and Telemundo. UniMás West is available as an add-on or in their higher-priced plans. They also have an Español add-on that contains:
Univision Deportes
Discovery Channel en Español
ESPN Deportes
Cinelatino
Estrella TV.
Get DIRECTV STREAM free for 5 days. DIRECTV STREAM is the only service to offer its own in-house streaming device, similar to a cable box, complete with a voice-controllable remote.
See our thorough review for more information.
Get DIRECTV STREAM Free for 5 Days
Other Ways to Stream Univision
Univision has its own streaming service, Univision Now.
It streams Univision and UniMás live and contains on-demand content from both of them plus Galavisión and TUDN. You can stream directly from the website or from their app, which is available on most standard streaming platforms.
There are two ways to get Univision Now. The first is to use your FuboTV or DIRECTV STREAM account with TV Everywhere. But if you don't have one of these services, you can get your own account for $10.99/mo or $118.99/yr.
Univision is also available through YouTube TV, which offers 85+ channels for $64.99/mo.
Superpower Your Live TV Streaming With a VPN
You can't beat a VPN for privacy, security, and access. We have used them for years as an important part of our streaming toolkit and we recommend ExpressVPN. Other brands worth checking out include Hotspot Shield and CyberGhost.
Devices and TVs to Watch Univision
Both FuboTV and DIRECTV STREAM allow you to watch on most devices:
Android: phones and tablets
iOS: iPhones, iPads, iPods Touch
Chromecast: casting system built-in to TVs as well as external devices
TV Sticks: Roku, Apple TV, Amazon Fire TV
Samsung Smart TVs: models from 2017 – 2020
Web browsers: Chrome, Edge, Safari, and more.
FuboTV also supports Android TV-powered units as well as smart TVs from Hisense, LG, and Vizio. They also support the Xbox One gaming system.
As mentioned before, DIRECTV STREAM also allows you to use your own device, which may be easier for people who are just moving from cable.
Wrapping Up
So if you've been dying to say ¡Hasta la vista! to your cable bill, go ahead and take the plunge. Don't worry about falling behind on Diseñando tu Amor; sign up for one of these services and you can still catch all your favorite telenovelas!
FAQs
What kind of programming format does Univision have?
Univision is a general programming station, meaning, much like English-speaking networks, they have a little bit of everything: original and syndicated serials, movies, sports, news, and special events.
The biggest difference (besides the language, of course) is that Latin American telenovelas aren't televised weekly like American series but instead new episodes come on every night four or five nights a week, and the series typically runs a year or two.
What programs can I see regularly on Univision?
Some of Univision's top telenovelas include:
La Desalmada
Hija del Embajador 2
Si Nos Dejan
Diseñando tu Amor.
Other popular series are:
Enamorándonos — a dating contest
Rosa de Guadalupe — an anthology drama series
¿Quién es la Máscara? — a reality talent contest.
Univision also features a morning program (similar to Today or Good Morning America) called Despierta América and a long-running entertainment news show, El Gordo y la Flaca.
What other shows can I watch on Univision?
Univision airs the Premios TVyNovelas (Mexican TV show awards), Premios Juventud (similar to the Teen Choice Awards), and the Teletón USA, an annual Jerry Lewis-style telethon benefitting children's medical research. They also host their own Latin music awards, Premio Lo Nuestro, the Latin Grammy Awards, and Spanish-language coverage of the Rose Parade.
Telemundo may have FIFA through 2024, but Univision allows you to watch the following fútbol (soccer) matches:
Euro 2020
Gold Cup
Copa América
UEFA
Nations League
Selección Mexicana y Estadounidense de Fútbol
How do I watch other local channels online without cable?
To find out how to watch other local channels, check out the guides below:
How can I watch other news channels?
Here are our guides for watching other news channels:
Ditch "Big Cable" Now – 3 Simple Steps to Cut the Cord
Pick the right streaming service
Get the content you deserve with the best VPN.
Supercharge your internet provider
That's it — you'll save money, take back control, and enjoy TV more!
Page Updates
▼
▲
Image changes. Reformatting.

Added VPN info. Added buttons for streaming services. More links. Changed a few bits of content.

Added buttons for streaming services. Updated one section. Added useful links. Changed a few bits of content.

Added sub-section. Image changes. Pricing updates. Mentioned offers.

Image changes. Added some links. Pricing updates.

Mentioned channel info. Updates to a section. Added useful links. Pricing updates.

Updates to a section. Changed some content in main section.
Latest posts by Frank Moraes
(see all)