Vice TV is a popular news and lifestyle channel aimed at millennials. And in keeping with that, it is widely available outside of a cable contract with live TV streaming services. Read on to learn how to get it.
In a hurry? Here are our top picks for watching Vice TV and other A&E shows without cable:
DIRECTV STREAM: Makes it easy to switch from cable to streaming with their 75+ channel Entertainment plan and options for much more. A 5-day free trial is now available for DIRECTV STREAM.
Philo: This service gives you 60+ live TV channel for just $25/mo!
Sling TV: The top low-cost streaming service provides a great base channel lineup in both its plans. Save with Sling TV.
If you can't watch your favorite movies and shows because of your location, try ExpressVPN to get access to the content you deserve.
Unfortunately, we don't know a streaming service in that offers this TV channel. But if you've already paid for the right service, and just can't watch because of your location, there is an easy way to get the sports, movies, and TV you deserve. You need a VPN, like one of the following.
| | | |
| --- | --- | --- |
| | ExpressVPN: Known as "The VPN that just works," it combines remarkable ease of use with with state-of-the-art power, speed, security, and privacy. Get three extra free months when you sign up for a year. Unleash your streaming with this top-rated VPN. | Sign Up Now |
| | Surfshark: Surfshark: Secure and easy to use with thousands of servers around the world. Of special note is its excellent collection of servers inside the US, which is great for regional sports lie NFL, MLB, and NBA. Get it now with an incredible 82% discount on a 24-month plan. | Sign Up Now |
| | NordVPN: One of the top VPNs with extremely fast servers all over the world. Great for streaming with tested perfomance on the biggest servers and included ad-blocking. Currently offering 70% discount on 2-year plans. | Sign Up Now |
If you're overwhelmed and not sure where to begin, you'll find all the answers in our full VPN guide.
If you enjoy learning about the issues that impact your daily life, you'll probably want to watch Vice TV. Since 2019, the network has shifted toward a format with news and investigative journalism.
This is part of an effort to best serve its target audience. Although the network is largely targeted toward those born between 1985 and 2000, viewers of all ages will likely be able to gain something by watching this network.
Vice TV Basics
Vice TV was founded in 2016 using the name Viceland. The channel rebranded itself as Vice TV in 2019 as it shifted from a lifestyle network to a news network. This channel is a joint venture between Vice Media and A&E.
It replaced History's sister station H2 (History International) in most cable lineups. Prior to the launch of Viceland, H2 was primarily focused on objective history while History itself had decided to lean heavily into entertainment programming that was based on historical events.
Although Vice TV largely focuses on an American audience, it does produce content that is meant to appeal to audiences in other countries. It has a significant presence in Australia, Canada, and the UK. It is also available in large portions of Europe and Asia.
Programming
Vice TV offers a variety of original programming as well as content that was acquired from other stations owned by A&E. Each evening, Vice News Tonight provides an objective look at the top stories in the United States and throughout the world. This show is unique because it doesn't deliver the news through a single anchor. Instead, it uses a variety of media to educate and engage audiences about the topics it covers.
Another popular original program is Cari & Jemele (Won't) Stick to Sports hosted by former ESPN personalities Jemele Hill and Cari Champion. The show examines a variety of social issues and their impact on both the sports world and the world as a whole.
If you're a professional wrestling fan, you may want to check out Dark Side of the Ring. This show dives deeper into important stories such as unscripted conflicts between wrestlers or conflicts between wrestlers and promoters. Also, Major League Wrestling (MLW) airs a program on this network each week.
Among the shows brought to the channel by A&E were Hoarders and Ice Road Truckers. You will also be able to watch other hit shows produced by A&E such as Shipping Wars and Intervention on Vice TV.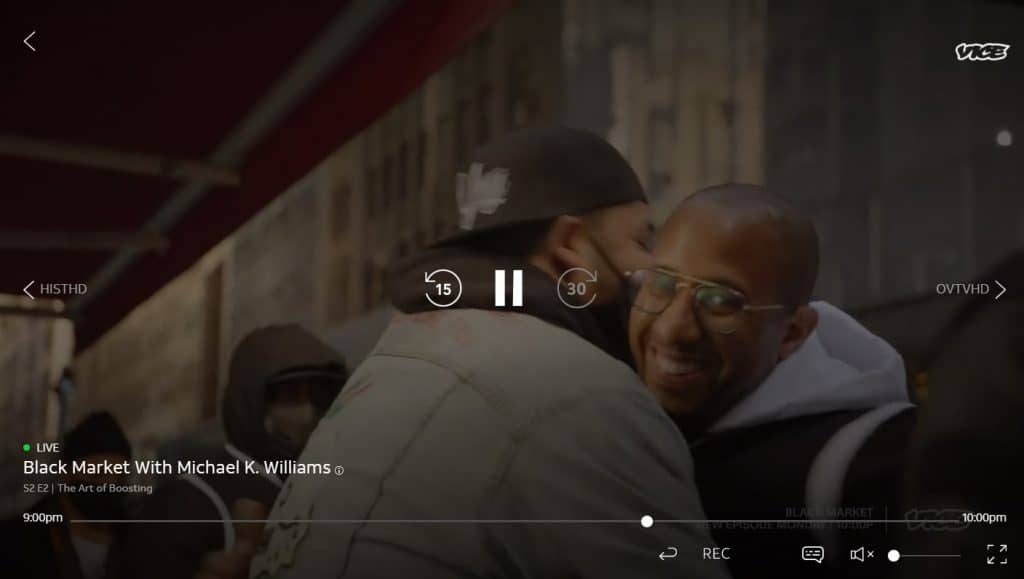 Unblock Your Favorite Movies and Shows With a VPN
If you can't watch your favorite movies and shows because of your location, a VPN will allow you to get the access you are entitled to, plus extra security and unequalled privacy. Check out our VPN Guide for everything you need to know, including our top pick ExpressVPN.
Streaming Vice TV
Most of the major live TV streaming services offer Vice TV:
On-Demand Options
If you don't care about watching Vice TV live and just want access to shows, there are other options.
Vice TV App: Allows you to watch most shows on-demand via TV Everywhere with a TV provider log-in. Note that you can use Hulu + Live TV, DIRECTV STREAM, and Philo but not Sling TV or Vidgo. Also, it does not provide a live stream of Vice TV. The same service is available through vice.com.
Hulu On-Demand: Provides access to many shows including Hamilton's Pharmacopeia, The Devil You Know, and Dark Side of the Ring.
Purchase: You can buy full episodes and seasons of Vice shows through iTunes, Amazon, Google Play, VUDU, Microsoft, and Playstation Video.
Supported Devices to Live Stream Vice TV
We'll highlight the most popular devices that are supported by the streaming services that offer Vice TV.
Other than Android TV-based televisions all the services support it. You can cast to your TV from a mobile device or web browser using Chromecast. Similarly, you can use all the popular TV stick devices: Amazon Fire TV, Apple TV, and Roku. And you can stream on mobile devices with Android and iOS (iPhone, iPad).
Hulu, Sling, and DIRECTV support Samsung smart TVs. Sling and Hulu support LG and VIZIO smart TVs.
Sling and Hulu support the Xbox One gaming system. Sling supports the Oculus VR system. And PlayStation and Nintendo Switch are supported by Hulu.
See our streaming service reviews for complete details.
Superpower Your Live TV Streaming With a VPN
You can't beat a VPN for privacy, security, and access. We have used them for years as an important part of our streaming toolkit and we recommend ExpressVPN.
Wrapping Up
If you are looking to learn about the world around you without being told what to think or how to feel, Vice TV may be for you. It has a quality mix of news, documentaries, and other types of programming that seek to teach its audience in an engaging manner.
As this channel is available on most streaming platforms, you should have no problem finding a way to watch it without cable. We recommend Philo to stream Vice TV. Try Philo free for 7 days.
Frequently Asked Questions
Which devices carry the Vice TV app?
The Vice TV app is supported by surprisingly few devices. It supports mobile devices (phones, tablets) running the iOS or Android operating systems. You can also use it on Apple TV and Roku devices. Currently, it is not supported directly on any smart TVs, Chromecast, or Amazon Fire TV. But note that you can view it that way through most of the live TV streaming services.
Why isn't Vice available on YouTube TV and FuboTV?
Vice TV isn't available from either FuboTV or YouTube TV because they don't have a contract with A&E Networks. Therefore, they don't have Vice TV, History, Lifetime, FYI, Crime & Investigation, or A&E itself. However, they still carry a variety of other quality sports, entertainment, and news channels from providers like AMC, NBCUniversal, and Paramount.
How can I watch other entertainment channels without cable?
See the following list to watch other entertainment channels:
Ditch "Big Cable" Now – 3 Simple Steps to Cut the Cord
Pick the right streaming service
Get the content you deserve with the best VPN.
Supercharge your internet provider
That's it — you'll save money, take back control, and enjoy TV more!
Page Updates
▼
▲
Updated some sub-sections. Updated some section headings. Image changes.

Added VPN info. Added buttons for streaming services. Mentioned offers. Misc changes to content.

Added buttons for streaming services. Pricing updates.

Various changes to content.

Added sub-section. Added some more links. Changed a few bits of content.

Added sub-section. Updates to a section. Updated one section. Changes to some sections.
Latest posts by Frank Moraes
(see all)