Disclosure:
Your support helps keep our site running! We earn referral fees for some of the products & services we recommend.
Learn more
Are you excited about the Grammys? It's one of the oldest and most popular award shows. And cord-cutters can watch it free over the air — or through a number of streaming services.
In a hurry? As usual, the Grammy Awards will air on CBS, which you can probably get with an antenna. If you don't want to bother with that, these streaming services will let you watch it and much more easily:
Hulu + Live TV: Get 85+ live channels along with ESPN+, Disney+, and its unmatched on-demand library. Try it free for 7 days!
FuboTV: Sports fans will love this service with over 100 channels. Check it out with a 7-day free trial.
DIRECTV STREAM: Make the move from cable/satellite easily with this well-rounded provider. Risk-free with a 14-day money-back guarantee.
Here come the 64th Grammy Awards — "Music's Biggest Night"! (You gotta admire the chutzpah it takes to claim that title for yourself, and the PR savvy to make it stick!)
Oh, wait, no, sorry, the 2022 Grammys was postponed, like most of the other awards shows in January, due to COVID. But fear not, if there's one thing musicians love to do, it's put on a show. So hang tight and we will let you know when it's rescheduled.
The Grammys
The Grammys are an annual awards presentation by the National Academy of Recording Arts and Sciences (NARAS), more often called simply The Recording Academy. They were first held in 1959, with winners including Ella Fitzgerald, Count Basie, and Henry Mancini.
It's regarded as one of the four major American awards for entertainment. The other awards are Oscars for movies, Emmys for TV, and Tonys for live theater.
The Grammys is the first of the major music awards which continue with summer's Billboard Music Awards and fall's American Music Awards.
Since the nineties, the Grammys have faced growing criticism over opaque voting processes, alleged racism and sexism, favoritism, commercialism, and being generally out-of-touch and antiquated. The Recording Academy has responded with a mix of denials and reforms, the most recent being the elimination of the secret, anonymous committees that have the final say over which nominees go on the ballot.
The 64th Grammy Awards
The 64th Grammys were originally scheduled to take place in Los Angeles at the arena formerly known as the Staples Center (now The Crypto.com Arena) on January 31, 2022. But the ceremony was canceled due to the Southern California Omicron surge. The new date is still up in the air.
When it happens, the event will presumably still be hosted by Trevor Noah of The Daily Show and air on CBS, its long-term network home. We suspect it will be rescheduled for March since that's when it was scheduled last year after a similar COVID-related delay.
The four major categories are:
Album of the Year: This is roughly analogous to the Oscar's "Best Picture" award, for a complete LP album. Last year, it went to Taylor Swift for Folklore.
Record of the Year: For performance of a track. This went to Billie Eilish for "Everything I Wanted."
Song of the Year: Is for writing a track and was awarded for "I Can't Breathe" by D'Mile & HER & Tiara Thomas.
Best New Artist: Probably best described as "newly famous in the mainstream," as indicaed by last year's established professional, Megan Thee Stallion.
This year's biggest nominee is Jon Batiste with 11 nods. Other artists with multiple nominations include Justin Bieber, Doja Cat, HER, Billie Eilish, Olivia Rodrigo, D'Mile, Giveon, Kanye West, SZA, and Lil Nas X.
The Grammys on TV
The Grammy Awards have been held on all the original Big Three networks in the over sixty years they've been around. They first appeared on NBC for ten years. Then ABC took over for three years.
Since 1973 and continuing ever since, CBS has been the home of the Grammys. They're currently contracted to air there through 2026.
Watching the Grammys Without Cable
Assuming the Grammys will be broadcast on CBS — and there's no reason to believe they won't — you have several alternatives to cable to watch them. These fall into two categories. You can watch them over the air (OTA) with an antenna or through an online streaming service.
Antenna
The vast majority of Americans live close enough to a CBS station to pick up its signal with an antenna. Digital HD antennas are readily available for under $50 and give you free OTA stations in perpetuity.
If you're looking for major network programming and local independents showing syndicated series, an antenna may even be all you need. It's definitely enough to watch the Grammys.
You can integrate an antenna with Sling TV as well. See our HD Antenna guide for more information.
Streaming Services
If you feel like antennas are so forty years ago (They aren't!) or you think they are a hassle (Well…), you can watch OTA networks with a subscription to an internet streaming service. Not all streaming services include local stations, though. The following ones will provide you with your local CBS affiliate pretty much everywhere:
Streaming Devices to Watch the Grammys Live
The streaming services we've highlighted above allow you to use most streaming devices in use today. These include Amazon Fire TV, Android mobile, Apple TV, Chromecast, iOS, Roku, Samsung smart TVs, and web browsers.
Hulu and Fubo also support Android TV, LG and Vizio smart TVs, and Xbox gaming systems. Hulu also supports PlayStation systems. DIRECTV STREAM has its own optional device.
There are other supported streaming devices. See our streaming reviews for complete details.
Wrapping Up
Will BTS be performing? How many of Batiste's 11 nominations will he win? And how many musicians will announce their boycotts on Twitter? Stay strong, music fans, and rest easy that no matter when they eventually go on, you know how to watch the 2022 Grammys.
FAQs
Who's boycotting the awards this year, and why?
The highest-profile name to be officially boycotting is The Weeknd, who had the biggest song of 2020 from a critically-acclaimed album but failed to get any nominations whatsoever in 2021. He declared he would no longer allow his music to be submitted for Grammy consideration. He's still up for three awards this year for work on other artists' songs. He tweeted praise for the removal of the secret committees, but is continuing his boycott.
Other artists who have expressed approbation in the past are Frank Ocean, Kanye West (who's up for Album of the Year for Donda), Drake, Public Enemy, 50 Cent, Jay-Z, and Arianda Grande have all boycotted at some point. There are many others. Look for more drama once a new date has been set!
Aren't the Grammy Awards just a big popularity contest?
The Grammys are not supposed to be a popularity contest. They're supposed to be awarded based on artistic merit. But they've been dogged by criticism since their inception, and it's only intensified in the last thirty years. Sinead O'Connor famously became the first musician to outright refuse a Grammy in 1991 in protest against the "extreme commercialism" of the awards.
The 59th Grammys saw Adele's 25 beat out Beyoncé's Lemonade, which many attributed not just to racism but to 25's commercial success. Even Adele said Lemonade should have won in her acceptance speech.
Why certain albums win out over others, only the Recording Academy knows for sure. And haters gonna hate. But there are certainly many compelling arguments made for popular "cash cow" songs winning out over more "artistic" choices.
How can I watch other awards programs without cable?
Here's how to watch other popular awards programs throughout the year: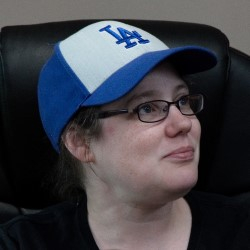 Latest posts by Alanna Baker
(see all)