Most Braves games air on Bally Sports South and Bally Sports Southeast. So if you are a local fan you need to gain access to them. Otherwise, you can catch the Braves when they are on national channels. Read on to learn all the details.
In a hurry? DIRECTV STREAM is the King of RSNs, being the only service to offer them in most areas. Get all of them in your area with roughly 100 other channels in its Choice Plan. A 5-day free trial is now available for DIRECTV STREAM.
The Atlanta Braves have always been a popular team filled with some pretty loyal fans. Every team has its ups and downs, but it seems the Braves are more likely to come out on top most seasons.
This provides all the more reason for fans to want to watch games as they happen. With that in mind, here are some ways that you can watch the Atlanta Braves game online without cable.
All About the Atlanta Braves
The Braves are one of the two oldest franchises in Major League Baseball. They and the Chicago Cubs began play in the National League's first season of 1876. However, the Braves started out in Boston and remained there until moving to Milwaukee in 1953 and to Atlanta in 1966.
Despite playing for nearly a century and a half, the Braves have just four World Series titles. Until the 2021 campaign, they had won one in each city: 1914 (Boston), 1957 (Milwaukee), and 1995 (Atlanta).
However, the Braves were the best in baseball in 2021, at least as far as the postseason goes. Atlanta went 88-73 in claiming the National League East Division title, a mark that was worse than two American League teams that missed out on the playoffs. But they got on a roll, knocking off the Milwaukee Brewers, Los Angeles Dodgers, and Houston Astros en route to claiming the Commissioner's Trophy.
That was Atlanta's fourth straight playoff appearance, but the first two, in 2018 and 2019, ended in defeats in the NL Division Series. However, its 2020 campaign resulted in more postseason success as the Braves advanced to game seven of the NLCS before falling to the Dodgers.
Do You Need a VPN?
If you find you can't watch particular events because of your location, a VPN should allow you to get the access you are entitled to. It also provides extra security and unequalled privacy. See our complete VPN Guide for all you need to know.
Atlanta Braves Without Cable
In Atlanta, you might find most regular season games airing on Bally Sports South or Bally Sports Southeast. Other channels might include FS1, ESPN, ESPN+, MLB.tv, and TBS. Some games will air on MLB Network, as well. It's possible to find a streaming service that offers all of the channels you need to pick up the Braves live stream and much more!
One of the best things about streaming services is that you aren't locked into a contract. You'll be able to try services and if they don't work for you, then you can sign up for another one. Sling TV (save $10 on Sling TV), FuboTV (free for 7 days), and other services give you a trial so you can be sure you've picked the right service.
It only takes minutes to sign up, so you can sign up and be watching TV in the same hour. When you're ready to start watching you'll need a streaming device. You can use computers, mobile devices, Apple TV, Amazon Fire TV, Roku, Chromecast, and other devices.
Atlanta Braves With DIRECTV STREAM

DIRECTV STREAM (formerly AT&T TV) offers almost all the regional sports networks (RSNs). Those in and around Georgia will get access to Bally Sports South and Bally Sports Southwest, which will air almost all Atlanta Braves games. You will need to subscribe to the Choice plan ($89.99/mo) to get these. You will also get the national channels TBS, ESPN, FS1, MLB Network, NBC, ABC, and Fox.
All DIRECTV STREAM plans come with unlimited cloud DVR storage (online sign-up only) and streaming on up to 20 devices at once. See our DIRECTV STREAM review for more information.
Atlanta Braves With Sling TV

The major benefit to Sling TV is that it's one of the cheapest streaming packages available. All plans start at just $35 per month. The Sling Orange package offers both ESPN and TBS, which is great news for Braves fans.
For another $10/month you can add the Sports Extra bundle, which gives you MLB Network and several other sports channels. Of course, you can sign up for the Orange + Blue plan, which is $50 a month. This plan includes FOX Sports South and FOX Sports Southeast for those in the region and FS1.
That means that Sling TV offers all of the channels you need to watch the Braves this season!
Sling TV Details:
The best way for you to learn about Sling TV is to try it. Currently, save $10 on your first month of Sling TV. This is a no-risk trial that gives you the time you need to make sure you're happy with what Sling TV has to offer.
Atlanta Braves With FuboTV

FuboTV will likely work best if you want a larger package. Over 105 channels are available and there are more channels that can be added for a small fee. FOX is available in many areas.
You'll also have a couple of Bally Sports regional channels, FS1, and TBS. Like Sling TV, you will be missing a few channels. ESPN and MLB Network are also available.
Features of FuboTV include:
FuboTV offers a service that is cheaper than cable with as many channels. Your package includes the ability to stream on multiple devices at once. You can also add channels to your package, if you want more. Don't forget, you can check out FuboTV for yourself when you sign up for your free for 7 days.
Superpower Your Streaming With a VPN
For the sake of privacy, security, and access, you should be using a VPN. They are low-cost and easy to use. We've been using them for years and our top pick is ExpressVPN.
Other Ways to Watch Braves Games
Now that you know more about Sling TV and FuboTV, let's look at some of the other options you can use to watch the Atlanta Braves online. Remember, each service offers a free trial, which allows you to watch some free TV and determine if you like the service enough to keep it. Here are the rest of your options:
These are just some of the ways you can watch sports online without cable. If you have any questions, don't hesitate to add them to the comments!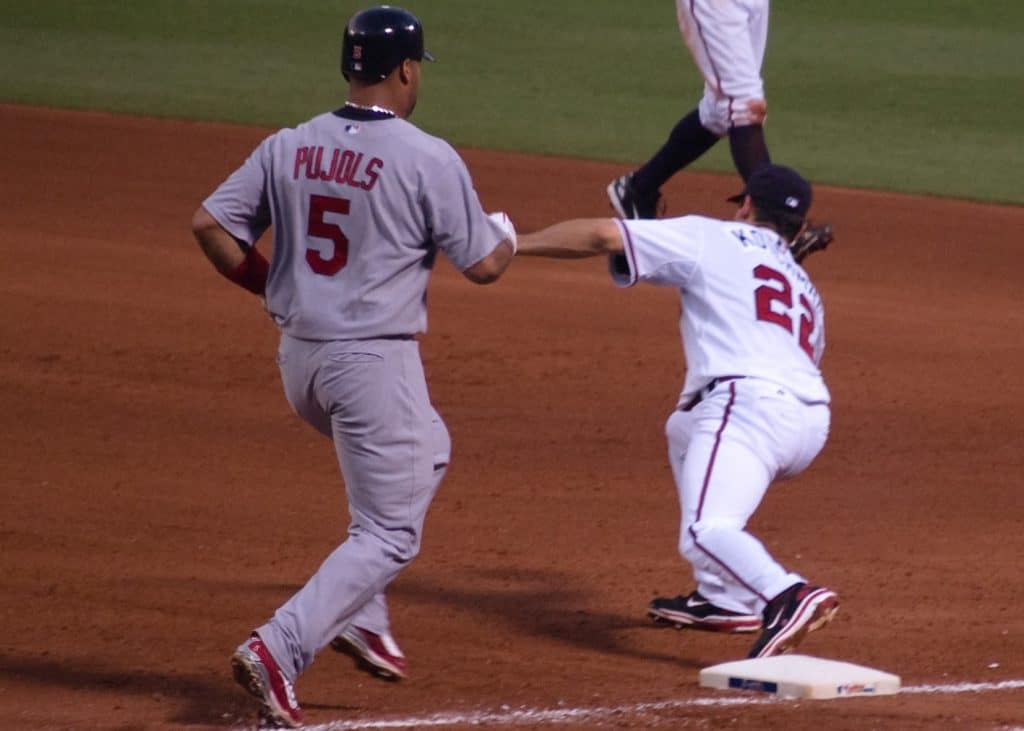 FAQs
What channel is broadcasting the Atlanta Braves game tonight?
Bally Sports Southeast, known as Fox Sports Southeast prior to the 2021 campaign, is the most likely answer to this question as it broadcasts more than 95% of the club's games. It can be viewed throughout much of the South while an MLB.TV subscription will grant you access to out-of-market Atlanta Braves games that are shown on that channel. Any broadcast nationally will most likely be on FS1, Fox, ABC, ESPN, TBS, or MLB Network.
What radio station will today's Atlanta Braves game be on?
If you are located in the South, there is a good chance that a nearby radio station will be broadcasting today's Atlanta Braves game. The club's radio coverage, which encompasses more than 100 stations, stretches across nine Southern states: Alabama, Florida, Georgia, Kentucky, Mississippi, North Carolina, South Carolina, Tennessee, and Virginia. Its flagship stations are Atlanta's 680 the Fan and WNNX-Rock 100.5. Additionally, an MLB Audio subscription grants you online access to all radio broadcasts.
When did the Atlanta Braves last win the World Series?
The Braves have only won one World Series during its time in Atlanta. That occurred in 1995, when they toppled the Cleveland Indians (now the Guardians) in a six-game Fall Classic. Interestingly, the Braves franchise also claimed exactly one World Series title in each of the other two cities that it has been based in: the 1914 edition while in Boston and the 1957 World Series when the team was located in Milwaukee.
How can I watch today's Atlanta Braves game on my phone?
Unfortunately, the options to stream Atlanta Braves games are limited. For those living within the Bally Sports Southeast coverage area, you can access contests shown on that channel through the DIRECTV STREAM app. If you are not, you can watch the games through the MLB app after purchasing an MLB.TV subscription. The latter option is available to those who are situated outside of Tennessee, Mississippi, Alabama, Georgia, South Carolina, and western North Carolina.
Can I stream today's Atlanta Braves game for free?
In most cases, no, but exceptions exist. If the Atlanta Braves are featured on a YouTube broadcast, of which there is about one a week, that is available worldwide. Meanwhile, if you are not situated in the team's blackout area, you can watch the MLB.TV Free Game of the Day, which will feature the Braves approximately once every two weeks. And, of course, Fox- and ABC-broadcast games can be watched with an antenna.
What is the Atlanta Braves 2022 schedule?
This year, the Braves will compete against (in order) Cincinnati Reds, Washington Nationals, San Diego Padres, Los Angeles Dodgers, Miami Marlins, Chicago Cubs, Texas Rangers, New York Mets, Milwaukee Brewers, Boston Red Sox, Philadelphia Phillies, Arizona Diamondbacks, Colorado Rockies, Oakland Athletics, Pittsburgh Pirates, San Francisco Giants, St Louis Cardinals, Los Angeles Angels, Houston Astros, and Seattle Mariners.
Here is the complete Braves regular-season schedule (EDT). Unless otherwise indicated, games will be on Bally Sports South/Southwest.
Latest posts by Frank Moraes
(see all)