Disclosure:
Your support helps keep our site running! We earn referral fees for some of the products & services we recommend.
Learn more
Orioles fans don't need cable to watch every game live. There are many options. But they depend upon exactly where you are. Read on to learn everything you need to know.
In a hurry? Fans far from Baltimore can watch most games by signing up for MLB.TV. Local fans need MASN, which is only available with the Choice Plan from DIRECTV STREAM for $89.99/mo. A 5-day free trial is now available for DIRECTV STREAM.
The Baltimore Orioles have been in existence since 1901 when they were known as the Milwaukee Brewers (the current Brewers didn't come into existence until 1970).
Since 1992, they have played their home games at Oriole Park at Camden Yards. The team's current owner is Peter Angelos, who bought the franchise for $173 million in 1993.
Let's take a look at some more information about this franchise as well as how you can follow the team on television without the need for a cable subscription.
All About the Orioles
After spending a year in Milwaukee in 1901, the franchise moved to St Louis where they were known as the Browns. In 1953, the Browns were purchased by a group of investors who moved the team to Baltimore and gave them their current nickname.
During the franchise's run in Baltimore, the Orioles have won three World Series titles, seven American League (AL) titles, and nine AL East division titles. Their last World Series and AL title wins both came in 1983 while the Orioles last won their division in 2014.
The Orioles have had many great players on their rosters throughout the past several decades. These include Brooks Robison, Mike "Moose" Mussina, and Cal Ripken Jr. All three men are enshrined in the National Baseball Hall of Fame in Cooperstown, NY. Cal Ripken Jr is also known for playing in 2,632 consecutive games, which is a Major League Baseball (MLB) record.
In 2021, Baltimore entered the season with a 0.0% chance of making the playoffs according to Fangraphs. As many people expected, the Orioles finished last in the AL East with a 52-110 record. Although some complained that the team's roster was comprised of players who were better suited to the minor leagues, there were some bright spots on the team.
In particular, Cedric Mullins established himself as a centerpiece of the team's outfield with his defensive play. He also managed to finish the season with 30 home runs and a batting average of .291.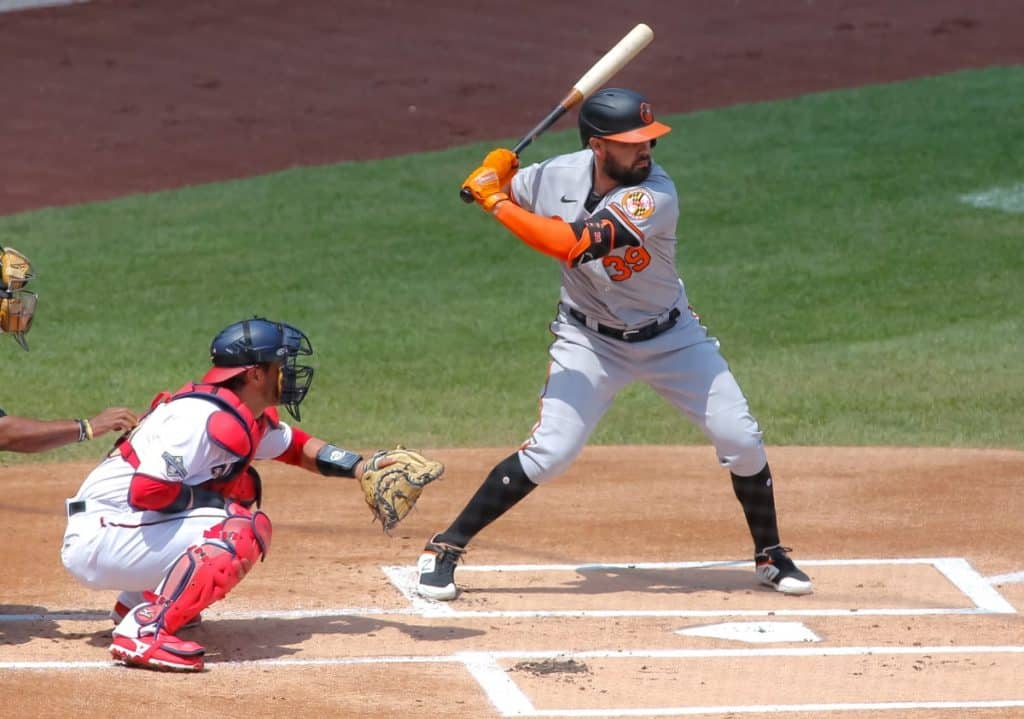 Baltimore Orioles TV Channels
All MLB teams have their games spread out over regional, national, and (increasingly) streaming-only channels.
National Channels
Throughout the season, select MLB games will be showcased on a variety of national networks such as ESPN, ESPN2, TBS, Fox, and Fox Sports 1 (FS1). Many games will also be featured on MLB Network. These channels will also cover the playoffs.
MASN
The Mid-Atlantic Sports Network (MASN) is a regional sports network (RSN). It is a joint venture between the Baltimore Orioles and the Washington Nationals. It is the best way to watch the Orioles since it airs most of their games.
Note, however, that you must live in the Orioles' blackout region to get it. This includes Maryland, Delaware, Virginia, and parts of North Carolina and West Virginia.
In addition to baseball, it broadcasts Washington Nationals and Atlantic Coast Conference (ACC) games as well as other compelling content. Because of times when two events occur at the same time, MASN provides the subchannel, MASN2.
Watching the Orioles Without Cable
There are lots of ways to watch Orioles live. But it depends upon where you live.
Antenna
An antenna allows you to watch games that are broadcast over the air by the major networks such as ABC or Fox without the need to obtain a cable package. This is relatively limited — at least for the regular season. However, it is free.
To learn how to set up and use one, see our HD antenna guide.
Streaming
All the channels that show MLB games are allowed through live TV streaming services. And now some games are available only through streaming services.
Live TV Streaming Services
There is really only one service for big Orioles fans: DIRECTV STREAM (formerly AT&T TV). That's because it is the only one that offers MASN. But if watching virtually every game isn't essential to you, the other services offer much.
Specialty Streaming Services
An increasing number of MLB games are only available via streaming. But the number is still relatively small.
Apple TV+: Will stream MLB doubleheaders on Friday nights. In addition, subscribers get access to movies, shows, and other original content starting at $4.99 per month.
ESPN+: You can stream dozens of MLB games throughout the season in addition to games from most major professional sports. This service is available on its own for $6.99 per month or for $13.99 per month as part of the Hulu bundle. (ESPN+ review)
Peacock: NBC's streaming service gives you full access to all of its content (including live sports) for $4.99 per month. A total of 18 MLB games will be shown on this service with most of the contests taking place on Sunday afternoons. (Peacock review)
MLB.TV
For $139.99 per year, you can watch live streams of most regular-season MLB games. Furthermore, you'll get access to documentaries, classic games, and other exclusive content. You can also get the single-team package for $119.99.
The catch? You can only watch out-of-market games. So this is only an option for fans who live outside the Maryland area. And note, games against the teams near you will also be blacked out.
You can, however, watch all of these games if you don't mind waiting 90 minutes after they end.
Streaming Devices to Watch Orioles Games
DIRECTV STREAM, MLB.TV, and the specialty services all support the following devices:
Amazon Fire TV
Android mobile devices
Apple TV
Chromecast
iOS (iPhone, iPad)
Roku
Samsung smart TVs
Web browsers.
There are many other supported devices, but the vast majority of people will use one of those. For complete lists, see our service reviews.
Wrapping Up
Although the Orioles are going through a bit of a rebuilding period right now, they still have a loyal fanbase that will stick with them no matter what. Local fans need to get DIRECTV STREAM. Those far away should consider MLB.TV.
FAQs
What channel will the Orioles game be on?
Most games will air on MASN so if you have access to it, that is the first place you should look. If it isn't airing there, it is most likely on one of the national TV channels (ESPN, Fox, FS1, MLB Network). But it could also be on no channel at all — streaming on Apple TV+ or Peacock.
How do I listen to the Orioles on the radio?
Live audio of Baltimore Orioles games is available through 98 Rock FM and WBAL NewsRadio AM/FM, which is also known as the Orioles Radio Network. You can listen to these stations on a traditional radio or over the internet by visiting the website of either broadcast provider.
Can I watch the Orioles for free?
If you have an antenna, you can watch games on Fox without the need to pay for a streaming or cable service. Furthermore, most streaming services that offer access to Orioles games offer free trials, which means that you may be able to watch a game or two without paying for it. MLB.TV also offers a free game of the day, which will sometimes feature the Orioles.
Is it possible to watch Orioles games on my phone?
You can watch games that air on MASN either with MASN app itself or the DIRECTV STREAM app. The other streaming services that broadcast games that Baltimore plays in also support at least Android and iOS devices. You should also be able to stream in a web browser, which all phones support.
What Is the 2022 Baltimore Orioles Schedule?
This 2022 regular season, the Orioles play Tampa Bay Rays, Milwaukee Brewers, New York Yankees, Oakland Athletics, Los Angeles Angels, Boston Red Sox, Minnesota Twins, Kansas City Royals, St Louis Cardinals, Detroit Tigers, Seattle Mariners, Cleveland Guardians, Chicago Cubs, Toronto Blue Jays, Washington Nationals, Texas Rangers, Pittsburgh Pirates, Chicago White Sox, and Houston Astros.
We don't currently know of any games that will air anywhere except MASN. We will add notes when we get more information. All times are EDT.
Fri Apr 8 3:10 pm: @ Rays
Sat Apr 9 1:10 pm: @ Rays
Sun Apr 10 1:10 pm: @ Rays
Mon Apr 11 3:05 pm: Brewers
Tue Apr 12 7:05 pm: Brewers
Wed Apr 13 7:05 pm: Brewers
Fri Apr 15 7:05 pm: Yankees
Sat Apr 16 7:05 pm: Yankees
Sun Apr 17 1:05 pm: Yankees (MLBN)
Mon Apr 18 9:40 pm: @ Athletics
Tue Apr 19 9:40 pm: @ Athletics
Wed Apr 20 9:40 pm: @ Athletics
Thu Apr 21 3:37 pm: @ Athletics
Fri Apr 22 9:38 pm: @ Angels
Sat Apr 23 9:07 pm: @ Angels
Sun Apr 24 4:07 pm: @ Angels
Tue Apr 26 7:05 pm: @ Yankees
Wed Apr 27 7:05 pm: @ Yankees (MLBN)
Thu Apr 28 1:05 pm: @ Yankees
Fri Apr 29 7:05 pm: Red Sox
Sat Apr 30 7:05 pm: Red Sox
Sun May 1 1:05 pm: Red Sox
Mon May 2 7:05 pm: Twins
Tue May 3 7:05 pm: Twins
Wed May 4 7:05 pm: Twins
Thu May 5 7:05 pm: Twins
Fri May 6 7:05 pm: Royals
Sat May 7 7:05 pm: Royals
Sun May 8 1:35 pm: Royals
Tue May 10 7:45 pm: @ Cardinals
Wed May 11 7:45 pm: @ Cardinals
Thu May 12 1:15 pm: @ Cardinals
Fri May 13 7:10 pm: @ Tigers
Sat May 14 4:10 pm: @ Tigers
Sun May 15 1:40 pm: @ Tigers
Mon May 16 7:05 pm: Yankees
Tue May 17 7:05 pm: Yankees
Wed May 18 7:05 pm: Yankees
Thu May 19 12:35 pm: Yankees
Fri May 20 7:05 pm: Rays
Sat May 21 7:05 pm: Rays
Sun May 22 1:35 pm: Rays
Mon May 23 7:05 pm: @ Yankees
Tue May 24 7:05 pm: @ Yankees
Wed May 25 7:05 pm: @ Yankees
Fri May 27 7:10 pm: @ Red Sox (Apple TV+)
Sat May 28 12:10 pm: @ Red Sox
Sat May 28 6:10 pm: @ Red Sox
Sun May 29 1:35 pm: @ Red Sox
Mon May 30 7:10 pm: @ Red Sox
Tue May 31 7:05 pm: Mariners
Wed Jun 1 7:05 pm: Mariners
Thu Jun 2 7:05 pm: Mariners
Fri Jun 3 7:05 pm: Guardians
Sat Jun 4 4:05 pm: Guardians
Sun Jun 5 1:35 pm: Guardians
Tue Jun 7 7:05 pm: Cubs
Wed Jun 8 7:05 pm: Cubs
Thu Jun 9 8:10 pm: @ Royals
Fri Jun 10 8:10 pm: @ Royals
Sat Jun 11 4:10 pm: @ Royals
Sun Jun 12 2:10 pm: @ Royals
Mon Jun 13 7:07 pm: @ Blue Jays
Tue Jun 14 7:07 pm: @ Blue Jays
Wed Jun 15 7:07 pm: @ Blue Jays
Thu Jun 16 3:07 pm: @ Blue Jays
Fri Jun 17 7:05 pm: Rays
Sat Jun 18 4:05 pm: Rays
Sun Jun 19 1:35 pm: Rays
Tue Jun 21 7:05 pm: Nationals
Wed Jun 22 7:05 pm: Nationals
Thu Jun 23 8:10 pm: @ White Sox
Fri Jun 24 8:10 pm: @ White Sox
Sat Jun 25 2:10 pm: @ White Sox
Sun Jun 26 2:10 pm: @ White Sox
Mon Jun 27 10:10 pm: @ Mariners
Tue Jun 28 10:10 pm: @ Mariners
Wed Jun 29 4:10 pm: @ Mariners
Fri Jul 1 8:10 pm: @ Twins
Sat Jul 2 2:10 pm: @ Twins
Sun Jul 3 2:10 pm: @ Twins
Mon Jul 4 1:05 pm: Rangers
Tue Jul 5 7:05 pm: Rangers
Wed Jul 6 7:05 pm: Rangers
Thu Jul 7 7:05 pm: Angels
Fri Jul 8 7:05 pm: Angels
Sat Jul 9 4:05 pm: Angels
Sun Jul 10 1:35 pm: Angels
Tue Jul 12 8:05 pm: @ Cubs
Wed Jul 13 8:05 pm: @ Cubs
Fri Jul 15 7:10 pm: @ Rays
Sat Jul 16 4:10 pm: @ Rays
Sun Jul 17 1:40 pm: @ Rays
Fri Jul 22 7:05 pm: Yankees
Sat Jul 23 7:05 pm: Yankees
Sun Jul 24 1:35 pm: Yankees
Mon Jul 25 7:05 pm: Rays
Tue Jul 26 7:05 pm: Rays
Wed Jul 27 7:05 pm: Rays
Thu Jul 28 12:35 pm: Rays
Fri Jul 29 6:40 pm: @ Reds
Sat Jul 30 6:40 pm: @ Reds
Sun Jul 31 1:40 pm: @ Reds
Mon Aug 1 8:05 pm: @ Rangers
Tue Aug 2 8:05 pm: @ Rangers
Wed Aug 3 2:05 pm: @ Rangers
Fri Aug 5 7:05 pm: Pirates
Sat Aug 6 7:05 pm: Pirates
Sun Aug 7 1:35 pm: Pirates
Mon Aug 8 7:05 pm: Blue Jays
Tue Aug 9 7:05 pm: Blue Jays
Wed Aug 10 7:05 pm: Blue Jays
Thu Aug 11 7:10 pm: @ Red Sox
Fri Aug 12 7:10 pm: @ Rays
Sat Aug 13 4:10 pm: @ Rays
Sun Aug 14 1:40 pm: @ Rays
Mon Aug 15 7:07 pm: @ Blue Jays
Tue Aug 16 7:07 pm: @ Blue Jays
Wed Aug 17 3:07 pm: @ Blue Jays
Fri Aug 19 7:05 pm: Red Sox
Sat Aug 20 4:05 pm: Red Sox
Sun Aug 21 7:10 pm: Red Sox
Tue Aug 23 7:05 pm: White Sox
Wed Aug 24 7:05 pm: White Sox (FS1)
Thu Aug 25 7:05 pm: White Sox
Fri Aug 26 8:10 pm: @ Astros
Sat Aug 27 7:10 pm: @ Astros
Sun Aug 28 2:10 pm: @ Astros
Tue Aug 30 6:10 pm: @ Guardians
Wed Aug 31 6:10 pm: @ Guardians
Thu Sep 1 6:10 pm: @ Guardians
Fri Sep 2 7:05 pm: Athletics
Sat Sep 3 7:05 pm: Athletics
Sun Sep 4 1:35 pm: Athletics
Mon Sep 5 1:05 pm: Blue Jays
Tue Sep 6 7:05 pm: Blue Jays
Wed Sep 7 7:05 pm: Blue Jays
Fri Sep 9 7:05 pm: Red Sox
Sat Sep 10 7:05 pm: Red Sox
Sun Sep 11 1:05 pm: Red Sox
Tue Sep 13 7:05 pm: @ Nationals
Wed Sep 14 7:05 pm: @ Nationals
Fri Sep 16 7:07 pm: @ Blue Jays
Sat Sep 17 3:07 pm: @ Blue Jays
Sun Sep 18 1:37 pm: @ Blue Jays
Mon Sep 19 7:05 pm: Tigers
Tue Sep 20 7:05 pm: Tigers
Wed Sep 21 7:05 pm: Tigers
Thu Sep 22 7:05 pm: Astros
Fri Sep 23 7:05 pm: Astros
Sat Sep 24 7:05 pm: Astros
Sun Sep 25 1:05 pm: Astros
Mon Sep 26 7:10 pm: @ Red Sox
Tue Sep 27 7:10 pm: @ Red Sox
Wed Sep 28 7:10 pm: @ Red Sox
Thu Sep 29 1:35 pm: @ Red Sox
Fri Sep 30 7:05 pm: @ Yankees
Sat Oct 1 1:05 pm: @ Yankees
Sun Oct 2 1:35 pm: @ Yankees
Mon Oct 3 7:05 pm: Blue Jays
Tue Oct 4 7:05 pm: Blue Jays
Wed Oct 5 TBD: Blue Jays
Latest posts by Frank Moraes
(see all)