Disclosure:
Your support helps keep our site running! We earn referral fees for some of the products & services we recommend.
Learn more
It's easy for Chicago White Sox fans to cut the cord. But how you go about that depends on where you live. Read on to learn all the details.
In a hurry? If you live outside the White Sox blackout area, your best choice is to sign up with MLB.TV. Local fans will be taken care of with these live TV streaming services:
DIRECTV STREAM: Get everything to watch the regular and post-season games with the Choice plan. A 5-day free trial is now available for DIRECTV STREAM.
FuboTV: If you like lots of sports besides MLB, this is the service for you. FuboTV allows you to try out its service free for 7 days.
Hulu + Live TV: Our favorite overall streaming service provides excellent coverage of the White Sox.
The White Sox are the pride of Chicago's South Side and have cultivated a fan base that goes far beyond the Windy City. And the team has had some success on the field as of late as well. It claimed the AL Central Division title in 2021 after recording a 93-69 record that season. What will the future hold for the Sox?
If you would like to see what that future is, make sure that you have access to NBC Sports Chicago's White Sox broadcasts. This can be done for cord-cutters in and near Chicago through DIRECTV STREAM ($89.99/mo), Hulu + Live TV ($69.99/mo), FuboTV ($69.99/mo), and YouTube TV ($64.99/mo).
Those who are not in this region can watch many of those same broadcasts through MLB.TV ($24.99/mo).
About the White Sox
The Chicago White Sox are one of Major League Baseball's oldest franchises, originally serving as an American League founding member in 1901. However, the team's success rate has been low throughout its history. In fact, making the playoffs in 2020 and 2021 marked the first time that the White Sox had played in back-to-back postseasons in franchise history.
It had some success the first couple decades of the 20th century, claiming American League pennants in 1906, 1917, and 1919 and World Series championships in 1906 and 1917. Another pennant and a World Series defeat followed in 1959. Succeeding playoff appearances occurred in 1983, 1993, and 2000.
And then 2005 is a year that will long live in the annals of White Sox history as Chicago ran through the postseason with an 11-1 record while claiming the Fall Classic with a four-game sweep of the Astros. That is still the club's only World Series title since 1917.
A playoff appearance followed in 2008. Then, in 2021, Chicago rode its 93-69 record into the postseason but fell to the Astros in the Division Series, 3-1.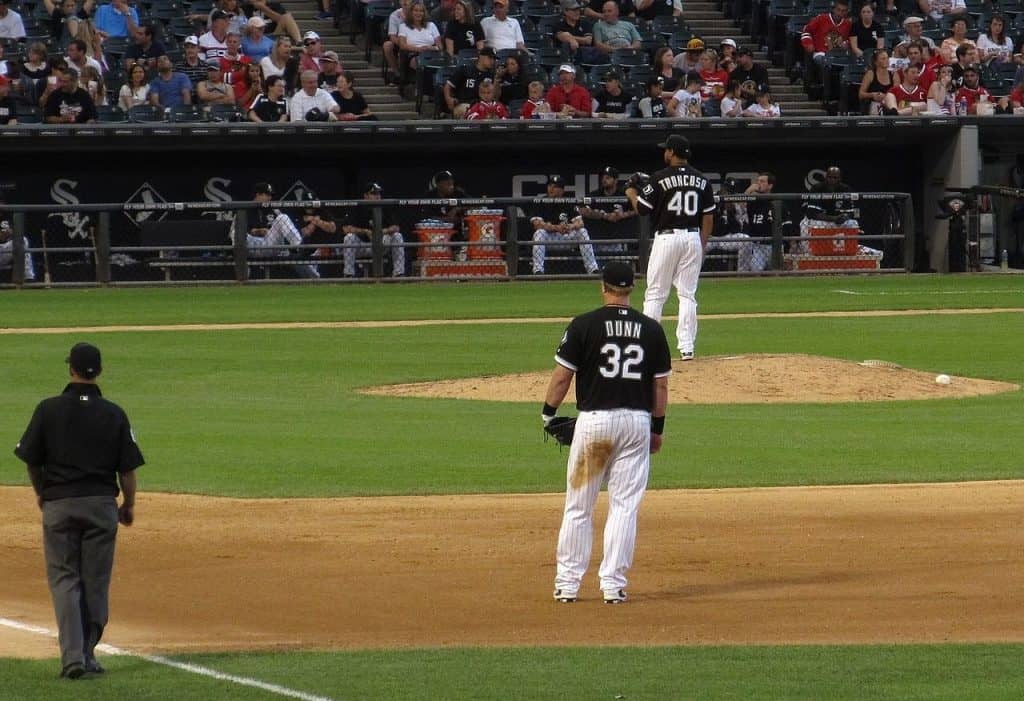 White Sox TV Channels
The White Sox will most likely feature on regional or national television at times throughout the season. This can include Saturday games on Fox and ESPN Sunday Night Baseball contests. It is possible that games could also air on NBC or ABC.
Other possibilities include Fox Sports 1 (FS1), TBS, and MLB Network. Keep in mind that a few matchups may only be available online, through Apple TV+ and Peacock Premium.
With all of that said, the vast majority of games played by Chicago will be broadcast locally on NBC Sports Chicago with a small handful bumped to NBC Sports Chicago+ due to broadcasting conflicts with the Bulls or Blackhawks.
This network is available throughout most of Illinois, Indiana, and Iowa and in portions of Michigan and Wisconsin. But note that White Sox broadcasts are blacked out in Michigan.
Watching the White Sox
There are many ways to watch the White Sox without cable.
Antenna
Utilizing an antenna will ensure that you can watch all over-the-air broadcasts of White Sox games. These include all World Series contests that the team may play in — Fox broadcasts the Fall Classic every year. But you will also be able to watch regular-season matchups that are shown on Fox, ABC, and NBC.
Streaming
This is the best way to watch the whole season. It may take a few services but you should be able to watch every game.
Live TV Streaming Services
Four streaming services provide access to NBC Sports Chicago:
A couple of other options, ones that do not carry NBC Sports Chicago, to consider for baseball watching include Sling TV ($35/mo) and Vidgo ($59.95/mo).
Specialty Streaming Services
Many on-demand services stream an increasing amount of live sports:
Apple TV+ ($4.99/mo): Will most likely be a must-purchase if you want to watch every White Sox game as the club will probably be featured on its exclusive online broadcasts at least once.
Peacock Premium ($4.99/mo): May also showcase the White Sox in its exclusive online broadcasts. (Peacock review)
ESPN+ ($6.99/mo): Offers streaming access to a wide variety of baseball games, but note that most are subject to blackouts, which would, for example, negatively affect the availability of its White Sox-related streams in Chicago. (ESPN+ review)
MLB.TV
If you are not located in the Chicago White Sox's blackout area, you should consider subscribing to MLB.TV ($24.99/mo of $139.99/yr) as you can watch most of the team's NBC Sports Chicago-broadcast games there. You can pay slightly less ($119.99/yr) for a single-team plan.
Note that the White Sox' blackout region covers much or all of Illinois, Iowa, and Indiana plus parts of Wisconsin. Also keep in mind that White Sox games against any teams local to you are blacked out.
Live Stream Chicago White Sox With These Devices
All the principal streaming services allow you to stream White Sox games live using the following devices:
Amazon Fire TV
Android mobile devices
Apple TV
Chromecast
iOS mobile devices
Roku
Samsung smart TVs
Web browsers.
They also all (except DIRECTV STREAM) support Android TV devices and Xbox gaming systems. PlayStation units are also widely supported
For complete lists, see our streaming reviews.
Wrapping Up
The Chicago White Sox may not have the biggest fan base in baseball, but its fan base is amongst the most dedicated. If you are a member, you most likely want to get access to NBC Sports Chicago through a multi-channel streaming service. We recommend DIRECTV STREAM ($89.99/mo). Or, if you are outside the area, get an MLB.TV subscription ($24.99/mo).
FAQs
Where can I watch tonight's White Sox game?
In most cases, you simply need to turn to NBC Sports Chicago to watch tonight's White Sox game. If it is not carried by that regional sports network, it could be available in one of several other places. These include your Fox, NBC, or ABC affiliate, TBS, ESPN, FS1, or MLB Network. Or it might be online through Peacock Premium or Apple TV+.
What radio station are the White Sox on?
Are you in or near Chicago? If yes, tune into 1200 AM (WRTO) for the game. If you are situated elsewhere in Illinois, there probably are one or more nearby radio stations broadcasting this club's games while stations on the Chicago White Sox Radio Network are located in Iowa and Indiana as well. You can also subscribe to MLB Radio ($2.99/mo) and listen to those same broadcasts online.
How do I watch the White Sox for free?
If you have an antenna, you can watch the White Sox play for free whenever they are broadcast on Fox, ABC, or NBC, appearances on Fox being much more likely than ones on ABC or NBC. Conversely, if you are outside of the team's blackout region, you can periodically watch the White Sox play when they feature on the MLB.TV Free Game of the Day.
How do I watch White Sox games on my phone?
If you have access to NBC Sports Chicago, download the MyTeams by NBC Sports app and log in with your credentials to watch White Sox games on your phone. You can also watch directly on your live TV streaming service's app. MLB.TV subscribers can do the same with the MLB app. Also consider utilizing related apps such as the ESPN app to watch Chicago play.
What is the 2022 White Sox schedule?
This season, the White Sox play Detroit Tigers, Seattle Mariners, Tampa Bay Rays, Cleveland Guardians, Minnesota Twins, Kansas City Royals, Los Angeles Angels, Chicago Cubs, Boston Red Sox, New York Yankees, Los Angeles Dodgers, Texas Rangers, Houston Astros, Toronto Blue Jays, Baltimore Orioles, San Francisco Giants, Colorado Rockies, Oakland Athletics, Arizona Diamondbacks, and San Diego Padres.
Here is the regular season schedule for the Chicago White Sox. The games should be on NBC Sports Chicago and MLB.TV unless otherwise indicated. All the times are EDT.
Fri Apr 8 1:10 pm: @ Tigers
Sat Apr 9 1:10 pm: @ Tigers
Sun Apr 10 1:10 pm: @ Tigers
Tue Apr 12 4:10 pm: vs Mariners
Wed Apr 13 7:10 pm: vs Mariners (MLBN)
Thu Apr 14 2:10 pm: vs Mariners
Fri Apr 15 7:10 pm: vs Rays (Apple TV+)
Sat Apr 16 2:10 pm: vs Rays
Sun Apr 17 2:10 pm: vs Rays
Mon Apr 18 6:10 pm: @ Guardians
Tue Apr 19 6:10 pm: @ Guardians
Wed Apr 20 6:10 pm: @ Guardians
Thu Apr 21 1:10 pm: @ Guardians
Fri Apr 22 8:10 pm: @ Twins
Sat Apr 23 4:05 pm: @ Twins (FS1)
Sun Apr 24 2:10 pm: @ Twins
Tue Apr 26 7:10 pm: vs Royals
Wed Apr 27 7:10 pm: vs Royals
Thu Apr 28 2:10 pm: vs Royals
Fri Apr 29 7:10 pm: vs Angels
Sat Apr 30 4:05 pm: vs Angels (FS1)
Sun May 1 2:10 pm: vs Angels
Mon May 2 2:10 pm: vs Angels
Tue May 3 7:40 pm: @ Cubs
Wed May 4 7:40 pm: @ Cubs
Fri May 6 7:10 pm: @ Red Sox (Apple TV+)
Sat May 7 4:10 pm: @ Red Sox
Sun May 8 11:35 am: @ Red Sox (NBC,Peacock)
Mon May 9 8:10 pm: vs Guardians
Tue May 10 8:10 pm: vs Guardians
Wed May 11 2:10 pm: vs Guardians
Thu May 12 8:10 pm: vs Yankees
Fri May 13 8:10 pm: vs Yankees
Sat May 14 7:10 pm: vs Yankees
Sun May 15 2:10 pm: vs Yankees
Mon May 16 8:10 pm: @ Royals
Tue May 17 2:10 pm: @ Royals
Tue May 17 7:10 pm: @ Royals
Wed May 18 8:10 pm: @ Royals
Thu May 19 2:10 pm: @ Royals
Fri May 20 7:05 pm: @ Yankees
Sat May 21 1:05 pm: @ Yankees
Sun May 22 7:08 pm: @ Yankees (ESPN)
Tue May 24 8:10 pm: vs Red Sox
Wed May 25 8:10 pm: vs Red Sox
Thu May 26 8:10 pm: vs Red Sox
Sat May 28 7:15 pm: vs Cubs (Fox)
Sun May 29 2:10 pm: vs Cubs
Tue May 31 7:07 pm: @ Blue Jays
Wed Jun 1 7:07 pm: @ Blue Jays
Thu Jun 2 3:07 pm: @ Blue Jays
Fri Jun 3 7:10 pm: @ Rays
Sat Jun 4 4:10 pm: @ Rays
Sun Jun 5 1:40 pm: @ Rays
Tue Jun 7 8:10 pm: vs Dodgers (TBS)
Wed Jun 8 8:10 pm: vs Dodgers
Thu Jun 9 2:10 pm: vs Dodgers
Fri Jun 10 8:10 pm: vs Rangers
Sat Jun 11 2:10 pm: vs Rangers
Sun Jun 12 2:10 pm: vs Rangers
Mon Jun 13 7:10 pm: @ Tigers
Tue Jun 14 7:10 pm: @ Tigers
Wed Jun 15 1:10 pm: @ Tigers
Fri Jun 17 8:10 pm: @ Astros (Apple TV+)
Sat Jun 18 4:10 pm: @ Astros
Sun Jun 19 2:10 pm: @ Astros
Mon Jun 20 8:10 pm: vs Blue Jays
Tue Jun 21 8:10 pm: vs Blue Jays
Wed Jun 22 2:10 pm: vs Blue Jays
Thu Jun 23 8:10 pm: vs Orioles
Fri Jun 24 8:10 pm: vs Orioles
Sat Jun 25 2:10 pm: vs Orioles
Sun Jun 26 2:10 pm: vs Orioles
Mon Jun 27 9:38 pm: @ Angels
Tue Jun 28 9:38 pm: @ Angels
Wed Jun 29 9:38 pm: @ Angels
Fri Jul 1 10:15 pm: @ Giants
Sat Jul 2 4:05 pm: @ Giants
Sun Jul 3 4:05 pm: @ Giants
Mon Jul 4 8:10 pm: vs Twins
Tue Jul 5 8:10 pm: vs Twins
Wed Jul 6 2:10 pm: vs Twins
Thu Jul 7 8:10 pm: vs Tigers
Fri Jul 8 8:10 pm: vs Tigers
Sat Jul 9 2:10 pm: vs Tigers
Sun Jul 10 2:10 pm: vs Tigers
Mon Jul 11 7:10 pm: @ Guardians
Tue Jul 12 7:10 pm: @ Guardians
Wed Jul 13 7:10 pm: @ Guardians
Thu Jul 14 7:40 pm: @ Twins
Fri Jul 15 8:10 pm: @ Twins
Sat Jul 16 2:10 pm: @ Twins
Sun Jul 17 2:10 pm: @ Twins
Fri Jul 22 8:10 pm: vs Guardians
Sat Jul 23 7:15 pm: vs Guardians (Fox)
Sun Jul 24 2:10 pm: vs Guardians
Tue Jul 26 8:40 pm: @ Rockies
Wed Jul 27 3:10 pm: @ Rockies
Fri Jul 29 8:10 pm: vs Athletics
Sat Jul 30 7:15 pm: vs Athletics (Fox)
Sun Jul 31 2:10 pm: vs Athletics
Mon Aug 1 8:10 pm: vs Royals
Tue Aug 2 8:10 pm: vs Royals
Wed Aug 3 2:10 pm: vs Royals
Thu Aug 4 8:05 pm: @ Rangers
Fri Aug 5 8:05 pm: @ Rangers
Sat Aug 6 7:05 pm: @ Rangers
Sun Aug 7 2:35 pm: @ Rangers
Tue Aug 9 8:10 pm: @ Royals
Wed Aug 10 2:10 pm: @ Royals
Wed Aug 10 8:10 pm: @ Royals
Thu Aug 11 2:10 pm: @ Royals
Fri Aug 12 7:10 pm: vs Tigers
Sat Aug 13 7:10 pm: vs Tigers
Sun Aug 14 2:10 pm: vs Tigers
Mon Aug 15 8:10 pm: vs Astros (FS1)
Tue Aug 16 8:10 pm: vs Astros
Wed Aug 17 8:10 pm: vs Astros
Thu Aug 18 2:10 pm: vs Astros
Fri Aug 19 7:10 pm: @ Guardians
Sat Aug 20 7:10 pm: @ Guardians
Sun Aug 21 1:40 pm: @ Guardians (Peacock)
Mon Aug 22 2:10 pm: @ Royals
Tue Aug 23 7:05 pm: @ Orioles
Wed Aug 24 7:05 pm: @ Orioles (FS1)
Thu Aug 25 7:05 pm: @ Orioles
Fri Aug 26 8:10 pm: vs D-backs
Sat Aug 27 7:10 pm: vs D-backs
Sun Aug 28 2:10 pm: vs D-backs
Tue Aug 30 8:10 pm: vs Royals
Wed Aug 31 8:10 pm: vs Royals
Thu Sep 1 2:10 pm: vs Royals
Fri Sep 2 8:10 pm: vs Twins
Sat Sep 3 7:10 pm: vs Twins
Sun Sep 4 2:10 pm: vs Twins
Mon Sep 5 6:40 pm: @ Mariners
Tue Sep 6 9:40 pm: @ Mariners
Wed Sep 7 4:10 pm: @ Mariners
Thu Sep 8 9:40 pm: @ Athletics
Fri Sep 9 9:40 pm: @ Athletics
Sat Sep 10 4:07 pm: @ Athletics
Sun Sep 11 4:07 pm: @ Athletics
Tue Sep 13 8:10 pm: vs Rockies
Wed Sep 14 8:10 pm: vs Rockies
Fri Sep 16 7:10 pm: @ Tigers
Sat Sep 17 6:10 pm: @ Tigers
Sun Sep 18 1:10 pm: @ Tigers
Tue Sep 20 8:10 pm: vs Guardians
Wed Sep 21 8:10 pm: vs Guardians
Thu Sep 22 8:10 pm: vs Guardians
Fri Sep 23 8:10 pm: vs Tigers
Sat Sep 24 7:10 pm: vs Tigers
Sun Sep 25 2:10 pm: vs Tigers
Tue Sep 27 7:40 pm: @ Twins
Wed Sep 28 7:40 pm: @ Twins
Thu Sep 29 1:10 pm: @ Twins
Fri Sep 30 9:40 pm: @ Padres
Sat Oct 1 8:40 pm: @ Padres
Sun Oct 2 4:10 pm: @ Padres
Mon Oct 3 8:10 pm: vs Twins
Tue Oct 4 8:10 pm: vs Twins
Wed Oct 5 TBD: vs Twins
Latest posts by Frank Moraes
(see all)