Disclosure:
Your support helps keep our site running! We earn referral fees for some of the products & services we recommend.
Learn more
If you want to watch every Reds game of the regular season, you have options depending on where you are located. You definitely don't need cable. Below we explain everything.
In a hurry? If you live outside the Reds' broadcast area, MLB.TV will provide you with access to most games for $24.99/mo. But if you are a fan in and around Cincinnati, you need Bally Sports Ohio. There's only one way to get it, but it's a good one: The DIRECTV STREAM Choice plan for $89.99/mo. A 5-day free trial is now available for DIRECTV STREAM.
The Cincinnati Reds are one of the storied franchises in baseball. In fact, Opening Day in Cincinnati has historically been revered as the sport's most traditional and supported. As a result, the Reds have opened their season at home every year since it joined the National League in 1890 with three exceptions: 1966 (rainouts), 1990 (lockout), and 2022 (lockout).
Are you a Reds fan interested in following the team on Opening Day and throughout the following six or seven months? If yes, you should secure access to either DIRECTV STREAM ($89.99/mo) if you are in Bally Sports Ohio's broadcast area or MLB.TV ($24.99/mo) if you are outside of the Reds' blackout region.
Also consider MLB Radio ($2.99/mo) if neither apply to you, which is the case for many in Tennessee.
About the Cincinnati Reds
Although the Reds have no direct connection with the Red Stockings of 1869, the city of Cincinnati does. It played host to the sport's first fully professional team that year and, as a result, is the birthplace of professional baseball.
As for the Cincinnati Reds franchise itself, it got its start in 1882 in the American Association, a major league, before moving to the National League in 1890.
Cincinnati played in four World Series from its founding through 1969. Those occurred in 1919, 1939, 1940, and 1961. The Reds won the 1919 and 1940 editions.
Later, the Big Red Machine became a dominating force in the sport as Cincinnati claimed six division titles in the 1970s and World Series titles in 1975 and 1976.
In 1990, the Reds impressively and stunningly swept the Bash Brothers and the Oakland Athletics in the World Series to claim their last world championship.
More recently, the team has made the playoffs four times since 2010. However, the Reds lost every playoff round in that span, going 2-9 in postseason games since then.
With that said, there is hope for the future as Cincinnati entered its 2022 campaign off of back-to-back winning seasons. The 2021 Reds completed play with an 83-79 mark, which was good for third place in the NL Central.
Since 1912, Cincinnati has played in just three stadiums: Crosley Field (1912-70), Riverfront Stadium (1970-2002), and Great American Ball Park (2003-present).
Cincinnati Reds TV Channels
The vast majority of Cincinnati Reds games are broadcast on Bally Sports Ohio, which is also unofficially known as Bally Sports Cincinnati. Essentially, all matchups not on national or regional television or exclusively streamed by an MLB partner will be on this regional sports network (RSN).
Bally Sports Ohio also carries games played by the NBA's Cleveland Cavaliers, NHL's Columbus Blue Jackets, and MLS's Columbus Crew.
When the Reds are being showcased to a larger audience, you can find the broadcast on your local Fox, ABC, or NBC affiliate or on Fox Sports 1 (FS1), ESPN, TBS, or MLB Network.
Another possibility is the game being streamed by Peacock Premium or Apple TV+.
Watching the Reds
Reds games appear in many forms. You can find games over-the-air (OTA), on national "cable" channels and RSNs, and increasingly exclusively streaming.
Antenna

If you have an antenna, you can watch the Reds play whenever they feature on network television. During the regular season, this will not be often, but you will be assured of watching the team's biggest games if they make it to the World Series since those matchups are all shown on Fox.
Our Indoor Antenna Guide will get you all set up. It's quite easy!
Streaming
There are two kinds of streaming services that relate to watching Cincinnati Reds games. The first are the live TV streaming services that provide you access to the kinds of live channels that were once only available via cable.
And then there are specialty streaming services that stream live games independently of live channels. MLB.TV is an especially important member of this group, so we give it its own section.
Live TV Streaming Services

DIRECTV STREAM (formerly AT&T TV) is your lone option for getting Bally Sports Ohio if you are a cord cutter. It and any other regional sports networks that you are eligible to receive because of where you are situated can be accessed after getting its Choice plan ($89.99/mo). This channel is available throughout Ohio and in parts of West Virginia, Kentucky, Indiana, Pennsylvania, and New York.
All DIRECTV STREAM plans come with unlimited cloud DVR storage if you sign-up online. (And you are, right?) It also allows you to stream on up to 20 devices at home and three on the road. See our DIRECTV STREAM review for more information.
Conversely, if you are outside of that area, you should also consider Hulu + Live TV ($69.99/mo), Sling TV ($50/mo), FuboTV ($69.99/mo), Vidgo ($59.95/mo), and YouTube TV ($64.99/mo). Each of them allow you to watch many of the non-Bally Sports Ohio broadcast Reds games.
Specialty Streaming Services
Apple TV+ ($4.99/mo): Will exclusively stream a couple Cincinnati Reds matchups this season. This is part of a deal that started with the 2022 campaign to stream two MLB games every Friday.
Peacock Premium ($4.99/mo): Will exclusively stream 18 Sunday MLB games for at least the 2022 and 2023 seasons. The Reds will likely be featured. (Peacock review)
ESPN+ ($6.99/mo): Regularly streams MLB games throughout the season although these are generally subject to blackout restrictions, so this streaming service is best for out-of-market Reds fans. (ESPN+ review).
MLB.TV
MLB.TV provides access to all out-of-market games and so is a spectacular option for Cincinnati Reds fans who are situated outside of this club's blackout region. However, note that this area is considerable, covering Ohio and Tennessee as well as portions of Indiana, West Virginia, North Carolina, and Mississippi, including some regions that do not receive Bally Sports Ohio through DIRECTV STREAM.
The base plan is $24.99/mo or $139.99/yr (there are also special deals). If you are only interested in the Reds, you can get a Single Team package for $119.99/yr. Only the monthly plan comes with a free trial, however.
For everyone to whom the Reds' blackout area does not apply, you can watch almost all Reds games that are broadcast on that channel through MLB.TV. The only ones that will be blacked out to you will occur when Cincinnati plays a team local to you.
Note that MLB.TV does not provide access to any playoff games. To watch those, you will need to turn to a live TV streaming service or (in some cases) an antenna.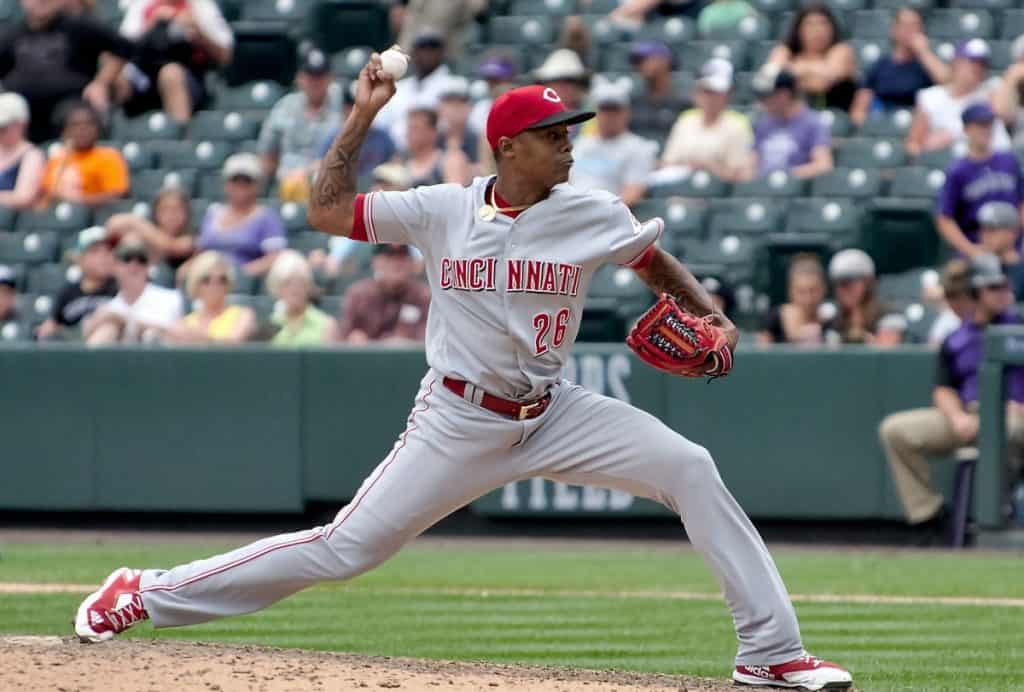 Devices to Live Stream Reds Games
The major services support most steaming devices in use today. We'll just focus on the two most important streaming services for the Reds: DIRECTV STREAM and MLB.TV.
Amazon Fire TV
Android mobile devices
Apple TV
Chromecast
iOS mobile devices
Roku
Samsung smart TVs
Web browsers.
If you like, you can also get a DIRECTV STREAM device directly from the company. MLB.TV also supports Android TV devices as well as PlayStation and Xbox gaming systems.
Wrapping Up
Cord cutters who are also Cincinnati Reds fans and want to watch their favorite team as often as possible should get DIRECTV STREAM ($89.99/mo) if Bally Sports Ohio is available to them. If they are outside the Reds' blackout zone, then they should get MLB.TV ($24.99/mo).
If watching occasional baseball games is good enough, a streaming service like Sling TV will fit the bill.
FAQs
What channel is the Reds game on tonight?
Generally, the Reds will be Bally Sports Ohio. In the few cases that it is not, including if it is the postseason as no playoff games are on Bally Sports Ohio, then your focus should turn to ESPN, TBS, FS1, MLB Network, ABC, NBC, and Fox. If it is not being shown on any of those channels either, it may only be available online through Apple TV+ or Peacock Premium (both $4.99/mo).
What radio stations cover the Reds?
The flagship station for the Reds has been Newsradio 700 WLW since 1969. Meanwhile, the Cincinnati Reds Radio Network expands far from Cincinnati, reaching much of Ohio, Indiana, Kentucky, and West Virginia. Also, one station apiece in Virginia, Tennessee, and Illinois broadcasts Reds games. Regardless of where you are, you can listen to the broadcasts through MLB Radio ($2.99/mo).
How do I go about watching Reds games for free?
If you are not blacked out from MLB.TV streams of Bally Sports Ohio-produced Reds broadcasts, you can periodically check out the team's games for free, courtesy of the MLB.TV Free Game of the Day. Otherwise, your best option is to use an antenna to watch any of the club's contests that are shown on Fox, NBC, and ABC.
Is it possible to watch Reds games on my phone?
Yes, you absolutely can watch the Reds play on your phone. The app that you will want to download, log into, and use for this purpose will depend on how you are able to access these games. For example, DIRECTV STREAM, Bally Sports, MLB.TV, and all the other services have apps that run on iOS (iPhone) and Android devices.
What is the Cincinnati Reds 2022 schedule?
This year, the Reds will play Atlanta Braves, Cleveland Guardians, Los Angeles Dodgers, San Diego Padres, St Louis Cardinals, Colorado Rockies, Milwaukee Brewers, Pittsburgh Pirates, Toronto Blue Jays, Chicago Cubs, San Francisco Giants, Boston Red Sox, Washington Nationals, Arizona Diamondbacks, New York Mets, Tampa Bay Rays, Miami Marlins, Baltimore Orioles, and Philadelphia Phillies.
Here is the complete Reds regular-season schedule in EDT. Most games other than those noted should air on Bally Sports Ohio.
Thu Apr 7 7:20 pm: @ Braves
Fri Apr 8 7:20 pm: @ Braves
Sat Apr 9 7:20 pm: @ Braves
Sun Apr 10 1:35 pm: @ Braves
Tue Apr 12 4:10 pm: vs Guardians
Wed Apr 13 12:35 pm: vs Guardians (MLBN)
Thu Apr 14 10:10 pm: @ Dodgers
Fri Apr 15 10:10 pm: @ Dodgers (Apple TV+)
Sat Apr 16 10:10 pm: @ Dodgers (MLBN)
Sun Apr 17 4:10 pm: @ Dodgers
Mon Apr 18 9:40 pm: @ Padres
Tue Apr 19 9:40 pm: @ Padres
Wed Apr 20 4:10 pm: @ Padres
Fri Apr 22 6:40 pm: vs Cardinals (Apple TV+)
Sat Apr 23 4:10 pm: vs Cardinals
Sun Apr 24 1:40 pm: vs Cardinals
Tue Apr 26 6:40 pm: vs Padres
Wed Apr 27 6:40 pm: vs Padres
Thu Apr 28 12:35 pm: vs Padres
Fri Apr 29 8:40 pm: @ Rockies
Sat Apr 30 8:10 pm: @ Rockies
Sun May 1 3:10 pm: @ Rockies
Tue May 3 7:40 pm: @ Brewers
Wed May 4 7:40 pm: @ Brewers
Thu May 5 1:40 pm: @ Brewers
Fri May 6 6:40 pm: vs Pirates
Sat May 7 12:35 pm: vs Pirates
Sat May 7 6:40 pm: vs Pirates
Sun May 8 1:40 pm: vs Pirates
Mon May 9 6:40 pm: vs Brewers
Tue May 10 6:40 pm: vs Brewers
Wed May 11 12:35 pm: vs Brewers (YouTube)
Thu May 12 6:35 pm: @ Pirates
Fri May 13 6:35 pm: @ Pirates
Sat May 14 6:35 pm: @ Pirates
Sun May 15 1:35 pm: @ Pirates
Tue May 17 6:10 pm: @ Guardians
Wed May 18 6:10 pm: @ Guardians
Fri May 20 7:07 pm: @ Blue Jays
Sat May 21 3:07 pm: @ Blue Jays
Sun May 22 1:37 pm: @ Blue Jays
Mon May 23 6:40 pm: vs Cubs
Tue May 24 6:40 pm: vs Cubs
Wed May 25 6:40 pm: vs Cubs
Thu May 26 12:35 pm: vs Cubs
Fri May 27 6:40 pm: vs Giants
Sat May 28 4:10 pm: vs Giants
Sun May 29 1:40 pm: vs Giants (Peacock)
Tue May 31 7:10 pm: @ Red Sox
Wed Jun 1 7:10 pm: @ Red Sox
Thu Jun 2 6:40 pm: vs Nationals
Fri Jun 3 6:40 pm: vs Nationals
Sat Jun 4 4:10 pm: vs Nationals
Sun Jun 5 1:40 pm: vs Nationals
Mon Jun 6 6:40 pm: vs D-backs
Tue Jun 7 6:40 pm: vs D-backs
Wed Jun 8 6:40 pm: vs D-backs
Thu Jun 9 12:35 pm: vs D-backs
Fri Jun 10 8:15 pm: @ Cardinals
Sat Jun 11 2:15 pm: @ Cardinals
Sun Jun 12 2:15 pm: @ Cardinals
Mon Jun 13 9:40 pm: @ D-backs
Tue Jun 14 9:40 pm: @ D-backs
Wed Jun 15 3:40 pm: @ D-backs
Fri Jun 17 6:40 pm: vs Brewers
Sat Jun 18 4:10 pm: vs Brewers
Sun Jun 19 1:40 pm: vs Brewers
Tue Jun 21 6:40 pm: vs Dodgers
Wed Jun 22 6:40 pm: vs Dodgers
Thu Jun 23 12:35 pm: vs Dodgers
Fri Jun 24 10:15 pm: @ Giants
Sat Jun 25 7:15 pm: @ Giants (Fox)
Sun Jun 26 4:05 pm: @ Giants
Tue Jun 28 8:05 pm: @ Cubs
Wed Jun 29 8:05 pm: @ Cubs
Thu Jun 30 8:05 pm: @ Cubs
Fri Jul 1 6:40 pm: vs Braves
Sat Jul 2 4:10 pm: vs Braves
Sun Jul 3 1:40 pm: vs Braves
Mon Jul 4 6:40 pm: vs Mets
Tue Jul 5 6:40 pm: vs Mets
Wed Jul 6 6:40 pm: vs Mets
Thu Jul 7 6:40 pm: vs Pirates
Fri Jul 8 6:40 pm: vs Rays
Sat Jul 9 4:10 pm: vs Rays (FS1)
Sun Jul 10 1:40 pm: vs Rays
Tue Jul 12 7:05 pm: @ Yankees
Wed Jul 13 7:05 pm: @ Yankees
Thu Jul 14 7:05 pm: @ Yankees
Fri Jul 15 8:15 pm: @ Cardinals
Sat Jul 16 2:15 pm: @ Cardinals
Sun Jul 17 2:15 pm: @ Cardinals
Fri Jul 22 6:40 pm: vs Cardinals
Sat Jul 23 6:40 pm: vs Cardinals
Sun Jul 24 1:40 pm: vs Cardinals
Mon Jul 25 6:40 pm: vs Marlins
Tue Jul 26 6:40 pm: vs Marlins
Wed Jul 27 6:40 pm: vs Marlins
Thu Jul 28 12:35 pm: vs Marlins
Fri Jul 29 6:40 pm: vs Orioles
Sat Jul 30 6:40 pm: vs Orioles
Sun Jul 31 1:40 pm: vs Orioles
Mon Aug 1 6:40 pm: @ Marlins
Tue Aug 2 6:40 pm: @ Marlins
Wed Aug 3 6:40 pm: @ Marlins
Fri Aug 5 8:10 pm: @ Brewers
Sat Aug 6 7:15 pm: @ Brewers (Fox)
Sun Aug 7 2:10 pm: @ Brewers
Mon Aug 8 7:10 pm: @ Mets
Tue Aug 9 7:10 pm: @ Mets
Wed Aug 10 1:10 pm: @ Mets
Thu Aug 11 7:15 pm: vs Cubs (Fox)
Sat Aug 13 6:40 pm: vs Cubs
Sun Aug 14 1:40 pm: vs Cubs
Mon Aug 15 6:40 pm: vs Phillies
Tue Aug 16 6:40 pm: vs Phillies
Wed Aug 17 12:35 pm: vs Phillies
Fri Aug 19 7:05 pm: @ Pirates
Sat Aug 20 7:05 pm: @ Pirates
Sun Aug 21 1:35 pm: @ Pirates
Mon Aug 22 7:05 pm: @ Phillies
Tue Aug 23 7:05 pm: @ Phillies
Wed Aug 24 7:05 pm: @ Phillies
Thu Aug 25 7:05 pm: @ Phillies
Fri Aug 26 7:05 pm: @ Nationals
Sat Aug 27 7:05 pm: @ Nationals
Sun Aug 28 1:35 pm: @ Nationals
Mon Aug 29 6:40 pm: vs Cardinals
Tue Aug 30 6:40 pm: vs Cardinals
Wed Aug 31 6:40 pm: vs Cardinals
Fri Sep 2 6:40 pm: vs Rockies
Sat Sep 3 6:40 pm: vs Rockies
Sun Sep 4 1:40 pm: vs Rockies
Tue Sep 6 7:40 pm: @ Cubs
Wed Sep 7 7:40 pm: @ Cubs
Thu Sep 8 2:20 pm: @ Cubs
Fri Sep 9 8:10 pm: @ Brewers
Sat Sep 10 7:15 pm: @ Brewers (Fox)
Sun Sep 11 2:10 pm: @ Brewers
Mon Sep 12 6:40 pm: vs Pirates
Tue Sep 13 12:35 pm: vs Pirates
Tue Sep 13 6:40 pm: vs Pirates
Wed Sep 14 12:35 pm: vs Pirates
Thu Sep 15 7:45 pm: @ Cardinals
Fri Sep 16 8:15 pm: @ Cardinals
Sat Sep 17 7:15 pm: @ Cardinals
Sun Sep 18 2:15 pm: @ Cardinals
Tue Sep 20 6:40 pm: vs Red Sox
Wed Sep 21 6:40 pm: vs Red Sox
Thu Sep 22 6:40 pm: vs Brewers
Fri Sep 23 6:40 pm: vs Brewers
Sat Sep 24 6:40 pm: vs Brewers
Sun Sep 25 1:40 pm: vs Brewers
Mon Sep 26 6:35 pm: @ Pirates
Tue Sep 27 6:35 pm: @ Pirates
Wed Sep 28 12:35 pm: @ Pirates
Fri Sep 30 2:20 pm: @ Cubs
Sat Oct 1 2:20 pm: @ Cubs
Sun Oct 2 2:20 pm: @ Cubs
Mon Oct 3 6:40 pm: vs Cubs
Tue Oct 4 6:40 pm: vs Cubs
Wed Oct 5 TBD: vs Cubs
Latest posts by Frank Moraes
(see all)