Disclosure:
Your support helps keep our site running! We earn referral fees for some of the products & services we recommend.
Learn more
Tigers fans who want to watch every game of the regular season have a couple of options based on where they live. And they don't need cable. Read on to learn everything!
In a hurry? Those outside the Tigers' blackout zone can watch virtually every game with MLB.TV for $24.99/mo. Fans in Detroit and surrounding areas need Bally Sports Detroit. To get it, they need DIRECTV STREAM and its Choice plan for $89.99/mo. A 5-day free trial is now available for DIRECTV STREAM.
The Detroit Tigers have a storied history that dates to 1901. This includes 11 World Series appearances. And they are looking to return to contention in the years to come. In fact, it has not been that long since the Motor City's baseball team was one of the best in the sport.
Are you are a fan in Michigan, elsewhere but have roots in the state, or simply have always been a fan and want to follow the Tigers as often as possible? If yes to any, you are going to want to secure access to Bally Sports Detroit.
Those in the first group can do so through DIRECTV STREAM ($89.99/mo) while everyone else will need to get MLB.TV ($24.99/mo) to watch many of its Tigers broadcasts.
About the Tigers
The most memorable seasons in Detroit Tigers history were 1935, 1945, 1968, and 1984, when the city played host to a world champion team. Other American League pennants and World Series appearances for the club occurred in 1907, 1908, 1909, 1934, 1940, 2006, and 2012.
The franchise had a solid stretch from 2006 to 2014. They not only played in the Fall Classic twice but also made the playoffs in three other years, including in four straight seasons starting in 2011. However, the Tigers have struggled to return to competitor status ever since, only recording one winning record, in 2016. And Detroit's 86-75 mark that year left the team 2-1/2 games out of the playoffs.
With that said, hopes were raised in 2021. Despite Detroit starting the season with a poor 9-24 record and on pace for 118 losses, the club played well the rest of the way, going 68-61 in their final 129 games. With AJ Hinch at the helm, Tigers fans are hoping that winning records become the norm again.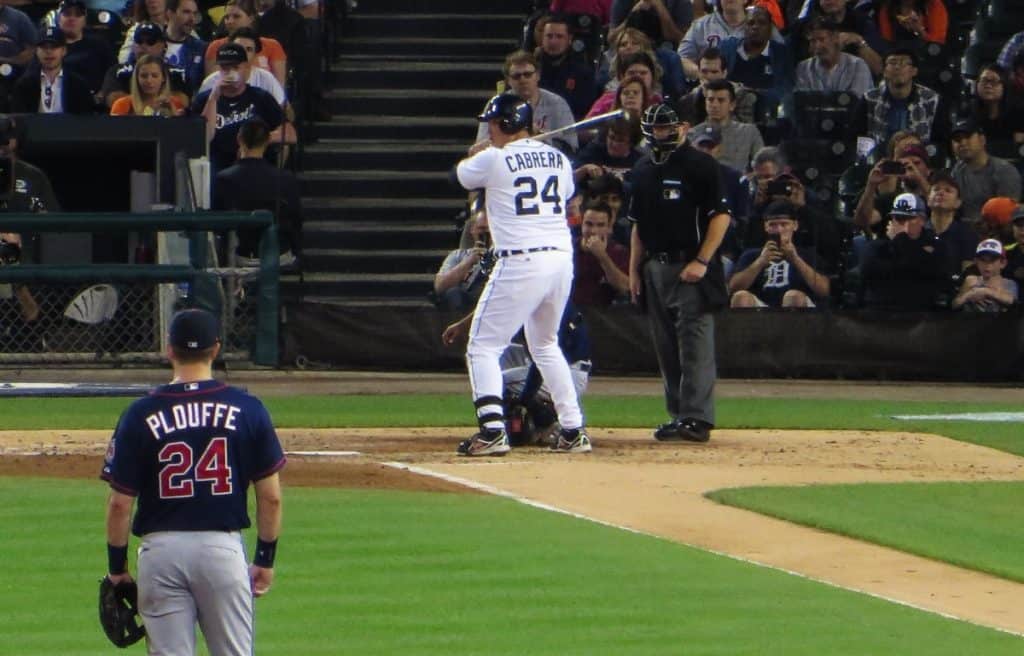 Tigers TV Channels
Detroit will most likely be periodically broadcast on national or regional television as well as possibly be part of exclusive streams. It mostly depends on if the team is a contender. Any television appearances in front of a greater audience will be shown on Fox, NBC, ABC, MLB Network, TBS, ESPN, or Fox Sports 1 (FS1). Additionally, Apple TV+ and Peacock Premium own exclusive rights to stream some MLB games.
However, the vast majority of the club's matchups will be on Bally Sports Detroit. This regional sports network (RSN) is available throughout Michigan and in some nearby portions of Ohio, such as Toledo. Note that Tigers games are sometimes shown on Bally Sports Detroit Plus due to conflicts with the Pistons and Red Wings.
Watching the Tigers
Are you a cord-cutter looking to watch the Tigers without a cable or satellite subscription? Read on.
Antenna

One way to periodically watch the team play is with an antenna. You will get to see any games shown on Fox, ABC, and NBC with contests on Fox being the most likely among those networks.
However, keep in mind that Tigers appearances on network television have been limited as of late. With that said, should the team return to the World Series, all of those games will be on Fox.
See our HD antenna guide for all the information you need to watch for free.
Streaming
Using a streaming service is your best option for watching the Tigers play often.
Live TV Streaming Services

DIRECTV STREAM (formerly AT&T TV) is the only live TV streaming service to offer Bally Sports Detroit. In order to get it, you need to subscribe to its Choice plan ($89.99/mo). Getting that will also grant you the ability to watch ESPN, FS1, TBS, MLB Network, and your local network affiliates, ensuring that you can also view all Tigers games that are being shown on channels other than Bally Sports Detroit.
All plans come with unlimited cloud DVR (online sign-up only) and streaming on up to 20 devices simultaneously. See our DIRECTV STREAM review for more information.
Conversely, if you are looking for a different streaming service and do not mind not receiving Bally Sports Detroit, a few solid ones to consider are Hulu + Live TV ($69.99/mo), Sling TV ($35/mo), FuboTV ($69.99/mo), Vidgo ($59.95/mo), and YouTube TV ($64.99/mo). Most Detroit Tigers games that are not shown on Bally Sports Detroit are broadcast on channels that those streaming services offer.
Specialty Streaming Services
You can also watch the Tigers on some services known more for their on-demand content:
Apple TV+ ($4.99/mo): Will most likely exclusively stream at least one Detroit game this season. It now holds the exclusive streaming rights for two MLB contests every Friday.
Peacock Premium ($4.99/mo): Expected to exclusively stream Sunday games throughout the season, which could include Tigers contests. Note that its games may have morning first pitch times. (Peacock review)
ESPN+ ($6.99/mo): A non-exclusive option for streaming baseball games. Keep in mind that most are subject to blackouts, which would affect most of its Tigers streams for viewers in Michigan. (ESPN+ review)
MLB.TV

Are you a Tigers fan who is not in Michigan? Then you will want to seriously consider getting MLB.TV ($24.99/mo or $139.99/yr). Doing so will grant you access to the majority of Bally Sports Detroit-broadcast Tigers games. You can also get a single team plan for $119.99/yr.
The only ones that you will not be able to watch are ones involving any local teams that you are blacked out from. So, if you are in Seattle, Tigers-Mariners games will be blacked out on MLB.TV.
Devices to Live Stream Detroit Tigers Games
You can use most streaming devices to watch Tigers games. DIRECTV STREAM, MLB.TV, and most other services support the following:
Amazon Fire TV
Android mobile devices
Apple TV
Chromecast
iOS mobile devices
Roku
Samsung smart TVs
Web browsers.
DIRECTV STREAM also offers a proprietary device, which you can purchase directly. Android TV and the Xbox gaming systems are supported by MLB.TV.
Wrapping Up
The Detroit Tigers have generations of fans, and many of them are spread throughout the Great Lake State as well as the country and, to a lesser extent, the world.
If you are in the group that is in Michigan, consider subscribing to DIRECTV STREAM ($89.99/mo) for access to Bally Sports Detroit. If you are part of the fanbase that is elsewhere, you may want to get MLB.TV ($24.99/mo) to watch Tigers games.
FAQs
What channel are the Tigers on tonight?
Generally, the channel showing tonight's Tigers game will be Bally Sports Detroit as it broadcasts a considerable majority of their matchups. However, if that is not the answer, your most likely options are Fox, ESPN, FS1, and TBS. Or it might be on a different local network affiliate – ABC or NBC – or the MLB Network. It also may not be televised at all; it might be streamed by Peacock Premium or Apple TV+.
What radio station broadcasts the Tigers?
Actually, dozens of radio stations broadcast Tigers games. They are spread across Michigan as well as just across the border in Ohio. If you are in or near Detroit, you will want to listen to 97.1 The Ticket. Also, keep in mind that an MLB Radio subscription ($2.99/mo) will allow you to listen to all broadcasts anywhere in the world. MLB.TV ($29.99/mo) also offers access to all radio broadcasts.
Are there free ways to watch Tigers games?
If you are looking to watch the Tigers play for free and are not in Michigan, you will be able to periodically stream their games thanks to the MLB.TV Free Game of the Day. Meanwhile, those who have an antenna can watch all games on network television at no extra charge. Those contests will usually air on Fox while NBC- and ABC-broadcast games are possible as well.
How do I watch Tigers games on my phone?
Tigers fans who are in Michigan and have access to Bally Sports Detroit can watch the team play on their phone after downloading the Bally Sports app or watching on the DIRECTV STREAM app. Those who watch the Tigers play courtesy of an MLB.TV subscription can do the same after downloading the MLB app.
What is the Tigers 2022 Schedule?
This year, the Tigers will play Chicago White Sox, Boston Red Sox, Kansas City Royals, New York Yankees, Colorado Rockies, Minnesota Twins, Los Angeles Dodgers, Pittsburgh Pirates, Houston Astros, Oakland Athletics, Baltimore Orioles, Tampa Bay Rays, Cleveland Guardians, Toronto Blue Jays, Texas Rangers, Arizona Diamondbacks, San Francisco Giants, San Diego Padres, Los Angeles Angels, Seattle Mariners.
Here is the complete regular-season schedule in EDT. Most games other than those noted should air on Bally Sports Detroit.
Fri Apr 8 1:10 pm: vs White Sox
Sat Apr 9 1:10 pm: vs White Sox
Sun Apr 10 1:10 pm: vs White Sox
Mon Apr 11 5:10 pm: vs Red Sox
Tue Apr 12 1:10 pm: vs Red Sox
Wed Apr 13 1:10 pm: vs Red Sox
Thu Apr 14 8:10 pm: @ Royals
Fri Apr 15 8:10 pm: @ Royals
Sat Apr 16 4:10 pm: @ Royals
Sun Apr 17 2:10 pm: @ Royals
Tue Apr 19 6:40 pm: vs Yankees
Wed Apr 20 6:40 pm: vs Yankees
Thu Apr 21 1:10 pm: vs Yankees
Fri Apr 22 7:10 pm: vs Rockies
Sat Apr 23 1:10 pm: vs Rockies
Sun Apr 24 1:10 pm: vs Rockies
Tue Apr 26 7:40 pm: @ Twins
Wed Apr 27 7:40 pm: @ Twins
Thu Apr 28 1:10 pm: @ Twins
Fri Apr 29 10:10 pm: @ Dodgers
Sat Apr 30 10:10 pm: @ Dodgers (MLBN)
Sun May 1 4:10 pm: @ Dodgers
Tue May 3 7:10 pm: vs Pirates
Wed May 4 1:10 pm: vs Pirates
Thu May 5 8:10 pm: @ Astros
Fri May 6 8:10 pm: @ Astros
Sat May 7 4:05 pm: @ Astros (FS1)
Sun May 8 2:10 pm: @ Astros
Mon May 9 7:10 pm: vs Athletics
Tue May 10 1:10 pm: @ Athletics
Tue May 10 TBD: @ Athletics
Wed May 11 7:10 pm: vs Athletics
Thu May 12 1:10 pm: vs Athletics
Fri May 13 7:10 pm: vs Orioles
Sat May 14 4:10 pm: vs Orioles
Sun May 15 1:40 pm: vs Orioles
Mon May 16 6:40 pm: @ Rays
Tue May 17 6:40 pm: @ Rays
Wed May 18 1:10 pm: @ Rays
Fri May 20 7:10 pm: @ Guardians
Sat May 21 6:10 pm: @ Guardians
Sun May 22 1:40 pm: @ Guardians
Mon May 23 7:40 pm: @ Twins
Tue May 24 7:40 pm: @ Twins
Wed May 25 1:10 pm: @ Twins (YouTube)
Thu May 26 7:10 pm: vs Guardians
Fri May 27 7:10 pm: vs Guardians
Sat May 28 4:10 pm: vs Guardians (FS1)
Sun May 29 1:40 pm: vs Guardians
Mon May 30 1:10 pm: vs Twins
Tue May 31 1:10 pm: vs Twins
Tue May 31 7:10 pm: vs Twins
Wed Jun 1 7:10 pm: vs Twins
Thu Jun 2 1:10 pm: vs Twins
Fri Jun 3 7:05 pm: @ Yankees (Apple TV+)
Sat Jun 4 1:05 pm: @ Yankees
Sun Jun 5 1:35 pm: @ Yankees (Peacock)
Tue Jun 7 7:05 pm: @ Pirates
Wed Jun 8 12:35 pm: @ Pirates
Fri Jun 10 7:10 pm: vs Blue Jays
Sat Jun 11 4:10 pm: vs Blue Jays
Sun Jun 12 1:40 pm: vs Blue Jays
Mon Jun 13 7:10 pm: vs White Sox
Tue Jun 14 7:10 pm: vs White Sox
Wed Jun 15 1:10 pm: vs White Sox
Thu Jun 16 7:10 pm: vs Rangers
Fri Jun 17 7:10 pm: vs Rangers
Sat Jun 18 4:10 pm: vs Rangers (FS1)
Sun Jun 19 1:40 pm: vs Rangers
Mon Jun 20 7:10 pm: @ Red Sox
Tue Jun 21 7:10 pm: @ Red Sox
Wed Jun 22 7:10 pm: @ Red Sox
Fri Jun 24 9:40 pm: @ D-backs (Apple TV+)
Sat Jun 25 10:10 pm: @ D-backs
Sun Jun 26 4:10 pm: @ D-backs
Tue Jun 28 9:45 pm: @ Giants
Wed Jun 29 3:45 pm: @ Giants
Fri Jul 1 7:10 pm: vs Royals
Sat Jul 2 4:10 pm: vs Royals
Sun Jul 3 1:40 pm: vs Royals
Mon Jul 4 1:10 pm: vs Guardians
Tue Jul 5 7:10 pm: vs Guardians
Wed Jul 6 1:10 pm: vs Guardians
Thu Jul 7 8:10 pm: @ White Sox
Fri Jul 8 8:10 pm: @ White Sox
Sat Jul 9 2:10 pm: @ White Sox
Sun Jul 10 2:10 pm: @ White Sox
Mon Jul 11 8:10 pm: @ Royals
Tue Jul 12 8:10 pm: @ Royals
Wed Jul 13 2:10 pm: @ Royals
Fri Jul 15 7:10 pm: @ Guardians
Sat Jul 16 4:10 pm: @ Guardians (FS1)
Sun Jul 17 1:40 pm: @ Guardians
Thu Jul 21 TBD: @ Athletics
Thu Jul 21 3:37 pm: @ Athletics
Sat Jul 23 6:10 pm: vs Twins
Sun Jul 24 1:40 pm: vs Twins
Mon Jul 25 7:10 pm: vs Padres
Tue Jul 26 7:10 pm: vs Padres
Wed Jul 27 1:10 pm: vs Padres
Thu Jul 28 7:07 pm: @ Blue Jays
Fri Jul 29 7:07 pm: @ Blue Jays
Sat Jul 30 3:07 pm: @ Blue Jays
Sun Jul 31 1:37 pm: @ Blue Jays (Peacock)
Mon Aug 1 7:40 pm: @ Twins
Tue Aug 2 7:40 pm: @ Twins
Wed Aug 3 1:10 pm: @ Twins
Thu Aug 4 7:10 pm: vs Rays (FS1)
Fri Aug 5 7:10 pm: vs Rays
Sat Aug 6 6:10 pm: vs Rays
Sun Aug 7 1:40 pm: vs Rays
Tue Aug 9 7:10 pm: vs Guardians
Wed Aug 10 7:10 pm: vs Guardians
Thu Aug 11 1:10 pm: vs Guardians
Fri Aug 12 7:10 pm: @ White Sox
Sat Aug 13 7:10 pm: @ White Sox
Sun Aug 14 2:10 pm: @ White Sox
Mon Aug 15 7:10 pm: @ Guardians
Tue Aug 16 7:10 pm: @ Guardians
Wed Aug 17 7:10 pm: @ Guardians
Fri Aug 19 7:10 pm: vs Angels
Sat Aug 20 1:10 pm: vs Angels
Sun Aug 21 1:40 pm: vs Angels
Tue Aug 23 7:10 pm: vs Giants
Wed Aug 24 1:10 pm: vs Giants
Fri Aug 26 8:05 pm: @ Rangers
Sat Aug 27 7:05 pm: @ Rangers
Sun Aug 28 2:35 pm: @ Rangers
Tue Aug 30 7:10 pm: vs Mariners
Wed Aug 31 7:10 pm: vs Mariners
Thu Sep 1 1:10 pm: vs Mariners
Fri Sep 2 7:10 pm: vs Royals
Sat Sep 3 6:10 pm: vs Royals
Sun Sep 4 1:40 pm: vs Royals
Mon Sep 5 9:38 pm: @ Angels
Tue Sep 6 9:38 pm: @ Angels
Wed Sep 7 4:07 pm: @ Angels
Fri Sep 9 8:10 pm: @ Royals
Sat Sep 10 7:10 pm: @ Royals
Sun Sep 11 2:10 pm: @ Royals
Mon Sep 12 6:40 pm: vs Astros
Tue Sep 13 6:40 pm: vs Astros
Wed Sep 14 1:10 pm: vs Astros
Fri Sep 16 7:10 pm: vs White Sox
Sat Sep 17 6:10 pm: vs White Sox
Sun Sep 18 1:10 pm: vs White Sox
Mon Sep 19 7:05 pm: @ Orioles
Tue Sep 20 7:05 pm: @ Orioles
Wed Sep 21 7:05 pm: @ Orioles
Fri Sep 23 8:10 pm: @ White Sox
Sat Sep 24 7:10 pm: @ White Sox
Sun Sep 25 2:10 pm: @ White Sox
Tue Sep 27 6:40 pm: vs Royals
Wed Sep 28 6:40 pm: vs Royals
Thu Sep 29 1:10 pm: vs Royals
Fri Sep 30 7:10 pm: vs Twins
Sat Oct 1 6:10 pm: vs Twins
Sun Oct 2 1:10 pm: vs Twins
Mon Oct 3 9:40 pm: @ Mariners
Tue Oct 4 6:10 pm: @ Mariners
Tue Oct 4 TBD: @ Mariners
Wed Oct 5 TBD: @ Mariners
Latest posts by Frank Moraes
(see all)