Disclosure:
Your support helps keep our site running! We earn referral fees for some of the products & services we recommend.
Learn more
Angels super-fans who want to watch almost all games of the regular season, have a couple of options depending on where they live. Read on to learn all you need to know.
In a hurry? Fans who live outside the Angels broadcast area can watch the vast majority of games live with MLB.TV for $24.99/mo. But local fans need Bally Sports Ohio. To get it without cable, you need the DIRECTV STREAM Choice plan for $89.99/mo. A 5-day free trial is now available for DIRECTV STREAM.
The Los Angeles Angels, who, despite their name, are situated in Anaheim, are Southern California's only American League baseball team. However, with superstar Shohei Ohtani, the Angels have not made the playoffs since 2014.
With that said, baseball is a sport in which teams can often go from losing records to being one of the best in the majors in a short time period. Will Ohtani help lead the Angels to that type of scenario in the near future? More to the point, do you want to see if it will happen?
If yes, you should get, in most cases, DIRECTV STREAM ($89.99/mo) or MLB.TV ($24.99/mo), the former for those whose location allows them to gain access to Bally Sports West, the latter for everyone outside of the Angels' blackout area.
But there's more to it than that if you want to watch absolutely every game. Read on to find out.
About the Angels
The Angels have been in the LA metropolitan area since becoming one of the first two expansion teams in major league history in 1961. During its first five years, it actually played in LA. Initially, they played at Wrigley Field (yes, there was one in LA as well as the well-known venue in Chicago). And the next four years they played at Dodger Stadium.
This franchise was also the AL's first on the West Coast and remained the only one in that region of the country until the Athletics headed to Oakland from Kansas City in 1968.
Before that, in 1966, the Angels moved into Anaheim's Angel Stadium, where they have been ever since. However, the team has gone through a number of name changes over the years despite not leaving Anaheim:
California Angels (1965-96)
Anaheim Angels (1997-2004)
Los Angeles Angels of Anaheim (2005-15)
Los Angeles Angels (2016-present).
As for the play on the field, 2002 is the season that will long live in the memories of Angels fans. With its famous Rally Monkey getting Angels fans into a frenzy, the team rallied from a 5-0 deficit to the San Francisco Giants in game six of the World Series to win, 6-5. It then took game seven the following night. That is to date the franchise's lone AL pennant and World Series appearance.
However, recent times have been lean. The Angels entered the 2022 campaign on the heels of six straight losing seasons, the first time that has happened to the franchise since 1971-77. Its 2021 record was 77-85, placing the team fourth in the AL West.
Angels TV Channels
Bally Sports West broadcasts the vast majority of games played by the Los Angeles Angels, usually around 95% of them. This regional sports network has been around since 1985 and carries broadcasts of the NHL's Los Angeles Kings as well.
It is available to subscribers in Southern California, Las Vegas and points north and northwest from there, and Hawaii.
When the team is featured on regional or national television, you will want to instead tune to Fox, NBC, ABC, Fox Sports 1 (FS1), TBS, ESPN, or MLB Network.
Starting in 2022, the Angels will sometimes be part of online-only broadcasts being produced by Peacock Premium or Apple TV+.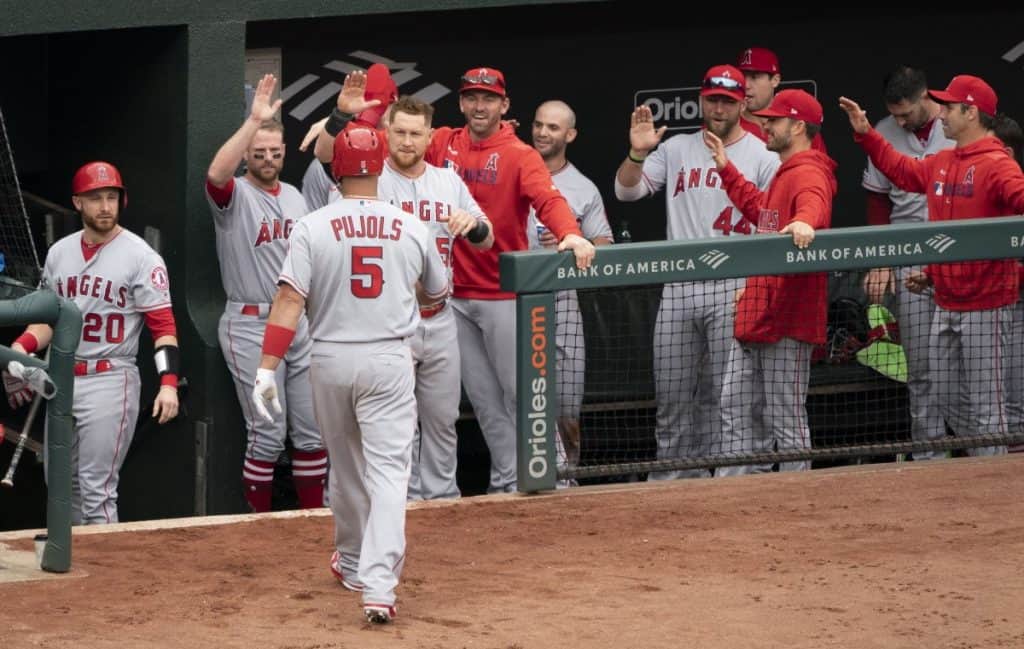 Watching the Angels
There are lots of ways to watch at least some Angels games.
Antenna

When the Angels are featured on Fox or, to a much lesser extent, ABC, or NBC, you can view the game with an antenna. Notably, this includes all World Series contests, so if you are simply focused on watching the biggest matchups that the team participates in, this is a viable option.
To learn more about this, see our HD antenna guide.
Streaming
Starting in 2022, you can no longer watch every Angels game on cable TV. It's necessary to stream at least some games. That also means that you can watch all the games with streaming alone.
Live TV Streaming Services

DIRECTV STREAM (formerly AT&T TV) provides subscribers to its Choice plan ($89.99/mo) and above with access to all regional sports networks that it offers and that are available in their area. For those in LA, this includes Bally Sports West as well as Bally Sports SoCal, Spectrum SportsNet, and Spectrum SportsNet LA (home of the Los Angeles Dodgers).
TBS, FS1, ESPN, MLB Network, NBC, ABC, and Fox are also available to Choice plan subscribers. The plan comes with unlimited cloud DVR storage (online sign-up required) and streaming on up 20 devices. See our DIRECTV STREAM review for more information.
Those who are not in Bally Sports West's broadcast area should also consider these streaming services: Hulu + Live TV ($69.99/mo), Sling TV ($50/mo), FuboTV ($69.99/mo), Vidgo ($59.95/mo), and YouTube TV ($64.99/mo). Each of them will provide you with access to most Angels games that are not being shown on Bally Sports West.
Specialty Streaming Services
If you want to watch absolutely every Angels game, you will need to sign up for at least Apple TV+, since it will be exclusively offering 3 Angels games in 2022.
Apple TV+ ($4.99/mo): Has started streaming Friday baseball games. In fact, LA was one of four teams showcased on its first night of MLB action: April 8, 2022.
Peacock Premium ($4.99/mo): Expected to stream Angels games as well. Its exclusive streams will likely be focused on Sunday contests. (Peacock review)
ESPN+ ($6.99/mo): Will feature baseball streams involving the Angels at times, but do note that local broadcast restrictions are generally in place for these. (ESPN+ review)
MLB.TV
MLB.TV is a solid option for watching Angels games if you are not located in the team's blackout area. which covers roughly the southern halves of California and Nevada and all of Hawaii. It costs $24.99/mo or $139.99/yr. If you can't care about seeing every MLB game, you can also get a single team plan for $119.99/yr.
With MLB.TV, you can watch all Bally Sports West-broadcast Angels games as long as it is an out-of-market game. For example, the only Angels games on that channel that those in Minneapolis will be blacked out from are matchups with the Twins.
Devices to Live Stream Angels Games
DIRECTV STREAM and MLB.TV both support the following devices:
Amazon Fire TV
Android mobile devices
Apple TV
Chromecast
iOS mobile devices
Roku
Samsung smart TVs
Web browsers.
DIRECTV STREAM also supports its own device, which you can get directly from it. MLB.TV supports Android TV devices plus Xbox and PlayStation gaming systems.
The other streaming services offer roughly equivalent support. See our streaming reviews for complete details.
Wrapping Up
Generally, fans who want to watch Los Angeles Angels games on an everyday basis should subscribe to either DIRECTV STREAM ($89.99/mo) or MLB.TV ($24.99/mo). For the most part, the former option is for those in Southern California, Las Vegas, or Hawaii, and the latter is for everyone else.
FAQs
Where can I watch tonight's Angels game?
In most cases, you can watch tonight's game on Bally Sports West, which you can usually access through either DIRECTV STREAM ($89.99/mo) or MLB.TV ($24.99/mo). If it is not being shown on that channel, check ESPN, TBS, FS1, Fox, ABC, NBC, and MLB Network, and also look into if Apple TV+ or Peacock Premium is utilizing its exclusive streaming rights to show it via that method.
Can I listen to the Angels on the radio?
The Angels are on the radio if you are located in a Southern California community that is within hearing distance of an Angels Radio Network affiliate. Those near Anaheim should tune into AM 830 for English commentary while other English-language stations cover Los Angeles, Riverside, Palm Springs, Victorville, and Ridgecrest. Spanish commentary is available in LA thanks to Tu Liga Radio 1330 AM. Online access to those same broadcasts is accessible through MLB Radio ($2.99/mo).
Where can I watch Angels games for free?
If you are not in the southern portions of California or Nevada or in Hawaii, you can take advantage of Angels appearances on the MLB.TV Free Game of the Day. Otherwise, if you have an antenna, you can watch any network-broadcast games for free. These will usually be on Fox although rare appearances on ABC and NBC are possible as well.
How do I stream Angels games on my phone?
Those who utilize DIRECTV STREAM to watch Bally Sports West may view its Angels broadcasts on their phone after downloading and logging into the DIRECTV STREAM or Bally Sports app. Conversely, out-of-market fans who instead watch the Angels play on MLB.TV ($24.99/mo) can do the same with the MLB app.
What is the Los Angeles Angels 2022 schedule?
This year, the Angels will play Houston Astros, Miami Marlins, Texas Rangers, Baltimore Orioles, Cleveland Guardians, Chicago White Sox, Boston Red Sox, Washington Nationals, Tamba Bay Rays, Oakland Athletics, Toronto Blue Jays, New York Yankees, Philadelphia Phillies, New York Mets, Los Angeles Dogers, Seattle Mariners, Kansas City Royals, Atlanta Braves, Minnesota Twins, Detroit Tigers.
Here is the complete Angels regular-season schedule in EDT. Most games other than those noted should air on Bally Sports West.
Thu Apr 7 9:38 pm: vs Astros
Fri Apr 8 9:38 pm: vs Astros (Apple TV+)
Sat Apr 9 9:07 pm: vs Astros
Sun Apr 10 4:07 pm: vs Astros
Mon Apr 11 9:38 pm: vs Marlins (MLBN)
Tue Apr 12 7:07 pm: vs Marlins
Thu Apr 14 8:05 pm: @ Rangers (MLBN)
Fri Apr 15 8:05 pm: @ Rangers
Sat Apr 16 7:05 pm: @ Rangers (Bally Sports SoCal,MLBN)
Sun Apr 17 2:35 pm: @ Rangers
Mon Apr 18 8:10 pm: @ Astros
Tue Apr 19 8:10 pm: @ Astros
Wed Apr 20 6:40 pm: @ Astros
Fri Apr 22 9:38 pm: vs Orioles
Sat Apr 23 9:07 pm: vs Orioles (Bally Sports SoCal)
Sun Apr 24 4:07 pm: vs Orioles
Mon Apr 25 9:38 pm: vs Guardians
Tue Apr 26 9:38 pm: vs Guardians
Wed Apr 27 9:38 pm: vs Guardians
Thu Apr 28 4:07 pm: vs Guardians
Fri Apr 29 7:10 pm: @ White Sox
Sat Apr 30 4:05 pm: @ White Sox (FS1)
Sun May 1 2:10 pm: @ White Sox
Mon May 2 2:10 pm: @ White Sox
Tue May 3 7:10 pm: @ Red Sox
Wed May 4 7:10 pm: @ Red Sox
Thu May 5 1:35 pm: @ Red Sox
Fri May 6 9:38 pm: vs Nationals
Sat May 7 9:07 pm: vs Nationals
Sun May 8 4:07 pm: vs Nationals
Mon May 9 9:38 pm: vs Rays
Tue May 10 9:38 pm: vs Rays
Wed May 11 7:07 pm: vs Rays (FS1)
Fri May 13 9:40 pm: @ Athletics
Sat May 14 4:07 pm: @ Athletics
Sat May 14 9:40 pm: @ Athletics
Sun May 15 4:07 pm: @ Athletics
Mon May 16 8:05 pm: @ Rangers
Tue May 17 8:05 pm: @ Rangers
Wed May 18 8:05 pm: @ Rangers
Fri May 20 9:38 pm: vs Athletics
Sat May 21 9:07 pm: vs Athletics (FS1)
Sun May 22 4:07 pm: vs Athletics
Tue May 24 9:38 pm: vs Rangers
Wed May 25 9:38 pm: vs Rangers
Thu May 26 9:38 pm: vs Blue Jays
Fri May 27 9:38 pm: vs Blue Jays (Apple TV+)
Sat May 28 10:07 pm: vs Blue Jays
Sun May 29 4:07 pm: vs Blue Jays
Tue May 31 7:05 pm: @ Yankees (TBS)
Wed Jun 1 7:05 pm: @ Yankees (FS1)
Thu Jun 2 7:05 pm: @ Yankees
Fri Jun 3 7:05 pm: @ Phillies
Sat Jun 4 7:15 pm: @ Phillies (Fox)
Sun Jun 5 1:35 pm: @ Phillies
Mon Jun 6 9:38 pm: vs Red Sox
Tue Jun 7 9:38 pm: vs Red Sox
Wed Jun 8 9:38 pm: vs Red Sox
Thu Jun 9 9:38 pm: vs Red Sox
Fri Jun 10 9:38 pm: vs Mets (Apple TV+)
Sat Jun 11 10:07 pm: vs Mets
Sun Jun 12 4:07 pm: vs Mets
Tue Jun 14 10:10 pm: @ Dodgers (TBS)
Wed Jun 15 10:10 pm: @ Dodgers
Thu Jun 16 10:10 pm: @ Mariners
Fri Jun 17 10:10 pm: @ Mariners
Sat Jun 18 4:10 pm: @ Mariners
Sat Jun 18 10:10 pm: @ Mariners
Sun Jun 19 4:10 pm: @ Mariners
Mon Jun 20 9:38 pm: vs Royals
Tue Jun 21 9:38 pm: vs Royals
Wed Jun 22 9:49 pm: vs Royals
Fri Jun 24 9:38 pm: vs Mariners
Sat Jun 25 10:07 pm: vs Mariners (FS1)
Sun Jun 26 4:07 pm: vs Mariners
Mon Jun 27 9:38 pm: vs White Sox
Tue Jun 28 9:38 pm: vs White Sox
Wed Jun 29 9:38 pm: vs White Sox
Fri Jul 1 8:10 pm: @ Astros
Sat Jul 2 4:10 pm: @ Astros
Sun Jul 3 2:10 pm: @ Astros
Tue Jul 5 7:40 pm: @ Marlins
Wed Jul 6 6:40 pm: @ Marlins
Thu Jul 7 7:05 pm: @ Orioles
Fri Jul 8 7:05 pm: @ Orioles
Sat Jul 9 4:05 pm: @ Orioles
Sun Jul 10 1:35 pm: @ Orioles (Peacock)
Tue Jul 12 9:38 pm: vs Astros
Wed Jul 13 9:38 pm: vs Astros
Thu Jul 14 8:07 pm: vs Astros
Fri Jul 15 9:38 pm: vs Dodgers
Sat Jul 16 10:07 pm: vs Dodgers
Fri Jul 22 7:20 pm: @ Braves
Sat Jul 23 7:20 pm: @ Braves
Sun Jul 24 1:35 pm: @ Braves
Mon Jul 25 8:10 pm: @ Royals
Tue Jul 26 8:10 pm: @ Royals
Wed Jul 27 2:10 pm: @ Royals
Thu Jul 28 9:38 pm: vs Rangers
Fri Jul 29 9:38 pm: vs Rangers
Sat Jul 30 9:07 pm: vs Rangers (FS1)
Sun Jul 31 4:07 pm: vs Rangers
Tue Aug 2 9:38 pm: vs Athletics
Wed Aug 3 9:38 pm: vs Athletics
Thu Aug 4 4:07 pm: vs Athletics
Fri Aug 5 10:10 pm: @ Mariners
Sat Aug 6 4:10 pm: @ Mariners
Sat Aug 6 10:10 pm: @ Mariners
Sun Aug 7 4:10 pm: @ Mariners
Mon Aug 8 9:40 pm: @ Athletics
Tue Aug 9 9:40 pm: @ Athletics
Wed Aug 10 3:37 pm: @ Athletics
Fri Aug 12 9:38 pm: vs Twins
Sat Aug 13 9:07 pm: vs Twins
Sun Aug 14 4:07 pm: vs Twins
Mon Aug 15 9:38 pm: vs Mariners
Tue Aug 16 9:38 pm: vs Mariners
Wed Aug 17 4:07 pm: vs Mariners
Fri Aug 19 7:10 pm: @ Tigers
Sat Aug 20 1:10 pm: @ Tigers
Sun Aug 21 1:40 pm: @ Tigers
Mon Aug 22 7:10 pm: @ Rays
Tue Aug 23 7:10 pm: @ Rays
Wed Aug 24 7:10 pm: @ Rays
Thu Aug 25 1:10 pm: @ Rays
Fri Aug 26 7:07 pm: @ Blue Jays
Sat Aug 27 3:07 pm: @ Blue Jays
Sun Aug 28 1:37 pm: @ Blue Jays
Mon Aug 29 9:38 pm: vs Yankees
Tue Aug 30 9:38 pm: vs Yankees
Wed Aug 31 9:38 pm: vs Yankees
Fri Sep 2 9:38 pm: vs Astros
Sat Sep 3 9:07 pm: vs Astros
Sun Sep 4 4:07 pm: vs Astros
Mon Sep 5 9:38 pm: vs Tigers
Tue Sep 6 9:38 pm: vs Tigers
Wed Sep 7 4:07 pm: vs Tigers
Fri Sep 9 8:10 pm: @ Astros
Sat Sep 10 7:15 pm: @ Astros (Fox)
Sun Sep 11 2:10 pm: @ Astros
Mon Sep 12 6:10 pm: @ Guardians
Tue Sep 13 6:10 pm: @ Guardians
Wed Sep 14 1:10 pm: @ Guardians
Fri Sep 16 9:38 pm: vs Mariners
Sat Sep 17 9:07 pm: vs Mariners
Sun Sep 18 4:07 pm: vs Mariners
Mon Sep 19 4:07 pm: vs Mariners
Tue Sep 20 8:05 pm: @ Rangers
Wed Sep 21 8:05 pm: @ Rangers
Thu Sep 22 2:05 pm: @ Rangers
Fri Sep 23 8:10 pm: @ Twins
Sat Sep 24 7:10 pm: @ Twins
Sun Sep 25 2:10 pm: @ Twins
Tue Sep 27 9:38 pm: vs Athletics
Wed Sep 28 9:38 pm: vs Athletics
Thu Sep 29 9:38 pm: vs Athletics
Fri Sep 30 9:38 pm: vs Rangers
Sat Oct 1 9:07 pm: vs Rangers
Sun Oct 2 4:07 pm: vs Rangers
Mon Oct 3 9:40 pm: @ Athletics
Tue Oct 4 9:40 pm: @ Athletics
Wed Oct 5 TBD: @ Athletics
Latest posts by Frank Moraes
(see all)