Disclosure:
Your support helps keep our site running! We earn referral fees for some of the products & services we recommend.
Learn more
It is a great time to be a Marlins fan. Regardless of where you live, you can watch every game they play. And you don't need to rely on cable or satellite to do it. Read on to learn everything you need to know!
In a hurry? If you live well outside of Florida, you can watch almost all Marlins games with MLB.TV for $24.99/mo. Local fans need Bally Sports Florida. To get it, you need DIRECTV STREAM with the Choice plan for $89.99/mo. A 5-day free trial is now available for DIRECTV STREAM.
The Miami Marlins have been in existence since 1993 and have two World Series championships to their credit since then. They are just one of six franchises to have won multiple titles in that time. However, they have struggled as of late.
With that said, 2020 was a solid year for the team as it advanced to the National League Division Series, and its fans are hoping for more of the same in the years to come.
If you would like to follow the Miami Marlins on a regular basis, you should secure access to Bally Sports Florida as the vast majority of their games are shown on that regional sports network. If you are in its broadcast area, you can watch it thanks to DIRECTV STREAM ($89.99/mo).
Conversely, if you are outside of the Marlins' blackout area, get a subscription to MLB.TV ($24.99/mo) to watch the Marlins.
About the Marlins
The Marlins have had an interesting history, to say the least. After recording losing records their first four seasons, they claimed the World Series in 1997, outlasting Cleveland in a seven-game classic.
Then, after returning to their losing ways and recording five more losing records, the Marlins won another World Series, beating the Yankees in the 2003 Classic.
More recently, the club ended 10 straight losing seasons with an above-.500 record in 2020, going 31-29, and sweeping the Cubs, 2-0, in a Wild Card Series. However, that postseason run came to an end at the hands of the Braves, 3-0.
Incredibly, that was the first postseason series loss in the club's history as it had gone 7-0 prior to then, including three series wins apiece in 1997 and 2003.
Unfortunately, Miami's 2021 campaign was back to the norm for this club as the Marlins went 67-95. They were a decent 23-24 on May 24 but went 44-71 the rest of the season.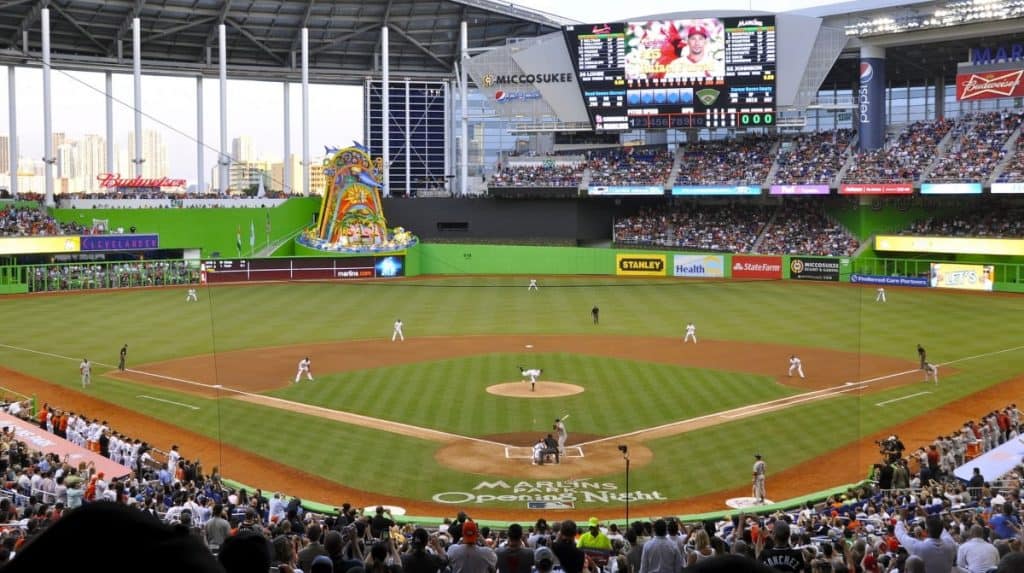 Marlins TV Channels
When the Miami Marlins are shown on national or regional television, you can find the game on Fox, ESPN, TBS, Fox Sports 1 (FS1), NBC, or ABC. It is also possible that games may not be shown on any television network at all because Peacock Premium and Apple TV+ exclusively stream some MLB games.
Meanwhile, Bally Sports Florida will broadcast the rest of the club's games. In fact, heading into the 2021 campaign, the channel announced that it would show all 162 of the contests on Miami's schedule that season. It will probably not be quite 100% in years to come, but it will be a very high percentage.
Bally Sports Florida is available throughout Florida although its Marlins broadcasts are blacked out in the Tampa Bay area.
This regional sports network is also the home of the NBA's Miami Heat while sister station Bally Sports Sun broadcasts MLB's Tampa Bay Rays and the NHL's Florida Panthers. However, keep in mind that those located in and near Miami are unable to watch Rays broadcasts on Bally Sports Sun.
Watching the Marlins
Those interested in watching the Marlins play have a few options.
Antenna

Using an antenna will get you access to any Miami Marlins games on Fox, NBC, and ABC. However, those occurrences will most likely be relatively rare as the team does not garner high television ratings and is also usually not a contender.
With that said, if Miami makes a run to the World Series similar to what it did repeatedly during its first decade-plus, all of those Fall Classic games will be on Fox.
See our HD antenna guide for details on watching the Marlins for free.
Streaming
Streaming is what you are going to want to focus on, especially if you want to watch the team play on a near-daily basis.
Live TV Streaming Services

DIRECTV STREAM offers its Choice plan ($89.99/mo) and above subscribers located in this channel's broadcast area the ability to stream Bally Sports Florida programming as well as access to all other regional sports networks that it offers those in your area. One of the other ones is Bally Sports Sun.
Also included in the plan are ESPN, MLB Network, FS1, TBS, and local network affiliates. All plans come with unlimited cloud DVR storage (for online orders only) and streaming on up to 20 devices at one time. See our DIRECTV STREAM review for more information.
Meanwhile, other streaming services do not offer Bally Sports Florida but that do provide you with the opportunity to watch some Marlins games and several other MLB contests. These include FuboTV ($69.99/mo), Hulu + Live TV ($69.99/mo), Sling TV ($35/mo), Vidgo ($59.95/mo), and YouTube TV ($64.99/mo). Note that the Hulu + Live TV price includes access to ESPN+ and most of its MLB streams.
Specialty Streaming Services
Starting in 2022, Apple TV+ ($4.99/mo) is exclusively streaming several MLB games. These will consist of two on Friday evenings. Matchups featuring the Marlins may be included amongst them.
Peacock Premium ($4.99/mo) is also joining MLB's increasing list of broadcast partners and is expected to exclusively stream games on Sundays. Get more info in our Peacock review.
ESPN+ ($6.99/mo) is a solid option for watching the Marlins play if you are outside of Bally Sports Florida's broadcast area as it regularly streams games. Our ESPN+ review has more information.
MLB.TV
Miami Marlins fans who are unable to get Bally Sports Florida, which essentially applies to those situated outside of Florida (and those in the Tampa Bay area), should subscribe to MLB.TV ($24.99/mo or $139.99/yr) and watch its broadcasts through that streaming service. You can get it slightly cheaper ($119.99/yr) if you go for a single team package.
All of its games will be available except for when Miami plays a team that you are blacked out from. For example, you cannot watch its Marlins-Rockies broadcasts in Denver.
Devices for Live Streaming Miami Marlin Games
DIRECTV STREAM and MLB.TV both support these devices:
Amazon Fire TV
Android mobile devices
Apple TV
Chromecast
iOS mobile devices
Roku
Samsung smart TVs
Web browsers.
DIRECTV STREAM also has its own device that you can use. MLB.TV also supports Android TV and the Xbox gaming system.
Wrapping Up
Cord-cutters who want to see the Miami Marlins play as often as possible need to, in most cases, get either DIRECTV STREAM ($89.99/mo) if in Bally Sports Florida's broadcast area or MLB.TV ($24.99/mo) if not.
FAQs
Where on TV are the Marlins playing tonight?
In most cases, tonight's Marlins game is being broadcast on Bally Sports Florida. However, if that is not the case, check your local Fox, NBC, and ABC affiliates as well as the MLB Network, FS1, ESPN, and TBS. If it is not on any of those channels, it might only be available online through Peacock Premium or Apple TV+ (both $4.99/mo).
Which radio stations air Marlins games?
If you are in Florida, you are probably within listening distance of a station that is part of the Miami Marlins Radio Network. Those in Miami should tune to either 940 AM (WINZ) or 94.9 FM (WZTU) for English-language commentary. If you prefer to listen in Spanish, head to 710 AM (WAQI) instead. An MLB Radio subscription ($2.99/mo) will also grant you access to those broadcasts.
Is there a way to watch Marlins games for free?
If you are not in the Marlins' blackout area, you can periodically watch the team play for free through appearances on the MLB.TV Free Game of the Day. Otherwise, you will need to have an antenna and focus on the times Miami is featured on network television.
How do I watch Marlins games on my phone?
In order to watch Marlins games on your phone, you will, for the most part, simply need to download either the Bally Sports app or the MLB app, the former one if you subscribe to DIRECTV STREAM and watch Bally Sports Florida's broadcasts through it and the latter if you instead subscribe to MLB.TV. DIRECTV STREAM also has apps for Android and iOS phones.
What is the 2022 Marlins Schedule
This regular season, the Marlins plays San Francisco Giants, Los Angeles Angels, Philadelphia Phillies, St Louis Cardinals, Atlanta Braves, Washington Nationals, Seattle Mariners, Arizona Diamondbacks, San Diego Padres, Milwaukee Brewers, Tampa Bay Rays, Colorado Rockies, Houston Astros, New York Mets, Pittsburgh Pirates, Texas Rangers, Cincinnati Reds, Chicago Cubs, Los Angeles Dodgers, and Oakland Athletics.
All these games should air on Bally Sports Florida and MLB.TV except as indicated. All times are EDT.
Fri Apr 8 4:35 pm: @ Giants
Sat Apr 9 4:05 pm: @ Giants
Sun Apr 10 4:05 pm: @ Giants
Mon Apr 11 9:38 pm: @ Angels
Tue Apr 12 7:07 pm: @ Angels
Thu Apr 14 6:40 pm: vs Phillies
Fri Apr 15 6:40 pm: vs Phillies
Sat Apr 16 6:10 pm: vs Phillies
Sun Apr 17 1:40 pm: vs Phillies
Tue Apr 19 6:40 pm: vs Cardinals
Wed Apr 20 6:40 pm: vs Cardinals
Thu Apr 21 6:40 pm: vs Cardinals (MLBN)
Fri Apr 22 7:20 pm: @ Braves
Sat Apr 23 7:20 pm: @ Braves
Sun Apr 24 1:35 pm: @ Braves
Tue Apr 26 7:05 pm: @ Nationals
Wed Apr 27 7:05 pm: @ Nationals
Thu Apr 28 1:05 pm: @ Nationals
Fri Apr 29 6:40 pm: vs Mariners
Sat Apr 30 6:10 pm: vs Mariners
Sun May 1 1:40 pm: vs Mariners
Mon May 2 6:40 pm: vs D-backs
Tue May 3 6:40 pm: vs D-backs
Wed May 4 12:40 pm: vs D-backs
Thu May 5 9:40 pm: @ Padres
Fri May 6 9:40 pm: @ Padres
Sat May 7 8:40 pm: @ Padres
Sun May 8 4:10 pm: @ Padres
Mon May 9 9:40 pm: @ D-backs
Tue May 10 9:40 pm: @ D-backs
Wed May 11 3:40 pm: @ D-backs
Fri May 13 6:40 pm: vs Brewers
Sat May 14 6:10 pm: vs Brewers
Sun May 15 1:40 pm: vs Brewers
Mon May 16 6:40 pm: vs Nationals
Tue May 17 6:40 pm: vs Nationals
Wed May 18 6:40 pm: vs Nationals
Fri May 20 6:40 pm: vs Braves
Sat May 21 6:10 pm: vs Braves
Sun May 22 1:40 pm: vs Braves
Tue May 24 6:40 pm: @ Rays
Wed May 25 6:40 pm: @ Rays
Fri May 27 7:20 pm: @ Braves
Sat May 28 4:10 pm: @ Braves
Sun May 29 1:35 pm: @ Braves
Mon May 30 4:10 pm: @ Rockies
Tue May 31 8:40 pm: @ Rockies
Wed Jun 1 3:10 pm: @ Rockies
Thu Jun 2 6:40 pm: vs Giants
Fri Jun 3 6:40 pm: vs Giants
Sat Jun 4 4:10 pm: vs Giants
Sun Jun 5 1:40 pm: vs Giants
Tue Jun 7 6:40 pm: vs Nationals
Wed Jun 8 6:40 pm: vs Nationals
Thu Jun 9 6:40 pm: vs Nationals
Fri Jun 10 8:10 pm: @ Astros
Sat Jun 11 4:10 pm: @ Astros
Sun Jun 12 2:10 pm: @ Astros
Mon Jun 13 7:05 pm: @ Phillies
Tue Jun 14 7:05 pm: @ Phillies
Wed Jun 15 1:05 pm: @ Phillies
Fri Jun 17 7:10 pm: @ Mets
Sat Jun 18 4:10 pm: @ Mets
Sun Jun 19 1:40 pm: @ Mets
Mon Jun 20 1:10 pm: @ Mets
Tue Jun 21 6:40 pm: vs Rockies
Wed Jun 22 6:40 pm: vs Rockies
Thu Jun 23 12:10 pm: vs Rockies
Fri Jun 24 6:40 pm: vs Mets
Sat Jun 25 4:10 pm: vs Mets
Sun Jun 26 1:40 pm: vs Mets
Mon Jun 27 7:45 pm: @ Cardinals
Tue Jun 28 7:45 pm: @ Cardinals
Wed Jun 29 7:45 pm: @ Cardinals
Fri Jul 1 6:05 pm: @ Nationals
Sat Jul 2 4:05 pm: @ Nationals
Sun Jul 3 1:35 pm: @ Nationals
Mon Jul 4 11:05 am: @ Nationals
Tue Jul 5 6:40 pm: vs Angels
Wed Jul 6 6:40 pm: vs Angels
Thu Jul 7 7:10 pm: @ Mets
Fri Jul 8 7:10 pm: @ Mets
Sat Jul 9 4:10 pm: @ Mets
Sun Jul 10 1:40 pm: @ Mets
Mon Jul 11 6:40 pm: vs Pirates
Tue Jul 12 6:40 pm: vs Pirates
Wed Jul 13 6:40 pm: vs Pirates
Thu Jul 14 12:10 pm: vs Pirates
Fri Jul 15 6:40 pm: vs Phillies
Sat Jul 16 4:10 pm: vs Phillies
Sun Jul 17 1:40 pm: vs Phillies
Thu Jul 21 1:10 pm: vs Rangers
Fri Jul 22 7:05 pm: @ Pirates
Sat Jul 23 7:05 pm: @ Pirates
Sun Jul 24 1:35 pm: @ Pirates
Mon Jul 25 6:40 pm: @ Reds
Tue Jul 26 6:40 pm: @ Reds
Wed Jul 27 6:40 pm: @ Reds
Thu Jul 28 12:35 pm: @ Reds
Fri Jul 29 6:40 pm: vs Mets
Sat Jul 30 6:10 pm: vs Mets
Sun Jul 31 1:40 pm: vs Mets
Mon Aug 1 6:40 pm: vs Reds
Tue Aug 2 6:40 pm: vs Reds
Wed Aug 3 6:40 pm: vs Reds
Fri Aug 5 2:20 pm: @ Cubs
Sat Aug 6 2:20 pm: @ Cubs (FS1)
Sun Aug 7 2:20 pm: @ Cubs
Tue Aug 9 7:05 pm: @ Phillies
Wed Aug 10 7:05 pm: @ Phillies
Thu Aug 11 1:05 pm: @ Phillies
Fri Aug 12 6:40 pm: vs Braves
Sat Aug 13 1:10 pm: vs Braves
Sat Aug 13 7:10 pm: vs Braves
Sun Aug 14 1:40 pm: vs Braves
Mon Aug 15 6:40 pm: vs Padres
Tue Aug 16 6:40 pm: vs Padres
Wed Aug 17 4:10 pm: vs Padres
Fri Aug 19 10:10 pm: @ Dodgers
Sat Aug 20 9:10 pm: @ Dodgers
Sun Aug 21 4:10 pm: @ Dodgers
Mon Aug 22 9:40 pm: @ Athletics
Tue Aug 23 9:40 pm: @ Athletics
Wed Aug 24 3:37 pm: @ Athletics
Fri Aug 26 6:40 pm: vs Dodgers
Sat Aug 27 6:10 pm: vs Dodgers
Sun Aug 28 1:40 pm: vs Dodgers
Mon Aug 29 6:40 pm: vs Dodgers
Tue Aug 30 6:40 pm: vs Rays
Wed Aug 31 6:40 pm: vs Rays
Fri Sep 2 7:20 pm: @ Braves
Sat Sep 3 7:20 pm: @ Braves
Sun Sep 4 1:35 pm: @ Braves
Tue Sep 6 6:45 pm: @ Phillies
Wed Sep 7 6:45 pm: @ Phillies
Thu Sep 8 6:45 pm: @ Phillies
Fri Sep 9 6:40 pm: vs Mets
Sat Sep 10 6:10 pm: vs Mets
Sun Sep 11 1:40 pm: vs Mets
Mon Sep 12 1:10 pm: vs Rangers
Mon Sep 12 7:10 pm: vs Rangers
Tue Sep 13 6:40 pm: vs Phillies
Wed Sep 14 6:40 pm: vs Phillies
Thu Sep 15 6:40 pm: vs Phillies
Fri Sep 16 7:05 pm: @ Nationals
Sat Sep 17 4:05 pm: @ Nationals
Sun Sep 18 1:35 pm: @ Nationals
Mon Sep 19 6:40 pm: vs Cubs
Tue Sep 20 6:40 pm: vs Cubs
Wed Sep 21 6:40 pm: vs Cubs
Fri Sep 23 6:40 pm: vs Nationals
Sat Sep 24 6:10 pm: vs Nationals
Sun Sep 25 1:40 pm: vs Nationals
Tue Sep 27 7:10 pm: @ Mets
Wed Sep 28 7:10 pm: @ Mets
Thu Sep 29 7:40 pm: @ Brewers
Fri Sep 30 8:10 pm: @ Brewers
Sat Oct 1 7:10 pm: @ Brewers
Sun Oct 2 2:10 pm: @ Brewers
Mon Oct 3 6:40 pm: vs Braves
Tue Oct 4 6:40 pm: vs Braves
Wed Oct 5 TBD: vs Braves
Latest posts by Frank Moraes
(see all)