Disclosure:
Your support helps keep our site running! We earn referral fees for some of the products & services we recommend.
Learn more
Mets fans don't need cable to watch every game of the MLB season. But the way games are broadcast is a little complicated. Read on to learn everything you need to know.
In a hurry? If you live outside the Mets' blackout zone, you can sign up for MLB.TV. But local fans need SportsNet New York, which you can get with these services:
FuboTV: Our favorite sports-oriented streaming service with 100+ channels including SportsNet New York. FuboTV allows you to try out its service free for 7 days.
DIRECTV STREAM: More expensive but also including YES so you can follow the Yankees. A 5-day free trial is now available for DIRECTV STREAM.
Hulu + Live TV: Get SportsNet New York, ESPN+, Disney+, and 85+ live TV channels.
The New York Mets are one of two teams in the largest metropolitan area in the US. And they enjoy a significant fan base across the country.
The club, which has been playing games since 1962, has two World Series championships to its credit, one in 1969 and 1986, and five National League pennants.
Are you interested in the Mets? If so, you should get SportsNet New York (SNY) as a considerable majority of the club's games are broadcast on that regional sports network. This can be done through DIRECTV STREAM ($89.99/mo), Hulu + Live TV ($69.99/mo), FuboTV ($69.99/mo), and YouTube TV ($64.99/mo) for those located within SNY's broadcast area.
Others can access those broadcasts through MLB.TV ($24.99/mo).
About the Mets
The New York Mets were brought under the NL umbrella in 1962. This was five years after the Brooklyn Dodgers and the New York Giants broke hearts in the Big Apple by moving to Los Angeles and San Francisco. As essentially the replacement for those clubs, the Mets adopted the colors of blue for the Dodgers and orange for the Giants.
Times were tough for the Mets in the early going as they failed to get above ninth place in the 10-team NL's final standings at any point from 1962 through 68. However, 1969 was a magical year in New York as the club stormed to the NL East Division title, swept the Atlanta Braves in the NL Championship Series, and secured a 4-1 victory over the Baltimore Orioles in the World Series to win it all.
The team also won the 1986 World Series, doing so in dramatic fashion. Down to its last strike and trailing by two runs in game six against the Boston Red Sox, the Mets rallied for the win and took game seven a couple of nights later.
New York won NL pennants in 1973, 2000, and 2015 as well.
In more recent times, the Mets went 77-85 in 2021, failing to make the playoffs for the fifth straight season. However, they had started strong, recording a 35-25 mark after 60 games. In fact, the team was in first place for 103 days, setting a record for most days in first before finishing with a losing record.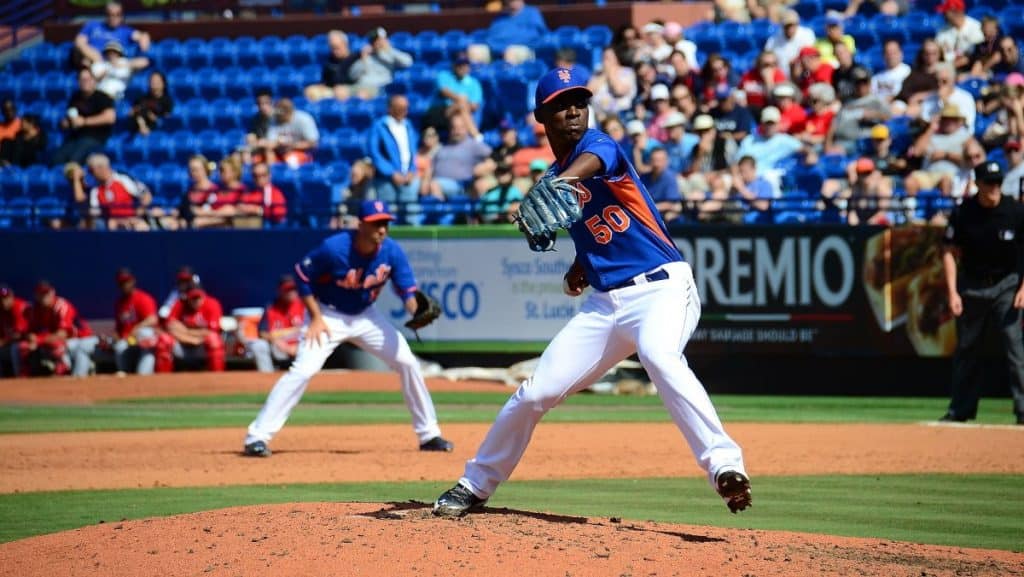 Mets TV Channels
The Mets are periodically shown nationally and regionally. These include some Saturday games on Fox and Sunday Night Baseball appearances on ESPN. Meanwhile, Mets games being featured on NBC and ABC are possible as are showings on TBS, Fox Sports 1 (FS1), and MLB Network. Another thing to keep in mind is that online-only broadcasts on Apple TV+ and Peacock Premium may happen as well.
Those located in SNY's broadcast area can watch the Mets play on that channel. This region stretches across New York state and into New Jersey, Connecticut, and Pennsylvania. In addition, the Mets are among a shrinking group of MLB teams that has games locally broadcast on an over-the-air station. In their case, around 25 games a season are shown on PIX11.
Watching the Mets
Fans looking to watch the Mets play without a cable or satellite subscription have several options.
Antenna
The old-fashioned way to go about watching the Mets is to get an antenna and watch the team play when it is shown on an over-the-air station. This is actually a better option for the Mets than it is for most teams. Not only can you enjoy any of their games on Fox, ABC, and NBC through this method, but locals can also view their PIX11 broadcast contests.
See our HD antenna guide for all you need to know. It's easy to do and provides great, high-definition video.
Streaming
You can secure streaming access to Mets games in numerous ways.
Live TV Streaming Services
The biggest streaming services offer SNY:
A couple of other streaming services to consider, ones that do not offer SNY, include Sling TV ($35/mo) and Vidgo ($59.95/mo).
Specialty Streaming Services
A number of streaming services that are normally thought of as on-demand providers are branching out into live sports:
Apple TV+: Has started streaming MLB games, and its selection may include some New York Mets games. It streams two Friday games, and they are exclusive broadcasts. The service costs $4.99/mo.
Peacock Premium: Another outlet that is a necessary purchase for baseball fans wanting access to every MLB contest. This streaming service's games are on Sundays. You can get it for $4.99/mo. (Peacock review)
ESPN+: An option for streaming Mets and other MLB games, but keep in mind that most of its broadcasts are not available to those in the markets of the participating teams. It costs $6.99/mo but you can get a deal when you bundle it with Hulu and Disney+. (ESPN+ review)
MLB.TV
New York Mets fans who are outside of the club's blackout region, which consists of New York State and nearby areas of Connecticut, New Jersey, and Pennsylvania, can watch SNY- and PIX11-broadcast games through MLB.TV ($24.99/mo) or $119.99/yr for a single-team plan.
With that said, note its blackout restrictions. These block access to many nationally telecast games and all contests played by clubs local to where you are, including against the Mets.
Live Stream New York Mets With These Devices
All the streaming services above (live TV or straight) allow you to watch on all the major streaming devices in use today:
Amazon Fire TV
Android mobile devices
Apple TV
Chromecast
iOS mobile devices
Roku
Samsung smart TVs
Web browsers.
They all (except DIRECTV STREAM), support Android TV devices and Xbox gaming systems. Several also support PlayStation units.
For a complete list, see our review of the specific streaming service.
Wrapping Up
Do you want to watch the New York Mets play as often as possible? If yes and you are in SNY's broadcast area, you have several streaming services to choose from that offer that channel. YouTube TV is the cheapest at $64.99/mo, FuboTV costs $69.99/mo, Hulu + Live TV offers ESPN+ access with its $69.99/mo cost, and DIRECTV STREAM provides numerous other benefits with its $89.99/mo price.
Mets fans outside of the club's blackout region can subscribe to MLB.TV ($24.99/mo) to enjoy most locally produced Mets game broadcasts.
FAQs
What channel are the Mets on tonight?
In most cases, tonight's game will be on SNY. However, PIX11 broadcasts the club about 25 times a season. Or perhaps the Mets are being featured on Fox, ABC, NBC, TBS, ESPN, FS1, or MLB Network. Fox sometimes carries Mets games on Saturday evenings while ESPN occasionally does the same on Sunday nights. Also, note that tonight's game might not be on a channel. It may be exclusively streamed by Peacock Premium or Apple TV+.
What radio station airs Mets games?
Are you located in or near New York City? In that case, tune into WCBS, which is 880 AM. Meanwhile, fans who have remained in the team's spring training home of Port St Lucie, FL, after the regular season started can catch the action on WPSL. You can find that at 1590 on the AM dial. Another option for Mets fans anywhere is to listen through an MLB Radio subscription ($2.99/mo).
Are there free ways to watch Mets games?
Yes, you can watch the Mets for free. Assuming you already own an antenna, you can see them play on PIX11 if it is a local channel for you. You can also see any games shown on your local Fox, NBC, or ABC affiliates. A free option for those wanting to stream games and are outside of the team's blackout area is MLB.TV Free Game of the Day appearances by the Mets.
How do I watch Mets games on my phone?
If you want to watch Mets games on your phone, you have a few options. Most notably, SNY now has an app, new for the 2022 season, which in-market fans can utilize to view Mets games on SNY and PIX11. Meanwhile, out-of-market fans who subscribe to MLB.TV can use the MLB app to watch many of those same broadcasts.
What is the 2022 New York Mets Schedule?
This regular season, the Mets will play Washington Nationals, Philadelphia Phillies, Arizona Diamondbacks, San Francisco Giants, St Louis Cardinals, Atlanta Braves, Seattle Mariners, Colorado Rockies, Los Angeles Dodgers, San Diego Padres, Los Angeles Angels, Milwaukee Brewers, Miami Marlins, Houston Astros, Texas Rangers, Cincinnati Reds, Chicago Cubs, New York Yankees, Pittsburgh Pirates, and Oakland Athletics.
Here is the list of all the regular-season games with dates and times (EDT). Almost all of these can be seen on SportsNet New York and MLB.TV. See exceptions list.
Thu Apr 7 4:05 pm: @ Nationals
Fri Apr 8 7:05 pm: @ Nationals (Apple TV+)
Sat Apr 9 7:05 pm: @ Nationals
Sun Apr 10 1:35 pm: @ Nationals
Mon Apr 11 6:45 pm: @ Phillies (FS1)
Tue Apr 12 6:45 pm: @ Phillies (MLBN)
Wed Apr 13 1:05 pm: @ Phillies
Fri Apr 15 1:10 pm: vs D-backs (MLBN)
Sat Apr 16 1:10 pm: vs D-backs (MLBN)
Sun Apr 17 1:40 pm: vs D-backs (WPIX)
Mon Apr 18 7:10 pm: vs Giants
Tue Apr 19 7:10 pm: vs Giants (MLBN)
Wed Apr 20 7:10 pm: vs Giants (MLBN)
Thu Apr 21 1:10 pm: vs Giants
Fri Apr 22 9:40 pm: @ D-backs
Sat Apr 23 8:10 pm: @ D-backs (MLBN,WPIX)
Sun Apr 24 4:10 pm: @ D-backs (WPIX)
Mon Apr 25 7:45 pm: @ Cardinals (MLBN)
Tue Apr 26 7:45 pm: @ Cardinals (TBS)
Wed Apr 27 1:15 pm: @ Cardinals (MLBN)
Fri Apr 29 7:10 pm: vs Phillies
Sat Apr 30 7:10 pm: vs Phillies (FS1)
Sun May 1 7:08 pm: vs Phillies (ESPN)
Mon May 2 7:10 pm: vs Braves
Tue May 3 3:10 pm: vs Braves
Tue May 3 Game 2: vs Braves (FS1)
Wed May 4 1:10 pm: vs Braves
Thu May 5 6:45 pm: @ Phillies
Fri May 6 7:05 pm: @ Phillies
Sat May 7 4:05 pm: @ Phillies
Sun May 8 1:35 pm: @ Phillies
Tue May 10 7:05 pm: @ Nationals
Wed May 11 7:05 pm: @ Nationals
Thu May 12 1:05 pm: @ Nationals
Fri May 13 7:10 pm: vs Mariners
Sat May 14 7:10 pm: vs Mariners (WPIX)
Sun May 15 1:40 pm: vs Mariners
Mon May 16 7:10 pm: vs Cardinals
Tue May 17 7:10 pm: vs Cardinals
Wed May 18 7:10 pm: vs Cardinals
Thu May 19 1:10 pm: vs Cardinals
Fri May 20 8:40 pm: @ Rockies
Sat May 21 8:10 pm: @ Rockies (WPIX)
Sun May 22 3:10 pm: @ Rockies (WPIX)
Mon May 23 9:45 pm: @ Giants
Tue May 24 9:45 pm: @ Giants
Wed May 25 3:45 pm: @ Giants
Fri May 27 7:10 pm: vs Phillies (WPIX)
Sat May 28 7:15 pm: vs Phillies (Fox)
Sun May 29 7:08 pm: vs Phillies (ESPN)
Mon May 30 7:10 pm: vs Nationals
Tue May 31 7:10 pm: vs Nationals
Wed Jun 1 1:10 pm: vs Nationals
Thu Jun 2 10:10 pm: @ Dodgers
Fri Jun 3 10:10 pm: @ Dodgers
Sat Jun 4 10:10 pm: @ Dodgers
Sun Jun 5 4:10 pm: @ Dodgers
Mon Jun 6 9:40 pm: @ Padres
Tue Jun 7 9:40 pm: @ Padres
Wed Jun 8 9:40 pm: @ Padres
Fri Jun 10 9:38 pm: @ Angels (Apple TV+)
Sat Jun 11 10:07 pm: @ Angels
Sun Jun 12 4:07 pm: @ Angels (WPIX)
Tue Jun 14 7:10 pm: vs Brewers
Wed Jun 15 7:10 pm: vs Brewers (FS1)
Thu Jun 16 7:10 pm: vs Brewers
Fri Jun 17 7:10 pm: vs Marlins
Sat Jun 18 4:10 pm: vs Marlins (WPIX)
Sun Jun 19 1:40 pm: vs Marlins (WPIX)
Mon Jun 20 1:10 pm: vs Marlins
Tue Jun 21 8:10 pm: @ Astros
Wed Jun 22 2:10 pm: @ Astros
Fri Jun 24 6:40 pm: @ Marlins (WPIX)
Sat Jun 25 4:10 pm: @ Marlins (WPIX)
Sun Jun 26 1:40 pm: @ Marlins (Peacock)
Tue Jun 28 7:10 pm: vs Astros (TBS)
Wed Jun 29 1:10 pm: vs Astros
Fri Jul 1 7:10 pm: vs Rangers
Sat Jul 2 4:10 pm: vs Rangers
Sun Jul 3 1:40 pm: vs Rangers
Mon Jul 4 6:40 pm: @ Reds
Tue Jul 5 6:40 pm: @ Reds
Wed Jul 6 6:40 pm: @ Reds
Thu Jul 7 7:10 pm: vs Marlins
Fri Jul 8 7:10 pm: vs Marlins
Sat Jul 9 4:10 pm: vs Marlins
Sun Jul 10 1:40 pm: vs Marlins (WPIX)
Mon Jul 11 7:20 pm: @ Braves
Tue Jul 12 7:20 pm: @ Braves
Wed Jul 13 12:20 pm: @ Braves
Thu Jul 14 8:05 pm: @ Cubs
Fri Jul 15 2:20 pm: @ Cubs
Sat Jul 16 2:20 pm: @ Cubs (WPIX)
Sun Jul 17 2:20 pm: @ Cubs
Fri Jul 22 7:10 pm: vs Padres
Sat Jul 23 7:10 pm: vs Padres (WPIX)
Sun Jul 24 1:40 pm: vs Padres
Tue Jul 26 7:10 pm: vs Yankees
Wed Jul 27 7:10 pm: vs Yankees
Fri Jul 29 6:40 pm: @ Marlins
Sat Jul 30 6:10 pm: @ Marlins (WPIX)
Sun Jul 31 1:40 pm: @ Marlins (WPIX)
Mon Aug 1 7:05 pm: @ Nationals
Tue Aug 2 7:05 pm: @ Nationals
Wed Aug 3 4:05 pm: @ Nationals
Thu Aug 4 7:10 pm: vs Braves
Fri Aug 5 7:10 pm: vs Braves
Sat Aug 6 1:10 pm: vs Braves (WPIX)
Sat Aug 6 7:10 pm: vs Braves
Sun Aug 7 1:40 pm: vs Braves
Mon Aug 8 7:10 pm: vs Reds
Tue Aug 9 7:10 pm: vs Reds
Wed Aug 10 1:10 pm: vs Reds
Fri Aug 12 7:10 pm: vs Phillies
Sat Aug 13 7:10 pm: vs Phillies (WPIX)
Sun Aug 14 1:40 pm: vs Phillies (WPIX)
Mon Aug 15 7:20 pm: @ Braves
Tue Aug 16 7:20 pm: @ Braves
Wed Aug 17 7:20 pm: @ Braves
Thu Aug 18 7:20 pm: @ Braves
Fri Aug 19 7:05 pm: @ Phillies
Sat Aug 20 7:15 pm: @ Phillies (Fox)
Sun Aug 21 1:35 pm: @ Phillies
Mon Aug 22 7:05 pm: @ Yankees (WPIX)
Tue Aug 23 7:05 pm: @ Yankees
Thu Aug 25 7:10 pm: vs Rockies
Fri Aug 26 7:10 pm: vs Rockies
Sat Aug 27 7:10 pm: vs Rockies
Sun Aug 28 1:40 pm: vs Rockies (WPIX)
Tue Aug 30 7:10 pm: vs Dodgers
Wed Aug 31 7:10 pm: vs Dodgers
Thu Sep 1 4:10 pm: vs Dodgers
Fri Sep 2 7:10 pm: vs Nationals
Sat Sep 3 7:15 pm: vs Nationals (Fox)
Sun Sep 4 1:40 pm: vs Nationals
Mon Sep 5 12:35 pm: @ Pirates
Tue Sep 6 6:35 pm: @ Pirates
Wed Sep 7 6:35 pm: @ Pirates
Fri Sep 9 6:40 pm: @ Marlins
Sat Sep 10 6:10 pm: @ Marlins (WPIX)
Sun Sep 11 1:40 pm: @ Marlins
Mon Sep 12 7:10 pm: vs Cubs
Tue Sep 13 7:10 pm: vs Cubs
Wed Sep 14 7:10 pm: vs Cubs
Thu Sep 15 7:10 pm: vs Pirates
Fri Sep 16 7:10 pm: vs Pirates (WPIX)
Sat Sep 17 7:10 pm: vs Pirates
Sun Sep 18 1:40 pm: vs Pirates (WPIX)
Mon Sep 19 7:40 pm: @ Brewers
Tue Sep 20 7:40 pm: @ Brewers
Wed Sep 21 2:10 pm: @ Brewers
Fri Sep 23 9:40 pm: @ Athletics
Sat Sep 24 4:07 pm: @ Athletics (WPIX)
Sun Sep 25 4:07 pm: @ Athletics (WPIX)
Tue Sep 27 7:10 pm: vs Marlins
Wed Sep 28 7:10 pm: vs Marlins (WPIX)
Fri Sep 30 7:20 pm: @ Braves
Sat Oct 1 7:20 pm: @ Braves
Sun Oct 2 1:35 pm: @ Braves
Mon Oct 3 7:10 pm: vs Nationals
Tue Oct 4 7:10 pm: vs Nationals
Wed Oct 5 TBD: vs Nationals
Latest posts by Frank Moraes
(see all)