Disclosure:
Your support helps keep our site running! We earn referral fees for some of the products & services we recommend.
Learn more
It's a bit complicated for Pittsburgh Pirates fans to gain access to all the regular season games on TV. But it isn't hard to do. We explain everything below.
In a hurry? Pirates fans outside the local area can watch almost all the games with MLB.TV. Local fans need to gain access to AT&T SportsNet Pittsburgh. It is available to stream from two sources:
DIRECTV STREAM: This is a great overall streaming service. A 5-day free trial is now available for DIRECTV STREAM.
FuboTV: Get 110+ channels with a large focus on sports. FuboTV allows you to try out its service free for 7 days.
The Pittsburgh Pirates franchise was founded in 1882 and was originally known as the Alleghany. Today, the team plays its home games at PNC Park and is managed by Derek Shelton.
Let's take a closer look at the history of this franchise, how the team did in 2021, and how you can watch Pirates games in 2022 without the need for cable.
All About the Pirates
In 1882, the Pittsburgh Allegheny began play in the American Association (AA), which was the primary alternative to the National League (NL). However, the Pirates moved to the NL in 1887 and have remained there ever since.
Between 1903 and 1973, the Pirates won a total of five World Series championships. They have also won nine NL titles and the NL East division title nine times. Pittsburgh moved from the NL East to the NL Central in 1993.
Barry Bonds and Bobby Bonilla are two of the most famous players to have spent a portion of their careers in Pittsburgh. Bonds is perhaps best known for setting the record for most home runs in a season when he hit 73 in 2001. He also holds the record for most home runs in a career with 762.
In 2021, the Pirates finished 61-101, which was good for last in their division. The team's most successful pitcher was reliever Chris Stratton who led the team in wins with seven and also had eight saves. Outfielder Brian Reynolds led the Pirates in most offensive categories including triples, runs batted in (RBIs), and stolen bases.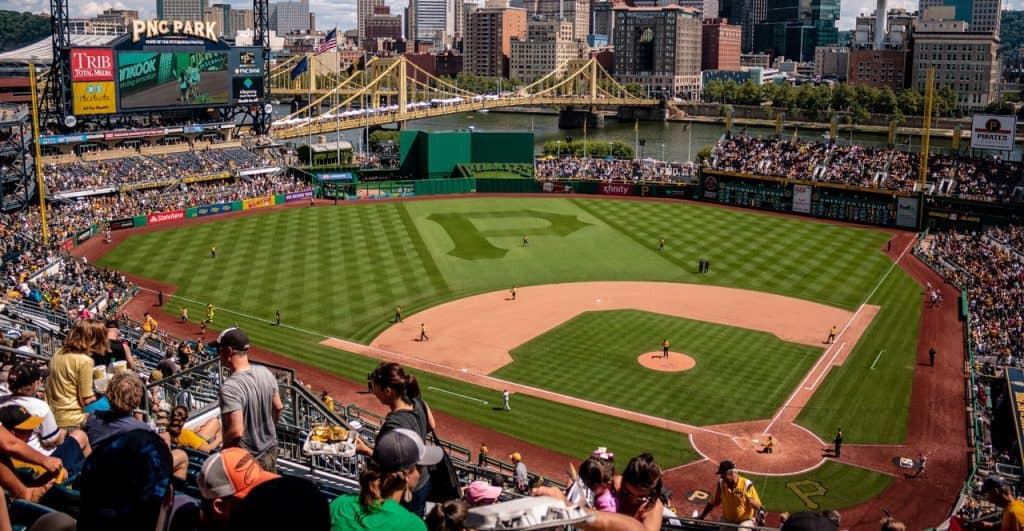 Pittsburgh Pirates TV Channels
Although some games will appear only on streaming services, almost all Pirates games will appear on national broadcasts our through their regional sports network (RSN).
National Channels
The majority of Major League Baseball (MLB) games that are broadcast to a national audience are shown on Fox, Fox Sports 1 (FS1), ESPN, TBS, and MLB Network. Some games will also appear on ABC and NBC.
All playoff games are broadcast nationwide. They will appear on the same channels, which are available on most major streaming services.
AT&T SportsNet Pittsburgh
AT&T SportsNet Pittsburgh is a regional sports network (RSN). Its primary focus is airing Pirates and Pittsburgh Penguins (NHL) games.
It is available throughout Pennsylvania with the exception of Philadelphia. Subscribers in portions of West Virginia, Ohio, New York, and Maryland are also eligible.
Watching the Pirates
There are various ways to watch Pirates games. Interestingly, this is the first season in which you cannot watch every game with cable. Some games can only be streamed.
Antenna

Fox (with possible games on ABC and NBC) is the only channel that broadcasts games over the air. This means that it is the only channel that is available to those using an antenna. But it does mean that you will be able to watch at least one Pirates game for free this season.
See our HD antenna guide for all the information on setting up and using an antenna.
Live TV Streaming Services
Many live TV streaming services will allow you to watch some Pirates games. But only two provide almost all of the games via AT&T SportsNet Pittsburgh.
DIRECTV STREAM

DIRECTV STREAM (formerly AT&T TV) offers AT&T Sportsnet Pittsburgh with its Choice plan for $89.99/mo. This plan also includes ESPN, FS1, MLB Network, TBS, and all the affiliate networks (eg, Fox).
All plans come with unlimited cloud DVR if you sign-up online. And they allow you to stream on up to 20 devices at once. Check out our DIRECTV STREAM review for more information.
FuboTV

FuboTV ($69.99/mo) is another, more affordable, option for receiving access to AT&T SportsNet Pittsburgh. It also includes ESPN, FS1, MLB Network, and all the network affiliates. And it includes a ton of other sports channels. It does not, however, offer TBS at this point.
The base plan comes with 1,000 hours of cloud DVR storage and streaming on up to 10 devices at home and 2 when away. For more information, see our FuboTV review.
Others
If you are okay with seeing only a handful of games each season these services will allow you to do that plus much more.
Specialty Streaming Services
Starting this year, a number of MLB games will only appear on Apple TV+ and Peacock. ESPN+ will also stream games but they will generally be available elsewhere.
Apple TV+: If you're looking to watch baseball on Friday nights, you can do so on Apple TV+. As of April 2022, you don't need a subscription to this service to watch Pirates games that may appear on this platform. However, that may change at some point during the 2022 season. A subscription costs $4.99/mo.
Peacock: NBC has partnered with MLB to show 18 regular-season games during the 2022 season. These games will typically air on Sunday afternoon, and they are only available with a Premium membership, which costs $4.99/mo. (Peacock review)
ESPN+: This service provides a broad selection of live sports in all areas. It shows a fair number of MLB games as well. Note, however, that blackout restrictions apply. So Pirates fans in the Pittsburgh area will be out of luck. ESPN+ costs $6.99/mo on its own or $13.99/mo as part of the Hulu bundle. It also comes standard with Hulu Live. (ESPN+ review)
MLB.TV
MLB.TV allows you to watch every regular season for $24.99/mo or $139.99/yr. If you just want to watch Pittsburgh Pirates games, you can purchase single team package for $119.99/yr. But there is a major limitation to MLB.TV.
It is only available for out-of-market games. If you are a Pirates fan in Miami, it's great! (Although you will miss out on the 7 games against the Marlins during the 2022 season.) But if you are a fan in Pennsylvania, you are out of luck and will need to get AT&T SportsNet Pittsburgh.
TVs and Devices to Live Stream Pittsburgh Pirates
FuboTV, DIRECTV STREAM, and MLB.TV all support these devices:
Amazon Fire TV
Android phones and tablets
Apple TV
Chromecast
iOS (iPhone, iPad)
Roku
Samsung smart TVs
Web browsers.
DIRECTV STREAM also has its own device, which you can purchase directly.
Fubo and MLB support Android TV and Xbox One devices.
FuboTV also supports these:
Hisense smart TVs
LG smart TVs
Vizio SmartCast TVs.
MLB.TV supports some PlayStation units.
Wrapping Up
The Pittsburgh Pirates have a proud history. And even though they've struggled recently, there is hope for the future.
To watch the 2022 version of this team, you have two main options. If you live in and around Pennsylvania, you should sign up with DIRECTV STREAM or FuboTV since they will provide you with AT&T SportsNet Pittsburgh.
For fans outside the broadcast area, MLB.TV is the right choice.
Frequently Asked Questions
Where can I watch tonight's Pirates game?
The majority of Pirates games will be shown on AT&T Sportsnet Pittsburgh. However, if a game is on national television, it will likely be shown on ESPN, Fox, FS1, TBS, or MLB Network. There is also a possibility that a given game will appear on Peacock (Sundays) or Apple+ TV (Fridays).
Where can I find the Pirates on the radio?
Most Pittsburgh Pirates games are available on Sportsradio 93.7 FM, which is the team's flagship station. It may also be possible to listen to games on KDKA 1020 AM, which is a regional affiliate of CBS Sports Radio. If you are outside of either station's broadcast area, it may be possible to listen to Pirates games by going directly to their websites or signing up for MLB Audio for $2.99/mo.
Can I watch Pirates broadcasts for free?
Pirates games that are broadcast on Fox may be available for free if you have an antenna. Games that are shown on Apple+ TV may also be shown for free during the 2022 season. However, games that are broadcast on national networks are only available on streaming services that charge a monthly fee.
Is it possible to stream Pirates games on my phone?
Most streaming services have dedicated apps that allow you to watch games on your phone. Alternatively, you can use a web browser to access a streaming account and watch games on your Android or iOS device with them. Additionally, AT&T SportsNet has its own app if you have access to the service.
What is the Pittsburgh Pirates 2022 schedule?
This year, the Pirates will play St Louis Cardinals, Chicago Cubs, Washington Nationals, Milwaukee Brewers, San Diego Padres, Detroit Tigers, Cincinnati Reds, Los Angeles Dodgers, Colorado Rockies, Arizona Diamondbacks, Atlanta Braves, San Francisco Giants, Tampa Bay Rays, New York Yankees, Miami Marlins, Philadelphia Phillies, Baltimore Orioles, Boston Red Sox, Toronto Blue Jays, and New York Mets.
Here is the complete Pirates regular-season schedule in EDT. Most games other than those noted should air on AT&T SportsNet Pittsburgh.
Thu Apr 7 4:15 pm: @ Cardinals
Sat Apr 9 2:15 pm: @ Cardinals
Sun Apr 10 2:15 pm: @ Cardinals
Mon Apr 11 2:15 pm: @ Cardinals
Tue Apr 12 4:12 pm: vs Cubs
Wed Apr 13 12:35 pm: vs Cubs
Thu Apr 14 6:35 pm: vs Nationals
Fri Apr 15 6:35 pm: vs Nationals
Sat Apr 16 6:35 pm: vs Nationals
Sun Apr 17 1:35 pm: vs Nationals
Mon Apr 18 7:40 pm: @ Brewers
Tue Apr 19 7:40 pm: @ Brewers
Wed Apr 20 1:40 pm: @ Brewers
Thu Apr 21 7:40 pm: @ Cubs (MLBN)
Fri Apr 22 2:20 pm: @ Cubs (MLBN)
Sat Apr 23 2:20 pm: @ Cubs
Sun Apr 24 2:20 pm: @ Cubs
Tue Apr 26 6:35 pm: vs Brewers
Wed Apr 27 6:35 pm: vs Brewers
Thu Apr 28 12:35 pm: vs Brewers
Fri Apr 29 6:35 pm: vs Padres
Sat Apr 30 6:35 pm: vs Padres
Sun May 1 1:35 pm: vs Padres
Tue May 3 7:10 pm: @ Tigers
Wed May 4 1:10 pm: @ Tigers
Fri May 6 6:40 pm: @ Reds
Sat May 7 12:35 pm: @ Reds
Sat May 7 6:40 pm: @ Reds
Sun May 8 1:40 pm: @ Reds
Mon May 9 6:35 pm: vs Dodgers
Tue May 10 6:35 pm: vs Dodgers
Wed May 11 12:35 pm: vs Dodgers
Thu May 12 6:35 pm: vs Reds
Fri May 13 6:35 pm: vs Reds
Sat May 14 6:35 pm: vs Reds
Sun May 15 1:35 pm: vs Reds
Mon May 16 7:40 pm: @ Cubs
Tue May 17 7:40 pm: @ Cubs
Wed May 18 7:40 pm: @ Cubs
Fri May 20 6:35 pm: vs Cardinals (Apple TV+)
Sat May 21 6:35 pm: vs Cardinals
Sun May 22 1:35 pm: vs Cardinals (Peacock)
Mon May 23 6:35 pm: vs Rockies
Tue May 24 6:35 pm: vs Rockies
Wed May 25 12:35 pm: vs Rockies
Fri May 27 9:40 pm: @ Padres
Sat May 28 10:10 pm: @ Padres
Sun May 29 4:10 pm: @ Padres
Mon May 30 10:10 pm: @ Dodgers
Tue May 31 10:10 pm: @ Dodgers
Wed Jun 1 8:10 pm: @ Dodgers
Fri Jun 3 7:05 pm: vs D-backs
Sat Jun 4 4:05 pm: vs D-backs
Sun Jun 5 1:35 pm: vs D-backs
Tue Jun 7 7:05 pm: vs Tigers
Wed Jun 8 12:35 pm: vs Tigers
Thu Jun 9 7:20 pm: @ Braves
Fri Jun 10 7:20 pm: @ Braves
Sat Jun 11 4:10 pm: @ Braves
Sun Jun 12 1:35 pm: @ Braves
Mon Jun 13 7:45 pm: @ Cardinals
Tue Jun 14 7:45 pm: @ Cardinals
Wed Jun 15 7:45 pm: @ Cardinals
Fri Jun 17 7:05 pm: vs Giants
Sat Jun 18 4:05 pm: vs Giants
Sun Jun 19 1:35 pm: vs Giants
Mon Jun 20 7:05 pm: vs Cubs
Tue Jun 21 7:05 pm: vs Cubs
Wed Jun 22 7:05 pm: vs Cubs
Thu Jun 23 12:35 pm: vs Cubs
Fri Jun 24 7:10 pm: @ Rays
Sat Jun 25 1:10 pm: @ Rays
Sun Jun 26 1:40 pm: @ Rays
Mon Jun 27 7:05 pm: @ Nationals
Tue Jun 28 7:05 pm: @ Nationals
Wed Jun 29 1:05 pm: @ Nationals
Thu Jun 30 7:05 pm: vs Brewers
Fri Jul 1 7:05 pm: vs Brewers
Sat Jul 2 4:05 pm: vs Brewers
Sun Jul 3 1:35 pm: vs Brewers
Tue Jul 5 7:05 pm: vs Yankees
Wed Jul 6 7:05 pm: vs Yankees
Thu Jul 7 6:40 pm: @ Reds
Fri Jul 8 8:10 pm: @ Brewers
Sat Jul 9 4:10 pm: @ Brewers
Sun Jul 10 2:10 pm: @ Brewers
Mon Jul 11 6:40 pm: @ Marlins
Tue Jul 12 6:40 pm: @ Marlins
Wed Jul 13 6:40 pm: @ Marlins
Thu Jul 14 12:10 pm: @ Marlins
Fri Jul 15 8:40 pm: @ Rockies
Sat Jul 16 3:10 pm: @ Rockies
Sun Jul 17 3:10 pm: @ Rockies
Fri Jul 22 7:05 pm: vs Marlins
Sat Jul 23 7:05 pm: vs Marlins
Sun Jul 24 1:35 pm: vs Marlins
Mon Jul 25 8:05 pm: @ Cubs
Tue Jul 26 2:20 pm: @ Cubs
Thu Jul 28 7:05 pm: vs Phillies
Fri Jul 29 7:05 pm: vs Phillies
Sat Jul 30 7:15 pm: vs Phillies (Fox)
Sun Jul 31 1:35 pm: vs Phillies
Tue Aug 2 7:05 pm: vs Brewers
Wed Aug 3 7:05 pm: vs Brewers
Thu Aug 4 12:35 pm: vs Brewers
Fri Aug 5 7:05 pm: @ Orioles
Sat Aug 6 7:05 pm: @ Orioles
Sun Aug 7 1:35 pm: @ Orioles
Mon Aug 8 9:40 pm: @ D-backs
Tue Aug 9 9:40 pm: @ D-backs
Wed Aug 10 9:40 pm: @ D-backs
Thu Aug 11 3:40 pm: @ D-backs
Fri Aug 12 10:15 pm: @ Giants
Sat Aug 13 9:05 pm: @ Giants
Sun Aug 14 4:05 pm: @ Giants
Tue Aug 16 7:05 pm: vs Red Sox
Wed Aug 17 7:05 pm: vs Red Sox
Thu Aug 18 7:05 pm: vs Red Sox
Fri Aug 19 7:05 pm: vs Reds
Sat Aug 20 7:05 pm: vs Reds
Sun Aug 21 1:35 pm: vs Reds
Mon Aug 22 7:05 pm: vs Braves
Tue Aug 23 7:05 pm: vs Braves
Wed Aug 24 12:35 pm: vs Braves
Fri Aug 26 7:05 pm: @ Phillies
Sat Aug 27 6:05 pm: @ Phillies
Sun Aug 28 1:35 pm: @ Phillies
Mon Aug 29 8:10 pm: @ Brewers
Tue Aug 30 8:10 pm: @ Brewers
Wed Aug 31 2:10 pm: @ Brewers
Fri Sep 2 6:35 pm: vs Blue Jays
Sat Sep 3 6:35 pm: vs Blue Jays
Sun Sep 4 1:35 pm: vs Blue Jays
Mon Sep 5 12:35 pm: vs Mets
Tue Sep 6 6:35 pm: vs Mets
Wed Sep 7 6:35 pm: vs Mets
Fri Sep 9 6:35 pm: vs Cardinals
Sat Sep 10 6:35 pm: vs Cardinals
Sun Sep 11 1:35 pm: vs Cardinals
Mon Sep 12 6:40 pm: @ Reds
Tue Sep 13 12:35 pm: @ Reds
Tue Sep 13 6:40 pm: @ Reds
Wed Sep 14 12:35 pm: @ Reds
Thu Sep 15 7:10 pm: @ Mets
Fri Sep 16 7:10 pm: @ Mets
Sat Sep 17 7:10 pm: @ Mets
Sun Sep 18 1:40 pm: @ Mets
Tue Sep 20 7:05 pm: @ Yankees
Wed Sep 21 7:05 pm: @ Yankees
Thu Sep 22 6:35 pm: vs Cubs
Fri Sep 23 6:35 pm: vs Cubs
Sat Sep 24 6:35 pm: vs Cubs
Sun Sep 25 1:35 pm: vs Cubs
Mon Sep 26 6:35 pm: vs Reds
Tue Sep 27 6:35 pm: vs Reds
Wed Sep 28 12:35 pm: vs Reds
Fri Sep 30 8:15 pm: @ Cardinals
Sat Oct 1 7:15 pm: @ Cardinals
Sun Oct 2 2:15 pm: @ Cardinals
Mon Oct 3 6:35 pm: vs Cardinals
Tue Oct 4 6:35 pm: vs Cardinals
Wed Oct 5 TBD: vs Cardinals
Latest posts by Frank Moraes
(see all)