Disclosure:
Your support helps keep our site running! We earn referral fees for some of the products & services we recommend.
Learn more
If you are a Padres fan who wants to watch almost all games of the regular season, you have options depending on where you live. Read on to learn everything.
In a hurry? Fans who live outside the San Diego area can watch most Padres games live with MLB.TV for $24.99/mo. Local fans should get Bally Sports San Diego. To get it without cable, you have one option: the DIRECTV STREAM Choice plan for $89.99/mo. A 5-day free trial is now available for DIRECTV STREAM.
The San Diego Padres and their star players, such as Fernando Tatis Jr and Manny Machado, are looking for a breakthrough season to get America's Finest City excited about baseball once again.
They did have a hint of that in 2020, but that is still the team's lone winning record since 2010 and only playoff appearance since 2006. However, San Diego's 2021 campaign was promising for much of it, and the future may be bright.
Are you a fan of the Padres or simply curious about what that future holds for the franchise? If yes and you want to see them play as often as possible, you will want to secure access to Bally Sports San Diego's game broadcasts.
This can be achieved by through either a subscription to DIRECTV STREAM ($89.99/mo) for those in that channel's broadcast area or MLB.TV ($24.99/mo) for fans who are not blacked out from Padres broadcasts because of their location.
About the Padres
San Diego is the only metropolitan area to be home to a Major League Baseball team and no other franchises in any of the other major sports leagues (NFL, NBA, NHL, and MLS). This became the case when the NFL's San Diego Chargers became the Los Angeles Chargers in 2017.
The Padres are also the newest of the five California-based baseball teams. This expansion franchise started play in 1969, a year after the Athletics moved from Kansas City to Oakland. It has only played in two stadiums in its history: Qualcomm Stadium (1969-2003) and Petco Park (2004-present).
San Diego, playing in the NL West, is also the only California-based franchise to have never won the World Series. The best seasons in Padres history, when they won National League pennants, were in 1984 and 1998. Other playoff appearances occurred in 1996, 2005, 2006, and 2020.
After the Padres impressed with a 37-23 record in 2020, hopes were high in 2021. And the team lived up to those but only for part of the season. San Diego had a 66-49 record through 115 games and were on pace for 93 wins, which would have gotten the Padres into the playoffs.
However, their stretch drive went horribly as they went 13-34 the rest of the way and finished 11 games out of the playoffs.
Padres TV Channels
Bally Sports San Diego is the full-time home of the San Diego Padres. It broadcasts all games played by the club that are not shown exclusively on national or regional channels or have been selected for an online broadcast.
Prior to the 2021 season, it was announced that 153 of 162 regular-season games would be shown on this regional sports network. This year, it is 158.
For the rest of the broadcasted games, options include your local Fox, NBC, or ABC affiliates, ESPN, TBS, Fox Sports 1 (FS1), or MLB Network. Currently, 9 games will appear on national channels as well as Bally Sports and 3 will show exclusively on Fox or ESPN.
In addition, a small selection of games will be exclusively streamed by Apple TV+ and Peacock Premium. Currently, only one game is scheduled for Apple TV+.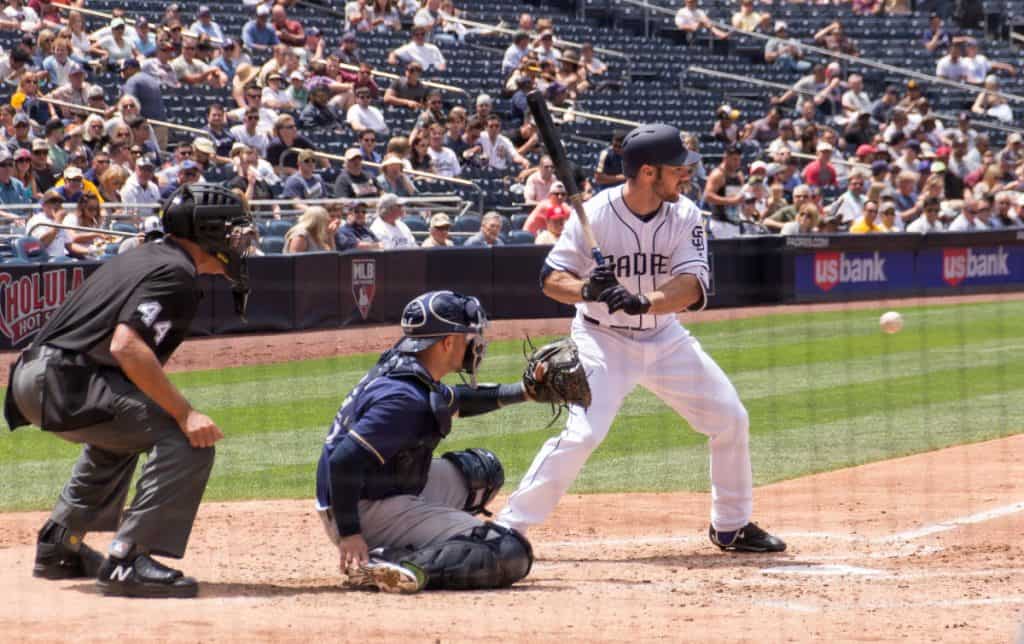 Watching the Padres
There are many ways to watch at least some Padres games.
Antenna

When the Padres are being shown on Fox, ABC, or NBC, all that you need in order to catch the action is an antenna. Do note that appearances on Fox will be a lot more likely than ones on ABC or NBC. Also keep in mind that if the Padres return to the World Series, those games will be on Fox. Currently, two games are scheduled to appear on Fox.
For more information about using an antenna, see our guide.
Streaming
It is only via streaming that you can watch every Padres game this season.
Live TV Streaming Services

DIRECTV STREAM (formerly AT&T TV) provides the lone option for cord-cutters looking to watch Bally Sports San Diego and its Padres broadcasts. However, note that you need to be located in its broadcast area to get this channel through this streaming service's Choice plan ($89.99/mo).
It is available in San Diego and points to the east, including California's San Diego and Imperial Counties and southern Arizona's Yuma and Tucson, and Las Vegas. It is also available in Hawaii. Subscribers may also watch Fox, ABC, NBC, ESPN, TBS, FS1, and MLB Network.
All plans come with unlimited cloud DVR (online sign-up) and simultaneous streaming on up to 20 devices. See our DIRECTV STREAM review for more information.
If you are not located in a place that is eligible to receive Bally Sports San Diego or do not mind not having that channel, then your streaming service options open up. Other ones to consider include Hulu + Live TV ($69.99/mo), Sling TV ($50/mo), FuboTV ($69.99/mo), Vidgo ($59.95/mo), and YouTube TV ($64.99/mo)
Specialty Streaming Services
Increasingly, MLB games appear live on streaming-only services.
Apple TV+ ($4.99/mo): Exclusively streaming two MLB games every Friday, and those will periodically feature the Padres. The club's first appearance on Apple TV+ was set for May 13, 2022, an away game versus the Atlanta Braves.
Peacock Premium ($4.99/mo): Also exclusively streaming baseball games with its expected to be on Sundays. The Padres should be a part of those streams as well. (Peacock review)
ESPN+ ($6.99/mo): Provides streams of Padres and other baseball games throughout the season, but keep in mind that this option is generally more advantageous for out-of-market fans due to blackout restrictions that are generally imposed. (ESPN+ review)
MLB.TV

As long as you are situated outside of the San Diego Padres' blackout region, MLB.TV ($24.99/mo or $139.99/yr) is a solid option to consider for watching Bally Sports San Diego-broadcast games. It provides access to all out-of-market games but for slightly less ($119.99/yr), you can get a single team plan for just the Padres.
That blackout area covers the southern part of Southern California (not the LA metropolitan area) and the southern portions of Arizona and Nevada as well as Hawaii.
Everyone else will get to watch those telecasts except for when the Padres play a local team. For example, Padres-Giants broadcasts are blacked out to MLB.TV subscribers in the Bay Area.
Note that MLB.TV does provide access to exclusive nationally televised games and this includes all playoff contests. So you will normally want to combine MLB.TV with a live TV streaming service.
Devices and TVs to Live Stream Padres Games
Both MLB.TV and DIRECTV STREAM support most devices:
Amazon Fire TV
Android mobile devices
Apple TV
Chromecast
iOS mobile devices
Roku
Samsung smart TVs
Web browsers.
DIRECTV STREAM offers its own device. That can be nice because it means all your streaming is covered by a single company so there's only one place to go when you have a problem.
MLB.TV supports devices based on the Android TV standard. It also supports Xbox One and PlayStation units.
The other streaming services offer pretty much the same support. Our streaming reviews have complete details.
Wrapping Up
Fans who want to watch the San Diego Padres on a regular basis should, in most cases, subscribe to DIRECTV STREAM ($89.99/mo) if in Bally Sports San Diego's broadcast area or MLB.TV ($24.99/mo) if outside of the club's blackout region.
FAQs
Where can I watch tonight's Padres game on TV?
In most cases, you can watch tonight's game on Bally Sports San Diego as it broadcasts around 95% of the regular-season games that the team plays. Other possibilities include Fox, ABC, NBC, Fox Sports 1, ESPN, TBS, and MLB Network. Also consider that it might instead be exclusively streamed by Apple TV+ or Peacock Premium (both $4.99/mo).
How can I listen to the Padres on the radio?
If you are in or near the San Diego-Tijuana metropolitan area, you will want to tune into either 97.3 The Fan or La Poderosa 860 AM to listen to Padres radio broadcasts. The former features English-speaking commentators while the latter option is for those who prefer to listen to the action in Spanish. Note that all of those radio broadcasts are available online to those subscribing to MLB Radio ($2.99/mo) or MLB.TV ($24.99/mo).
Is there a way to watch Padres games for free?
Yes, there is. Those who are outside of the club's blackout area can periodically check out the team's contests thanks to the MLB.TV Free Game of the Day. Another option for fans who have an antenna is to view Padres games that have been selected for regional or national coverage on a network television outlet, such as Fox, ABC, or NBC.
How do I stream Padres games on my phone?
If you subscribe to DIRECTV STREAM ($89.99/mo) and watch Bally Sports San Diego-produced Padres broadcasts through either the DIRECTV STREAM or Bally Sports apps. Conversely, those who instead utilize MLB.TV ($24.99/mo) to watch many of those broadcasts (out-of-market fans) can do the same after downloading the MLB app.
What is the San Diego Padres 2022 schedule?
This year, the Padres will play against (in order) Arizona Diamondbacks, San Francisco Giants, Atlanta Braves, Cincinnati Reds, Los Angeles Dodgers, Pittsburgh Pirates, Cleveland Guardians, Miami Marlins, Chicago Cubs, Philadelphia Phillies, Milwaukee Brewers, St Louis Cardinals, New York Mets, Colorado Rockies, Seattle Mariners, Detroit Tigers, Minnesota Twins, Washington Nationals, Kansas City Royals, and the Chicago White Sox.
Here is the complete Padres regular-season schedule (EDT). Most games other than those on Fox and Apple TV+ should air on Bally Sports San Diego.
Thu Apr 7 9:40 pm: @ D-backs
Fri Apr 8 9:40 pm: @ D-backs
Sat Apr 9 8:10 pm: @ D-backs
Sun Apr 10 4:10 pm: @ D-backs
Mon Apr 11 9:45 pm: @ Giants (MLBN)
Tue Apr 12 9:45 pm: @ Giants
Wed Apr 13 3:45 pm: @ Giants (MLBN)
Thu Apr 14 8:10 pm: vs Braves
Fri Apr 15 9:40 pm: vs Braves
Sat Apr 16 4:05 pm: vs Braves (FS1)
Sun Apr 17 7:08 pm: vs Braves (ESPN)
Mon Apr 18 9:40 pm: vs Reds
Tue Apr 19 9:40 pm: vs Reds
Wed Apr 20 4:10 pm: vs Reds
Fri Apr 22 9:40 pm: vs Dodgers
Sat Apr 23 8:40 pm: vs Dodgers (MLBN)
Sun Apr 24 4:10 pm: vs Dodgers (MLBN)
Tue Apr 26 6:40 pm: @ Reds
Wed Apr 27 6:40 pm: @ Reds
Thu Apr 28 12:35 pm: @ Reds
Fri Apr 29 6:35 pm: @ Pirates
Sat Apr 30 6:35 pm: @ Pirates
Sun May 1 1:35 pm: @ Pirates
Tue May 3 6:10 pm: @ Guardians
Wed May 4 1:10 pm: @ Guardians
Thu May 5 9:40 pm: vs Marlins
Fri May 6 9:40 pm: vs Marlins
Sat May 7 8:40 pm: vs Marlins
Sun May 8 4:10 pm: vs Marlins
Mon May 9 9:40 pm: vs Cubs
Tue May 10 9:40 pm: vs Cubs
Wed May 11 4:10 pm: vs Cubs
Fri May 13 7:20 pm: @ Braves (Apple TV+)
Sat May 14 4:05 pm: @ Braves (FS1)
Sun May 15 1:35 pm: @ Braves (Peacock)
Tue May 17 6:45 pm: @ Phillies
Wed May 18 6:45 pm: @ Phillies
Thu May 19 1:05 pm: @ Phillies
Fri May 20 10:15 pm: @ Giants
Sat May 21 4:05 pm: @ Giants (FS1)
Sun May 22 4:05 pm: @ Giants
Mon May 23 9:40 pm: vs Brewers
Tue May 24 9:40 pm: vs Brewers (TBS)
Wed May 25 4:10 pm: vs Brewers
Fri May 27 9:40 pm: vs Pirates
Sat May 28 10:10 pm: vs Pirates
Sun May 29 4:10 pm: vs Pirates
Mon May 30 2:15 pm: @ Cardinals
Tue May 31 7:45 pm: @ Cardinals
Wed Jun 1 1:15 pm: @ Cardinals
Thu Jun 2 7:40 pm: @ Brewers
Fri Jun 3 8:10 pm: @ Brewers
Sat Jun 4 4:10 pm: @ Brewers
Sun Jun 5 2:10 pm: @ Brewers
Mon Jun 6 9:40 pm: vs Mets
Tue Jun 7 9:40 pm: vs Mets
Wed Jun 8 9:40 pm: vs Mets
Fri Jun 10 9:40 pm: vs Rockies
Sat Jun 11 4:10 pm: vs Rockies
Sat Jun 11 10:10 pm: vs Rockies
Sun Jun 12 4:10 pm: vs Rockies
Mon Jun 13 8:05 pm: @ Cubs
Tue Jun 14 8:05 pm: @ Cubs
Wed Jun 15 8:05 pm: @ Cubs
Thu Jun 16 2:20 pm: @ Cubs
Fri Jun 17 8:40 pm: @ Rockies
Sat Jun 18 9:10 pm: @ Rockies
Sun Jun 19 3:10 pm: @ Rockies
Mon Jun 20 9:40 pm: vs D-backs
Tue Jun 21 9:40 pm: vs D-backs
Wed Jun 22 4:10 pm: vs D-backs
Thu Jun 23 9:40 pm: vs Phillies
Fri Jun 24 9:40 pm: vs Phillies
Sat Jun 25 10:10 pm: vs Phillies
Sun Jun 26 4:10 pm: vs Phillies
Tue Jun 28 9:40 pm: @ D-backs
Wed Jun 29 3:40 pm: @ D-backs
Thu Jun 30 10:10 pm: @ Dodgers (FS1)
Fri Jul 1 10:10 pm: @ Dodgers
Sat Jul 2 7:15 pm: @ Dodgers (Fox)
Sun Jul 3 4:10 pm: @ Dodgers
Mon Jul 4 6:40 pm: vs Mariners
Tue Jul 5 4:10 pm: vs Mariners
Thu Jul 7 9:40 pm: vs Giants
Fri Jul 8 9:40 pm: vs Giants
Sat Jul 9 7:15 pm: vs Giants (Fox)
Sun Jul 10 4:10 pm: vs Giants
Mon Jul 11 8:40 pm: @ Rockies
Tue Jul 12 8:40 pm: @ Rockies
Wed Jul 13 8:40 pm: @ Rockies
Thu Jul 14 3:10 pm: @ Rockies
Fri Jul 15 9:40 pm: vs D-backs
Sat Jul 16 8:40 pm: vs D-backs
Sun Jul 17 4:10 pm: vs D-backs
Fri Jul 22 7:10 pm: @ Mets
Sat Jul 23 7:10 pm: @ Mets
Sun Jul 24 1:40 pm: @ Mets
Mon Jul 25 7:10 pm: @ Tigers
Tue Jul 26 7:10 pm: @ Tigers
Wed Jul 27 1:10 pm: @ Tigers
Fri Jul 29 9:40 pm: vs Twins
Sat Jul 30 8:40 pm: vs Twins
Sun Jul 31 4:10 pm: vs Twins
Mon Aug 1 9:40 pm: vs Rockies
Tue Aug 2 4:10 pm: vs Rockies
Tue Aug 2 10:10 pm: vs Rockies
Wed Aug 3 9:40 pm: vs Rockies
Thu Aug 4 4:10 pm: vs Rockies
Fri Aug 5 10:10 pm: @ Dodgers
Sat Aug 6 9:10 pm: @ Dodgers
Sun Aug 7 4:10 pm: @ Dodgers
Mon Aug 8 9:40 pm: vs Giants
Tue Aug 9 9:40 pm: vs Giants
Wed Aug 10 4:10 pm: vs Giants
Fri Aug 12 7:05 pm: @ Nationals
Sat Aug 13 7:05 pm: @ Nationals
Sun Aug 14 1:35 pm: @ Nationals (Peacock)
Mon Aug 15 6:40 pm: @ Marlins
Tue Aug 16 6:40 pm: @ Marlins
Wed Aug 17 4:10 pm: @ Marlins
Thu Aug 18 9:40 pm: vs Nationals
Fri Aug 19 9:40 pm: vs Nationals
Sat Aug 20 8:40 pm: vs Nationals
Sun Aug 21 4:10 pm: vs Nationals
Tue Aug 23 9:40 pm: vs Guardians
Wed Aug 24 4:10 pm: vs Guardians
Fri Aug 26 8:10 pm: @ Royals
Sat Aug 27 7:10 pm: @ Royals
Sun Aug 28 2:10 pm: @ Royals
Mon Aug 29 9:45 pm: @ Giants
Tue Aug 30 9:45 pm: @ Giants
Wed Aug 31 3:45 pm: @ Giants
Fri Sep 2 10:10 pm: @ Dodgers
Sat Sep 3 9:10 pm: @ Dodgers
Sun Sep 4 4:10 pm: @ Dodgers
Mon Sep 5 6:40 pm: vs D-backs
Tue Sep 6 9:40 pm: vs D-backs
Wed Sep 7 8:40 pm: vs D-backs (FS1)
Fri Sep 9 9:40 pm: vs Dodgers
Sat Sep 10 8:40 pm: vs Dodgers
Sun Sep 11 4:10 pm: vs Dodgers
Tue Sep 13 9:40 pm: @ Mariners
Wed Sep 14 4:10 pm: @ Mariners
Thu Sep 15 9:40 pm: @ D-backs
Fri Sep 16 9:40 pm: @ D-backs
Sat Sep 17 8:10 pm: @ D-backs
Sun Sep 18 4:10 pm: @ D-backs
Tue Sep 20 9:40 pm: vs Cardinals
Wed Sep 21 9:40 pm: vs Cardinals
Thu Sep 22 4:10 pm: vs Cardinals
Fri Sep 23 8:10 pm: @ Rockies
Sat Sep 24 8:10 pm: @ Rockies
Sun Sep 25 3:10 pm: @ Rockies
Tue Sep 27 9:40 pm: vs Dodgers
Wed Sep 28 9:40 pm: vs Dodgers
Thu Sep 29 9:40 pm: vs Dodgers
Fri Sep 30 9:40 pm: vs White Sox
Sat Oct 1 8:40 pm: vs White Sox
Sun Oct 2 4:10 pm: vs White Sox
Mon Oct 3 9:40 pm: vs Giants
Tue Oct 4 9:40 pm: vs Giants
Wed Oct 5 TBD: vs Giants
Latest posts by Frank Moraes
(see all)