Disclosure:
Your support helps keep our site running! We earn referral fees for some of the products & services we recommend.
Learn more
There is no problem watching the whole San Francisco Giants season without cable. But it is a bit complicated. Read on to learn everything you need to know.
In a hurry? The following streaming services will let you watch pretty much every game of the regular season:
DIRECTV STREAM: Get all the channels to watch the regular and post-season games with the Choice plan. A 5-day free trial is now available for DIRECTV STREAM.
FuboTV: This sports-heavy service provides everything you need to enjoy the season. FuboTV allows you to try out its service free for 7 days.
Hulu + Live TV: Probably the best overall streaming service also provides great coverage of the Giants.
The San Francisco Giants are one of Major League Baseball's most popular teams. It has also been amongst the most successful on the field for much of the past decade-plus, including recording MLB's best regular-season record in 2021 and claiming World Series titles in 2010, 2012, and 2014.
How can you stream most Giants games? If you are the team's local market, you will need to secure access to NBC Sports Bay Area, which you can get from live TV streaming services like DIRECTV STREAM and FuboTV. If you are not, MLB.TV ($24.99/mo) will have you covered.
About the Giants
The Giants have one of the oldest histories in MLB, having first hit the field in 1883. In fact, most of its history was recorded on the other side of the country, in New York. The team joined the National League for its inaugural season, replacing a team that was in Troy, NY, just outside the state capital of Albany.
Heading into the 2022 campaign, the club has claimed 23 NL pennants, the first in 1888 and 17 of them while the team was in New York. Included during the team's time there were World Series titles in 1905, 1921, 1922, 1933, and 1954.
After making the move to San Francisco, the club did not experience as much success. It only won one pennant, in 1962, from its first year in San Francisco in 1958 until its second NL title in 1989.
However, the 2010s were a spectacular decade for the Giants as they won three World Series titles in a five-year span, in 2010, 2012, and 2014. Another NL pennant was claimed in the previous decade, in 2002.
The team's 2021 campaign was an incredible one, albeit with a heartbreaking conclusion. The Giants and Los Angeles Dodgers battled the entire season not only for the NL West Division crown but also for the top record in all of MLB. Although the Giants took it on the last day of the season by a game over their rivals, the Dodgers earned a measure of revenge by eliminating the Giants in a NL Division Series showdown, 3-2.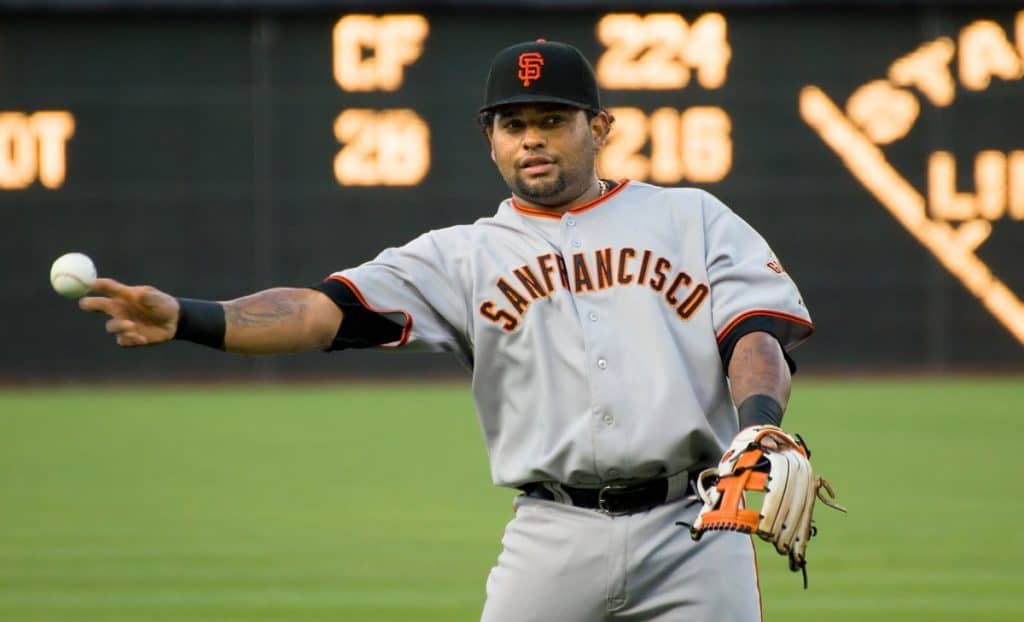 Giants TV Channels
The vast majority of Giants games are broadcast locally on NBC Sports Bay Area. That is a regional sports network that focuses on the Giants and the NBA's Golden State Warriors.
It is available to those situated in Northern California down to Fresno, in Oregon up to Eugene, and in Nevada and Hawaii. Note that when the Giants and Warriors play at the same time, one is moved to NBC Sports Bay Area Plus.
In addition, the Giants are one of the rare MLB teams that have local broadcasts on an over-the-air outlet. In this case, that is NBC Bay Area (KNTV).
For example, as the Giants and Dodgers fought down the stretch of the 2021 campaign, five Friday night games in August and September were shown here, including a Bay Bridge Series game with the Oakland Athletics and a showdown with the Dodgers.
Also, as one of MLB's most popular teams, you can expect the team to be regularly featured on a national basis. These can include games on Fox, ESPN, TBS, Fox Sports 1 (FS1), ABC, NBC, and MLB Network. Also, some games may only be available online through Apple TV+ and Peacock Premium.
Watching the Giants
How can you watch the San Francisco Giants play? Fortunately, you have a number of options available.
Antenna
Simply using an antenna will provide you with access to a number of MLB games, including any World Series contests that the Giants play in. This setup will allow you to watch all games shown nationally and regionally on Fox, nationally on NBC and ABC, and locally on NBC Bay Area.
See our HD antenna guide for complete information.
Streaming
A number of streaming services will offer you numerous San Francisco Giants broadcasts, especially if NBC Sports Bay Area is available to you.
Streaming services that you may want to consider subscribing to that do not offer NBC Sports Bay Area include Vidgo ($59.95/mo) and Sling TV ($35/mo). Sling Blue was a solid option for local Giants fans until NBC's regional sports networks were removed from that streaming service just before the 2021 season.
Specialty Streaming Services
Increasingly, MLB games appear (sometimes exclusively) on streaming services outside of live TV channels:
Apple TV+: This is an option for watching baseball games, starting with the 2022 campaign. It will exclusively show two games on Friday evenings throughout the season. It costs $4.99/mo.
Peacock Premium: Is also exclusively streaming games, so it may be necessary to subscribe to this streaming service in order to watch Giants contests. Peacock's MLB streams are on Sundays. It costs $4.99/mo. (Peacock review)
ESPN+: Expected to carry games on a regular basis throughout the season, but note that any that it does stream are subject to blackout restrictions, so this is mainly an option for out-of-market fans. It costs $6.99/mo but it's a better deal with the Hulu Bundle. (ESPN+ review)
MLB.TV
MLB.TV allows you to watch all out-of-market games. This makes it an outstanding option to watch Giants games as long as you are located outside of the team's blackout area. Even fans inside the blackout area can watch but they must wait 90 minutes after a game ends. It costs $24.99/mo but you can get it for a bit less if you get a Single Team plan.
Note that you cannot watch any games whatsoever played by teams that you are blacked out from. In other words, if you are in St Louis, you cannot watch Giants-Cardinals games through MLB.TV. Many national broadcasts are blacked out as well.
Radio
Turning on your radio or subscribing to MLB Audio ($2.99/mo) allows you to listen to every Giants game.
Live Stream San Francisco Giants With These Devices
All the main live TV and on-demand streaming services we've discussed plus MLB.TV allow you to stream Giants games live on the following:
Amazon Fire TV
Android mobile devices
Apple TV
Chromecast
iOS mobile devices
Roku
Samsung smart TVs
Web browsers.
Other than DIRECTV STREAM (which allows you to use its own device), they all support Android TV devices and Xbox gaming systems. Several also support PlayStation units.
For complete lists of supported devices, see our streaming reviews.
Wrapping Up
San Francisco Giants fans can watch their favorite team play through a variety of means. Those in NBC Sports Bay Area's coverage area can stream games on that channel through services such as DIRECTV STREAM ($89.99/mo) and Hulu Live ($69.99/mo).
Conversely, fans who are outside of the team's blackout area can instead watch those broadcasts through MLB.TV ($24.99/mo). Games will periodically be instead shown through other channels or specialty streaming services.
FAQs
What channel will tonight's Giants game be on?
In most cases, tonight's Giants game will be on NBC Sports Bay Area. If today is Friday, it might be on NBC Bay Area or streamed exclusively through Apple TV+. On Saturdays, games are sometimes shown on Fox. Is today Sunday? Peacock Premium or ESPN is a possibility. TBS, FS1, ABC, and NBC are other possibilities. Meanwhile, if tonight's game is a postseason contest, it will not be on NBC Sports Bay Area.
How do I find the Giants game on the radio?
For many people, tuning into 680 AM or 104.5 FM for KNBR will get you the radio broadcast of today's game. There are other radio stations located in Northern California and Hawaii that also broadcast games in English and Spanish. Those radio broadcasts are available worldwide through an MLB Radio subscription ($2.99/mo).
How can I watch Giants games for free?
If you are located outside of the Giants' blackout area, you can periodically watch Giants games for free when they are featured on the MLB.TV Free Game of the Day. Also, if you own an antenna, you can view a selection of games throughout the season on Fox, NBC, and ABC, keeping in mind that NBC Bay Area shows some contests to those within its signal's reach as well.
Can I watch Giants games on my phone?
Yes, you can watch Giants games on your phone, through a series of apps. For example, most Giants games may be viewed locally through the NBC Sports app. An option for Giants games on ESPN is through the ESPN app as long as you have the appropriate login credentials. ESPN+ access can also be enjoyed here. Meanwhile, those who subscribed to MLB.TV and can watch Giants games through it may use the MLB app.
What is the 2022 SF Giants Schedule?
This regular season, the Giants will face Maimi Marlins, San Diego Padres, Cleveland Guardians, New York Mets, Washington National, Milwaukee Brewers, Oakland Athletics, Los Angeles Dodgers, St Louis Cardinals, Colorado Rockies, Cincinnati Reds, Philadelphia Phillies, Pittsburgh Pirates, Atlanta Braves, Detroit Tigers, Chicago White Sox, Arizona Diamondbacks, Chicago Cubs, and Minnesota Twins.
Below is the 2022 Giants schedule. All the games will be on NBC Sports Bay Area and MLB.TV except for those noted.
Apr 8 4:35 pm: Marlins
Apr 9 4:05 pm: Marlins
Apr 10 4:05 pm: Marlin
Apr 11 9:45 pm: Padres
Apr 12 9:45 pm: Padres
Apr 13 3:45 pm: Padres (MLBN)
Apr 15 7:10 pm: @ Guardians
Apr 16 6:10 pm: @ Guardians
Apr 17 10:40 pm: @ Guardians
Apr 18 7:10 pm: @ Mets
Apr 19 7:10 pm: @ Mets (MLBN)
Apr 20 7:10 pm: @ Mets (MLBN)
Apr 21 1:10 pm: @ Mets
Apr 22 7:05 pm: @ Nationals
Apr 23 1:05 pm: @ Nationals (MLBN)
Apr 24 1:35 pm: @ Nationals
Apr 25 6:10 pm: @ Brewers
Apr 26 9:45 pm: Athletics (MLBN)
Apr 27 9:45 pm: Athletics
Apr 29 10:15 pm: Nationals (Apple TV+)
Apr 30 4:05 pm: Nationals
May 1 4:05 pm: Nationals
May 3 10:10 pm: @ Dodgers (TBS)
May 4 10:10 pm: @ Dodgers
May 5 9:45 pm: Cardinals
May 6 10:15 pm: Cardinals
May 7 7:15 pm: Cardinals (FS1)
May 8 4:05 pm: Cardinals
May 9 9:45 pm: Rockies
May 10 9:45 pm: Rockies
May 11 3:45 pm: Rockies
May 13 8:15 pm: @ Cardinals
May 14 2:15 pm: @ Cardinals
May 15 7:08 pm: @ Cardinals (ESPN)
May 16 8:40 pm: @ Rockies
May 17 8:40 pm: @ Rockies
May 18 3:10 pm: @ Rockies
May 20 10:15 pm: Padres
May 21 3:05 pm: Padres (FS1)
May 22 3:05 pm: Padres
May 23 9:45 pm: Mets
May 24 9:45 pm: Mets
May 25 3:45 pm: Mets
May 27 6:40: @ Reds
May 28 3:10 pm: @ Reds
May 29 1:40 pm: @ Reds (Peacock)
May 30 4:05 pm: @ Phillies
May 31 6:45 pm: @ Phillies
Jun 1 6:05 pm: @ Phillies
Jun 2 6:40 pm: @ Marlins
Jun 3 6:40 pm: @ Marlins
Jun 4 1:40 pm: @ Marlins
Jun 5 1:40 pm: @ Marlins
Jun 7 9:45 pm: Rockies
Jun 8 9:45 pm: Rockies
Jun 9 3:45 pm: Rockies
Jun 10 10:15 pm: Dodgers
Jun 11 7:15 pm: Dodgers (Fox)
Jun 12 4:05: Dodgers
Jun 13 9:45 pm: Royals
Jun 14 9:45 pm: Royals
Jun 15 3:45 pm: Royals
Jun 17 7:05 pm: @ Pirates
Jun 18 3:05 pm: @ Pirates
Jun 19 1:35 pm: @ Pirates
Jun 20 7:20 pm: @ Braves
Jun 21 7:20 pm: @ Braves (TBS)
Jun 22 7:20 pm: @ Braves
Jun 23 12:20 pm: @ Braves
Jun 24 10:15 pm: Reds
Jun 25 7:15 pm: Reds (Fox)
Jun 26 4:05 pm: Reds
Jun 28 9:45 pm: Tigers
Jun 29 3:45 pm: Tigers
Jul 1 10:15 pm: White Sox
Jul 2 4:05 pm: White Sox
Jul 3 4:05 pm: White Sox
Jul 4 9:10 pm: @ Diamondbacks
Jul 5 9:40 pm: @ Diamondbacks
Jul 6 9:40 pm: @ Diamondbacks
Jul 7 9:40 pm: @ Padres
Jul 8 9:40 pm: @ Padres
Jul 9 7:15 pm: @ Padres (Fox)
Jul 10 4:10 pm: @ Padres
Jul 11 9:45 pm: Diamondbacks
Jul 12 9:45 pm: Diamondbacks
Jul 13 3:45 pm: Diamondbacks
Jul 14 9:45 pm: Brewers
Jul 15 10:15 pm: Brewers
Jul 16 7:15 pm: Brewers (Fox)
Jul 17 4:05 pm: Brewers
Jul 21 10:08 pm: @ Dodgers
Jul 22 10:10 pm: @ Dodgers
Jul 23 7:15 pm: @ Dodgers (Fox)
Jul 24 4:10 pm: @ Dodgers
Jul 25 9:40 pm: @ Diamondbacks
Jul 26 9:40 pm: @ Diamondbacks
Jul 27 3:40 pm: @ Diamondbacks
Jul 28 9:45 pm: Cubs
Jul 29 10:15 pm: Cubs
Jul 30 9:05 pm: Cubs
Jul 31 4:05 pm: Cubs
Aug 1 9:45 pm: Dodgers
Aug 2 9:45 pm: Dodgers
Aug 3 9:45 pm: Dodgers
Aug 4 3:45 pm: Dodgers
Aug 6 7:07 pm: @ Athletics
Aug 7 4:07 pm: @ Athletics
Aug 8 9:40 pm: @ Padres
Aug 9 9:40 pm: @ Padres
Aug 10 4:10 pm: @ Padres
Aug 12 10:15 pm: Pirates
Aug 13 9:05 pm: Pirates
Aug 14 4:05 pm: Pirates
Aug 15 9:45 pm: Diamondbacks
Aug 16 9:45 pm: Diamondbacks
Aug 17 9:45 pm: Diamondbacks
Aug 18 3:45 pm: Diamondbacks
Aug 19 8:40 pm: @ Rockies
Aug 20 8:10 pm: @ Rockies
Aug 21 3:10 pm: @ Rockies
Aug 23 7:10 pm: @ Tigers
Aug 24 1:10 pm: @ Tigers
Aug 26 8:10 pm: @ Twins
Aug 27 7:15 pm: @ Twins (Fox)
Aug 28 2:10 pm: @ Twins
Aug 29 9:45 pm: Padres
Aug 30 9:45 pm: Padres
Aug 31 3:45 pm: Padres
Sep 2 10:15 pm: Phillies
Sep 3 4:05 pm: Phillies
Sep 4 4:05 pm: Phillies
Sep 5 10:10 pm: @ Dodgers
Sep 6 10:10 pm: @ Dodgers
Sep 7 4:10 pm: @ Dodgers
Sep 8 4:10 pm: @ Brewers
Sep 8 7:40 pm: @ Brewers
Sep 9 4:05 pm: @ Cubs
Sep 10 2:20 pm: @ Cubs
Sep 11 2:20 pm: @ Cubs
Sep 12 9:45 pm: Braves
Sep 13 9:45 pm: Braves
Sep 14 3:45 pm: Braves
Sep 16 10:15 pm: Dodgers
Sep 17 9:05 pm: Dodgers
Sep 18 4:05 pm: Dodgers
Sep 19 8:40 pm: @ Rockies
Sep 20 8:40 pm: @ Rockies
Sep 21 8:40 pm: @ Rockies
Sep 22 3:10 pm: @ Rockies
Sep 23 9:40 pm: @ Diamondbacks
Sep 24 8:10 pm: @ Diamondbacks
Sep 25 4:10 pm: @ Diamondbacks
Sep 27 9:45 pm: Rockies
Sep 28 9:45 pm: Rockies
Sep 29 9:45 pm: Rockies
Sep 30 10:15 pm: Diamondbacks
Oct 1 4:05 pm: Diamondbacks
Oct 2 4:05 pm: Diamondbacks
Oct 3 9:40 pm: @ Padres
Oct 4 9:40 pm: @ Padres
Oct 5 3:00 pm: @ Padres
Latest posts by Frank Moraes
(see all)