Disclosure:
Your support helps keep our site running! We earn referral fees for some of the products & services we recommend.
Learn more
Seattle Mariners fans across the US can watch every game. And they can do it without cable. Read on to learn all your options.
In a hurry? With or without cable, watching the MLB is a bit complicated. But if you live in or around the Pacific Northwest, you can get Root Sports Northwest with these great options:
FuboTV: Get a lot of sports channels with almost complete coverage of the Mariners. FuboTV allows you to try out its service free for 7 days.
DIRECTV STREAM: The best service for RSNs has you covered through the playoffs. A 5-day free trial is now available for DIRECTV STREAM.
The Seattle Mariners have the northwest part of the country to themselves and, as a result, have one of the majors' largest geographical regions. However, that fan support has not resulted in much success as the club has had one of the most challenging histories of any team. This includes being the only franchise to have never played in the World Series.
However, Seattle almost broke a decades-long playoff drought in 2021. So, what will the future hold?
If you want to find out, you should gain access to Root Sports Northwest, the regional sports network that broadcasts Mariners games to those located in its broadcast area. If you are there, you can subscribe to DIRECTV STREAM ($89.99/mo) or FuboTV ($69.99/mo) to access it.
On the other hand, if you are outside of the Mariners' blackout area, MLB.TV ($24.99/mo) is where you want to go to watch most of those same game broadcasts.
About the Mariners
The Seattle Pilots had just a one-year stint in Major League Baseball, in 1969, before moving to Milwaukee and becoming the Brewers. But the Emerald City was determined to return to the majors. Eight years later, the expansion Mariners started playing American League games. They were placed in the West Division, where they have remained.
However, when you take away a short successful period from 1995-2001, the Mariners have had, to be blunt, a depressing history. It took until 1991 for the team to break the .500 mark for the first time. That year's squad went 83-79. Meanwhile, the team enters the 2022 campaign with the longest current playoff-less drought in any of the US's major sports leagues.
Crazily, that stretch started on the heels of the Mariners tying the major league record for wins in a season with 116 victories in 2001. However, that campaign ended in heartbreaking fashion at the hands of the New York Yankees in the AL Championship Series. The Bronx Bombers also defeated Seattle in the ALCS in 2000.
Seattle's other ALCS appearance came in 1995. The Mariners beat the Yankees, 3-2, in the AL Division Series that year before falling to Cleveland, 4-2, in the ALCS.
However, the Mariners have had some good teams during its current playoff-less drought, winning 90+ games on three occasions, 93 in 2002 and 2003 and 90 in 2021, and posting winning marks in eight of those 20 years.
As for that 2021 campaign, the Marinerss took the playoff race down to the final day of the season before finally being eliminated. Seattle's 90-72 record was better than eventual world champion Atlanta's 88-73 mark.
Seattle has only had two home stadiums, the Kingdome (1977-99) and T-Mobile Park (1999-present).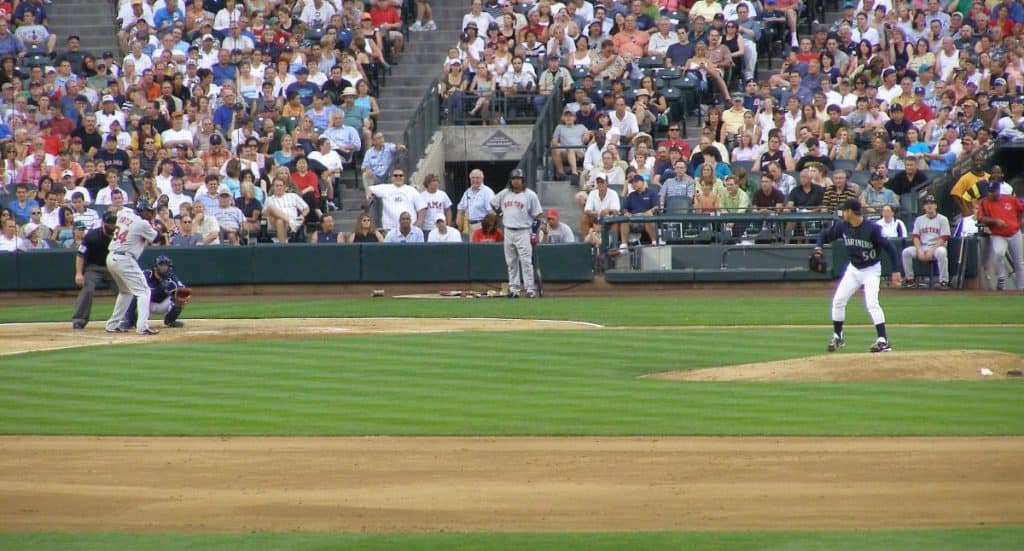 Mariners TV Channels
Root Sports Northwest is the regional sports network (RSN) that broadcasts a high percentage of Seattle Mariners games. It is usually in excess of 95%.
It is available in Washington, Oregon, Idaho, Montana, and Alaska. During the winters, the channel's focus turns to the NBA's Portland Trail Blazers and NHL's Seattle Kraken.
It is when the Mariners are shown elsewhere that things become less straightforward. If a Mariners game is being showcased on national or regional television, check out your local Fox, ABC, and NBC affiliates as well as the MLB Network, ESPN, TBS, and Fox Sports 1 (FS1).
If it is not being shown on any of those channels, Apple TV+ and Peacock Premium may have selected it for an exclusive stream. These will be on Fridays and Sundays.
Watching the Mariners
Mariners games appear on a number of channels although the vast majority will be on Root Sports Northwest.
Antenna

When the Mariners are being broadcast on network television for a national or regional audience, an antenna is all that you need to watch the game. Also keep in mind that should Seattle play in the World Series for the first time, all of those historic games will be on Fox.
See our HD antenna guide for more information.
Streaming
Roughly speaking, there are two ways to stream the Mariners. You can stream them through live TV channels and directly.
Live TV Streaming Services

DIRECTV STREAM (formerly AT&T TV) offers its Choice plan ($89.99/mo) subscribers with all regional sports networks that it carries and that are local to the subscriber. In Washington, Oregon, Alaska, Idaho, and Montana, this includes Root Sports Northwest. Any Mariners games on Fox, NBC, ABC, MLB Network, ESPN, FS1, and TBS may also be viewed here.
All plans come with unlimited cloud DVR storage (online sign-up required) and streaming on up to 20 devices at once. See our DIRECTV STREAM review for more information

FuboTV ($69.99/mo) offers access to local Fox, NBC, and ABC affiliates as well as ESPN and FS1 to those who subscribe to its base plan although note that TBS is not available. Another of the available channels is Root Sports Northwest for those situated in the Northwest. If you want to be able to watch the MLB Network as well, you need to get an add-on that has that channel, such as Fubo Extra ($7.99/mo) or Sports Plus with NFL RedZone ($10.99/mo).
The base plan comes with 1,000 hours of cloud DVR storage and streaming on up to 10 devices at home and 2 away. For more information, see our FuboTV review.
Mariners fans not in the Northwest should also consider Hulu + Live TV ($69.99/mo), Sling TV ($50/mo), Vidgo ($59.95/mo), and YouTube TV ($64.99/mo). Those streaming services carry the channels necessary for you to watch most Mariners games that are not being shown on Root Sports Northwest.
Specialty Streaming Services
A small number of Mariners games will be streamed exclusively.
Apple TV+ ($4.99/mo): Streams some Friday Mariners games every year. Note that these are exclusive streams, meaning that those games will not be shown on any television channel.
Peacock Premium ($4.99/mo): Has partnered with MLB to exclusively stream some games every season, which will most likely include a number of Mariners contests. These will generally be played on Sundays. (Peacock review)
ESPN+ ($6.99/mo): Offers numerous streams of MLB games throughout the season. With that said, keep in mind that blackout restrictions still apply to those in the Northwest. (ESPN+ review)
MLB.TV
MLB.TV provides access to all out-of-market games for $24.99/mo or $139.99/yr. Or you can get a single team plan for $119.99/yr.
This is a great option for watching Mariners games if you live outside the team's blackout area. Note, however, that the blackout region of your local team still applies for if the Mariners ever play it, you won't get access.
Devices for Live Streaming Seattle Mariners Games
DIRECTV STREAM, FuboTV, and MLB.TV support these devices:
Amazon Fire TV
Android mobile devices
Apple TV
Chromecast
iOS (iPhone,iPad)
Roku
Samsung smart TVs
Web browsers.
DIRECTV STREAM also has its own device that you can get directly. MLB.TV and FuboTV also support Android TV devices and Xbox gaming systems. There are other supported devices. See our streaming reviews for details.
Wrapping Up
The Seattle Mariners are the team of the Northwest, and its fan base stretches across that region. If you are there and a Mariners fan, consider getting FuboTV ($69.99/mo) or DIRECTV STREAM ($89.99/mo) to garner access to Root Sports Northwest.
If you are instead a transplanted Mariners fan or one who never lived in the Northwest, you may want to secure access to MLB.TV ($24.99/mo).
FAQs
Where on TV is the next Mariners game?
The next Mariners game will most likely be shown on Root Sports Northwest as, generally, more than 95% of Mariners contests are broadcast on that RSN. If that is not the answer to this question, check TBS, FS1, MLB Network, ESPN, ABC, NBC, and Fox. If none of those channels answers this question either, see if it is being exclusively streamed by Peacock Premium or Apple TV+.
Where can I listen to the Mariners on the radio?
Which radio station to tune into to catch the Mariners game depends on where in the Northwest you are as there are affiliates spread throughout this region. These include Washington, Oregon, Idaho, Montana, Alaska, and British Columbia. However, the vast majority of them are in the Evergreen State. If you are in or near Seattle, tune into Seattle Sports 710 AM. Note that some games, usually Sunday contests during NFL season, are on 770 KTTH.
Is it possible to watch Mariners games for free?
If you are located outside of the Northwest, you can watch Mariners games for free whenever they are featured on the MLB.TV Free Game of the Day. Otherwise, you can watch nationally or regionally broadcast Mariners games on Fox, ABC, and NBC with an antenna at no cost.
How can I watch Mariners games on my Android phone?
Cord cutters who subscribe to a service that provides them with access to Root Sports Northwest can watch Mariners games on their Android phone by using the Root Sports, DIRECTV STREAM, or FuboTV app. Meanwhile, out-of-market Mariners fans who subscribe to MLB.TV can utilize the MLB app to view many of those same Root Sports Northwest game broadcasts.
What is the Seattle Mariners 2022 schedule?
This year, the Mariners face off against the Minnesota Twins, Chicago White Sox, Houston Astros, Texas Rangers, Kansas City Royals, Tamba Bay Rays, Miami Marlins, Philadelphia Phillies, New York Mets, Toronto Blue Jays, Boston Red Sox, Oakland Athletics, Baltimore Orioles, Los Angeles Angels, San Diego Padres, Washington Nationals, New York Yankees, Cleveland Guardians, Detroit Tigers, and Atlanta Braves.
Here is the complete Mariners regular-season schedule in EDT. Most games other than those noted should air on Root Sports Northwest.
Thu Apr 7 4:10 pm: @ Twins
Sat Apr 9 2:10 pm: @ Twins
Sun Apr 10 2:10 pm: @ Twins
Mon Apr 11 7:40 pm: @ Twins
Tue Apr 12 7:10 pm: @ White Sox
Wed Apr 13 7:10 pm: @ White Sox (MLBN)
Thu Apr 14 2:10 pm: @ White Sox
Fri Apr 15 9:42 pm: vs Astros
Sat Apr 16 9:10 pm: vs Astros
Sun Apr 17 4:10 pm: vs Astros (MLBN)
Tue Apr 19 9:40 pm: vs Rangers
Wed Apr 20 9:40 pm: vs Rangers
Thu Apr 21 9:40 pm: vs Rangers (MLBN)
Fri Apr 22 9:40 pm: vs Royals
Sat Apr 23 9:10 pm: vs Royals
Sun Apr 24 4:10 pm: vs Royals
Tue Apr 26 6:40 pm: @ Rays
Wed Apr 27 6:40 pm: @ Rays
Thu Apr 28 1:10 pm: @ Rays
Fri Apr 29 6:40 pm: @ Marlins
Sat Apr 30 6:10 pm: @ Marlins
Sun May 1 1:40 pm: @ Marlins
Mon May 2 8:10 pm: @ Astros
Tue May 3 8:10 pm: @ Astros
Wed May 4 2:10 pm: @ Astros
Thu May 5 9:40 pm: vs Rays
Fri May 6 9:40 pm: vs Rays (Apple TV+)
Sat May 7 9:10 pm: vs Rays
Sun May 8 4:10 pm: vs Rays
Mon May 9 9:40 pm: vs Phillies
Tue May 10 9:40 pm: vs Phillies
Wed May 11 3:40 pm: vs Phillies
Fri May 13 7:10 pm: @ Mets
Sat May 14 7:10 pm: @ Mets
Sun May 15 1:40 pm: @ Mets
Mon May 16 7:07 pm: @ Blue Jays
Tue May 17 7:07 pm: @ Blue Jays
Wed May 18 7:07 pm: @ Blue Jays
Thu May 19 7:10 pm: @ Red Sox
Fri May 20 7:10 pm: @ Red Sox
Sat May 21 4:10 pm: @ Red Sox
Sun May 22 1:35 pm: @ Red Sox
Mon May 23 9:40 pm: vs Athletics
Tue May 24 9:40 pm: vs Athletics
Wed May 25 4:10 pm: vs Athletics
Fri May 27 9:40 pm: vs Astros
Sat May 28 10:10 pm: vs Astros
Sun May 29 4:10 pm: vs Astros
Tue May 31 7:05 pm: @ Orioles
Wed Jun 1 7:05 pm: @ Orioles
Thu Jun 2 7:05 pm: @ Orioles
Fri Jun 3 8:05 pm: @ Rangers
Sat Jun 4 4:05 pm: @ Rangers
Sun Jun 5 2:35 pm: @ Rangers
Mon Jun 6 8:10 pm: @ Astros
Tue Jun 7 8:10 pm: @ Astros
Wed Jun 8 6:40 pm: @ Astros
Fri Jun 10 10:10 pm: vs Red Sox
Sat Jun 11 10:10 pm: vs Red Sox
Sun Jun 12 4:10 pm: vs Red Sox
Mon Jun 13 10:10 pm: vs Twins
Tue Jun 14 10:10 pm: vs Twins
Wed Jun 15 4:10 pm: vs Twins (YouTube)
Thu Jun 16 10:10 pm: vs Angels
Fri Jun 17 10:10 pm: vs Angels
Sat Jun 18 4:10 pm: vs Angels
Sat Jun 18 10:10 pm: vs Angels
Sun Jun 19 4:10 pm: vs Angels
Tue Jun 21 9:40 pm: @ Athletics
Wed Jun 22 9:40 pm: @ Athletics
Thu Jun 23 3:37 pm: @ Athletics
Fri Jun 24 9:38 pm: @ Angels
Sat Jun 25 10:07 pm: @ Angels (FS1)
Sun Jun 26 4:07 pm: @ Angels
Mon Jun 27 10:10 pm: vs Orioles
Tue Jun 28 10:10 pm: vs Orioles
Wed Jun 29 4:10 pm: vs Orioles
Thu Jun 30 10:10 pm: vs Athletics
Fri Jul 1 10:10 pm: vs Athletics
Sat Jul 2 4:10 pm: vs Athletics (FS1)
Sun Jul 3 4:10 pm: vs Athletics
Mon Jul 4 6:40 pm: @ Padres
Tue Jul 5 4:10 pm: @ Padres
Thu Jul 7 10:10 pm: vs Blue Jays
Fri Jul 8 10:10 pm: vs Blue Jays
Sat Jul 9 10:10 pm: vs Blue Jays
Sun Jul 10 4:10 pm: vs Blue Jays
Tue Jul 12 7:05 pm: @ Nationals
Wed Jul 13 12:05 pm: @ Nationals
Thu Jul 14 8:05 pm: @ Rangers
Fri Jul 15 8:05 pm: @ Rangers
Sat Jul 16 4:05 pm: @ Rangers
Sun Jul 17 2:35 pm: @ Rangers
Fri Jul 22 9:10 pm: vs Astros
Sat Jul 23 4:10 pm: vs Astros (FS1)
Sun Jul 24 4:10 pm: vs Astros
Mon Jul 25 10:10 pm: vs Rangers
Tue Jul 26 10:10 pm: vs Rangers
Wed Jul 27 3:40 pm: vs Rangers
Thu Jul 28 8:10 pm: @ Astros
Fri Jul 29 8:10 pm: @ Astros
Sat Jul 30 7:10 pm: @ Astros
Sun Jul 31 2:10 pm: @ Astros
Mon Aug 1 7:05 pm: @ Yankees
Tue Aug 2 7:05 pm: @ Yankees
Wed Aug 3 1:05 pm: @ Yankees
Fri Aug 5 9:10 pm: vs Angels
Sat Aug 6 4:10 pm: vs Angels
Sat Aug 6 10:10 pm: vs Angels
Sun Aug 7 4:10 pm: vs Angels
Mon Aug 8 10:10 pm: vs Yankees
Tue Aug 9 10:10 pm: vs Yankees
Wed Aug 10 4:10 pm: vs Yankees
Fri Aug 12 8:05 pm: @ Rangers
Sat Aug 13 7:15 pm: @ Rangers (Fox)
Sun Aug 14 2:35 pm: @ Rangers
Mon Aug 15 9:38 pm: @ Angels
Tue Aug 16 9:38 pm: @ Angels
Wed Aug 17 4:07 pm: @ Angels
Fri Aug 19 9:40 pm: @ Athletics
Sat Aug 20 7:15 pm: @ Athletics (Fox)
Sun Aug 21 4:07 pm: @ Athletics
Tue Aug 23 10:10 pm: vs Nationals
Wed Aug 24 4:10 pm: vs Nationals
Thu Aug 25 4:10 pm: vs Guardians
Fri Aug 26 10:10 pm: vs Guardians
Sat Aug 27 10:10 pm: vs Guardians (FS1)
Sun Aug 28 4:10 pm: vs Guardians
Tue Aug 30 7:10 pm: @ Tigers
Wed Aug 31 7:10 pm: @ Tigers
Thu Sep 1 1:10 pm: @ Tigers
Fri Sep 2 7:10 pm: @ Guardians
Sat Sep 3 7:15 pm: @ Guardians (Fox)
Sun Sep 4 TBD: @ Guardians
Mon Sep 5 6:40 pm: vs White Sox
Tue Sep 6 9:40 pm: vs White Sox
Wed Sep 7 4:10 pm: vs White Sox
Fri Sep 9 9:40 pm: vs Braves
Sat Sep 10 9:10 pm: vs Braves
Sun Sep 11 4:10 pm: vs Braves
Tue Sep 13 9:40 pm: vs Padres
Wed Sep 14 4:10 pm: vs Padres
Fri Sep 16 9:38 pm: @ Angels
Sat Sep 17 9:07 pm: @ Angels
Sun Sep 18 4:07 pm: @ Angels
Mon Sep 19 4:07 pm: @ Angels
Tue Sep 20 9:40 pm: @ Athletics
Wed Sep 21 9:40 pm: @ Athletics
Thu Sep 22 3:37 pm: @ Athletics
Fri Sep 23 8:10 pm: @ Royals
Sat Sep 24 7:10 pm: @ Royals
Sun Sep 25 2:10 pm: @ Royals
Tue Sep 27 9:40 pm: vs Rangers
Wed Sep 28 9:40 pm: vs Rangers
Thu Sep 29 9:40 pm: vs Rangers
Fri Sep 30 9:40 pm: vs Athletics
Sat Oct 1 4:10 pm: vs Athletics
Sun Oct 2 4:10 pm: vs Athletics
Mon Oct 3 9:40 pm: vs Tigers
Tue Oct 4 6:10 pm: vs Tigers
Tue Oct 4 Game 2: vs Tigers
Wed Oct 5 TBD: vs Tigers
Latest posts by Frank Moraes
(see all)