It can be a bit complicated to gain access to every Tampa Bay Rays game. But it isn't hard to do. And you can only do it with streaming. Read on to learn how.
In a hurry? DIRECTV STREAM is the King of RSNs, being the only service to offer them in most areas. Get all of them in your area with roughly 100 other channels in its Choice Plan. A 5-day free trial is now available for DIRECTV STREAM.
The Tampa Bay Rays are one of the newer MLB teams, having been established in 1998. Back when they got their start they were known as the Tampa Bay Devil Rays. While the name has been shortened, the team and the fan base are as great as they ever were.
If you're a Tampa Bay Rays fan, you might be here trying to find out if you can watch your favorite team play online without cable. You can! There are several ways to watch the Rays live stream online and they are all listed in the sections below.
All About the Tampa Bay Rays
Despite having a low payroll and extremely low attendance figures, the Tampa Bay Rays have experienced a lot of success, especially over the last several years.
After the team spent its first 10 seasons as the Tampa Bay Devil Rays, a name change to the Tampa Bay Rays was apparently what was needed. Its first season as the Rays, 2008, resulted in postseason play and success as the Rays advanced to the World Series.
Playoff appearances followed in 2010, 2011, and 2013. Recent years have been even more successful as the team qualified for postseason play in 2019, 2020, and 2021. This is the first time that Tampa Bay has participated in the playoffs in three successive years. And the middle one of those seasons resulted in another American League pennant for the Rays.
It then appeared like more of the same may be in the offering in 2021 as Tampa Bay was a 100-win team. That was the first time in franchise history and the only 100-win team in the American League that year. But the Rays stumbled at their first postseason hurdle, dropping the AL Division Series to the Boston Red Sox, 3-1.
Tampa Bay is just one of two teams to have played its entire history in one stadium: Tropicana Field. (The other is Arizona.)
Do You Need a VPN?
If you find you can't watch particular events because of your location, a VPN should allow you to get the access you are entitled to. It also provides extra security and unequalled privacy. See our complete VPN Guide for all you need to know.
Streaming Baseball
Sports streaming can seem intimidating at first because it often requires more than one channel. Unlike a standard TV show that airs on one network, sports streaming often requires several networks. Like cable, streaming services are able to accommodate the need for several networks.
Many streaming packages offer all you need to watch the Tampa Bay Rays games without cable, and more! It just depends on which service you choose. Two great options we'll talk about first include Sling TV (save $10 on Sling TV) and FuboTV (free for 7 days).
Of course, these are just two ways to watch the Tampa Bay Rays online. Before the end of this guide, you'll find a full list of options so you can choose the one best for you!
Tampa Bay Rays Without Cable TV
There are certain key channels you'll need to watch baseball online. The main channel you need to watch the Rays is Bally Sports Sun. It is where almost all games air.
To get it, you must live in its broadcast area. If you don't, you can get the same broadcasts with MLB.TV.
You'll most often find your hometown team on local channels like FOX or one of a few regional sports channels. There's a good chance that you'll find a Tampa Bay Rays live stream on a few cable channels, too. Some channels you'll need to watch the season include:
Once you find a streaming service you like, you can sign up for a free trial and you'll be ready to watch the game! You'll just connect to a streaming device (Roku, Chromecast, mobile devices, etc.) and turn on your service app.
From there, you pick the channel you need and you're able to watch the Tampa Bay Rays without cable!
Tampa Bay Rays With DIRECTV STREAM

DIRECTV STREAM is the only streaming service that offers Bally Sports Sun to subscribers in its broadcast area. You must sign up for the Choice plan (or above) for $89.99/mo. With this, you will also get all the other channels the Rays will play on: Fox, FS1, NBC, ABC, ESPN, TBS, and MLB Network.
You also get unlimited cloud DVR storage (online sign-up required) and the ability to stream on up to 20 devices at once. You can learn more in our DIRECTV STREAM review.
Superpower Your Streaming With a VPN
For the sake of privacy, security, and access, you should be using a VPN. They are low-cost and easy to use. We've been using them for years and our top pick is ExpressVPN.
Tampa Bay Rays With Sling TV

Sling TV has been around for years. They offer a few solid package options with plenty of upgrades. The upgrades allow you to build the package you want. This ensures that you're paying for what you want to watch and avoiding the rest. Plans start at $35 per month.
Sling TV Details:
Sling TV is a popular choice because it's one of the cheapest ways to stream TV without cable. Currently, save $10 on your first month of Sling TV. It is your chance to experience the service without being forced into a contract.
Tampa Bay Rays With FuboTV

FuboTV was made to be a sports streaming service. While they offer over 105 channels, sports fans will find a wide range of sporting events to watch on the regular. Of course, if sports aren't your thing, there's plenty of other channels to watch, too.
Features of fuboTV include:
The free for 7 days is here to give you a chance to experience FuboTV for yourself. FuboTV does not require any type of contract. You're always free to cancel at any point in your membership, including during your free trial.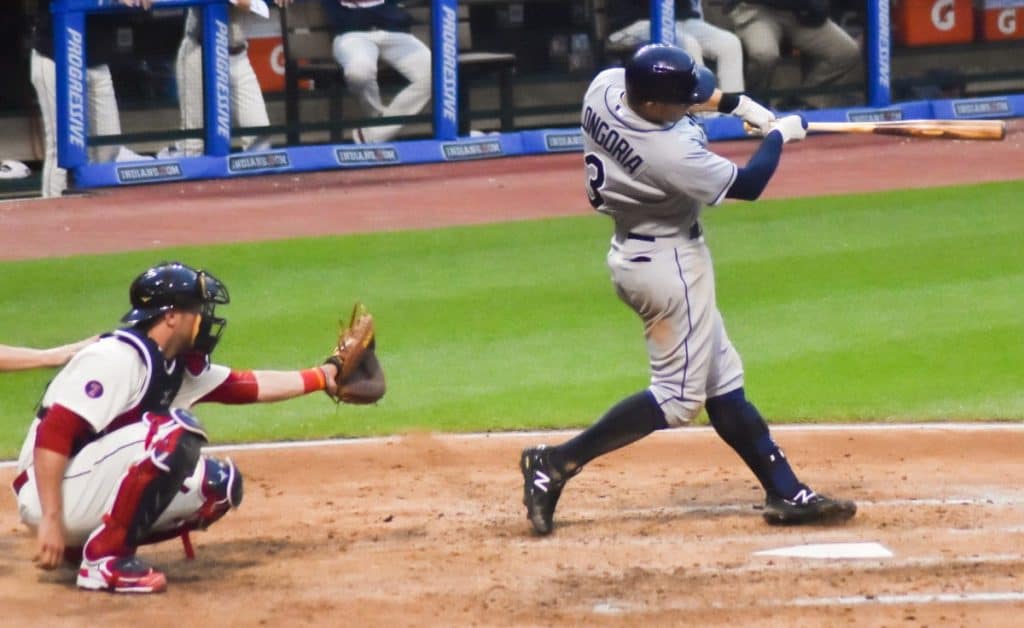 Other Ways to Watch
There are new streaming services coming out all the time. If the two you've just learned about don't work for you, there are always going to be others out there. With that in mind, here are your other options to watch the Tampa Bay Rays games live streams this baseball season!
Learning how to watch sports online without cable isn't as hard as it may seem in the beginning. If you have any questions about streaming the Tampa Bay Rays without cable, let us know in the comments!
FAQs
What channel can I see the Tampa Bay Rays game on tonight?
Bally Sports Sun, previously known as Fox Sports Sun, covers nearly all Tampa Bay Rays games. Its coverage area includes all of Florida and the portion of Alabama that includes and surrounds Mobile. Announcing the games are Dewayne Staats and Brian Anderson. When the Rays are shown on national television, you can most likely watch the game on TBS, MLB Network, ESPN, ABC, FS1, or Fox. All postseason contests are shown nationally.
What radio station is the Tampa Bay Rays game on today?
If you are situated in the Tampa Bay area, tune into WDAE (620 AM or 95.3 FM) to listen to the Rays game. Meanwhile, those situated elsewhere in the northern, central, and western parts of the Sunshine State can listen to other stations for all of the Rays action. Meanwhile, WJNZ 1000 AM provides coverage for both Pensacola, FL, and Mobile, AL, while WPMO 1580 AM offers Rays broadcasts to listeners in nearby Pascagoula, MS.
Have the Tampa Bay Rays won the World Series?
No, the Tampa Bay Rays have not yet won the World Series. However, they have played in two World Series. The club fell to the Philadelphia Phillies, 4-1, in the 2008 Fall Classic and dropped a six-game affair to the Los Angeles Dodgers in the 2020 World Series. Tampa Bay has won three division titles, in those two seasons as well as in 2010. However, 2008 and 2020 mark its only ALCS appearances.
How can I watch today's Tampa Bay Rays game on my phone?
Cord-cutters in the Tampa Bay Rays broadcast area can purchase access to DIRECTV STREAM and watch games through that provider's app. Conversely, fans outside of the club's local broadcasting reach who want to watch the Rays should pay for an MLB.TV subscription, download the MLB app and view games on it. In addition, nationally broadcast games, including all playoff contests, can be watched through FuboTV, Sling TV, Hulu + Live TV, and DIRECTV STREAM.
Is there a way to watch Tampa Bay Rays games for free?
In most cases, you simply cannot stream Tampa Bay Rays games for free. However, this option is available on a select number of occasions, which increases if you are not in the team's blackout area. YouTube will stream approximately one MLB game a week; when the Rays are featured, you can watch it wherever you are in the world. Meanwhile, out-of-market fans can watch any MLB.TV Free Game of the Day featuring the Rays.
What is the Tampa Bay Rays 2022 schedule?
This year, the Rays will play against (in order) Baltimore Orioles, Oakland Athletics, Chicago White Sox, Chicago Cubs, Boston Red Sox, Seattle Mariners, Minnesota Twins, Los Angeles Angels, Toronto Blue Jays, Detroit Tigers, Miami Marlins, New York Yankees, Texas Rangers, St Louis Cardinals, Pittsburgh Pirates, Milwaukee Brewers, Cincinnati Reds, Kansas City Royals, Cleveland Guardians, Houston Astros.
Here is the complete Rays regular-season schedule (EDT). Unless otherwise indicated, games will air on Bally Sports Sun.
Latest posts by Frank Moraes
(see all)