Disclosure:
Your support helps keep our site running! We earn referral fees for some of the products & services we recommend.
Learn more
The Toronto Blue Jays have been the national team for Canada since 2005. They are also often a contender and were in 2021 as well, which has garnered a number of US-based fans for them as well.
In a hurry? Fans in Canada can watch every game of the Blue Jays season with Sportsnet NOW ($14.99 CAD/mo). For those in the US, MLB.TV ($24.99/mo) provides access to most regular-season games. Otherwise, you can watch nationally televised games (including all playoff contests) on live TV streaming services like Hulu + Live TV and Sling TV.
About the Blue Jays
The Blue Jays were actually Major League Baseball's second foray into Canada. The Montreal Expos had already played eight seasons when Toronto took to the field for the first time in 1977. The Expos left Canada to become the Washington Nationals in 2005.
However, it was the Blue Jays who were the first of the Canadian clubs to break through the League Championship Series and play in the World Series. This followed three ALCS losses, in 1985, 1989, and 1991. And the team made a habit of it, claiming not only the 1992 World Series but repeating its title a year later, which are to date Toronto's only World Series appearances.
Toronto has also done well lately, recording winning records five times in the eight-year span from 2014 to 2021, which included making the playoffs three times and advancing to the ALCS twice, in 2015 and 2016.
Most recently, in 2021, the Blue Jays went 91-71 and missed out on the playoffs by just one game.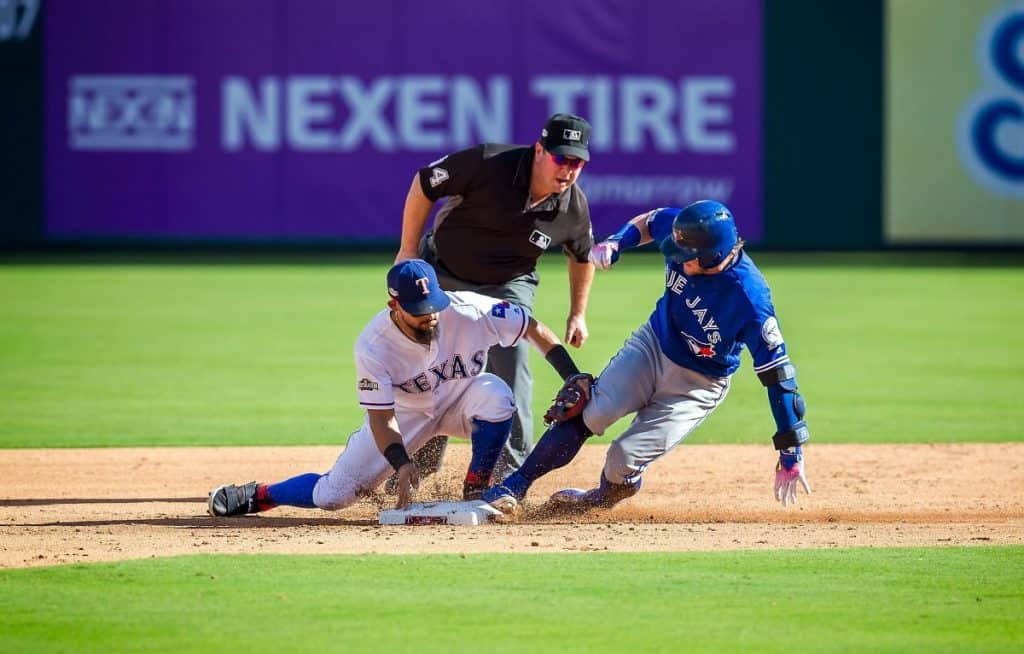 Blue Jays TV Channels
Within Canada, all Toronto Blue Jays games are broadcast on Sportsnet, including all postseason contests. The Blue Jays are the only MLB team that doesn't have a US-based regional sports network (RSN). But this is made-up for with the availability of MLB.TV.
As for Blue Jays fans based in the US, you can periodically watch Toronto play when it is featured on Fox, Fox Sports 1, ESPN, TBS, and MLB Network. Appearances on NBC and ABC are also possible but less likely.
Watching the Blue Jays
If you are looking to watch the Blue Jays battle in the American League East without cable or satellite, consider these options.
Antenna

An antenna will allow US-based fans to enjoy Toronto Blue Jays games whenever they are featured on Fox, ABC, or NBC. However, note that those appearances are not common. With that said, any World Series games that Toronto is a part of will be on Fox. Blue Jays World Series games might also be on an over-the-air station in Canada.
For everything you need to know, see our HD antenna guide.
Live TV Streaming Services
Live TV streaming services provide access to nationally televised games. These include all of the playoffs.
DIRECTV STREAM (formerly AT&T TV): Offers access to many of the US-based channels that show the Blue Jays through its Entertainment plan ($69.99/mo). These include your Fox, NBC, and ABC affiliates, ESPN, TBS, and FS1. If you want to also gain access to the MLB Network and RSNs in your area, you will need to get its Choice plan ($89.99/mo). All plans come with unlimited cloud DVR and simultaneous streaming on 20 devices. (DIRECTV STREAM review)
Hulu + Live TV: For $69.99/mo, you get local affiliates, ESPN, TBS, and FS1. It also comes with ESPN+ and Disney+. However, MLB Network is not available. The base plan comes with unlimited cloud DVR with 9 months of storage and streaming on two devices. (Hulu + Live TV review)
Sling TV: Offers ESPN, FS1, and TBS to those who subscribe to its Orange + Blue plan ($50/mo). Also available are Fox and NBC affiliates in select markets while any ABC-broadcast Blue Jays games should be available here through ESPN3. The Sports Extras add-on ($15/mo) is necessary for the MLB Network. (Sling TV review)
Other streaming services to consider that feature some Blue Jays broadcasts include FuboTV ($69.99/mo), Vidgo ($59.95/mo), and YouTube TV ($64.99/mo).
Specialty Streaming Services
A notable number of games will stream on specialty services:
Apple TV+ ($4.99/mo): May exclusively stream some Blue Jays games. If it does, they will be on Friday evenings.
Peacock Premium ($4.99/mo): Might exclusively stream Toronto contests on some Sundays. (Peacock review)
ESPN+ ($6.99/mo): An option for periodically streaming Blue Jays matchups. Although some of its games will not be available due to blackout restrictions, that will not be a common occurrence. (ESPN+ review)
Sportsnet NOW
Canadians can stream all Toronto Blue Jays games through Sportsnet NOW ($14.99 CAD/mo). Included in that price are other MLB matchups, such as the All-Star Game and playoff contests.
You can also use Sportsnet NOW to watch NHL games, NBA contests, and various other sports events.
MLB.TV
An outstanding resource for watching the Blue Jays outside of Canada is MLB.TV ($24.99/mo). It allows you to watch pretty much every regular-season game. The exceptions will be any game the Blue Jays play against your local team or that has exclusive rights owned by someone else (eg, Peacock).
Note that MLB.TV does not include playoff games. To watch those, you will need a live TV streaming service.
Devices to Live Stream Detroit Tigers Games
All the streaming services we've discussed support at least these devices::
Amazon Fire TV
Android mobile devices
Apple TV
Chromecast
iOS mobile devices
Roku
Samsung smart TVs
Web browsers.
MLB.TV and Sportsnet Now both also support PlayStation units.
Wrapping Up
The Blue Jays can be watched by cord-cutters in Canada after subscribing to Sportsnet NOW ($14.99 CAD/mo). Those in the US can get it via MLB.TV ($24.99/mo). However, any playoff games that Toronto plays in will need to be viewed elsewhere by US-based fans, such as through DIRECTV STREAM ($89.99/mo) or Sling TV ($65/mo).
FAQs
Where can I watch the Blue Jays tonight?
If you are in Canada, the answer is Sportsnet. For those in the US, this is not a simple question to answer. In most cases, it will not be on a channel at all. When it is, the options include ESPN, FS1, TBS, MLB Network, Fox, NBC, ABC, or your local regional sports network if Toronto is playing your local team. Also, some Toronto games may be streamed by Peacock Premium and Apple TV+.
Is the Blue Jays game on the radio?
For those in Canada, the answer is often yes, even for some fans far from Toronto, such as in Vancouver, British Columbia. Those in the latter group should tune into Sportsnet 650. Meanwhile, fans in or near Toronto will need to put Sportsnet 590 The Fan on. Affiliates are also elsewhere in Ontario and in Quebec, Nova Scotia, Saskatchewan, and Alberta. Some of those stations can be heard in the US.
What ways are there to watch the Blue Jays for free?
US-based fans may watch some Blue Jays games for free when they are featured on the MLB.TV Free Game of the Day. In addition, those with an antenna can enjoy any Toronto contests that are broadcast on Fox, ABC, and NBC. In Canada, some significant Blue Jays games, such as World Series contests, might also be shown on an over-the-air network there.
Is it possible to watch the Blue Jays on my phone?
Canadians can download the Sportsnet app and utilize their SportsNet NOW subscription ($14.99 CAD/mo) to watch the Blue Jays on their devices. Blue Jays fans in the US who have subscribed to MLB.TV ($24.99/mo) may use the MLB app to watch those broadcasts on their phones. The Fox Sports and TBS apps can allow Americans to watch some Toronto playoff games. All the live TV streaming services work on phones.
What is the 2022 Toronto Blue Jays schedule?
This year, the Blue Jays will play Texas Rangers, New York Yankees, Oakland Athletics, Boston Red Sox, Houston Astros, Cleveland Guardians, Tampa Bay Rays, Seattle Mariners, Cincinnati Reds, St Louis Cardinals, Los Angeles Angels, Chicago White Sox, Minnesota Twins, Kansas City Royals, Detroit Tigers, Baltimore Orioles, Philadelphia Phillies, Chicago Cubs, and Pittsburgh Pirates.
This is the regular-season schedule in EDT. In the US, games will be found via MLB.TV. Nationally televised games (that we know of) are noted.
Fri Apr 8 7:07 pm: vs Rangers
Sat Apr 9 3:07 pm: vs Rangers
Sun Apr 10 1:37 pm: vs Rangers
Mon Apr 11 7:05 pm: @ Yankees
Tue Apr 12 7:05 pm: @ Yankees
Wed Apr 13 7:05 pm: @ Yankees (MLBN)
Thu Apr 14 7:05 pm: @ Yankees (MLBN)
Fri Apr 15 7:07 pm: vs Athletics
Sat Apr 16 3:07 pm: vs Athletics
Sun Apr 17 1:37 pm: vs Athletics
Tue Apr 19 7:10 pm: @ Red Sox (MLBN)
Wed Apr 20 7:10 pm: @ Red Sox (MLBN)
Thu Apr 21 1:35 pm: @ Red Sox
Fri Apr 22 8:10 pm: @ Astros
Sat Apr 23 4:10 pm: @ Astros
Sun Apr 24 2:10 pm: @ Astros
Mon Apr 25 7:07 pm: vs Red Sox (MLBN)
Tue Apr 26 7:07 pm: vs Red Sox
Wed Apr 27 7:07 pm: vs Red Sox (MLBN)
Thu Apr 28 3:07 pm: vs Red Sox
Fri Apr 29 7:07 pm: vs Astros
Sat Apr 30 3:07 pm: vs Astros
Sun May 1 1:37 pm: vs Astros
Mon May 2 7:07 pm: vs Yankees
Tue May 3 7:07 pm: vs Yankees
Wed May 4 7:07 pm: vs Yankees
Thu May 5 6:10 pm: @ Guardians
Fri May 6 7:10 pm: @ Guardians
Sat May 7 6:10 pm: @ Guardians
Sun May 8 1:40 pm: @ Guardians
Tue May 10 7:05 pm: @ Yankees
Wed May 11 12:35 pm: @ Yankees
Fri May 13 7:10 pm: @ Rays
Sat May 14 6:10 pm: @ Rays
Sun May 15 1:40 pm: @ Rays
Mon May 16 7:07 pm: vs Mariners
Tue May 17 7:07 pm: vs Mariners
Wed May 18 7:07 pm: vs Mariners
Fri May 20 7:07 pm: vs Reds
Sat May 21 3:07 pm: vs Reds
Sun May 22 1:37 pm: vs Reds
Mon May 23 7:45 pm: @ Cardinals
Tue May 24 7:45 pm: @ Cardinals
Thu May 26 9:38 pm: @ Angels
Fri May 27 9:38 pm: @ Angels (Apple TV+)
Sat May 28 10:07 pm: @ Angels
Sun May 29 4:07 pm: @ Angels
Tue May 31 7:07 pm: vs White Sox
Wed Jun 1 7:07 pm: vs White Sox
Thu Jun 2 3:07 pm: vs White Sox
Fri Jun 3 7:07 pm: vs Twins
Sat Jun 4 3:07 pm: vs Twins
Sun Jun 5 1:37 pm: vs Twins
Mon Jun 6 8:10 pm: @ Royals
Tue Jun 7 8:10 pm: @ Royals
Wed Jun 8 2:10 pm: @ Royals (YouTube)
Fri Jun 10 7:10 pm: @ Tigers
Sat Jun 11 4:10 pm: @ Tigers
Sun Jun 12 1:40 pm: @ Tigers
Mon Jun 13 7:07 pm: vs Orioles
Tue Jun 14 7:07 pm: vs Orioles
Wed Jun 15 7:07 pm: vs Orioles
Thu Jun 16 3:07 pm: vs Orioles
Fri Jun 17 7:07 pm: vs Yankees
Sat Jun 18 3:07 pm: vs Yankees
Sun Jun 19 1:37 pm: vs Yankees
Mon Jun 20 8:10 pm: @ White Sox
Tue Jun 21 8:10 pm: @ White Sox
Wed Jun 22 2:10 pm: @ White Sox
Fri Jun 24 8:10 pm: @ Brewers
Sat Jun 25 4:10 pm: @ Brewers
Sun Jun 26 2:10 pm: @ Brewers
Mon Jun 27 7:07 pm: vs Red Sox
Tue Jun 28 7:07 pm: vs Red Sox
Wed Jun 29 7:07 pm: vs Red Sox
Thu Jun 30 7:07 pm: vs Rays
Fri Jul 1 3:07 pm: vs Rays
Sat Jul 2 12:07 pm: vs Rays
Sat Jul 2 6:07 pm: vs Rays
Sun Jul 3 1:37 pm: vs Rays
Mon Jul 4 9:07 pm: @ Athletics
Tue Jul 5 9:40 pm: @ Athletics
Wed Jul 6 3:37 pm: @ Athletics
Thu Jul 7 10:10 pm: @ Mariners
Fri Jul 8 10:10 pm: @ Mariners
Sat Jul 9 10:10 pm: @ Mariners
Sun Jul 10 4:10 pm: @ Mariners
Tue Jul 12 7:07 pm: vs Phillies
Wed Jul 13 7:07 pm: vs Phillies
Thu Jul 14 7:07 pm: vs Royals
Fri Jul 15 7:07 pm: vs Royals
Sat Jul 16 3:07 pm: vs Royals
Sun Jul 17 1:37 pm: vs Royals
Fri Jul 22 7:10 pm: @ Red Sox
Sat Jul 23 4:10 pm: @ Red Sox
Sun Jul 24 1:35 pm: @ Red Sox
Tue Jul 26 7:07 pm: vs Cardinals
Wed Jul 27 7:07 pm: vs Cardinals
Thu Jul 28 7:07 pm: vs Tigers
Fri Jul 29 7:07 pm: vs Tigers
Sat Jul 30 3:07 pm: vs Tigers
Sun Jul 31 1:37 pm: vs Tigers
Tue Aug 2 7:10 pm: @ Rays
Wed Aug 3 12:10 pm: @ Rays
Thu Aug 4 7:40 pm: @ Twins
Fri Aug 5 8:10 pm: @ Twins
Sat Aug 6 7:10 pm: @ Twins
Sun Aug 7 2:10 pm: @ Twins
Mon Aug 8 7:05 pm: @ Orioles
Tue Aug 9 7:05 pm: @ Orioles
Wed Aug 10 7:05 pm: @ Orioles
Fri Aug 12 7:07 pm: vs Guardians
Sat Aug 13 3:07 pm: vs Guardians
Sun Aug 14 1:37 pm: vs Guardians
Mon Aug 15 7:07 pm: vs Orioles
Tue Aug 16 7:07 pm: vs Orioles
Wed Aug 17 3:07 pm: vs Orioles
Thu Aug 18 7:05 pm: @ Yankees
Fri Aug 19 7:05 pm: @ Yankees
Sat Aug 20 1:05 pm: @ Yankees
Sun Aug 21 1:35 pm: @ Yankees
Tue Aug 23 7:10 pm: @ Red Sox
Wed Aug 24 7:10 pm: @ Red Sox
Thu Aug 25 7:10 pm: @ Red Sox
Fri Aug 26 7:07 pm: vs Angels
Sat Aug 27 3:07 pm: vs Angels
Sun Aug 28 1:37 pm: vs Angels
Mon Aug 29 7:07 pm: vs Cubs
Tue Aug 30 7:07 pm: vs Cubs
Wed Aug 31 7:07 pm: vs Cubs
Fri Sep 2 6:35 pm: @ Pirates
Sat Sep 3 6:35 pm: @ Pirates
Sun Sep 4 1:35 pm: @ Pirates (Peacock)
Mon Sep 5 1:05 pm: @ Orioles
Tue Sep 6 7:05 pm: @ Orioles
Wed Sep 7 7:05 pm: @ Orioles
Fri Sep 9 8:05 pm: @ Rangers
Sat Sep 10 7:05 pm: @ Rangers
Sun Sep 11 2:35 pm: @ Rangers
Mon Sep 12 7:07 pm: vs Rays
Tue Sep 13 1:07 pm: vs Rays
Tue Sep 13 7:07 pm: vs Rays
Wed Sep 14 7:07 pm: vs Rays
Thu Sep 15 3:07 pm: vs Rays
Fri Sep 16 7:07 pm: vs Orioles
Sat Sep 17 3:07 pm: vs Orioles
Sun Sep 18 1:37 pm: vs Orioles
Tue Sep 20 6:45 pm: @ Phillies
Wed Sep 21 6:45 pm: @ Phillies
Thu Sep 22 6:40 pm: @ Rays
Fri Sep 23 7:10 pm: @ Rays
Sat Sep 24 6:10 pm: @ Rays
Sun Sep 25 1:10 pm: @ Rays
Mon Sep 26 7:07 pm: vs Yankees
Tue Sep 27 7:07 pm: vs Yankees
Wed Sep 28 7:07 pm: vs Yankees
Fri Sep 30 7:07 pm: vs Red Sox
Sat Oct 1 3:07 pm: vs Red Sox
Sun Oct 2 1:37 pm: vs Red Sox
Mon Oct 3 7:05 pm: @ Orioles
Tue Oct 4 7:05 pm: @ Orioles
Wed Oct 5 TBD: @ Orioles
Latest posts by Frank Moraes
(see all)