Looking to watch basketball online without a cable sticking out the back of your TV? You're in the right place because on this page we explain where you can see your favorite teams shoot some hoops in some of the top US leagues.
In a hurry? If you just want to start watching basketball, check out these services:
Fubo: The best streaming service for international sports also provides 150+ well-selected channels. Fubo allows you to try out its service with a free trial.
DIRECTV STREAM: Get a great channel lineup with the best selection of RSNs in the industry. A 5-day free trial is now available for DIRECTV STREAM.
Sling TV: This low-cost service allows you to select just the channel lineup you want. Save 50% on your first month of Sling TV.
If you can't watch your favorite sports because of your location, get ExpressVPN to access the content you deserve.
Unfortunately, we don't know a streaming service in that covers this sport. But if you've already paid for the right service, and just can't watch because of your location, there is an easy way to get the content you deserve. You need a VPN, like one of the following.
| | | |
| --- | --- | --- |
| | ExpressVPN: Known as "The VPN that just works," it combines remarkable ease of use with with state-of-the-art power, speed, security, and privacy. Get three extra free months when you sign up for a year. Unleash your streaming with this top-rated VPN. | Sign Up Now |
| | Hotspot Shield: Connect to servers in 80+ different countries and 25+ US cities. HotSpot Shield features extremely fast servers and connections and is specially tuned for use with streaming services. And you can try it risk-free with a 7-day free trial and a 45-day money-back guarantee! | Sign Up Now |
| | CyberGhost: Great low-cost service with ultra-fast servers in 90+ countries for smooth live sports streaming. It also provides great security and privacy. See if it's right for you with a free 24-hour trial and test it out with a 45-day money-back guarantee. | Sign Up Now |
If you're overwhelmed and not sure where to begin, you'll find all the answers in our full VPN guide.
If you are a basketball fan, it can be intimidating to stop using cable. But there is really nothing to be concerned about. The top streaming services offer access to both NCAA basketball and NBA that is every bit as good as what you get with cable plans. Most likely, you'll get access to even more games and associated events.
Stream Your Favorite Teams
We've put together guides to get you started watching your favorite teams without the cost of a cable subscription.
NBA Online Without Cable
Here are the main guides on how to watch NBA games online without cable. We created separate pages for particular leagues like the G League and the All-Star Game too:
How to Watch Specific Teams Without Cable
If you're looking for a specific team on live TV, you'll need to know what channel to find. All the US-based teams are associated with a regional sports network (RSN). This is a local TV channel that broadcasts most or all of a given team's games in that team's market.
You must be in the team's broadcast area to get the RSN. So for fans of the local NBA team, getting access to the team's RSN is critical. If you are outside the team's broadcast area, you can watch most of the games via NBA League Pass.
The following table provides links to our viewing guides for each team and articles about all of the RSNs. It also tells you if the RSN is available through DIRECTV STREAM, FuboTV, or Hulu + Live TV.
DIRECTV STREAM (formerly AT&T TV) has by far the best selection. It is also the most expensive. You need to sign up with the Choice plan for $89.99/mo. If FuboTV or Hulu + Live TV provide access for your local team, you are probably better going with them because they are included in their base plans, which cost only $69.99/mo.
If you also want NBA League Pass, you need to stick with DIRECTV STREAM or FuboTV since Hulu + Live TV does not offer it.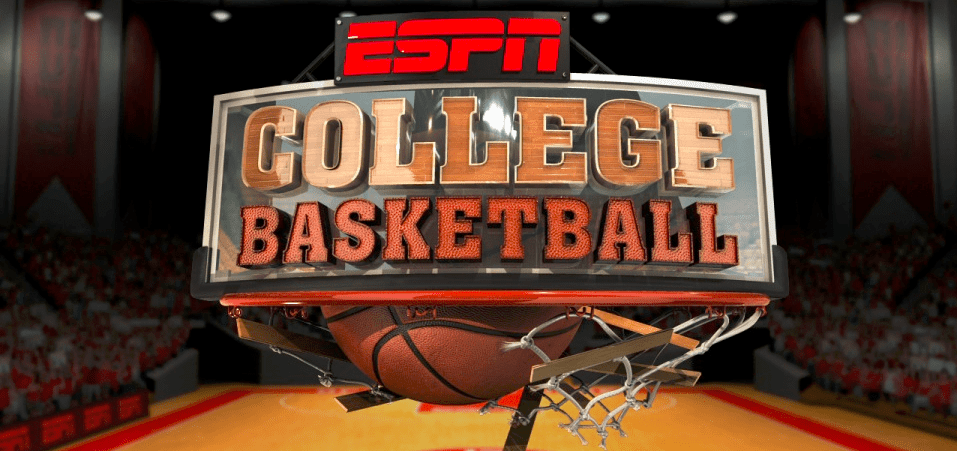 NCAA Basketball Online Without Cable
College basketball is broadcast in a lot of different ways. But they can be categorized in three ways:
Conference Channels: ACC Network (ACCN), Big Ten Network (BTN, B1G), Longhorn Network (LHN), Pac-12 Network, and SEC Network (SECN)
ESPN+: More and more live sports are broadcast through this service.
March Madness is a different matter. All of these games are shown on CBS and the Turner channels TBS, TNT, and truTV.
Here are the guides on how you can catch college basketball and March Madness without cable online:
How to Watch Specific Teams Without Cable
For a particular college basketball game stream, see these team guides: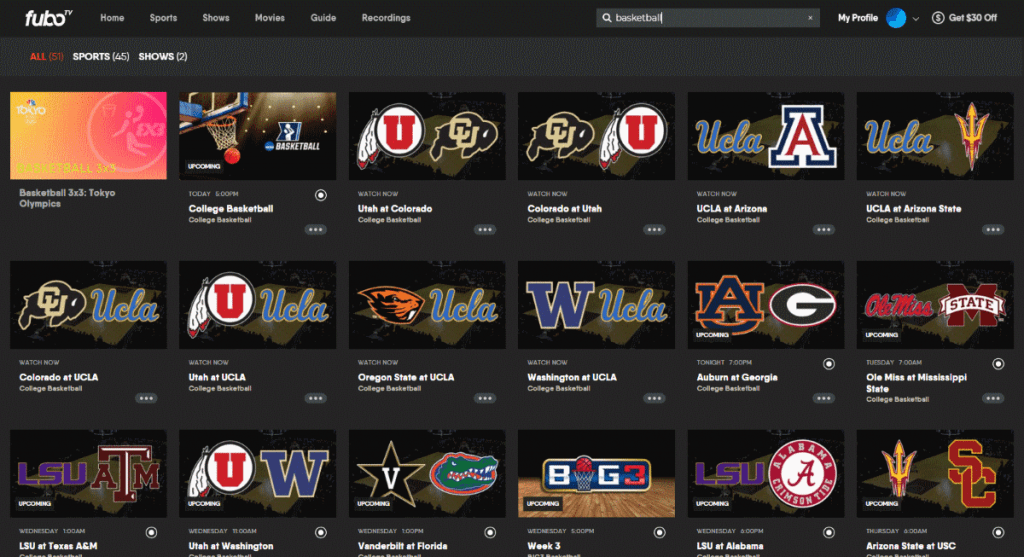 Unblock Your Favorite Events & Teams With a VPN

If you can't watch your favorite events or teams because of your location, a VPN will allow you to get the access you are entitled to, plus extra security and unequaled privacy. Check out our VPN Guide for everything you need to know, including our top pick ExpressVPN.

Other brands worth checking out include Hotspot Shield and CyberGhost.
Top Basketball Streaming Services
If you want the basics, most general streaming services will provide you with a lot of basketball to watch. Even a basic $35/mo Sling Blue or Sling Orange will provide enough action for a lot of fans. And you can get a lot more by adding the Sling Extra add-on for $11/mo.
Streaming Services for NBA
There are roughly two kinds of NBA fans: those who root for the home team and those who root for one or more distant teams. (There are also fans who do both!)
Local Fans
Local fans really need a streaming service that provides access to their team's RSN. That means you need to sign-up with one of the following:
As we've noted, DIRECTV STREAM has the largest selection. But remember: you only get the RSNs that are available in your region.
The fact that Bally Sports Kansas City is available from DIRECTV STREAM doesn't matter if you live in San Francisco. Fans there will only get NBC Sports California and NBC Sports Bay Area because those are the RSNs that cover that area.
Distant or General Fans
If you don't care about watching the games of your local team but you still want to follow the NBA season carefully, you should sign-up for NBA League Pass. It allows you to watch pretty much every regular-season game live. The catch? You can only watch out-of-market games (that is, games that don't involve your local team).
You can get NBA League Pass on its own. But it's convenient to have it integrated with a live TV streaming service. That's especially true if you are using NBA League Pass and your local RSN(s) to watch the season.
The price of NBA League Pass is $28.99/mo whether you get the standalone version or get it integrated with a live TV streaming service. You can also get it for $17.99/mo if you are only interested in games from a single team.
Note that you can stream in-market games after they are over with NBA League Pass. But you must wait until they are made available on-demand. Sadly, this currently takes 3 days. (Hopefully, this will one day change. MLB.TV makes in-market games available just 90 minutes after they finish.
Otherwise, see this list of streaming service reviews for more, and these sports guides for other popular sports to watch without cable.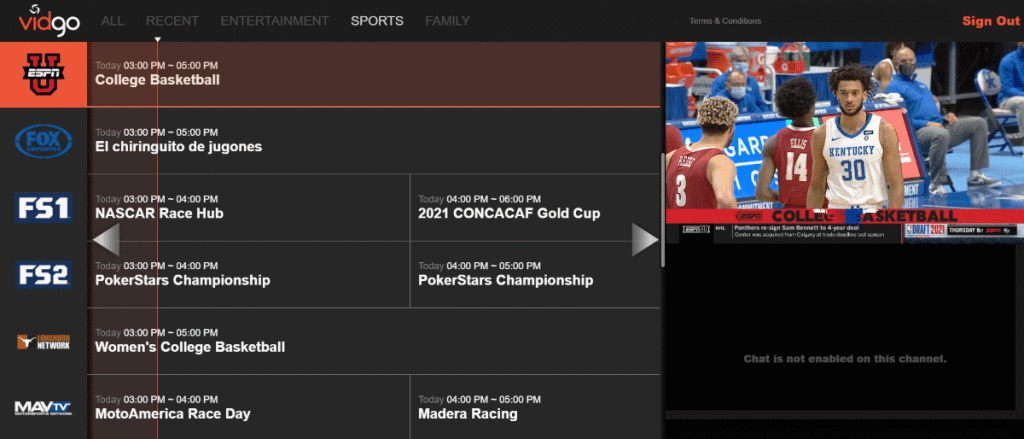 FAQs
How can I watch college basketball live?
There are several streaming services that show live college basketball games, including Hulu and AT&T. If you want to watch the majority of college basketball games, the Hulu + Live TV plan and the Sling Orange plan with the Sports Extra add-on are also decent options with a variety of channels. Hulu also offers an ESPN+ add-on.
Does Hulu have NBA TV?
Hulu's live TV plan does not offer NBA TV for subscribers and it is not currently available as an add-on. If you're a Hulu subscriber, you're limited to basketball games on regional sports networks and channels like ABC, CBS Sports Network, ESPN, and TNT. Note however that NBA TV features relatively few games. It is more a destination for analysis.
You can get NBA TV with the Sling Sports Extra add-on for a total cost of $41/mo. And you can get it with the Fubo Extra add-on, which gives you over 150 channels for $72.98/mo.
What streaming devices can I watch basketball on?
All the streaming services support most devices and TVs currently in use. All of them support Amazon Fire TV, Apple TV, Roku, Chromecast, and Android and iOS mobile devices. Also widely supported are Samsung, LG, and Vizio smart TVs. Android TV-based devices are also widely supported. The gaming system Xbox One is supported by almost all services. PlayStation is supported although slightly less.
Ditch "Big Cable" Now – 3 Simple Steps to Cut the Cord
Pick the right streaming service
Get the content you deserve with the best VPN.
Supercharge your internet provider
That's it — you'll save money, take back control, and enjoy TV more!
Page Updates
▼
▲
Image changes. Added a few links.

Updated some sub-sections. Updated some section headings. Added links.

Image changes. Mentioned offers. Put related links.

Added a few links. Various content updates.

More links. Image changes. Misc changes.

Added info about guide. Updated some sub-sections. Mentioned offers. Pricing updates.

Updated some sub-sections. Updated some section headings. Added useful links.

Added FAQ section. Added table of contents. Added links to streaming services. Updated one section. Updated some sub-sections. Pricing updates.
Latest posts by Frank Moraes
(see all)