The Auburn Tigers are one of the best basketball teams in the NCAA. As a result, pretty much all of their games are broadcast nationally. Read on to learn what ones you need.
In a hurry? Most Tigers games are on ESPN-owned channels. Some also air on CBS and CBSSN. These streaming services will provide what you need:
FuboTV: The best streaming service for international sports also provides 120+ well-selected channels. FuboTV allows you to try out its service free for 7 days.
Sling TV: This low-cost service allows you to select just the channel lineup you want. Save a bundle with Sling TV.
DIRECTV STREAM: Get a great channel lineup with the best selection of RSNs in the industry. A 5-day free trial is now available for DIRECTV STREAM.
If you can't watch your favorite sports because of your location, get ExpressVPN to access the content you deserve.
Unfortunately, we don't know a streaming service in that covers this sport. But if you've already paid for the right service, and just can't watch because of your location, there is an easy way to get the content you deserve. You need a VPN, like one of the following.
ExpressVPN: Premium VPN provider that just works, with 3,000+ locations in 94 countries. Supports five simultaneous devices and comes with a 30-day money-back guarantee. (ExpressVPN review)
Surfshark: Connect to over 3,200 servers in 99 countries (+ tonnes of US metro areas). Try it with a 7-day free trial.
NordVPN: Connect to over 5,000 premium servers in 60+ countries. Comes with a 30-day money-back guarantee!
If you're overwhelmed and not sure where to begin, you'll find all the answers in our full VPN guide.
Sign Up for a Free 7-Day Fubo Trial
The Auburn Tigers basketball team competes in the Southeastern Conference (SEC), which is one of the top conferences in the nation. In general, they haven't been one of its powerhouse teams, but they have been incredibly strong the last six years.
The Tigers began play in 1906 and have reached the NCAA Tournament on 10 separate occasions and have reached the National Invitational Tournament (NIT) six times.
Let's take a deeper dive into the program's history, how the team is expected to do during the 2021-2022 season, and how you can watch Auburn Tigers basketball games.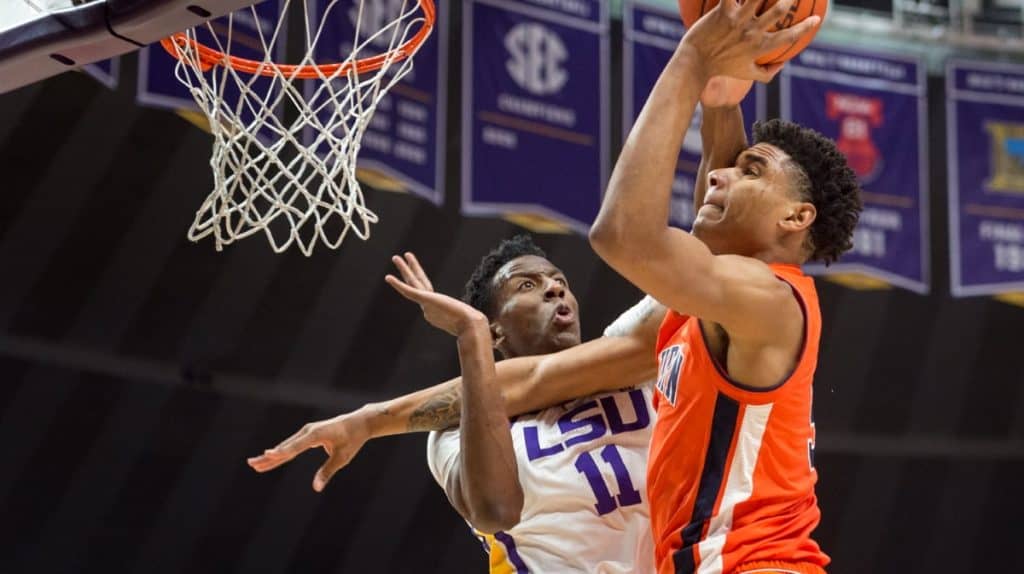 Auburn Basketball
The Tigers' first coach was Mike Donahue, who also served as the school's athletic director at the time that the program was founded. Donahue also served as the coach of the Auburn football, baseball, and track teams in 1906 and for several seasons afterward. He would spend 16 years as coach of the Auburn basketball team, which still stands as the most in program history.
Five other men have spent at least 10 years as Auburn's basketball coach, and the most recent to do so was Cliff Ellis, who was with the team from 1994 to 2004. During his time with the team, he led Auburn to its first number one seed in the NCAA tournament. The 1998-99 squad would advance to the Sweet Sixteen before losing to Ohio State. He also took Auburn to the NCAA tournament in 2000 and 2003. Auburn made four NIT appearances between 1995 and 2001.
The team is currently coached by Bruce Pearl, who led Auburn to the Final Four in 2019. Pearl has won 150 games over slightly more than eight seasons, which ranks him fourth in school history. The 2021-22 squad has started the year 13-1 and has won both of its conference games so far this season. Auburn is expected to contend for an SEC title as well as a berth in this year's NCAA Tournament.
Throughout its history, the Auburn Tiger basketball program has produced a number of players who would enjoy stellar careers in the professional ranks. Charles Barkley is perhaps the most famous individual to play for the school. Barkley played at Auburn between 1981 and 1984 and had his number retired in 2001. In 2006, he was inducted into the Naismith Memorial Basketball Hall of Fame.
Alabama, Georgia, and the University of Alabama-Birmingham (UAB) are among Auburn's biggest rivals on the basketball court. As Alabama and Georgia are also in the SEC, the Tigers play them on a regular basis. Auburn and UAB are signed to play at least three more games at some point in the future per the terms of a deal signed in 2015.
Sign Up for a Free 7-Day Fubo Trial
Unblock Your Favorite Events & Teams With a VPN
If you can't watch your favorite events or teams because of your location, a VPN will allow you to get the access you are entitled to, plus extra security and unequalled privacy. Check out our VPN Guide for everything you need to know, including our top pick ExpressVPN.
Auburn Channels
The majority of Auburn Tigers basketball games are broadcast on the SEC Network, ESPN, ESPN2, and ESPNU.
Otherwise, any game that is not shown on an ESPN property will typically be available for viewing on CBS or the CBS Sports Network (CBSSN).
Auburn Tigers 2022-23 Basketball Schedule
Mon Nov 7 : George Mason (52) at Auburn (70) (SECN+)
Fri Nov 11 : South Florida (59) at Auburn (67) (SECN+)
Tue Nov 15 : Winthrop (65) at Auburn (89) (SECN)
Fri Nov 18 : Texas Southern (56) at Auburn (72) (SECN+)
Tue Nov 22 : Bradley (64) vs Auburn (85) (CBSSN)
Sun Nov 27 : Saint Louis (60) at Auburn (65) (SECN)
Fri Dec 2 : Colgate (66) at Auburn (93) (SECN+)
Sat Dec 10 : Memphis (82) vs Auburn (73) (ESPN2)
Wed Dec 14 : Auburn (72) at Georgia State (64) (SECN+)
Sun Dec 18 : Auburn (71) at USC (74) (ESPN)
Wed Dec 21 : Auburn (84) at Washington (61) (Pac-12)
Wed Dec 28 : Florida (58) at Auburn (61) (ESPN2)
Wed Jan 4 : Auburn (64) at Georgia (76) (SECN)
Sat Jan 7 : Arkansas (59) at Auburn (72) (SECN)
Tue Jan 10 : Auburn (82) at Ole Miss (73) (ESPN2/ESPNU)
Sat Jan 14 : Mississippi State (63) at Auburn (69) (SECN)
Wed Jan 18 : Auburn at LSU (ESPN2/ESPNU)
Sat Jan 21 : Auburn at South Carolina (SECN)
Wed Jan 25 : Texas A&M at Auburn (ESPN2/ESPNU)
Sat Jan 28 : Auburn at West Virginia (ESPN/ESPN2)
Wed Feb 1 : Georgia at Auburn (SECN)
Sat Feb 4 : Auburn at Tennessee (ESPN/ESPN2)
Tue Feb 7 : Auburn at Texas A&M (ESPN/ESPN2)
Sat Feb 11 : Alabama at Auburn (ESPN/ESPN2)
Tue Feb 14 : Missouri at Auburn (ESPN/ESPN2/ESPNU)
Sat Feb 18 : Auburn at Vanderbilt (SECN)
Wed Feb 22 : Ole Miss at Auburn (SECN)
Sat Feb 25 : Auburn at Kentucky (CBS)
Wed Mar 1 : Auburn at Alabama (ESPN2/ESPNU)
Sat Mar 4 : Tennessee at Auburn (ESPN/ESPN2)
Watching Auburn Without Cable
All the major streaming services offer the ESPN channels. CBS channels are not as well supplied, but you can always get them independently with a Paramount+ subscription.
FuboTV

The FuboTV Pro plan ($74.99/mo) plus and the Fubo Extra ($7.99/mo) gives you 150+ channels including all the ESPN and CBS channels you need to watch Auburn basketball. This is especially a good plan for sports fans — providing all the major league networks and access to international soccer matches that are hard to access.
See our FuboTV review for all the details.
Sign Up for a Free 7-Day Fubo Trial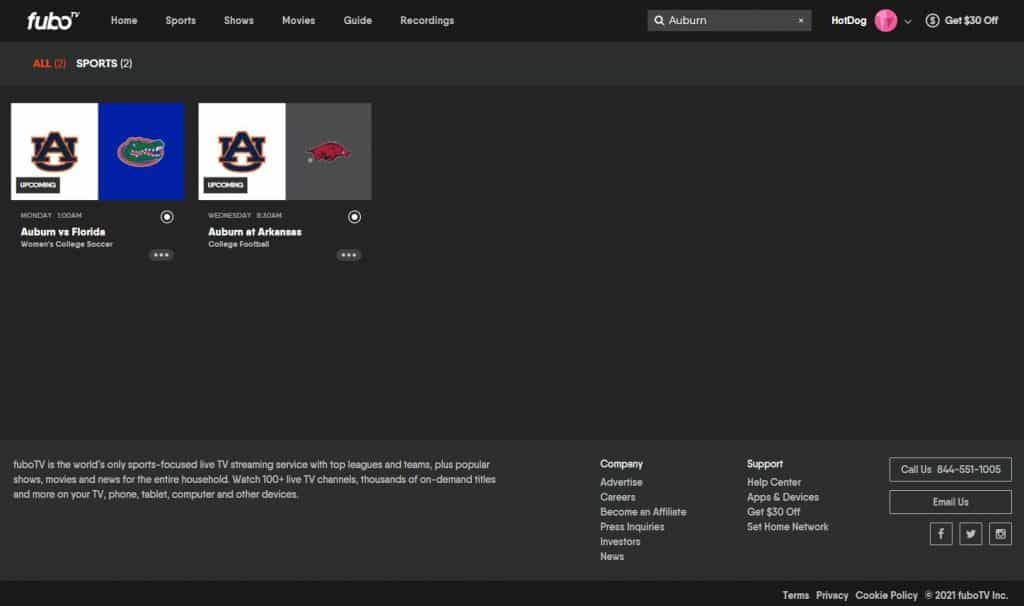 DIRECTV STREAM

DIRECTV STREAM provides CBS, ESPN, ESPN2, ESPNU and SEC Network as part of its Choice package for $99.99/mo. This also gives you access to virtually all of the regional sports networks in your area. This is essential for MLB, NBA, and NHL fans.
If you want to watch CBS Sports Network on this platform, you'll need to upgrade to the Ultimate package, which is $109.99/mo. For this price you get 130+ channels including eight Starz Encore channels.
Get more information in our DIRECTV STREAM review.
Get DIRECTV STREAM Free for 5 Days
Hulu + Live TV

For $69.99/mo, Hulu + Live TV provides access to CBS, CBSSN, and the entire family of ESPN channels. In all, it comes with a solid selection of 85+ live TV channels. This is combined with its outstanding on-demand library as well as Disney+ and ESPN+ subscriptions.
For more information, see our Hulu + Live TV review.
Other Options
With an antenna, you may be able to catch one regular-season game. However, these do tend to be good games like 2022's Kentucky at Auburn game. Otherwise, you are limited to other streaming services.
Sling TV: If you subscribe to the Sling Orange package, you'll have access to ESPN and ESPN2 for $40.00/mo, and you can get access to SEC Network for an extra $11 per month. You won't get the CBS-broadcast games, but for $46/mo, this is a great deal.
Vidgo: For $59.95/mo, you'll get to watch ESPN, ESPN2, and SEC Network. It too lacks CBS, but it has pretty much all the channels you will want to watch NCAA sports.
YouTube TV: Similar to Hulu + Live TV but with more channels and without ESPN+ and Disney+.
Other Auburn Sports
Auburn has active sports programs. Right now, the major ones are not quite to the level of the men's basketball program, but there is a lot of great athleticism.
Women's Basketball
The Auburn women's basketball team began play in 1972. Like the men's team, it plays its home games at Auburn Arena, which has served as the home court for each squad since 2010.
The team is coached by Johnnie Harris, who is in her first year with the Tigers. Over the past 50 years, the Tigers women's team has been to the NCAA Tournament 21 times and has made three appearances in the championship game.
Football
Auburn's football team is one of the most successful in the nation. It has been in existence since 1892 and has played its home games at Jordan-Hare Stadium since 1939.
The Tigers football program has won two national championships that are officially recognized and an additional three that it unilaterally has claimed for itself.
Each year, Auburn plays Alabama in the Iron Bowl. It also considers Georgia, Florida, and LSU to be among its rivals in football.
Sign Up for a Free 7-Day Fubo Trial
Other Key Sports
During much of the 21st century, Auburn's swimming and diving teams have been among the best in the SEC and in the nation. Both the men's and women's squads have won multiple national titles over the past two decades.
Auburn's baseball team made it to the College World Series (CWS) in 2019 and has made a total of four appearances in this tournament since 1947.
The women's soccer team has been constantly competitive in SEC play since its debut in 1993. In 2011, it captured the school's first conference title in the sport.
All these sports are on the same channels as the men's basketball games although more are generally shown on SECN+ and ESPN+.
Superpower Your Streaming With a VPN
For the sake of privacy, security, and access, you should be using a VPN. They are low-cost and easy to use. We've been using them for years and our top pick is ExpressVPN. Be sure to check out our Cyber Monday 2022 deals on ExpressVPN, NordVPN, SurfShark and PureVPN.
Watch Auburn Tigers Basketball on Various Streaming Devices
The streaming services mentioned above will allow you to watch the Tigers on most devices.
Hulu, Fubo, Sling, and DIRECTV support:
Android Fire TV
AppleTV
Chromecast
Roku
Samsung smart TVs.
Other than DIRECTV, they all support devices built on Android TV.
LG smart TVs are also supported by Hulu + Live TV, Sling TV, and FuboTV. Hulu and Fubo support VIZIO smart TVs. FuboTV also supports Hisense TVs.
Popular gaming consoles are also supported. Hulu, Sling, and Fubo all support the Xbox One. Additionally, Hulu supports the PlayStation and Nintendo Switch. Sling TV supports the Oculus.
See our streaming reviews for lists of all the supported devices.
Sign Up for a Free 7-Day Fubo Trial
Summing Up
The Auburn men's basketball team has a long history of success on the court, and they seem poised to accomplish great things this year as well.
If you want to watch Auburn basketball, you can subscribe to a streaming service such as Hulu + Live TV, FuboTV, Sling TV, or DIRECTV STREAM depending upon exactly what you are looking for.
It may also be possible to use an antenna to watch any games that are broadcast on CBS. Note that ESPN, CBS and other networks that broadcast Auburn basketball games may also broadcast games featuring other Auburn teams.
Ditch "Big Cable" Now – 3 Simple Steps to Cut the Cord
Pick the right streaming service
Get the content you deserve with the best VPN.
Supercharge your internet provider
That's it — you'll save money, take back control, and enjoy TV more!
Latest posts by Frank Moraes
(see all)