The NBA finals are here with the Miami Heat against the Denver Nuggets! Get all the details in our viewer's guide!

And you can watch it all with a 50% discount on Sling TV!
This guide offers the most up-to-date options on how to watch the Cleveland Cavaliers streaming without cable. You'll learn the channels you need to watch the games and where you can watch them legally without cable.
You can get signed up in minutes, so let's get started!
In a hurry? Here are three online streaming services with which you can watch the Cleveland Cavaliers play, all without cable:
Fubo: Get over 130 channels including a great selection of RSNs starting at $85.98/mo. Fubo allows you to try out its service free for 7 days.
DIRECTV STREAM: Sets you up with every regional channel in your area and 100+ others for $99.99/mo. A 5-day free trial is now available for DIRECTV STREAM.
If you can't watch your favorite sports because of your location, get ExpressVPN to access the content you deserve.
Oops! The two streaming services aren't available in . But if you've already paid for the right service, and just can't watch because of your location, there is an easy way to get the content you deserve. You need a VPN, like one of the following.
| | | |
| --- | --- | --- |
| | ExpressVPN: Known as "The VPN that just works," it combines remarkable ease of use with with state-of-the-art power, speed, security, and privacy. Get three extra free months when you sign up for a year. Unleash your streaming with this top-rated VPN. | Sign Up Now |
| | Surfshark: Surfshark: Secure and easy to use with thousands of servers around the world. Of special note is its excellent collection of servers inside the US, which is great for regional sports lie NFL, MLB, and NBA. Get it now with an incredible 82% discount on a 24-month plan. | Sign Up Now |
| | NordVPN: One of the top VPNs with extremely fast servers all over the world. Great for streaming with tested perfomance on the biggest servers and included ad-blocking. Currently offering 70% discount on 2-year plans. | Sign Up Now |
If you're overwhelmed and not sure where to begin, you'll find all the answers in our full VPN guide.
With or without Lebron James, Ohio remains loyal to the Cleveland Cavaliers. If you love the NBA in Cleveland, you're probably a Cavs fan. While in-person games are always the most exciting, sometimes it's worth staying home and watching from the comfort of your couch.
If that's what you want to do, it's worth knowing that there are ways to watch the Cleveland Cavaliers online without cable. Not only is it as easy as watching cable, it's also cheaper. So, let's talk streaming!
Sign Up for a Free 7-Day Fubo Trial
What Channels Offer the Cleveland Cavaliers Online?
The main channel you're going to need to stream the Cleveland Cavaliers is Bally Sports Ohio. This channel is available with one streaming service. It's an easy way for NBA fans in Ohio to watch the Cavs games, but as a regional sports channel, it's available in specified areas. (Fans outside the area have alternatives.)
You can watch the Cleveland Cavaliers online nationwide on NBA TV. NBA games, including Cleveland Cavaliers bouts, are also shown on ABC, TNT, and ESPN. These channels are available without cable, so if you're looking for a cheaper way to get a Cleveland Cavaliers live stream, streaming is the answer!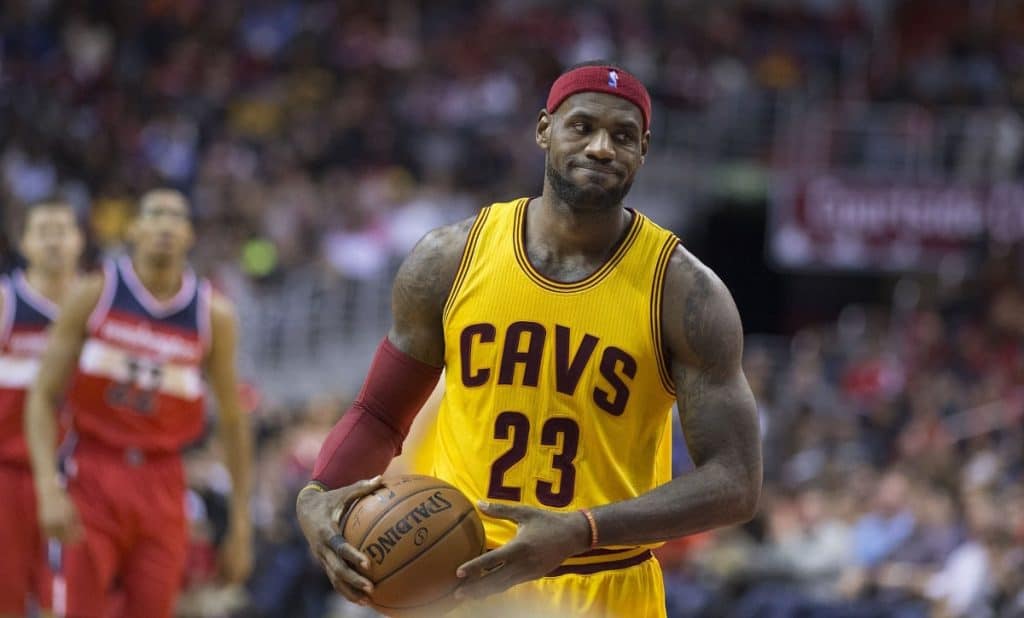 Unblock Your Favorite Events & Teams With a VPN
If you can't watch your favorite events or teams because of your location, a VPN will allow you to get the access you are entitled to, plus extra security and unequalled privacy. Check out our VPN Guide for everything you need to know, including our top pick ExpressVPN.
How to Watch the Cleveland Cavaliers Streaming Without Cable
One of the best ways to watch the Cleveland Cavaliers live stream is going to be FuboTV. When it's not NBA season, you can watch NFL, MLS, and everything in between on Fubo.
Another great option is Hulu with Live TV, although it's missing NBA TV. Still, they do offer plenty of general entertainment, like Hulu on-demand, and much more.
Some other services are available to choose from and we'll talk about those towards the end of this article.
Once you've picked your service it's a quick sign up and you'll be ready to connect to your streaming device. You can connect to many different devices from mobile devices that will let you stream on the go to streaming boxes and sticks, which connect to your TV.
Watch the Cleveland Cavaliers Streaming on FuboTV

FuboTV is a complete option to watch the Cleveland Cavaliers season online. NBA TV is included along with over 130 other channels. Some local channels are included in many areas, along with beIN Sports, USA, TNT, TBS, FX, and many others.
But most of all, FuboTV provides Bally Sports Ohio for those in the Cavaliers' broadcast area. It allows you to stream every game.
An on-demand library is included. You can also record shows on your cloud-DVR. Streaming options start at $88.98/mo.
More FuboTV details:
Packages from $74.99/mo
FuboTV is contract-free
1000 hour cloud DVR included
Over 110 channels
A complete way to watch the Cleveland Cavaliers online
Stream more content on-demand or with TV Everywhere apps
Watch on computers, smart TVs, Apple TV, Fire TV, Roku, mobile devices, and more
Read our FuboTV review to learn more
FuboTV offers most of what you'd find with cable, but for a cheaper price and without a contract. You can stream on most devices. You'll get a wide range of content, both live and on-demand, which means you should always have something to watch.
You won't need to worry about buyer's remorse either, because when you sign up, you'll start with the trial.
Sign Up for a Free 7-Day Fubo Trial
Watch the Cleveland Cavaliers Online with Hulu Live

Hulu with Live TV comes with 85+ channels. If you have the Hulu on-demand service, you're already familiar with the layout and how things work. When you subscribe to Hulu Live, the on-demand content is included.
You can stream on most devices. Packages are available starting at $69.99/mo.
Here's more on Hulu Live:
Hulu on-demand comes with your package
Over 85 live channels
$69.99/mo
ABC, ESPN, and TNT included
No contracts!
Unlimited cloud DVR (9 month storage)
Watch on most devices – including Roku, Apple TV, Chromecast, and mobile devices
Our Hulu with Live TV review has more information
Hulu Live allows you to watch live and on-demand TV at home or on the go. You can watch through Hulu, through TV Everywhere apps, or you can save shows to your cloud-DVR.
Upgrades are available that will allow you to stream on an unlimited number of devices at the same time or to add movie channels to your package.
Other Options to Watch the Cleveland Cavaliers Online
Both FOX Sports Ohio and NBA TV are available on other streaming services. Some, like fuboTV, offer both services, while others only offer one of the two channels.
Either way, they provide at least a partial way to watch the Cleveland Cavaliers online. Here are your remaining options:
DIRECTV STREAM – The only major streaming service that offers Bally Sports Ohio without cable, alongside 185+ channels from $74.99/mo. Read our DIRECTV STREAM review here.
Sling TV – Stream any of the two packages from $40.00/mo, or the two combined for $55.00/mo with a generous selection of sports channels. Read our Sling TV review here.
YouTube TV – Watch over 85 channels from $72.99/mo. Find out more in our YouTube TV review.
You shouldn't have any problem getting to watch the Cleveland Cavaliers online without cable, but if you have any questions, feel free to let us know!
FuboTV is our top pick for Cavaliers fans. Fubo allows you to try out its service free for 7 days.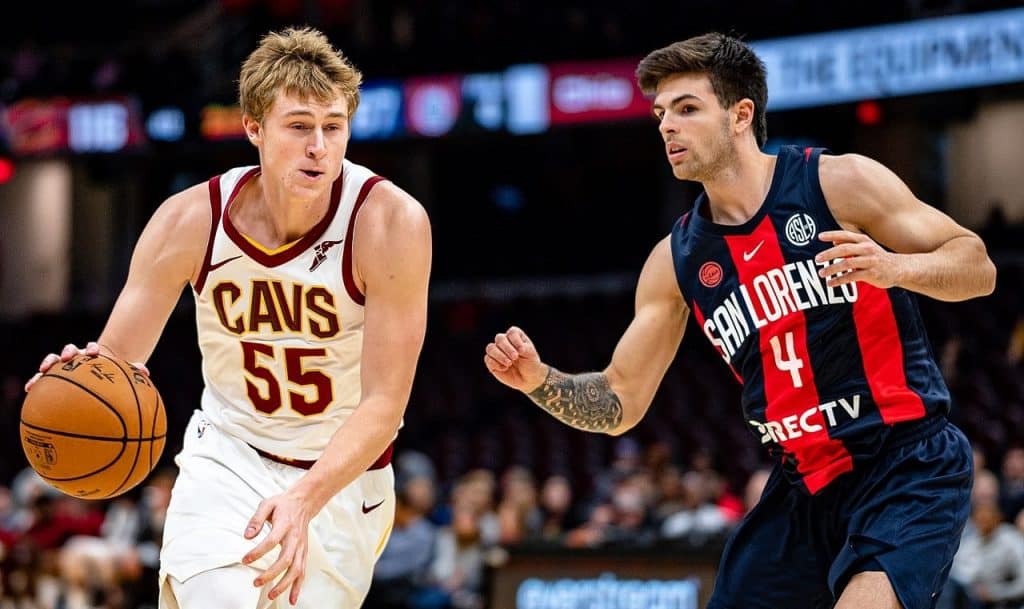 FAQs
What services are streaming tonight's Cleveland Cavaliers game?
If you are outside the blackout area, you can stream every Cavs game by subscribing to NBA League Pass for $28.99 per month. If you live in the Cleveland area, you can watch every game with Bally Sports Ohio through FuboTV and DIRECTV STREAM (Choice package). You can stream nationally televised games on FuboTV and other services.
What channels do I need to enjoy the whole Cleveland Cavaliers season?
The majority of Cleveland Cavaliers games are broadcast on Bally Sports Ohio, which is available throughout the city of Cleveland and surrounding areas. Games may also be broadcast on WUAB Channel 43, which is also known as The CW Cleveland. Any games that are broadcast to a national audience will be shown on ESPN, TNT, NBA TV, and other channels.
Sign Up for a Free 7-Day Fubo Trial
What radio stations air Cleveland Cavaliers games?
You can listen to almost all of the Cavs regular season and playoff games on WTAM 1100 and 100.7 WMMS. Collectively, these stations are referred to as the Cleveland Cavaliers Radio Network. If you don't have a radio handy, it may be possible to listen to games on your computer or phone over the internet.
What stadium does the Cleveland Cavaliers play in?
The Cavaliers have played in Cleveland since joining the league in 1970. They currently play their home games at Rocket Mortgage Fieldhouse, which the team has called home since 1994. Between 1974 and 1994, the Cavs played their home games at the Richfield Coliseum. The Cavaliers spent its first four seasons playing at the Cleveland Arena.
What is the Cleveland Cavaliers playoffs record?
The Cleveland Cavaliers won their only NBA championship in 2016 after defeating the Golden State Warriors in the league finals. Cleveland overcame a 3-1 series deficit to defeat Golden State in seven games. Their 2016 run came during a period in which the team would win four straight conference titles between 2015 and 2018. Cleveland won their first conference title in 2007.
Can I stream the Cleveland Cavaliers on my phone?
You can stream games to your phone through the DIRECTV STREAM, FuboTV, and NBA League Pass app, and you can also do so with most other services that allow you to stream content to any type of mobile device. This is generally true whether you have a phone that uses Android or iOS.
Who is the greatest ever player on the Cavaliers?
Although he played several seasons with the Miami Heat and is now with the Los Angeles Lakers, LeBron James spent most of his career with the Cleveland Cavaliers. And given he is widely considered one of the best basketball player of all time, he would be the obvious choice.
Ditch "Big Cable" Now – 3 Simple Steps to Cut the Cord
Pick the right streaming service
Get the content you deserve with the best VPN.
Supercharge your internet provider
That's it — you'll save money, take back control, and enjoy TV more!
Page Updates
▼
▲
Updated some sub-sections. Updated some section headings. Added some links.

Added buttons for streaming services. Image changes. Added some more links. Misc changes.

Added buttons for streaming services. Image changes. Linking. Formatting changes.

Added buttons for streaming services. Linking. Mentioned offers. Pricing updates.

Pricing updates. Image changes. More links.

Added FAQ section. Added links to streaming services. Changed some content in main section. Updated some sub-sections. Linking.

Updated one section. Updates to a section. Added some more links.
Latest posts by Frank Moraes
(see all)