Duke is normally one of the top-ranked NCAA men's basketball teams. As a result, they have plenty of fans around the country. And this means that most of their games air on major national channels that are pretty easy for cord-cutters to get. Read on to learn all the details.
In a hurry? Almost all Blue Devils games air on ESPN or one of its related channels — normally ESPN2 and ACC Network. These are our top picks for streaming Duke games:
Sling TV: This low-cost service allows you to select just the channel lineup you want. Save 50% on your first month of Sling TV.
DIRECTV STREAM: Get a great channel lineup with the best selection of RSNs in the industry. A 5-day free trial is now available for DIRECTV STREAM.
Hulu + Live TV: A great overall streaming service offering 85+ live channels along with ESPN+ and Disney+. Try one month for $69.99.
If you can't watch your favorite sports because of your location, get ExpressVPN to access the content you deserve.
If you can't watch your favorite movies and shows because of your location, you need a VPN. Here are our top picks from our VPN guide:
ExpressVPN: Established VPN provider in close to 100 countries. Smart DNS and unlimited bandwidth. Try it with a 30-day money-back guarantee.
Surfshark: Connect to over 3,200 servers in 99 countries. Comes with a 7-day free trial!
CyberGhost: Great low-cost service with a free 24-hour trial.
The Duke Blue Devils men's basketball team is a famous college athletics program for a number of reasons. One of them is the small matter of its five national championship trophies.
Then there is historic Cameron Indoor Stadium, which is small for a program of this magnitude at 9,314 seats, but that causes sky-high demand for entry.
That is especially true when the North Carolina Tar Heels pay a visit. That rivalry is another reason why Duke basketball is so known. Plus, there are the Cameron Crazies in that arena and Krzyzewskiville outside, not to mention Mike Krzyzewski himself, its head coach from 1980 to 2022.
All of those reasons also result in a significant amount of interest in watching broadcasts of the team's games. More to the point, it causes quite a demand among cord-cutters looking to stream those contests.
Fortunately, that demand also results in the Blue Devils regularly being shown on premier television channels, especially ESPN, ESPN2, ACC Network, and sometimes over-the-air ABC and CBS.
Some of the options that will allow you to stream Duke men's basketball games include Hulu + Live TV ($69.99/mo), FuboTV ($69.99/mo), DirecTV Stream ($69.99/mo or $89.99/mo), Sling TV ($35/mo), and YouTube TV ($64.99/mo).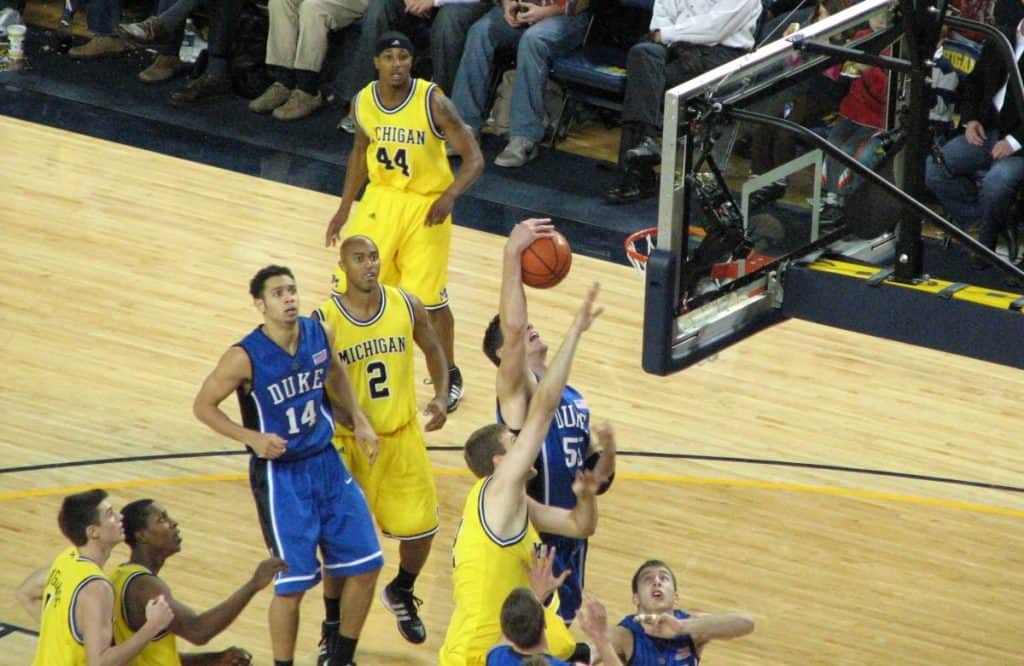 Duke Blue Devils Men's Basketball
Duke's men's basketball team initially experienced national success in the 1960s, reaching at least the Elite Eight on four occasions (1960, 1963, 1964, and 1966), all under the direction of Vic Bubas.
Its best run of this span was an appearance in the 1964 title game, where it fell to undefeated UCLA. That championship was the first for that storied program and the initial one of 10 in a 12-year span.
The Blue Devils then disappeared from the national spotlight before returning just prior to Krzyzewski's arrival. Under the tutelage of Bill Foster, Duke advanced to the Elite Eight twice in a three-year span, in 1978 and 1980 with 1978 being another championship game appearance. The Blue Devils fell to Kentucky there.
After Krzyzewski led Duke to two more title games, in 1986 and 1990, the team broke through in stunning fashion, eliminating previously undefeated UNLV in the 1991 semifinals before beating Kansas for the title.
A year later was Christian Laettner's historic buzzer-beating winning shot in a 104-103 overtime victory over Kentucky in the regional final and, after two more wins, a repeat championship.
Duke cut down the nets at the Final Four three more times, in 2001, 2010, and 2015.
During Krzyzewski's tenure, the Blue Devils have only missed the NCAA Tournament on five occasions: his first three seasons (1980-81, 1981-82, and 1982-83) and two later ones (1994-95 and 2020-21).
2021-2022 Duke Blue Devils Schedule
Nov 9: Kentucky (71) at Duke (79) (ESPN)
Nov 12: Army (56) at Duke (82) (ACCN)
Nov 13: Campbell (56) at Duke (67)
Nov 16: Gardner-Webb (52) at Duke (92)
Nov 19: Lafayette (55) at Duke (88) (ACCN)
Nov 22: The Citadel (81) at Duke (107) (ACCN)
Nov 26: Gonzaga (81) at Duke (84) (ESPN)
Nov 30: Duke (66) at Ohio State (71) (ESPN)
Dec 14: South Carolina State (62) at Duke (103) (ACCN)
Dec 16: Appalachian State (67) at Duke (92) (ESPN2)
Dec 18: Elon (56) at Duke (87) (ACCN)
Dec 22: Virginia Tech (65) at Duke (76) (ESPN2)
Dec 29: Duke at Clemson (POSTPONED)
Jan 1: Duke at Notre Dame (POSTPONED)
Jan 4: Georgia Tech (57) at Duke (69) (ACCN)
Jan 8: Miami at Duke (ACCN)
Jan 12: Duke at Wake Forest (ACCN)
Jan 15: NC State at Duke (ESPN3)
Jan 18: Duke at Florida State (ESPN)
Jan 22: Syracuse at Duke
Jan 25: Clemson at Duke
Jan 29: Duke at Louisville
Feb 5: Duke at North Carolina (ESPN)
Feb 7: Virginia at Duke (ESPN)
Feb 12: Duke at Boston College (ACCN)
Feb 15: Wake Forest at Duke
Feb 19: Florida State at Duke (ESPN)
Feb 23: Duke at Virginia (ESPN)
Feb 26: Duke at Syracuse (ESPN)
Mar 1: Duke at Pittsburgh (ACCN)
Mar 5: North Carolina at Duke (ESPN)
Cameron Crazies and Krzyzewskiville
One of the reasons why this team is so known is because of its fan base. In particular, its student fans are referred to as the Cameron Crazies. Unlike in most college basketball facilities, Duke's students are given prime spots to watch the games. This also results in them and their creative, distracting antics being very visible on television and given prominent coverage during game action.
Demand to get into this section is especially high for the annual visit of the Tar Heels as students set up tents and are in line for months prior. Of course, the students do not have to all be in their tents the entire time, but there are periodic checks to ensure that enough of them are. Two times of this not being adhered to, and that tent's occupants are moved to the end of the line or out of the line completely.
Duke-North Carolina Rivalry
A factor that brings attention to Duke is something that Blue Devils fans do not want to admit: the North Carolina Tar Heels.
Their rivalry games garner tremendous fan interest and television ratings as a lot of tension exists between these schools. This is partly because of the prominence of their men's basketball programs. But it is also because of their different cultures with Duke being an elite private school and UNC a top public institution.
Another prominent factor is their proximity; they are only separated by 10 miles.
Unblock Your Favorite Events & Teams With a VPN
If you can't watch your favorite events or teams because of your location, a VPN will allow you to get the access you are entitled to, plus extra security and unequalled privacy. Check out our VPN Guide for everything you need to know, including our top pick ExpressVPN.
Other Blue Devils Sports
Duke's athletic prominence is not only focused on its men's basketball team. In fact, several of its programs are national championship contenders.
For example, during the 2020-21 school year, the school had five teams finish amongst the top eight nationally: women's golf, women's lacrosse, women's tennis, women's soccer, and fencing.
Duke Blue Devils Women's Basketball
Duke's women's basketball team has also been among the nation's best for some time. Although that team is still looking to break through and claim its first national title, it has come close on a number of occasions.
It has played in the title game twice (1999 and 2006) and reaching the Final Four four times (1999, 2002, 2003, and 2006). The 2006 championship contest was especially heartbreaking as the Blue Devils had led Maryland by 13 points before falling to the Terrapins, 78-75 in overtime.
Duke Blue Devils Football
Duke's football team has not been known for success, but it does still draw the largest crowds to its home games of any of the school's sports teams, averaging 26,000 per home game in 2019 and 15,000 in 2021.
Plus, when the Tar Heels visit every other year, Wallace Wade Stadium's 40,004 seats are mostly filled regardless of the records of the two schools.
Duke Blue Devils Channels
As is normal for college sports, Duke is broadcast on a variety of channels with that selection changing every year.
However, it is stable for nearly all home games and conference road contests. The vast majority of those are overseen by ESPN and shown on ABC, ESPN, ESPN2, ACC Network. Some games are also shown on ACC Network Extra, the online-only offering that can only be garnered by those who subscribe to a service that provides them with the ACC Network.
Rarely, home games will instead be on regional sports networks (RSNs). One example was the team's contest with Gardner-Webb on Nov 16, 2021. Bally Sports South showed it to fans situated in North Carolina and nearby states.
Non-conference away and neutral-site contests are sometimes on different channels although all of the team's away and neutral-site games during its 2021-22 regular season were shown on ESPN. But that changes for the NCAA Tournament as all of those games are on CBS, TBS, TNT, and truTV.
Duke channels are similar for the school's other sports teams with the ones with smaller fan bases being shown much more often on the ACC Network and ACC Network Extra. Many games also appear on ESPN+.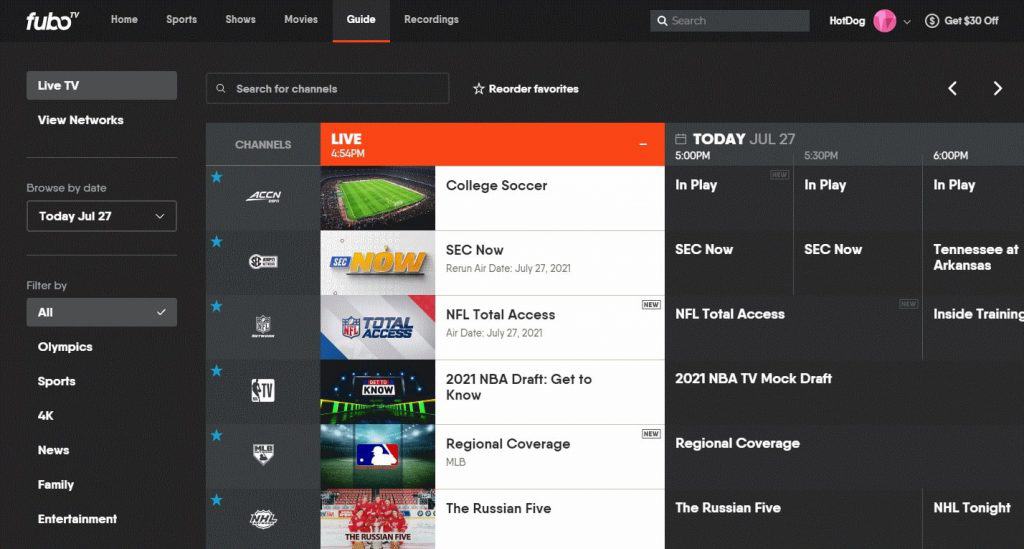 Streaming the Duke Blue Devils
Those looking to kick their cable habit have several options for watching the Duke Blue Devils play.
FuboTV

FuboTV ($69.99/mo) is a great streaming service for Duke fans during the regular season as it offers ABC, ESPN, ESPN2, ACC Network, and CBS. However, it has some notable holes for the postseason: TBS, TNT, and truTV. Take special note that TBS will be broadcasting the entire Final Four in 2022 and 2024.
But if Duke basketball is only part of your sports diet, FuboTV is worth a look. All plans come with 1000 hours of cloud DVR and streaming on up to ten devices at once. See our FuboTV review for more details.
DIRECTV STREAM

DIRECTV STREAM offers a few different packages. If you get its Entertainment plan ($69.99/mo), you can watch ABC, ESPN, ESPN2, CBS, TBS, TNT, and truTV. So you will be able to watch much of the Blue Devils regular and all its postseason games.
If you want to also get the ACC Network and ACC Network Extra, you will need to bump up to its Choice plan ($89.99/mo). But this will also give access to its outstanding RSN selection.
DIRECTV STREAM comes with unlimited cloud DVR as long as you sign-up online and simultaneous streaming on up to 20 devices. For details, see our DIRECTV STREAM review.
Sling TV

Sling Orange will allow you to watch well over a dozen Duke games per season for $35/mo. If you want to watch pretty much all of the games, you will need to upgrade with Sling Extra for $11/mo. At $46/mo, it's a great deal.
You can only stream on one screen at a time but you do get 50 hours of cloud DVR storage. See our Sling TV review for more information.
Hulu + Live TV

Hulu + Live TV ($69.99/mo) provides you with access to ABC, ESPN, ESPN2, ACC Network, CBS, TBS, TNT, and truTV. As a result, it is a tremendous option for Duke Blue Devils fans.
Hulu + Live TV also recently added Disney+ and, more to the point, ESPN+ to its plan. You aren't likely to see the men's basketball team on ESPN+ but you will see women's basketball, baseball, and other sports.
For more information, see our Hulu + Live TV review.
Other Streaming Services
Vidgo ($59.95/mo) has you covered with the ESPN channels but, like FuboTV, will leave you hanging in the postseason. YouTube TV ($64.99/mo) is another solid option for Duke fans, although we are skeptical after they briefly dropped ESPN.
Devices to Stream Duke Blue Devils Games
Hulu, Sling, DIRECTV all support the major streaming devices: Amazon Fire TV, Android mobile, Apple TV, Chromecast, iOS, Roku, Samsung smart TVs, and web browsers.
Hulu and Sling also support Android TV devices and LG smart TVs. So are Xbox systems. Vizio smart TVs and PlayStation and Nintendo Switch game systems are supported by Hulu.
Superpower Your Streaming With a VPN
For the sake of privacy, security, and access, you should be using a VPN. They are low-cost and easy to use. We've been using them for years and our top pick is ExpressVPN.
Summing Up
If you want to end your cable subscription while watching as many Duke men's basketball and other Duke sporting events as possible, most of the streaming services above are good options. We are especially fond of Hulu + Live TV ($69.99/mo), which provides all the live TV channels as well as Disney+ and ESPN+.
More Basketball
These guides show how to watch other teams without cable.
Ditch "Big Cable" Now — 3 Simple Steps to Cutting the Cord
Pick the right streaming service
Get the content you deserve with the best VPN.
Supercharge your internet provider
That's it — you'll save money, gain control, and enjoy TV more!
Latest posts by Frank Moraes
(see all)