If you are a Seminoles fan, you don't need to worry about cutting the cord. Most of their men's basketball games are broadcast on major channels that are widely available from streaming services. And the same goes for their football and women's basketball games. Read on to learn more!
In a hurry? Most Florida State basketball games air on ESPN channels. And all the major live TV streaming services provide access to these channels. Here are our favorite services:
FuboTV: The best streaming service for international sports also provides 100+ well-selected channels. FuboTV allows you to try out its service free for 7 days.
DIRECTV STREAM: Get a great channel lineup with the best selection of RSNs in the industry. A 5-day free trial is now available for DIRECTV STREAM.
Sling TV: This low-cost service allows you to select just the channel lineup you want. Save 50% on your first month of Sling TV.
The Florida State Seminoles basketball team competes in the Atlantic Coast Conference (ACC) and plays its home games at the David L Tucker Center in Tallahassee. The team is currently coached by Leonard Hamilton, and he has held that position since 2002.
Let's take a closer look at the history of the program, a quick look at some of the school's other popular teams, and how you can watch them without the need for a cable subscription.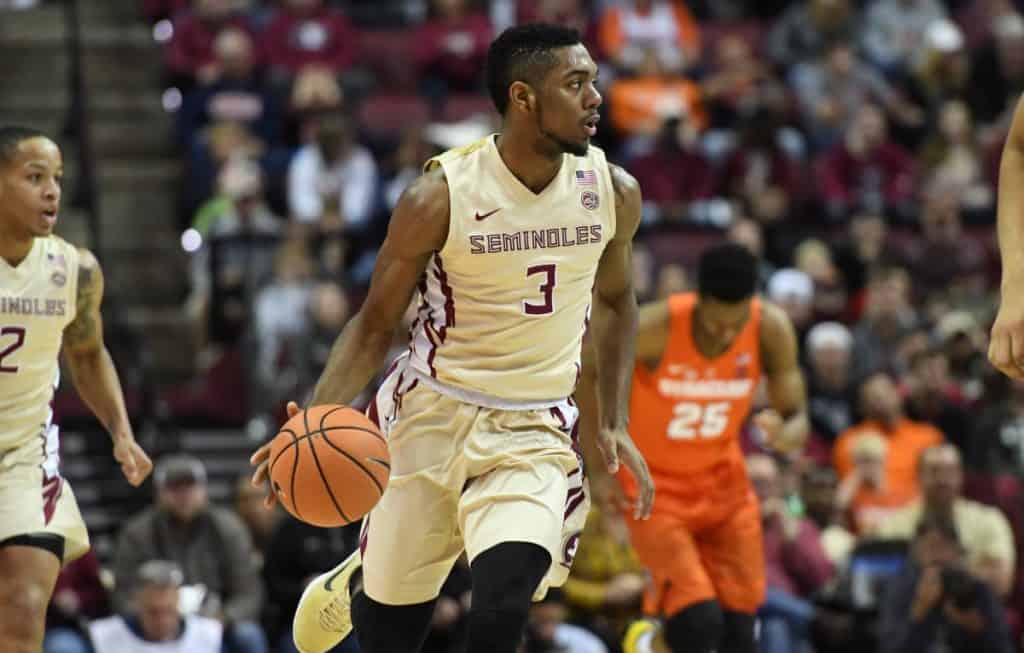 Florida State Seminoles
The Seminoles basketball team first took the court in 1947, and during its 75 years in existence, the program has made the NCAA tournament 18 times.
In 1972, the school lost to UCLA 81-76 in its only appearance in the national championship game. In 2020, the school was awarded the national title by state legislators after that year's tournament was canceled because of the COVID-19 pandemic.
Florida State has also made 10 appearances in the National Invitational Tournament. In 2012, it won its only ACC conference tournament after defeating Duke and North Carolina in consecutive games. That year, those two schools were the top two seeds in the competition.
Florida State has had three main rivals throughout program history, and it has played each of these schools since the early 1950s. Its first meeting against Miami took place in 1950 while its first meeting with Clemson took place in 1951. In that same year, Florida State played its archrival Florida for the first time on the hardwood.
Since 1978, the two schools have played each other at least once a year in a battle known as the Sunshine Showdown. The schools also play each other at least once a year in football, which is the sport that they have each generally had more success in. Florida State also plays Miami and Clemson on a regular basis as they are all in the same conference.
Florida State has produced a number of players who would go on to enjoy success in professional basketball. Dave Cowens may be among the best to ever play for the school as he would eventually be enshrined in the NBA Hall of Fame.
Charlie Ward may be the most interesting former Seminole as he was a top performer in both basketball and football. He was drafted by the New York Knicks in 1993 mere months after he won the Heisman Trophy for his accomplishments on the football field.
The 2021-22 Seminoles began the season ranked 20th in the country, and they were expected to be one of the better teams in the ACC. However, multiple nonconference games have been canceled because of COVID-19 outbreaks. And it's unclear how the pandemic will impact their performance during the conference portion of their schedule.
2021-2022 Florida State Seminoles Schedule
Nov 10: Pennsylvania (70) at Florida State (105) (ACCN)
Nov 14: Florida State (55) at Florida (71) (ESPN)
Nov 17: Tulane (54) at Florida State (59) (ACCN)
Nov 21: Loyola Marymount (45) at Florida State (73) (CBSSN)
Nov 22: Missouri (58) at Florida State (81) (CBSSN)
Nov 24: Boston University (80) at Florida State (81) (ACCN)
Nov 30: Florida State (65) at Purdue (93) (ESPN)
Dec 4: Syracuse (63) at Florida State (60) (ACCN)
Dec 12: South Carolina (66) at Florida State (65) (ESPN2)
Dec 15: Lipscomb (60) at Florida State (97) (ACCN)
Dec 18: UCF at Florida State (Bally Sports Florida) (CANCELED)
Dec 21: North Florida at Florida State (Bally Sports Florida) (POSTPONED)
Dec 29: Florida State at Boston College (ESPNU) (POSTPONED)
Jan 1: Florida State (83) at NC State (81) (ACCN)
Jan 4: Florida State (54) at Wake Forest (76) (Bally Sports Florida)
Jan 8: Louisville (70) at Florida State (79) (ESPN2)
Jan 11: Miami (64) at Florida State (65) (ACCN)
Jan 15: Florida State (76) at Syracuse (71) (ESPN2)
Jan 18: Duke (78) at Florida State (79) (ESPN)
Jan 22: Florida State (61) at Miami (60) (ESPN)
Jan 26: Florida State (61) at Georgia Tech (75) (ACCN)
Jan 29: Virginia Tech (85) at Florida State (72) (ABC)
Feb 2: Florida State (69) at Clemson (75) (ACCNX)
Feb 5: Wake Forest (68) at Florida State (60) (Bally Sports Florida)
Feb 9: Pittsburgh (56) at Florida State (51) (ACCN)
Feb 12: Florida State (74) at North Carolina (94) (ESPN)
Feb 15: Clemson (80) at Florida State (81) (Bally Sports Florida)
Feb 19: Florida State (70) at Duke (88) (ESPN)
Feb 26: Florida State (64) at Virginia (63) (ESPN)
Mar 2: Notre Dame (70) at Florida State (74) (ESPN2)
Mar 5: NC State (76) at Florida State (89) (ESPN)
Do You Need a VPN?
If you find you can't watch particular events because of your location, a VPN should allow you to get the access you are entitled to. It also provides extra security and unequalled privacy. See our complete VPN Guide for all you need to know.
Seminoles Channels
Florida State basketball games are primarily broadcast on ESPN and its related channels — especially ACC Network (ACCN). A few games will appear on CBS Sports Network (CBSSN), ESPN2, ESPNU, and ABC.
Bally Sports Florida also airs a number of games. Your only option to watch these games is with DIRECTV STREAM.
Stream Seminoles Basketball
Most of the major live TV streaming services offer the ESPN channels so it isn't hard for Seminoles fans to watch most games.
Hulu + Live TV

Hulu + Live TV starts at $69.99 and offers 85+ live TV channels and its outstanding on-demand library of shows, movies, and sporting events. And now, it also includes ESPN+ and Disney+. This is not such a big deal for men's basketball but if you are interested in other Seminoles sports, it's important to have.
Along with the plan comes unlimited cloud DVR (9 month storage) and the ability to stream on up to two devices at the same time. All the details are explained in our Hulu + Live TV review.
DIRECTV STREAM

For $69.99 per month, you'll be able to watch ESPN, ESPN2, and a variety of other quality sports networks. To get ESPNU and ACCN, you'll need to upgrade to the DIRECTV STREAM Choice package. This service tier costs $89.99 per month and also comes with most regional sports networks that are available in your viewing area. If you are in Florida, this should provide roughly 5 extra games per season.
DIRECTV STREAM provides unlimited cloud DVR storage as long as you sign-up online and the ability to stream on up to 20 devices at one time. Read our DIRECTV STREAM review for more information.
FuboTV

You can get most of the channels that you need to watch Florida State basketball through the FuboTV Starter plan, which is $69.99 per month. To get ESPNU and ACCN, you'll need to acquire the Fubo Extra package, which is $7.99/mo extra.
But this is more than worth it if you are a fan of international sports — especially soccer. FuboTV offers over 100 channels (150 if you get Fubo Extra) with 35+ sports-oriented ones.
All plans come with 750 hours of cloud DVR storage and simultaneous streaming on up to 10 devices at once. All the details can be found in our FuboTV review.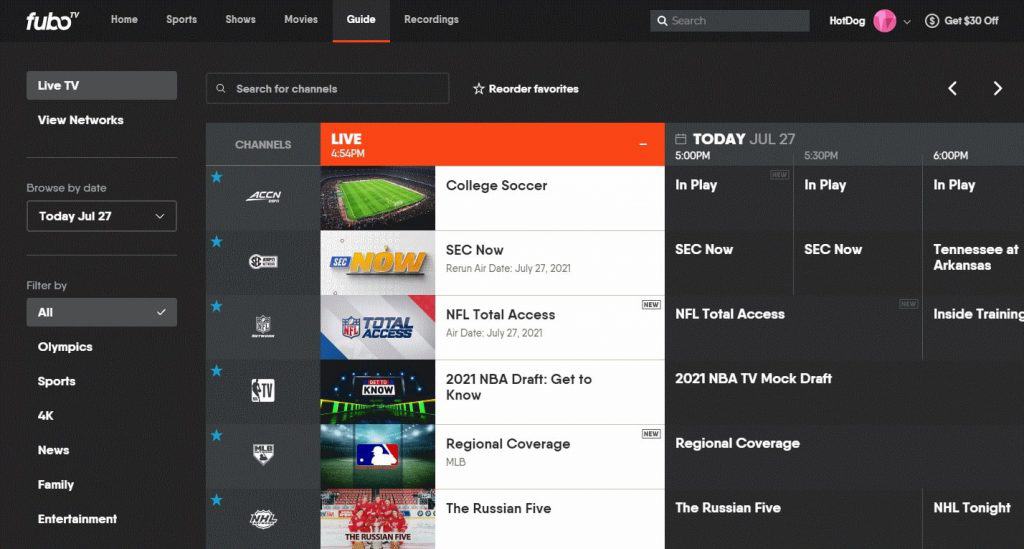 Other Streaming Services
If cost is a major concern, you might want to check out Sling TV. Another option is Vidgo, which provides great coverage of NCAA sports. YouTube TV is also an option, but their recent fight with Disney (resulting in a lapse of ESPN coverage) gives us pause.
Other Seminoles Sports
Florida State has programs in many other sports that are featured on different channels and streaming services.
Women's Basketball
The Seminoles women's basketball team has won two regular-season ACC titles and one conference tournament title. They have appeared in the NCAA tournament 19 times and in the women's NIT twice.
Florida State's female team is coached by Sue Semrau, and she has held this position since 1997. As with the men's team, the women's squad plays its home games at Donald L Tucker Center.
Their games are normally shown on ACCN, ACCNX, ESPN+, Bally Sports Florida, and FloSports.
Football
Florida State has played football since 1902, and since 1950, the Seminoles have played their games at Doak Campbell Stadium. The field is named after legendary coach Bobby Bowden, who won two national championships with the team in the 1990s.
Florida State also won unofficial national titles in 1992, 1994, and 1996. The team is currently coached by Mike Norvell, and its primary rivals in football are Miami, Florida, and Tennessee.
Seminoles football games air on the same channels as the men's basketball games — usually ESPN, ACCN, ESPN2, and ABC.
The Best of the Rest
The Seminole baseball team has the highest winning percentage in NCAA history at .723. Since its inception in 1948, the program has appeared in the College World Series 23 times and has also made 58 total appearances in the postseason. Although it has never won a national title in baseball, the Seminoles do have nine ACC championships in the sport.
Although it doesn't get as much attention as the baseball team, the women's softball team won an NCAA title in 2018. Furthermore, the women's soccer team won a national title in 2021 and won the ACC tournament in 2020 and 2021.
Superpower Your Streaming With a VPN
For the sake of privacy, security, and access, you should be using a VPN. They are low-cost and easy to use. We've been using them for years and our top pick is ExpressVPN.
Streaming Devices and TVs to Watch Florida State Seminoles
All the three live TV streaming services above support most devices in use: Amazon Fire TV, Android mobile, Apple TV, Chromecast, iOS, Roku, Samsung smart TVs, and web browsers.
Hulu and FuboTV also support Vizio and LG smart TVs, Android TV-based TVs, and Xbox gaming systems. Additionally, Hulu supports PlayStation and Nintendo Switch systems.
Don't see your device? Check our streaming reviews (linked to above). They all have complete lists.
Summing Up
The Florida State Seminoles have long been one of the top teams in college basketball, football, and baseball. If you are interested in watching Seminole sports without a cable subscription, you can typically do so by signing up for your favorite streaming service like Hulu + Live TV.
It may also be possible to watch games using an antenna if they are shown on ABC as this network broadcasts a signal over the air as opposed to through a cable.
More Basketball
The following guides explain how to watch other NCAA basketball teams without cable.
More Basketball
See the following guides on watching other NCAA basketball teams without cable:
Latest posts by Frank Moraes
(see all)