The Gonzaga Bulldogs are not as popular nationally as some other teams like the Duke Bull Devils. As a result, not as many of their games are featured on national channels. But it is still possible to watch all the games in a number of ways. Read on to learn how.
In a hurry? Your location will determine what is the best streaming service for you.
FuboTV: The best streaming service for international sports also provides 100+ well-selected channels. FuboTV allows you to try out its service free for 7 days.
Sling TV: This low-cost service allows you to select just the channel lineup you want. Save 50% on your first month of Sling TV.
DIRECTV STREAM: Get a great channel lineup with the best selection of RSNs in the industry. A 5-day free trial is now available for DIRECTV STREAM.
If you can't watch your favorite sports because of your location, get ExpressVPN to access the content you deserve.
If you can't watch your favorite movies and shows because of your location, you need a VPN. Here are our top picks from our VPN guide:
ExpressVPN: Established VPN provider in close to 100 countries. Smart DNS and unlimited bandwidth. Try it with a 30-day money-back guarantee.
Surfshark: Connect to over 3,200 servers in 99 countries. Comes with a 7-day free trial!
CyberGhost: Great low-cost service with a free 24-hour trial.
The Gonzaga Bulldogs men's basketball team has bucked the trend of top teams needing to be in a premier conference in order to have national success, more specifically postseason success.
They have instead been part of the West Coast Conference since 1979, a league that is not known for top-to-bottom parity. Despite doing so, few programs have achieved the national prominence that the Bulldogs have.
If you want to watch this team play, consider these streaming services: FuboTV ($69.99/mo), DIRECTV STREAM ($89.99/mo), and Hulu + Live TV ($69.99/mo).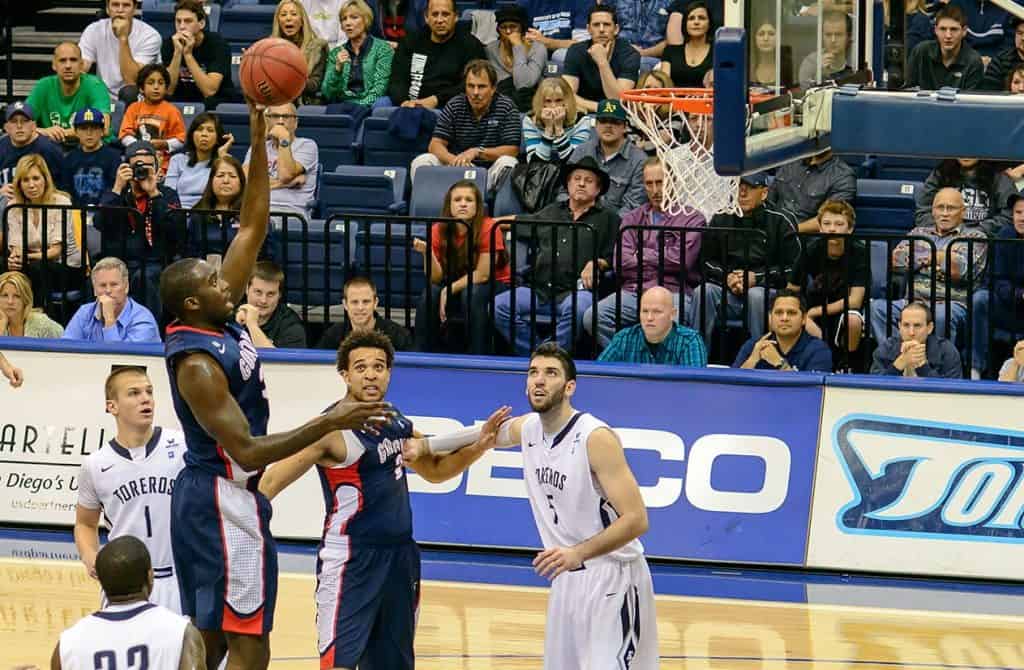 Gonzaga Men's Basketball Success
Gonzaga has played in two national championship games in a recent four-tournament span (2017 and 2021), something that no other school accomplished. The Bulldogs have also advanced to the Sweet 16 on 11 occasions in a 22-year span, between 1999 and 2021. Gonzaga reached one more step on the ladder in five of those campaigns, advancing to the Elite Eight in 1999, 2015, 2017, 2019, and 2021.
This all started with a stunning run to the Elite Eight by GU's 1998-99 squad. It defeated Minnesota, 75-63, Stanford, 82-74, and Florida, 73-72, before finally being stopped by Connecticut, 67-62. At the time, it was the quintessential Cinderella story as this was Gonzaga's second postseason appearance, and the win over the Golden Gophers was its first postseason win. But the Bulldogs then never left prominence.
Sparking much of this success has been the Kennel Club, the team's student section, which is one of the country's most intense, passionate ones. On top of that, the squad plays in the 6,000-seat McCarthey Athletic Center, a particularly small facility for a team that is regularly competing for national championships. Needless to say, the demand for tickets to its home games is quite high.
2021-2022 Gonzaga Bulldogs Schedule
Nov 9: Dixie State (63) at Gonzaga (97) (Root Sports)
Nov 13: Texas (74) at Gonzaga (86) (ESPN2)
Nov 15: Alcorn State (57) at Gonzaga (84) (Root Sports)
Nov 19: Bellarmine (50) at Gonzaga (92) (Root Sports)
Nov 22: Central Michigan (54) at Gonzaga (107) (ESPNU)
Nov 23: UCLA (63) at Gonzaga (83) (ESPN)
Nov 26: Duke (84) at Gonzaga (81) (ESPN)
Nov 29: Tarleton (55) at Gonzaga (64) (Root Sports)
Dec 4: Alabama (91) at Gonzaga (82) (ESPN2)
Dec 9: Merrimack (55) at Gonzaga (80) (Root Sports)
Dec 12: Washington at Gonzaga (CANCELED)
Dec 18: Texas Tech (55) at Gonzaga (69) (CBS)
Dec 20: Northern Arizona (49) at Gonzaga (95) (Root Sports)
Dec 28: North Alabama (63) at Gonzaga (93) (Root Sports)
Dec 30: Gonzaga at San Diego (POSTPONED)
Jan 1: Gonzaga at Loyola Marymount (POSTPONED)
Jan 6: San Francisco at Gonzaga (Root Sports)
Jan 8: Pepperdine at Gonzaga (Root Sports)
Jan 13: BYU at Gonzaga (ESPN)
Jan 15: Gonzaga at Santa Clara (Root Sports)
Jan 20: Gonzaga at Pacific (Root Sports)
Jan 27: Loyola Marymount at Gonzaga (CBSSN)
Jan 29: Portland at Gonzaga (Root Sports)
Feb 3: Gonzaga at Pepperdine (ESPN2)
Feb 5: Gonzaga at BYU (ESPN)
Feb 10: Pacific at Gonzaga (CBSSN)
Feb 12: Saint Mary's at Gonzaga (ESPN)
Feb 19: Santa Clara at Gonzaga (Root Sports)
Feb 24: Gonzaga at San Francisco (ESPN2)
Feb 26: Gonzaga at Saint Mary's (ESPN)
Unblock Your Favorite Events & Teams With a VPN
If you can't watch your favorite events or teams because of your location, a VPN will allow you to get the access you are entitled to, plus extra security and unequalled privacy. Check out our VPN Guide for everything you need to know, including our top pick ExpressVPN.
Other Bulldogs Sports
Another of Gonzaga's more prestigious programs is its women's basketball team. Although it has not yet reached a Women's Final Four, it did advance to the Elite Eight in 2011 and to the Sweet 16 on four occasions, three consecutive tournaments from 2010-12 and in 2015. It followed that last Sweet 16 appearance with an off-year of not being selected to the NCAA Tournament before making four straight trips.
The team's biggest win came in its home city of Spokane, WA, when it defeated Louisville, 76-69, in a Sweet 16 game that was played at raucous Spokane Arena, just 2 miles from campus.
The school's other sports teams have not experienced as much success on the national level although the GU baseball team enters its 2022 season with 11 NCAA Tournament appearances. An impressive 3-0 win over powerhouse baseball program LSU highlighted its 2021 postseason.
Many of these games air on ESPNU and ESPN+ as well as the local KHQ-TV.
Gonzaga Bulldogs Channels
Many men's basketball fans do not know that they can watch several Gonzaga games for free as long as they are outside of Root Sports Northwest's coverage area. Those are contests that are broadcast in the Spokane area on KHQ-TV (SWX Right Now), the city's NBC affiliate, and in the Northwest on Root Sports. Games in this category are low-profile non-conference home matchups and around half of its WCC contests.
As a result, if you are in the Spokane area, you can watch a significant percentage of the team's games with an antenna, not just the aforementioned ones but also any on CBS, ABC, and Fox.
Some of its NCAA Tournament matchups are shown on CBS while that network also carried a regular-season contest versus Texas Tech in Phoenix that was played on Dec 18, 2021. In addition, an away game versus Creighton on Dec 1, 2018, was broadcast on Fox.
Other big regular-season games are televised by ESPN, ESPN2, ESPNU, and CBS Sports Network (CBSSN) while postseason contests are on CBS, TBS, TNT, and truTV.
Occasionally, other channels carry GU games. For example, a road contest versus Texas A&M on Nov 15, 2019, was on the SEC Network while the Pac-12 Network broadcast the Washington Huskies' hosting of Gonzaga on Dec 10, 2017.
Streaming the Gonzaga Bulldogs
Those looking to stream Gonzaga men's basketball games have several options available to them.
Hulu + Live TV

Hulu + Live TV ($69.99/mo) is one of the best options for watching the Gonzaga Bulldogs play. That is because it offers CBS, ABC, NBC, Fox, ESPN, ESPN2, ESPNU, CBSSN, TBS, TNT, and truTV in its base plan.
It also includes the SEC Network in that plan, but note that it does not feature the Pac-12 Networks. However, that latter omission should only cause you to rarely miss GU games although away rivalry contests with Washington may be amongst those omissions.
Hulu + Live TV also includes ESPN+ with its plan, which will allow you to watch other Gonzaga sports like baseball and women's basketball. See our Hulu + Live TV review for more details on its plan.
FuboTV

FuboTV ($69.99/mo) features nearly all of the channels that you need – ABC, CBS, Fox, NBC, ESPN, ESPN2, and CBSSN – with its base plan. It also offers KHQ to those in Spokane and Root Sports Northwest to fans in that regional sports network's coverage area. However, it does not provide access to TBS, TNT, or truTV, a selection of channels that broadcasts most of GU's NCAA Tournament games.
To get ESPNU (along with several others), you will need to purchase its Sports Plus with NFL RedZone add-on ($10.99/mo) or Fubo Extra add-on ($7.99/mo). Those who are also Pac-12 fans should note that the Pac-12 Network is included with the latter and all of the Pac-12 Networks, the regional ones as well, come with the former.
For more information, see our FuboTV review.
DIRECTV STREAM

The DIRECTV STREAM Entertainment plan ($69.99/mo) lets you can watch CBS, ABC, Fox, and NBC, including KHQ if you are in the Spokane area, as well as ESPN, ESPN2, TBS, TNT, and truTV.
However, you will need to get its Choice plan ($89.99/mo) if you want ESPNU and, for those in the Northwest, Root Sports Northwest. Another bump up to its Ultimate plan ($104.99/mo) is necessary for CBSSN access.
For all the information, read our DIRECTV STREAM review.
Other Options
Both Sling TV ($46/mo) and Vidgo ($59.95/mo), which allow you to watch all the games that air on ESPN channels. Sling TV also provides TNT and TBS to cover much of the playoffs.
YouTube TV ($64.99/mo) will also provide you with streaming access to nearly all of Gonzaga's men's basketball games. But we have concerns about the service's recent fights with channel providers, especially Disney (ESPN).
WCC Network
If you are not located in the Northwest, you can watch a significant percentage of Gonzaga's men's basketball games through the freely available, online-only WCC Network. Those are the contests that are shown on KHQ in Spokane, WA, and on ROOT SPORTS Northwest elsewhere in that region of the country.
Superpower Your Streaming With a VPN
For the sake of privacy, security, and access, you should be using a VPN. They are low-cost and easy to use. We've been using them for years and our top pick is ExpressVPN.
Streaming Devices and TVs to Watch Gonzaga Bulldogs
The live TV streaming industry has stepped up the past couple of years and now support most devices on the market. The ones we've highlighted support Amazon Fire TV, Android mobile, Apple TV, Chromecast, iOS, Roku, Samsung smart TVs, and web browsers.
FuboTV and Hulu Live support Vizio and LG smart TVs, Android TV-based TVs, and Xbox systems. Hulu Live also supports PlayStation and Nintendo Switch gaming systems.
We've only listed the most popular devices. If you don't see yours, check our streaming reviews. They include complete lists.
Summing Up
Your best options for watching the Gonzaga Bulldogs are Hulu + Live TV ($69.99/mo) and DIRECTV STREAM ($69.99/mo or $89.99/mo) as both offer all or nearly all of the channels that show the team's games. However, if you want the Pac-12 Network as well, then you should go with FuboTV ($69.99/mo).
FAQs
Why Has Gonzaga Not Left the WCC?
Many fans wonder why Gonzaga is still in the WCC when top programs around the country often leave for, in their eyes, greater riches and successes in other leagues. Of course, it has turned out that GU never needed to leave the WCC to experience success on a national level. But the reasonings go deeper than that.
A prominent one given by university officials is that the school fits in the WCC for a lot of non-basketball reasons. Not only are the school's other athletic teams not usually at the level of its men's basketball squad, but it fits in culturally as well as all of the league's universities are religiously based institutions with high academic standards. In fact, the last time that the WCC was home to a university that is not that type was when Nevada left it in 1979.
Another complication were Gonzaga to move conferences is its lack of a football team although most leagues would surely make accommodations for that if it could get a men's basketball program the stature of Gonzaga's.
How do I watch other NCAA basketball teams?
Check our the following guides:
Ditch "Big Cable" Now — 3 Simple Steps to Cutting the Cord
Pick the right streaming service
Get the content you deserve with the best VPN.
Supercharge your internet provider
That's it — you'll save money, gain control, and enjoy TV more!
Latest posts by Frank Moraes
(see all)