The Maryland Terrapins are considered rivals to some pretty big teams, among them Duke, North Carolina, and Georgetown. But regardless who they play, they always offer a great game. They are often on TV if you have the right channels. Read on to learn your options.
In a hurry? Most Terrapins games air on Big Ten Network with the rest on CBS, ESPN, and Fox and their associated channels. All of these services provide these and more:
FuboTV: The best streaming service for international sports also provides 100+ well-selected channels. FuboTV allows you to try out its service free for 7 days.
Sling TV: This low-cost service allows you to select just the channel lineup you want. Save 50% on your first month of Sling TV.
DIRECTV STREAM: Get a great channel lineup with the best selection of RSNs in the industry. A 5-day free trial is now available for DIRECTV STREAM.
If you can't watch your favorite sports because of your location, get ExpressVPN to access the content you deserve.
If you can't watch your favorite movies and shows because of your location, you need a VPN. Here are our top picks from our VPN guide:
ExpressVPN: Established VPN provider in close to 100 countries. Smart DNS and unlimited bandwidth. Try it with a 30-day money-back guarantee.
Surfshark: Connect to over 3,200 servers in 99 countries. Comes with a 7-day free trial!
CyberGhost: Great low-cost service with a free 24-hour trial.
The Terrapins started their basketball program in 1904 and have been members of the Big 10 since 2014. Maryland plays its home basketball games at the Xfinity Center and the team is coached by Mark Turgeon, who is in his 11th season leading the program.
His contract was recently extended through the 2025-26 season after leading the team to the second round of the 2021 NCAA basketball tournament. Maryland's women's basketball team began the 2021-22 season ranked fourth in the country.
Sign Up for a Free 7-Day Fubo Trial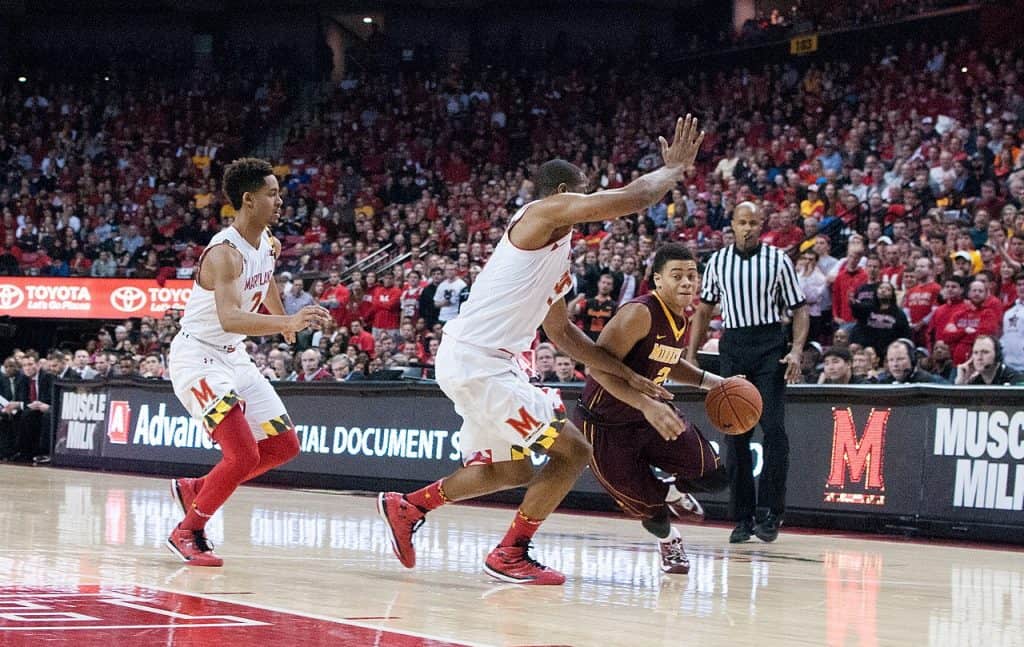 What Channels Will Maryland's Basketball Team Appear On?
During the 2021-22 season, Maryland men's basketball non-conference games will appear on the Big Ten Network (BTN) or B1G+. (B1G+ is their streaming-only platform that must be purchased separately.)
Maryland's conference games air primarily on BTN, CBS, ESPN, ESPN2, Fox, and FS1. The Nov 25 game against Richmond is scheduled to air on CBS Sports Network (CBSSN).
2021 Maryland Terrapins Basketball Schedule
Fri Nov 5: Fayetteville State at Maryland (B1G+)
Tue Nov 9: Quinnipiac at Maryland (B1G+)
Thu Nov 11: George Washington at Maryland (BTN)
Sat Nov 13: Vermont at Maryland (B1G+)
Wed Nov 17: George Mason at Maryland (BTN)
Fri Nov 19: Hofstra at Maryland (FS1)
Thu Nov 25: Richmond vs Maryland (CBSSN)
Wed Dec 1: Virginia Tech at Maryland (ESPN/ESPN2)
Sun Dec 5: Northwestern at Maryland (BTN)
Sun Dec 12: Florida vs Maryland (BTN)
Tue Dec 28: Loyola at Maryland (BTN)
Thu Dec 30: Brown at Maryland (BTN)
Mon Jan 3: Maryland at Iowa (BTN)
Thu Jan 6: Maryland at Illinois (ESPN2)
Sun Jan 9: Wisconsin at Maryland (BTN)
Wed Jan 12: Maryland at Northwestern (BTN)
Sat Jan 15: Rutgers at Maryland (BTN)
Tue Jan 18: Maryland at Michigan (ESPN/ESPN2)
Fry Jan 21: Illinois at Maryland (FS1)
Tue Jan 25: Maryland at Rutgers (BTN)
Sat Jan 29: Indiana at Maryland (Fox)
Tue Feb 1: Michigan State at Maryland (ESPN)
Sun Feb 6: Maryland at Ohio State (CBS)
Thu Feb 10: Iowa at Maryland (ESPN2)
Sun Feb 13: Maryland at Purdue (CBS)
Fri Feb 18: Maryland at Nebraska (BTN)
Mon Feb 21: Penn State at Maryland (ESPN/ESPN2)
Thu Feb 24: Maryland at Indiana (FS1)
Sun Feb 27: Ohio State at Maryland (CBS)
Wed Mar 2: Minnesota at Maryland (BTN)
Sun Mar 6: Maryland at Michigan State (CBS)
Stream most of these events live with FuboTV, with the exception of those shown exclusively on B1G+.
Unblock Your Favorite Events & Teams With a VPN
If you can't watch your favorite events or teams because of your location, a VPN will allow you to get the access you are entitled to, plus extra security and unequalled privacy. Check out our VPN Guide for everything you need to know, including our top pick ExpressVPN.
How to Stream Maryland Terrapins Basketball
Any full cable replacement streaming service will offer most of the channels that you need to watch Maryland.
FuboTV

The FuboTV Pro package is $69.99 per month and includes BTN, FS1, and all of your local channels such as CBS, ABC, and Fox. This package also includes ESPN and ESPN2. In all, you get over 100 channels.
All FuboTV plans come with 1000 hours of cloud DVR storage and the ability to stream on up to ten devices at once.
For more information, see our FuboTV review.
Sign Up for a Free 7-Day Fubo Trial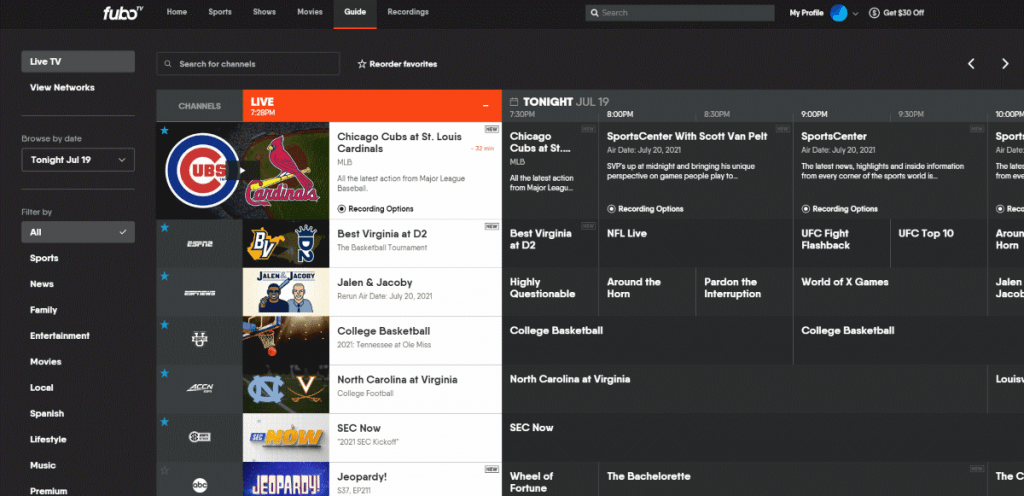 DIRECTV STREAM

The DIRECTV STREAM Entertainment package is $69.99 per month and comes with ESPN, ESPN2, and FS1. If you want to watch Maryland basketball on BTN, you'll need to upgrade to the Choice package for $89.99 per month. If you do, you also get access to ACCN and SEC Network. Finally, you'll have access to regional sports networks (RSNs) in your area.
All plans come with unlimited cloud DVR storage (online sign up required) and the ability to watch on up to 20 screens at the same time.
For more, see our DIRECTV STREAM review.
Get DIRECTV STREAM Free for 5 Days
Sling TV

Sling TV has two base service packages, and you will need to subscribe to both of them to get all of the channels that Maryland basketball will play on this year. The two packages together cost $50 a month and include ESPN, ESPN2, Fox, and FS1. To get BTN, you'll need to acquire the Orange & Blue Sports Extra package for $15/mo. CBS and CBSSN are not available at all.
If you don't mind missing the six ESPN-broadcast games, you can get Sling Blue ($35/mo) and Blue Sports Extra ($11/mo) for a total of $46/mo.
Read on Sling TV review for more.
Hulu + Live TV

Hulu + Live TV offers 85+ channels as well as ESPN+ and Disney+ for $69.99/mo. That includes all of your local channels without the need to buy an antenna or other special equipment. It also comes with BTN, CBSSN, ESPN, ESPN2, FS1, and FS2 so you'll be able to watch all the nationally broadcast Terrapins games and a lot more.
The plan also comes with unlimited cloud DVR (9 months of storage) and simultaneous viewing on two devices.
Our Hulu + Live TV review has all the details.
Vidgo

The base Vidgo service package includes local channels ABC and Fox in most areas. It also comes with ESPN, ESPN2, ESPNU, and all the conference networks: ACCN, BTN, Pac-12 Network, and SECN. In all, you get 100+ channels for $59.95/mo.
Vidgo does not include a cloud DVR with its plan. It does, however, allow you to stream on up to 3 devices at once.
Check out our Vidgo review for all the details.
Other Options
There are other ways to stream some or most Maryland Terrapins games.
B1G+
Three games this season are available only on the Big Ten streaming service B1G+. It is even more important for women's basketball.
It costs $14.95/mo or $119.95/yr. You can also get it for a single school for $9.95/mo or $79.95/yr. Or you can get it for a single sport. The cost depends on the sport. For basketball, it is $54.99/yr (there is no monthly option).
YouTube TV
This service starts at $64.99/mo and comes with all of the channels that you'll need to watch Maryland Terrapins basketball. The plan is similar to Hulu + Live TV although they each have their advantages.
See our YouTube TV review for more information.
ESPN+
ESPN+ is a streaming service that shows live games, highlights, and other engaging sports content. It doesn't air any Terrapins basketball games but it does other sports.
You can bundle ESPN+ with Hulu and Disney+ for $69.99 per month, which is not only a great deal but it keeps all your sports in a single place so you don't have to jump from app to app.
Read our ESPN+ review for all the details.
Paramount+
Paramount+ is mostly an on-demand streaming service that offers CBS/Paramount shows and movies. But for $4.99/mo, you also get access to live events on CBS Sports. This is a good addition to Vidgo and Sling TV, which don't offer CBS.
See our Paramount+ review for more.
Get Paramount+ for 7 Days Free
Network Apps
Most networks and channels have dedicated apps that you can use to watch the content that they produce. With a streaming service, you can use TV Everywhere to log in to these apps and use them.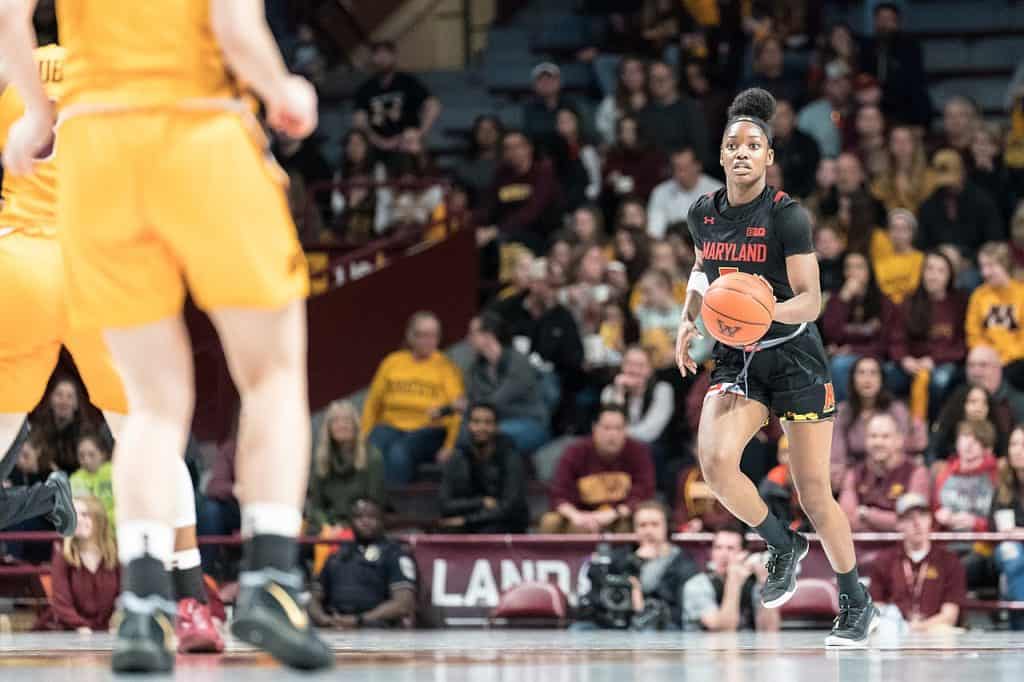 Other Maryland Sports
There are other interesting sports at Maryland. We've already discussed one.
Women's Basketball
Maryland's women's basketball team appears most frequently on BTN and BIG+, and a few of their more important games are showcased on ESPN and ESPN2.
The team has reached the Big 10 conference tournament final every year that it has been a member of the conference. And it has won the tournament five times.
Football
The Maryland Terrapins play their football games at Maryland Stadium, which can hold over 54,000 fans. The school is currently coached by Mike Locksley and has won 11 bowl games in program history. It has ongoing rivalries with Penn State, West Virginia, and Virginia.
Terrapins football games air mostly on BTN, ESPN, and Fox (including sister stations).
More Varsity Sports
In addition to football and basketball, the University of Maryland sponsors a number of other varsity sports including field hockey, soccer, and volleyball. Softball, wrestling, and lacrosse are other examples of sports that the school sponsors at the varsity level.
You can see these other sports on BTN, B1G+, ESPN+, and elsewhere.
Streaming Devices to Watch Maryland Terrapins Sports
You should be able to watch Maryland Terrapins on TVs and streaming devices you already own.
Except for Vidgo, all the services support Samsung smart TVs. Hulu + Live TV, Sling TV, and FuboTV also support smart TVs from LG and Vizio. And they all (except DIRECTV STREAM) support Android TV-based devices.
Al the services support the TV devices Amazon Fire TV, Apple TV, and Roku. So are mobile devices with Android and iOS. And you can cast from these and some web browsers to your TV with Chromecast.
Sling TV, FuboTV, and Hulu support the Xbox One gaming system. Hulu supports the PlayStation. Sling supports the Oculus.
You can also watch it on most web browsers. See our streaming service reviews for device details.
Superpower Your Streaming With a VPN
For the sake of privacy, security, and access, you should be using a VPN. They are low-cost and easy to use. We've been using them for years and our top pick is ExpressVPN.
Summary
The University of Maryland has a long tradition of success at the highest levels of college basketball. Both the men's and women's teams regularly compete for the division, conference, and national titles. And both squads are expected to continue to be powerhouses for years to come.
You can watch these teams and the football team on BTN, BIG+, ESPN, CBS, and Fox channels. Most of the school's other varsity teams will also be showcased on BTN and BIG+. It's relatively easy to what all the games you want online.
Sign Up for a Free 7-Day Fubo Trial
FAQs
Has Maryland won a national championship in basketball?
The Maryland women's basketball team has an impressive history. They made it to the Final Four in 1982 and 1989. And they won the national championship in 2006. The Maryland men's basketball team made it to the Final Four in 2001 and won the national title in 2002.
How can I watch Maryland women's basketball games
Most Maryland women's basketball games stream on the Big Ten service BIG+, which is available directly. The rest of their games appear on BTN and ESPN2. All the services we discussed above offer these. In general, if you get a streaming service for the men's basketball games, you will also get a good selection of women's basketball games.
How can I watch college sports and teams other than Maryland basketball?
Our viewing guides for college football and college bowl games will tell you everything you need to know. Here are our guides on specific teams:
Here are our guides for college basketball and March Madness. And these are for specific teams:
You shouldn't have any problems watching college basketball or other sports without cable. Still, if you have any questions about how to watch the Maryland Terrapins online, we're here to help!
Ditch "Big Cable" Now — 3 Simple Steps to Cutting the Cord
Pick the right streaming service
Get the content you deserve with the best VPN.
Supercharge your internet provider
That's it — you'll save money, gain control, and enjoy TV more!
Latest posts by Frank Moraes
(see all)