The 2023-24 NBA In-Season Tournament is on! Watch it with Sling TV!
This Feb 17th – 19th is the 2023 NBA All-Star Weekend culminating in the All-Star Game on Sunday, Feb 19th. Another highlight of the weekend is the Slam Dunk Contest. And you can watch it all without cable.
In a hurry? These events will be featured on TNT, which you can stream with these services:
DIRECTV STREAM: Get a great channel lineup with the best selection of RSNs in the industry. A 5-day free trial is now available for DIRECTV STREAM.
Sling TV: This low-cost service allows you to select just the channel lineup you want. Save 50% on Sling TV today.
Hulu + Live TV: This total entertainment streaming service provides a great on-demand selection and all the essential live TV channels.
If you can't watch your favorite sports because of your location, get ExpressVPN to access the content you deserve.
Unfortunately, we don't know a streaming service in that covers this sport. But if you've already paid for the right service, and just can't watch because of your location, there is an easy way to get the content you deserve. You need a VPN, like one of the following.
| | | |
| --- | --- | --- |
| | ExpressVPN: Known as "The VPN that just works," it combines remarkable ease of use with with state-of-the-art power, speed, security, and privacy. Get three extra free months when you sign up for a year. Unleash your streaming with this top-rated VPN. | Sign Up Now |
| | Hotspot Shield: Connect to servers in 80+ different countries and 25+ US cities. HotSpot Shield features extremely fast servers and connections and is specially tuned for use with streaming services. And you can try it risk-free with a 7-day free trial and a 45-day money-back guarantee! | Sign Up Now |
| | CyberGhost: Great low-cost service with ultra-fast servers in 90+ countries for smooth live sports streaming. It also provides great security and privacy. See if it's right for you with a free 24-hour trial and test it out with a 45-day money-back guarantee. | Sign Up Now |
If you're overwhelmed and not sure where to begin, you'll find all the answers in our full VPN guide.
Each year since 1951, the NBA has paused in the middle of the season to play an exhibition game featuring the best players in the league. Although the NBA All-Star game doesn't count in the standings, it is eagerly anticipated by fans and players alike.
In 2023, the game is scheduled to be played on Feb 19 at Rocket Mortgage FieldHouse in Cleveland. Let's take a closer look at the history of the game, how players are selected, and the other significant events that will take place prior to the showcase of the league's best players.
The History of the All-Star Game
In 1951 and 1952, the game was held at Boston Garden, which is considered to be one of the most historic arenas ever built. In 1952, the East squad defeated the West squad 108-91 thanks to shooting almost 50% from the field. The MVP of that game was Paul Azirin, and it included memorable performances from the likes of Bob Cousy and Red Rocha.
In 2018, the game would abandon the conference versus conference format in favor of allowing captains to choose teams. The captains were the players from each conference who received the most votes. In 2021, LeBron James and Kevin Durant were the ones choosing how each team would be structured. Team LeBron defeated Team Durant 170-150 in the 2021 game.
All-Star Game Participants Selection
The NBA uses a mixture of fan voting, media voting, and coaches selections to determine the two guards and three frontcourt players who are classified as starters from their conferences. Each player is given a weighted score based on how many votes they receive from each of these three groups. The players who have the highest scores are then placed into the starter pool.
Each team's captain will first select four of the eight remaining players in this pool when structuring their teams. An additional 14 players are selected as reserves, and these players are then allocated to their teams in the same manner as the starters.
If necessary, participants can be added by Commissioner Adam Silver, and this is typically done to honor individuals for outstanding achievement on the court throughout the course of their careers.
Other Events That Take Place Prior to the Game
In most years, the NBA All-Star game is simply the main event of an entire weekend of festivities. There is also a Rising Stars game, which features players in their first or second year who were not selected for the traditional midseason showcase. This game typically pits younger players from the United States against those who represent other nations such as Canada, Spain, or Argentina.
There is also a series of skill challenges such as a 3-point contest, slam dunk contest, and other competitions. Players can be recognized in a single event or participate in every event in an effort to be crowned the skills challenge winner. In 2021, Damontas Sabonis of the Indiana Pacers won this event.
If you are a fan of the game of basketball, the NBA All-Star game is an event that you won't want to miss. In addition to watching the greatest current players in the league competing for bragging rights, you'll have a chance to watch the next generation of stars before they become famous. Finally, the 2022 Hall of Fame induction class will be announced the day before the main event takes place.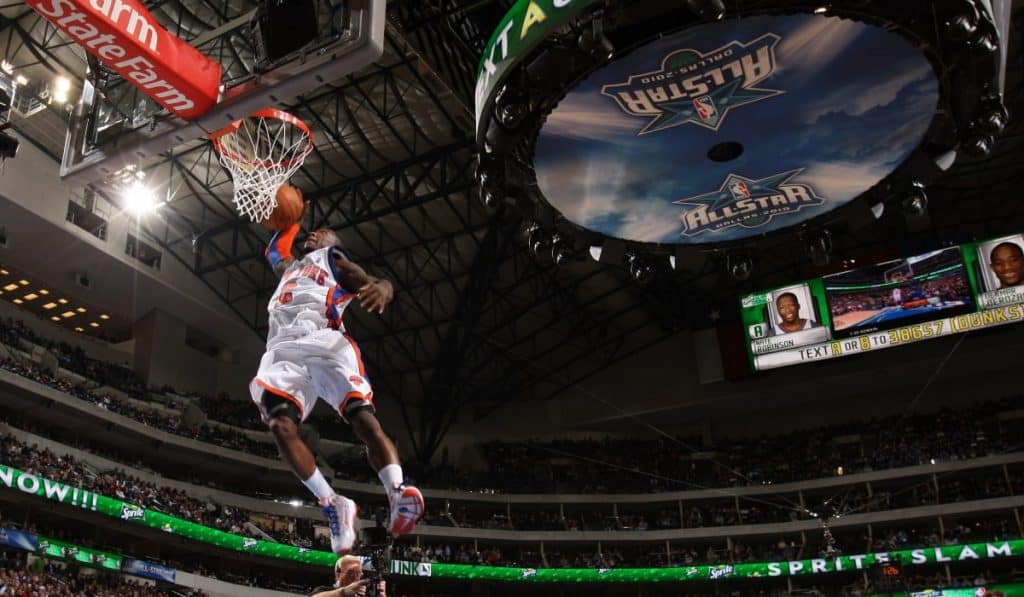 Slam Dunk Contest
The AT&T NBA Slam Dunk Competition is one of the most eagerly anticipated events during NBA All-Star weekend. This event usually takes place the night before the big game itself.
Each year, participants get more creative as they try to both impress the judges and set themselves apart from those who took part in the event in previous years.
History of the Slam Dunk Contest
In 1984, the NBA decided to add the slam dunk contest in an effort to garner more attention for its marquee midseason event. That year, Larry Nance of the Phoenix Suns defeated Julius Erving in the final.
Michael Jordan won the event in 1987 and 1988, and his dunk from the free throw line in 1988 is thought to be the most iconic moment in the slam dunk competition's history.
In 2021, Anfrenee Simons won the event after besting Obi Toppin in the final round. The 2021 competition was the first to feature fewer than four people. This was partially because of the COVID-19 pandemic and partially because of a lack of interest among potential participants.
Event Scoring
Since 2007, the event has traditionally featured four participants who are given two opportunities to showcase their dunking talent. A panel of five judges score each dunk based on their perception of the participant's technical and artistic skill. In other words, the cooler a dunk looks, the higher a participant's score will be.
Of course, players typically lose points for failing to actually put the ball in the basket. After two rounds, the two people with the highest combined scores advance to the final. In 2021, the final round was also scored by a panel of judges. However, in recent years, fan voting via text message has helped to determine the overall winner.
The NBA slam dunk contest has helped to launch the careers of many great players throughout the last several decades. For many, winning the competition has allowed them to create a legacy as exciting players.
Although slam dunk contest participants may not be selected to the NBA All-Star game itself, taking part in this competition allows them to be recognized for their contributions on the court.
2023 NBA All-Star Game
The 2023 NBA All-Star Game is a great chance to avoid the usual concerns about blackouts and conflicting game schedules. The even will take place on Sunday, February 19th, 2023. The game will air on TNT.
The roster will be announced in January. We will update this page when the information is available.
Unblock Your Favorite Events & Teams With a VPN

If you can't watch your favorite events or teams because of your location, a VPN will allow you to get the access you are entitled to, plus extra security and unequaled privacy. Check out our VPN Guide for everything you need to know, including our top pick ExpressVPN.

Other brands worth checking out include Hotspot Shield and CyberGhost.
Stream NBA All-Star Game
Any streaming service that offers TNT will allow you to watch the All-Star Game and also (likely) the Slam Dunk contest.
Hulu + Live TV

Hulu + Live TV provides 85+ live TV channels (including TNT), an excellent on-demand library, in addition to Disney+ and ESPN+. It's probably the best overall entertainment service around. You get all that plus a DVR and simultaneous streaming for $69.99/mo.
For more information, see our Hulu + Live TV review.
Sling TV

Get TNT with either Sling Blue or Sling Orange for just $35/mo. The Blue plan is more varied but the Orange plan includes ESPN. You can get them both with 50+ channels for $50/mo.
Sling TV offers a lot of options. See our Sling TV review for details. We also have a special viewer's guide.
DIRECTV STREAM

DIRECTV STREAM has four plans that start at $69.99/mo. The lowest level plan features roughly 80 live TV channels but there are good reasons to go to a higher-level plan. For example, the Choice plan ($89.99/mo) offers its exceptional selection of RSNs for MLB, NBA, and NHL fans.
Our DIRECTV STREAM review has more information.
YouTube TV

YouTube TV offers a plan that's similar to Hulu + Live TV. It offers more channels but doesn't come with Disney+ and ESPN+. It is, however, a bit cheaper at $64.99/mo.
Devices to Live Stream the NBA All-Star Game
All of the streaming services we listed above allow you to watch on the major devices currently in use:
Amazon Fire TV
Android Mobile
Apple TV
Chromecast
iOS (iPhone, iPad)

Roku
Samsung smart TVs.
DIRECTV STREAM also offers its own device.
Hulu + Live TV, Sling TV, and YouTube TV also support Android TV devices, LG Smart TVs, and Xbox gaming systems. There are other devices supported. See our individual streaming reviews for the details.
Wrapping Up
Some of the biggest streaming services available offer TNT without cable. This is good for you because it means more ways to watch the NBA All-Star Game online. DIRECTV STREAM and YouTube TV offer a free trial, and all the streaming services are contract-free services.
Ditch "Big Cable" Now – 3 Simple Steps to Cut the Cord
Pick the right streaming service
Get the content you deserve with the best VPN.
Supercharge your internet provider
That's it — you'll save money, take back control, and enjoy TV more!
Page Updates
▼
▲
More links. Misc content updates.

Added links to streaming services. Image changes. Added useful links. Small layout changes.

Updated some section headings. Added a few links. Various changes.

Image changes. Pricing updates. Misc changes.

Image changes. Pricing updates. Various changes.

Put related links. Pricing updates. Changed a few bits of content.

Added links to streaming services. Updated some sub-sections. Updated some section headings. Reworked some sections.

Reworked one section. Changes to formatting.
Latest posts by Frank Moraes
(see all)