The 2023 NFL football season has begun! Get all the information in our NFL Guide!

And you can follow the whole season with Fubo. Try it free!
Dayton, Ohio is home to more than one college, but when it comes to men's basketball none are quite as popular as the Dayton Flyers. And they aren't just popular locally. As a result, it isn't too hard to watch most of their games without cable. Read on to learn how.
In a hurry? Most Flyers games are broadcast on various ESPN channels along with CBS Sports Network and USA. These streaming services will let you watch most of the games:
Fubo: The best streaming service for international sports also provides 150+ well-selected channels. Fubo allows you to try out its service with a free trial.
DIRECTV STREAM: Get a great channel lineup with the best selection of RSNs in the industry. A 5-day free trial is now available for DIRECTV STREAM.
Sling TV: This low-cost service allows you to select just the channel lineup you want. Save 50% on Sling TV now.
If you can't watch your favorite sports because of your location, get ExpressVPN to access the content you deserve.
Unfortunately, we don't know a streaming service in that covers this sport. But if you've already paid for the right service, and just can't watch because of your location, there is an easy way to get the content you deserve. You need a VPN, like one of the following.
| | | |
| --- | --- | --- |
| | ExpressVPN: Known as "The VPN that just works," it combines remarkable ease of use with with state-of-the-art power, speed, security, and privacy. Get three extra free months when you sign up for a year. Unleash your streaming with this top-rated VPN. | Sign Up Now |
| | Surfshark: Surfshark: Secure and easy to use with thousands of servers around the world. Of special note is its excellent collection of servers inside the US, which is great for regional sports lie NFL, MLB, and NBA. Get it now with an incredible 82% discount on a 24-month plan. | Sign Up Now |
| | NordVPN: One of the top VPNs with extremely fast servers all over the world. Great for streaming with tested perfomance on the biggest servers and included ad-blocking. Currently offering 70% discount on 2-year plans. | Sign Up Now |
If you're overwhelmed and not sure where to begin, you'll find all the answers in our full VPN guide.
The Dayton Flyers basketball team is a member of the Atlantic 10 (A-10) conference, and the school has had a formal basketball program since 1902. At the time of its creation, Dayton was known as St Mary's, and the team was referred to by local sportswriters as the Saints.
Although A-10 member schools don't play football at the Football Bowl Subdivision (FBS) level, it has not stopped Dayton's basketball team from being a financial success. Audits conducted in 2014 and 2017 found that it has a higher net worth than traditional powers Florida, Texas, and Michigan State.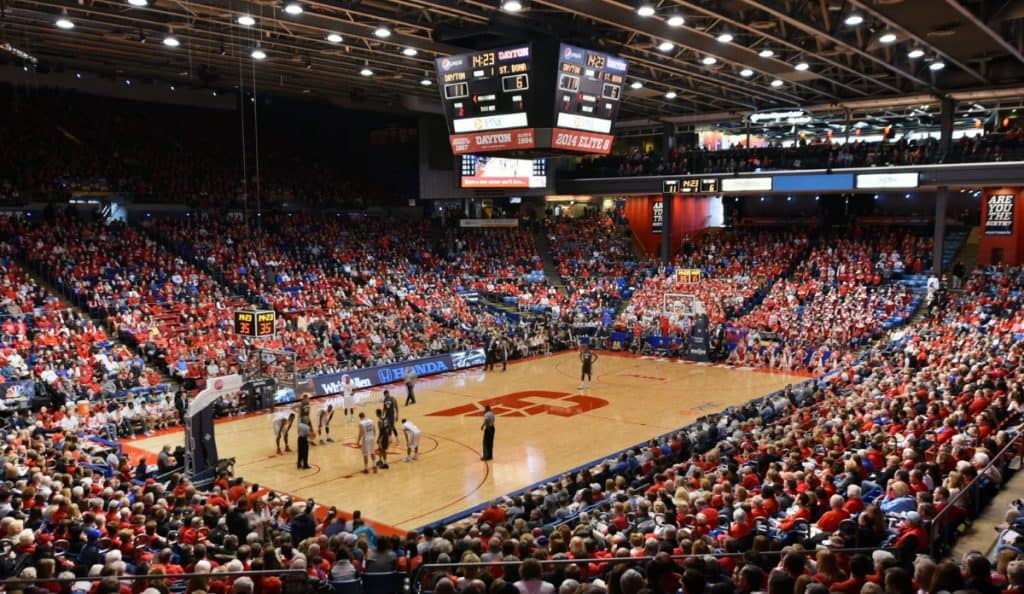 Channels to Watch the Dayton Flyers
Dayton Flyers basketball games are broadcast on a number of networks including ESPN, ESPN2, CBS Sports Network, and USA Network.
You will also be able to find select games on MASN, Bally Sports Ohio, and Spectrum News 1 (Ohio). Games against nonconference opponents may be broadcast on stations dedicated to teams in those conferences.
Seven of the Flyers' 2021-2022 games were streamed on on ESPN+.
Unblock Your Favorite Events & Teams With a VPN

If you can't watch your favorite events or teams because of your location, a VPN will allow you to get the access you are entitled to, plus extra security and unequaled privacy. Check out our VPN Guide for everything you need to know, including our top pick ExpressVPN.

Other brands worth checking out include Hotspot Shield and CyberGhost.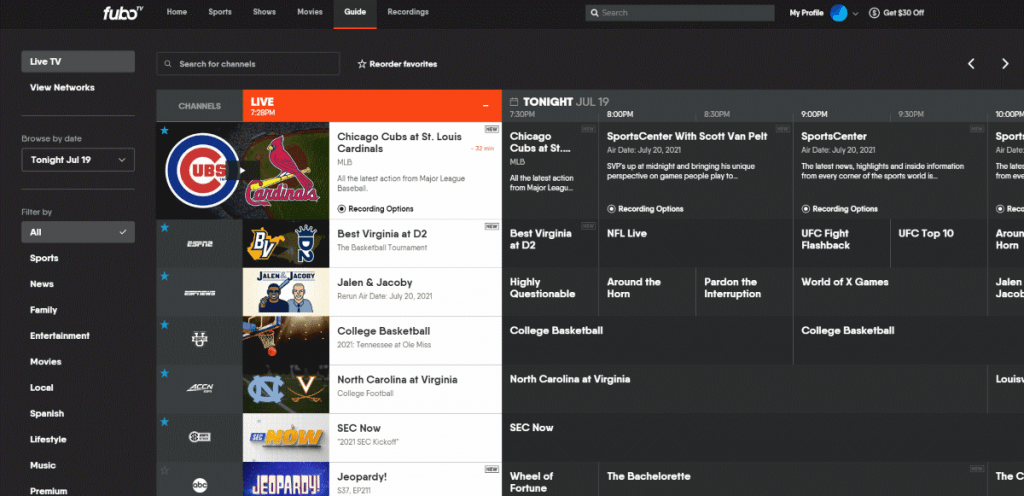 Stream Dayton Basketball
There are various options for streaming Flyers games.
Live TV Streaming Services
Most of the live TV streaming services offer many of the channels that you will want to watch Dayton games. These are what we consider the best.
Fubo

Fubo offers a base plan with over 130 channels for $74.99/mo. These include CBS Sports Network, ESPN, ESPN2, and USA. And you get a ton of channels that feature other sports — especially international soccer. Bally Sports Ohio is available for extra an RSN fee. Most subscribers will pay $85.98/mo.
You also have many options for supplementing your channel line-up including the Fubo Extra, which gives you 48 more channels for just $7.99/mo extra. All plans come with at least 1000 hours of cloud DVR and ten simultaneous screens to watch.
For more information, see our thorough Fubo review.
Sling TV

Sling TV offers ESPN and ESPN2 in its Sling Orange package. Sling Blue has USA and two local channels: Fox and NBC. To watch the most games with Sling, you will need to subscribe to the Sling Orange + Blue plan for $55.00/mo.
Sports Extra add-on going for $11/mo will give you several conference networks and ESPNU. The downside to Sling, however, is that it doesn't offer any CBS and Bally Sports channels are also not available even as add-ons.
Read more on Sling TV here. We also have a guide to March Madness coverage and schedule.
DIRECTV STREAM

The base DIRECTV STREAM plan is $74.99/mo and it offers the standard channels including CBS Sports Network, ESPN, ESPN2, and USA Network.
But for those living in and around the Dayton area, DIRECTV STREAM offers Bally Sports Ohio as part of its Choice plan for $99.99/mo. This is also the go-to channel for Cincinnati Reds, Cleveland Cavaliers, Columbus Blue Jackets, and Columbus Crew games.
DIRECTV STREAM offers unlimited cloud DVR as long as you sign-up online. But it is the ultimate plan for large households — allowing you to stream on unlimited devices at home and on the road.
You can see all the details in our DIRECTV STREAM review.
Get DIRECTV STREAM Free for 5 Days
Hulu + Live TV

For $69.99/mo, Hulu + Live TV offers access to 85+ live TV channels including CBS Sports Network, ESPN, ESPN2, and USA. It also includes ESPN+, so you can watch the games that appear only there.
Additionally, Hulu Live provides lots of general entertainment channels in addition to Disney+ and all your local networks. Its plan comes with unlimited cloud DVR (9 month storage) and the ability to stream on up to two devices at once.
See our Hulu + Live TV review for more information.
Vidgo

Vidgo offers several sports and entertainment channels but it is lacking in the channels that air the Flyers basketball games. ESPN, ESPN2, ESPNU, ESPNews and ESPN Deportes are all available in the base plan that goes for $69.99/mo. On the other hand, you don't get CBS or NBC, or Bally Sports channels.
With this plan, you don't get any cloud DVR but you can watch on 3 devices simultaneously. See our Vidgo review for more information on this.
YouTube TV

And YouTube TV offers 100+ channels in it base package for $72.99/mo. In this plan you get ESPN, ESPN2, and ESPNU to live stream Daytona Flyers matchups. You also get all four major local channels: ABC, CBS, Fox, and NBC. CBSSN is available but Bally Sports Ohio is not.
Other Streaming Services
Paramount+

You can watch the same content airing on CBS and CBSSN on Paramount+. This is especially handy when it comes to streaming services that do not offer CBS or any of its affiliates like Sling TV and Vidgo.
So, for $4.99/mo you can watch all the Flyers basketball games shown on CBSSN this season.
Get Paramount+ for 7 Days Free
ESPN+

ESPN+ is a streaming service that provides a significant amount of live sports content throughout the year. In addition to college basketball, you can watch pro basketball, hockey, and other events involving the top athletes in the world. To get the most value for your dollar, you should strongly consider the Hulu, Disney+, ESPN+ bundle.
Another option is to get Hulu + Live TV, which gives you 85+ live channels in addition to ESPN+ and Disney+. For details see our ESPN+ review.
Streaming Devices and TVs to Watch Dayton Flyers
All the live TV streaming services we discussed above support the main devices in use:
Amazon Fire TV
Android mobile
Apple TV
Android TV
Chromecast
iOS (iPad, iPhone)
Roku
Samsung/LG smart TVs (only for Fubo, Hulu, Sling, and Paramount+)
Web browsers.
ESPN+ supports the same devices as Hulu.
If you don't see your device, check out individual reviews. We've only listed the most popular devices here.
Superpower Your Sports Streaming With a VPN

For the sake of privacy, security, and access, you should be using a VPN. They are low-cost and easy to use. We've been using them for years and our top pick is ExpressVPN. Other brands worth checking out include Hotspot Shield and CyberGhost.
What to Know About Dayton Flyers Basketball
The Flyers first rose to national prominence in the 1950s when they were routinely recognized by coaches and sportswriters as one of the best teams in the country. In 1955, the school was ranked second in the nation, which to this day is the highest ranking it has ever received.
During the 2019-2020 season, Dayton would rise as high as third in the nation and would even receive a first-place vote in the Associated Press (AP) poll of sportswriters.
Dayton has reached the NCAA tournament on 18 different occasions, and the school's last appearance in this event came in 2017. However, the Flyers would likely have qualified for the 2020 edition of the tournament had it not been canceled because of the COVID-19 pandemic. Dayton's best finish in this event was in 1967 when it reached the championship game.
The school has also appeared in the National Invitational Tournament (NIT) 25 times during its nearly 120 years in existence. In 2010, the Flyers won the tournament for the third time after defeating North Carolina in the final. Dayton's last NIT appearance came in 2021 when it lost in the first round to Memphis.
Dayton has had a number of its former players go on to enjoy success in the National Basketball Association (NBA), the currently defunct American Basketball Association (ABA), and international professional leagues. In 2020, Obi Toppin was selected eighth overall by the New York Knicks and is considered to be one of the best young players in the NBA.
Anthony Grant has been their head coach since 2017. Their top players are DaRon Holmes II (total points leader), Toumani Camara (steals/rebounds), Mustapha Amzil, Malachi Smith (assists), Mike Sharavjamts, Kobe Elvis, RJ Blakney, Koby Brea, Zimi Nwokeji, and Kaleb Washington. They play their home games at UD Arena.
2022-2023 Dayton Flyers Schedule
Here is the men's basketball team's complete schedule for the season:
Mon Nov 7 : Lindenwood (46) at Dayton (73)
Fri Nov 11 : SMU (62) at Dayton (74) (Bally Sports Ohio)
Tue Nov 15 : Dayton (52) at UNLV (60) (CBSSN)
Sat Nov 19 : Robert Morris (51) at Dayton (60)
Wed Nov 23 : Wisconsin (43) vs Dayton (42) (ESPN2)
Fri Nov 25 : BYU (79) vs Dayton (75) (ESPNU)
Wed Nov 30 : Western Michigan (47) at Dayton (67) (ESPN+)
Sat Dec 3 : SE Louisiana (74) at Dayton (80) (ESPN+)
Wed Dec 7 : Dayton (49) at Virginia Tech (77) (ACCN)
Sat Dec 10 : UNC Asheville (56) at Dayton (79) (USA)
Sat Dec 17 : Wyoming (49) vs Dayton (66) (CBSSN)
Tue Dec 20 : Alcorn State (46) at Dayton (88) (ESPN+)
Wed Dec 28 : Duquesne (57) at Dayton (69) (ESPN+)
Sat Dec 31 : Dayton (69) at Davidson (55) (ESPN+)
Wed Jan 4 : Saint Joseph's (56) at Dayton (76) (ESPN+)
Tue Jan 10 : Dayton (82) at Fordham (58) (ESPN+)
Fri Jan 13 : VCU (63) at Dayton (62) (ESPN2)
Tue Jan 17 : Davidson (61) at Dayton (68) (CBSSN)
Sat Jan 21 : Dayton (69) at George Washington (76) (USA)
Wed Jan 25 : Dayton (70) at Rhode Island (75) (CBSSN)
Sat Jan 28 : Richmond (60) at Dayton (86) (CBSSN)
Tue Jan 31 : Loyola Chicago (81) at Dayton (85) (CBSSN)
Sat Feb 4 : Dayton (59) at St. Bonaventure (68) (ESPNU)
Tue Feb 7 : Dayton (62) at VCU (58) (CBSSN)
Fri Feb 10 : St. Louis (56) at Dayton (70) (ESPN2)
Fri Feb 17 : Dayton (65) at Loyola Chicago (49) (ESPN2)
Wed Feb 22 : Dayton (72) at UMass (54) (CBSSN)
Sat Feb 25 : George Mason (74) at Dayton (69) (ESPNU)
Tue Feb 28 : La Salle (53) at Dayton (77) (NBC)
Fri Mar 3 : Dayton (61) at Saint Louis (65) (ESPN2)
The team will be playing in the quarterfinals of the 2023 Atlantic 10 Conference Championships on Thursday, March 9. UD will play Saint Joseph's, who advanced after beating Loyola and GW. The game time is at 5 pm.
Other Sports
Dayton, like other NCAA teams, has a full range of other sports programs.
Women's Basketball
The Dayton women's basketball team plays its home games at the Dayton Arena and is coached by Shauna Green. In 2020, the squad won the A-10 conference tournament and would have appeared in the NCAA women's tournament if it had not been canceled.
Some of their top players include Destiny Bohanon (total points leader), Mariah Perez, Sydney Freeman (assists), Nayo Lear, Arianna Smith, Anyssa Jones (steals), Maliya Perry (rebounds), and Shannon Wheeler.
Football
Dayton plays college football in the Football Championship Subdivision (FCS), which is considered to be a step below the FBS. A member of the Pioneer Football League, the school has won 11 conference championships and two national championships. The Flyers last won a conference title in 2010 and last won a national title in 1989.
Notable former players include Jon Gruden, Branden Staley, and Chuck Noll. In 2020, Adam Trautman became the first player from Dayton to be drafted by an NFL team since 1977.
Others
In addition to basketball and football, Dayton sponsors teams in sports such as soccer, track, and volleyball.
The Dayton Flyers baseball team has won two regular-season conference championships and won the A-10 conference tournament in 2012.
It is worth mentioning that Dayton is one of the few schools that actually sponsors more women's sports than men's sports. The women's golf team participates in the Metro Atlantic Athletic Conference (MAAC) instead of the A-10.
Summing Up
Dayton has one of the most popular basketball programs in the country despite the fact that it plays in a relatively small conference. You can watch Dayton basketball on a variety of networks such as CBSSN, ESPN, and USA.
These networks are generally available through most live TV streaming service providers with our favourite being Fubo. You can also opt for Hulu+ Live TV if you don't want to subscribe to ESPN+ separately.
FAQs
How can I watch other college basketball teams other than Dayton Flyers?
The following guides explain how to watch other NCAA basketball teams without cable:
Ditch "Big Cable" Now – 3 Simple Steps to Cut the Cord
Pick the right streaming service
Get the content you deserve with the best VPN.
Supercharge your internet provider
That's it — you'll save money, take back control, and enjoy TV more!
Page Updates
▼
▲
Updated some section headings. Updated some sub-sections. Put related links.

Added some links. Small layout changes.

Added links to streaming services. Updated one section. Updates to a section. Image changes. Cleaned up list. Deleted unneeded sub-section.

Image changes. Formatting. Misc changes.

Cross linking. Changed a few bits of content. Changes to formatting.

Formatting. Various changes to content.

Added buttons for streaming services. Updated some sub-sections. Mentioned offers. Image changes.

Image changes. Put related links. Misc changes.
Latest posts by Frank Moraes
(see all)