The NBA finals are here with the Miami Heat against the Denver Nuggets! Get all the details in our viewer's guide!

And you can watch it all with a 50% discount on Sling TV!
The Louisville Cardinals women's basketball team has been great the last decade but right now the men's team is in a rebuilding period, currently experiencing its worst season ever. For good and bad, you can watch every game without cable. Read on to learn how!
In a hurry? If you just want to start watching the Cardinals, these streaming services provide all you need to watch most games:
Fubo: The best streaming service for international sports also provides 130+ well-selected channels. Fubo allows you to try out its service free for 7 days.
DIRECTV STREAM: Get a great channel lineup with the best selection of RSNs in the industry. A 5-day free trial is now available for DIRECTV STREAM.
Sling TV: This low-cost service allows you to select just the channel lineup you want. Save 50% on your first month of Sling TV.
If you can't watch your favorite sports because of your location, get ExpressVPN to access the content you deserve.
Unfortunately, we don't know a streaming service in that covers this sport. But if you've already paid for the right service, and just can't watch because of your location, there is an easy way to get the content you deserve. You need a VPN, like one of the following.
| | | |
| --- | --- | --- |
| | ExpressVPN: Known as "The VPN that just works," it combines remarkable ease of use with with state-of-the-art power, speed, security, and privacy. Get three extra free months when you sign up for a year. Unleash your streaming with this top-rated VPN. | Sign Up Now |
| | Surfshark: Surfshark: Secure and easy to use with thousands of servers around the world. Of special note is its excellent collection of servers inside the US, which is great for regional sports lie NFL, MLB, and NBA. Get it now with an incredible 82% discount on a 24-month plan. | Sign Up Now |
| | NordVPN: One of the top VPNs with extremely fast servers all over the world. Great for streaming with tested perfomance on the biggest servers and included ad-blocking. Currently offering 70% discount on 2-year plans. | Sign Up Now |
If you're overwhelmed and not sure where to begin, you'll find all the answers in our full VPN guide.
Currently a member of the Atlantic Coast Conference (ACC), Louisville has also played in the Big East, the Missouri Valley Conference (MVC), and Conference USA throughout its history.
Sign Up for a Free 7-Day Fubo Trial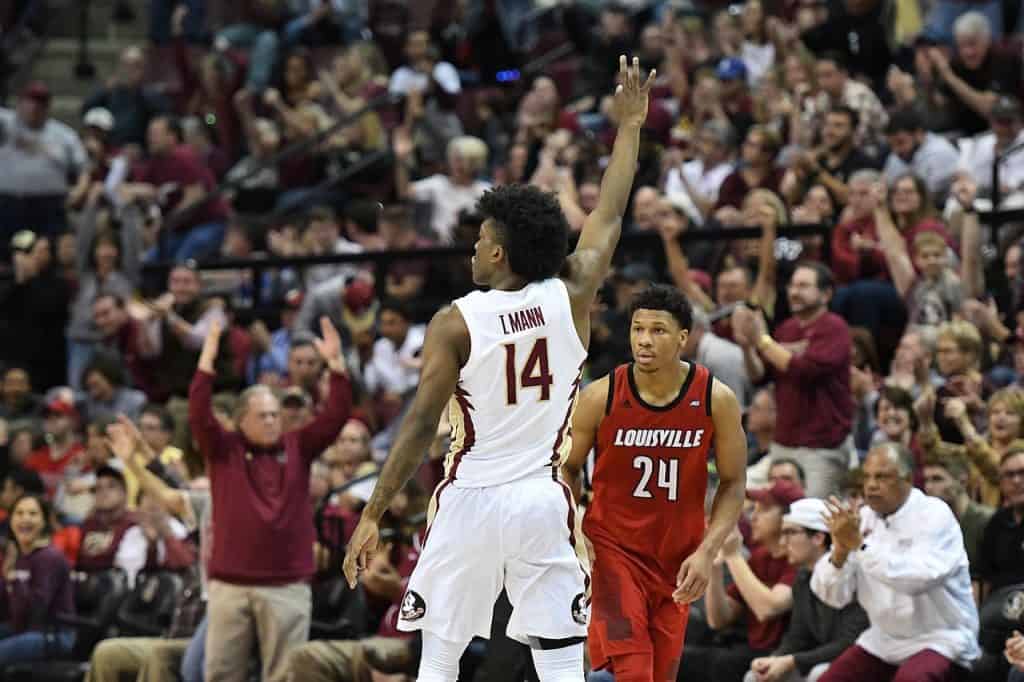 Where to Watch the Louisville Cardinals
University of Louisville basketball games are normally shown on ESPN-affiliated channels. Men's games are generally shown on ESPN, ESPN2, and ACC Network (also ACC Network Extra). Occasionally, games will appear elsewhere such as on CBS.
The women's games are shown on mostly the same channels: ESPN, ESPN2, ACCN, and ACCNX. But some games appear only via streaming. These are provided through the FloSports channel FloHoops as well as ESPN+.
Unblock Your Favorite Events & Teams With a VPN
If you can't watch your favorite events or teams because of your location, a VPN will allow you to get the access you are entitled to, plus extra security and unequalled privacy. Check out our VPN Guide for everything you need to know, including our top pick ExpressVPN.
How to Stream Louisville Cardinal Games
There are a lot of options for watching Louisville without cable or satellite.
FuboTV

The FuboTV Pro package starts at $74.99/mo for 130+ channels. This comes with CBS, ABC, and Fox. It also comes with ESPN, CBS Sports Network (CBSSN), and FS1, which means that you'll be able to watch all of the games that are broadcast to a national cable audience.
If you want ACCN, you need to upgrade with Fubo Extra ($7.99/mo) or Sports Plus ($10.99/mo).
All FuboTV subscribers get 1000 hours of cloud DVR storage and the ability to stream on up to 10 devices at once. Our FuboTV review has all the details.
Sign Up for a Free 7-Day Fubo Trial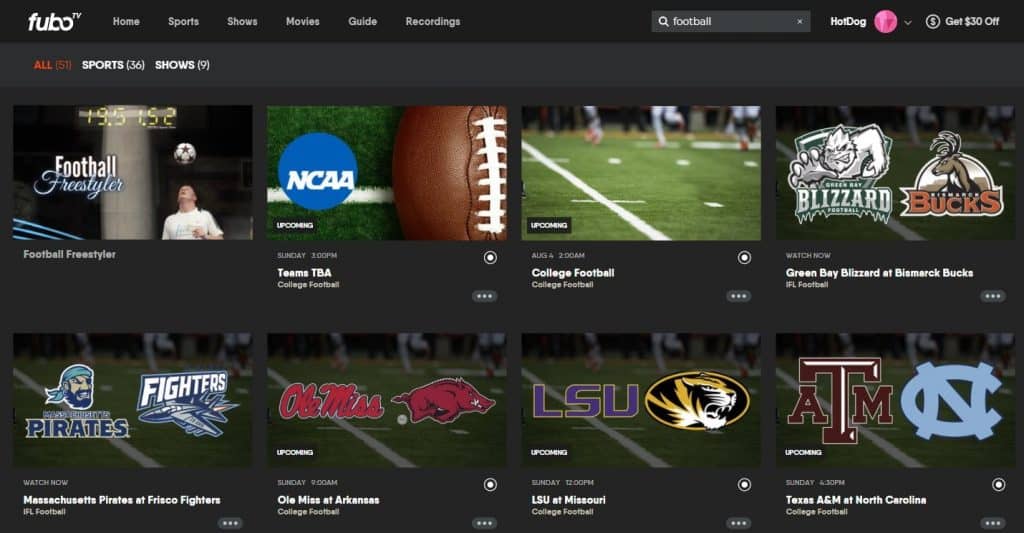 DIRECTV STREAM

DIRECTV STREAM provides roughly 80 channels for $74.99/mo. This includes all your local channels as well as the big sports channels ESPN and FS1.
If you want ACCN, you will need to upgrade to the Choice package ($99.99/mo), which also includes SEC Network, Big Ten Network (BTN) and ESPNU. It also provides access to DIRECTV STREAM's fantastic regional sports networks (RSNs) collection.
You get unlimited hours of cloud DVR storage (online sign up required) and unlimited devices to stream on. Read our DIRECTV STREAM review for more.
Get DIRECTV STREAM Free for 5 Days
Sling TV

Sling Orange is $40.00/mo and comes with ESPN, ESPN2, and ESPN3. If you add Sports Extra for $11/mo, you will also get ACCN and ACCNX right in the Sling app. This will allow you to see most of the basketball games.
If you want ABC and CBS, you can do so by setting up an indoor antenna. Sling allows you to access these channels right in its app. In fact, if you purchase at least two months of Sling, they will throw in a free antenna.
See our Sling TV review for more information. You can also check out our guide to March Madness coverage and schedule.
Hulu + Live TV

Starting at $69.99/mo, Hulu + Live TV provides 85+ live TV channels including ABC, Fox, and other broadcast networks that U of L will likely appear on. And you get ESPN+ and Disney+.
Furthermore, you'll have access to sports channels like ESPN and FS1. And most importantly you get ACCN as part of the service's base package. (You get ACCNX with your subscription through the ESPN app.)
Hulu + Live TV comes with unlimited cloud DVR (9 months of storage) and the ability to stream on up to two devices/TVs at the same time.
For more information, see our Hulu + Live TV review.
Vidgo

The Vidgo base service plan starts at $69.99/mo and offers all of the channels that you'll need to watch all the Cardinals football games. You'll also be able to watch most men's and women's basketball games. And with the money you save, you can get a Paramount+ subscription to get the games on CBS.
One downside of Vidgo is that a cloud DVR only comes with the Premium plan. And then, it is limited to 20 hours of storage. Vidgo does, however, allow you to stream on up to three devices simultaneously.
Check out our Vidgo review for more.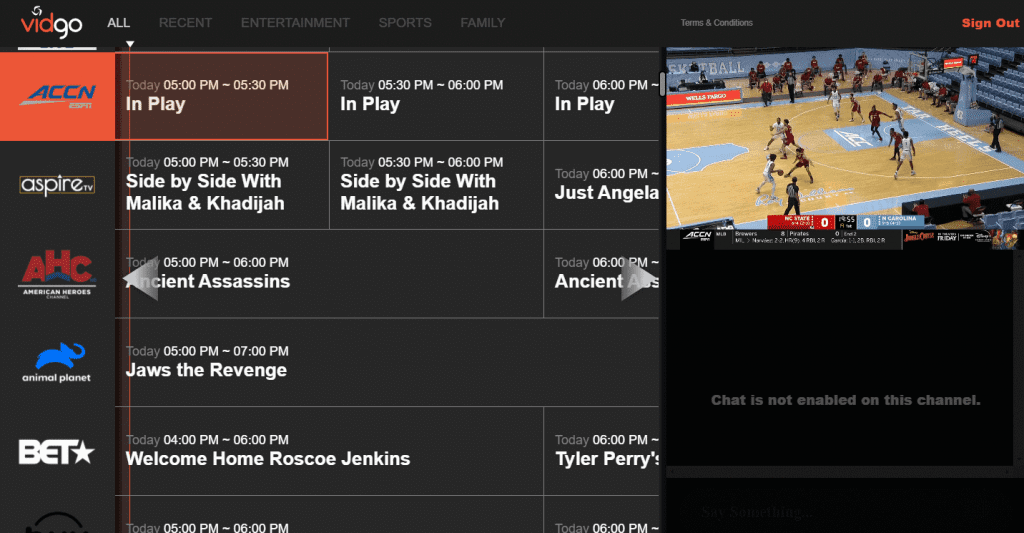 Other Options
Louisville Cardinal games that are not considered to be marquee events will often be available to stream on ESPN+ and FloSports.
Other options include:
YouTube TV: provides a general streaming service for $72.99/mo that is similar to Hulu + Live TV.
ESPN App: You need a streaming service subscription to use this, but it can be convenient. Also, if ACCNX isn't included in your streaming service, you can watch it here.
Devices to Live Stream Louisville Cardinals Basketball Games
These streaming services most likely support whatever devices you already own.
All the services support the common "stick" devices Amazon Fire TV, Apple TV, and Roku. And that goes for Android and iOS mobile devices. Finally, you can use Chromecast to cast from mobile devices and web browsers to your TV.
All the services (other than Vidgo) support Samsung smart TVs. LG and Vizio smart TVs are supported by Hulu, Sling, and FuboTV. FuboTV supports Hisense smart TVs. And all the services support Android TV-based devices.
Hulu, Sling, and FuboTV all support the Xbox One. Hulu also supports the PlayStation. And Sling TV supports the Oculus.
Our individual reviews have all the details about supported devices.
Superpower Your Streaming With a VPN
For the sake of privacy, security, and access, you should be using a VPN. They are low-cost and easy to use. We've been using them for years and our top pick is ExpressVPN. Be sure to check out our deals page on ExpressVPN, NordVPN, SurfShark and PureVPN.
Louisville Basketball
Louisville started its basketball program relatively late, in 1911. And there wasn't much too it for a long time. But after it got going, it was impressive.
Louisville Cardinals Men's Basketball
The men's basketball program became mature starting in 1944 with the hire of Bernard "Peck" Hickman as head coach. He stayed with the team through 1967 and garnered a 443–183 (71%) record. Under him, the team reached the NCAA Tournament Sweet 16 three times and the Final Four once.
Denny Crum was the next long-term head coach, leading the team for three decades starting in 1971. Under him, the Cardinals won two NCAA Tournaments in 1980 and 1986. After him, Rick Pitino had great success leading to an NCAA Tournament win in 2013, but this period was tarnished by a much-publicized escort sex scandal.
The last couple of years has seen the Cardinals in a period of rebuilding. The 2022-23 season has been particularly bad under new head coach Kenny Payne. It's the worst they've suffered since before Hickman took over the team during World War II.
Men's Basketball Schedule
Wed Nov 9 : Bellarmine (67) at Louisville (66) (ACCN)
Sat Nov 12 : Wright State (73) at Louisville (72) (ACCNX)
Tue Nov 15 : Appalachian State (61) at Louisville (60) (ACCN)
Mon Nov 21 : Arkansas (80) at Louisville (54) (ESPN2)
Tue Nov 22 TBD: Texas Tech (70) vs Louisville (38) (ESPN or ESPN2)
Wed Nov 23 : Cincinnati (81) vs Louisville (62) (ESPN)
Tue Nov 29 : Maryland (79) at Louisville (54) (ESPN or ESPN2)
Sun Dec 4 : Miami (80) at Louisville (53) (ACCN)
Sat Dec 10 : Louisville (53) at Florida State (75) (ACCN)
Wed Dec 14 : Western Kentucky (83) at Louisville (94) (ESPN2)
Sat Dec 17 : Florida A&M (55) at Louisville (61)
Tue Dec 20 : Lipscomb (75) at Louisville (67) (ACCNX)
Thu Dec 22 : Louisville (64) at NC State (76) (ACCN)
Sat Dec 31 : Louisville (63) at Kentucky (86) (CBS)
Tue Jan 3 : Syracuse (70) at Louisville (69) (ESPN/ESPN2/ESPNU)
Sat Jan 7 : Wake Forest (80) at Louisville (72) (ACCN)
Wed Jan 11 : Louisville (70) at Clemson (83)
Sat Jan 14 : North Carolina (80) at Louisville (59) (ESPN)
Wed Jan 18 : Pittsburgh (75) at Louisville (54) (ACCN)
Wed Jan 25 : Louisville (65) at Boston College (75) (ACCN)
Sat Jan 28 : Louisville (62) at Notre Dame (76) (ESPN)
Wed Feb 1 : Georgia Tech (58) at Louisville (68)
Sat Feb 4 : Florida State (81) at Louisville (78) (ESPN/ESPN2/ESPNU)
Tue Feb 7 : Louisville (57) at Pittsburgh (91) (ACCN)
Sat Feb 11 : Louisville (85) at Miami (93) (ACCN)
Wed Feb 15 : Virginia (61) at Louisville (58) (ESPN/ESPN2/ESPNU)
Sat Feb 18 : Clemson (73) at Louisville (83) (ACCN)
Mon Feb 20 : Louisville (62) at Duke (79) (ESPN)
Sat Feb 25 : Louisville (67) at Georgia Tech (83)
Tue Feb 28 : Virginia Tech (71) at Louisville (54) (ACCN)
Sat Mar 4 TBD: Louisville (60) at Virginia (75) (ESPN/ESPN2)
Louisville Cardinals Women's Basketball
Louisville did not build a women's basketball team until 1975 but they were strong from the start. They saw their first conference tournament championship in 1980 and first NCAA tournament appearance in 1983. And they made the Final Four just last year.
They are not considered as strong this year but they are still just outside the top-25 rankings in the NCAA and have a decent shot during March Madness.
They are currently coached by Jeff Walz. He's been doing so since 2007. Through the 2021-22 season, the Cardinals' record is 414-113 (79%). The main squad consists of Hailey Van Lith, Chrislyn Carr, Morgan Jones, Olivia Cochran, Mykasa Robinson, Liz Dixon, Nyla Harris, Merissah Russell, and Josie Williams.
Women's Basketball Schedule
Nov 7 : vs Cincinnati (ACCN)
Nov 10 : vs IUPUI (ACCNX)
Nov 13 : @ Belmont (ESPN+)
Nov 19 : vs Gonzaga (FloSports)
Nov 20 : vs Texas (FloSports)
Nov 21 : vs South Dakota State (FloSports)
Nov 25 : vs Longwood (ACCNX)
Nov 30 : vs Ohio State (ACCN)
Dec 4 : @ Middle Tennessee (ESPN+)
Dec 6 : vs SIU Edwardsville (ACCNX)
Dec 11 : @ Kentucky (ESPN)
Dec 14 : @ Bellarmine (ESPN+)
Dec 18 : @ Pittsburgh (ACCN)
Dec 21 : @ DePaul (FS1)
Dec 29 : vs Syracuse (ACCNX)
Jan 1 : @ Duke
Jan 5 : vs Georgia Tech (ACCN)
Jan 8 : vs Pittsburgh (ACCN)
Jan 12 : @ Virginia Tech (ACCNX)
Jan 15 : @ Florida State
Jan 19 : vs Boston College (ACCNX)
Jan 22 : vs NC State (ABC)
Jan 26 : @ Wake Forest (ACCN)
Jan 29 : @ Syracuse (ACCN)
Feb 5 : vs North Carolina (ESPN2)
Feb 9 : @ Virginia (ACCNX)
Feb 12 : vs Clemson (ACCNX)
Feb 16 : at Notre Dame (ESPN)
Feb 19 : at Boston College (ACCN)
Feb 23 : vs Miami (ACCN)
Feb 26 : vs Notre Dame (ESPN)
Wrapping Up
Whether you went to the University of Louisville, are a Louisville native who follows the team, or simply enjoy ACC sports, it won't be hard to watch the Cardinals on television.
They appear on a variety of channels that most streaming services offer as part of their base package or as part of an affordable upgrade to a base package.
Sign Up for a Free 7-Day Fubo Trial
FAQs
Who are some of Louisville basketball's most famous student-athletes?
NBA stars Donovan Mitchell and Ray Spalding attended the University of Louisville. But many other great players of the past have come from the school. These include Wes Unseld, Darrell Griffith, and Pervis Ellison. Not surprisingly, the WNBA has been riddled with former Cardinals including Asia Durr, Emily Engstler, Dana Evans, Myisha Hines-Allen, and Angel McCoughtry.
Who are Louisville's biggest rivals?
Throughout its history, Louisville's biggest rival has been the University of Kentucky. The two schools often play each other, and the games are generally close contests despite the fact that the two schools aren't always evenly matched. In most years, the Kentucky men's basketball team is superior to the Louisville basketball team. It's the opposite for the women's teams.
Where does Louisville play its home games?
The Louisville Cardinals basketball team plays its home games on Denny Crum Court at the KFC Yum! Center. It shares the stadium with the volleyball team, which is almost always one of the best in the country. In fact, Louisville volleyball won the school's first-ever ACC title in any sport in 2015.
How can I watch other NCAA basketball teams?
Read our college basketball and March Madness guides. If you are looking for particular basketball teams, see these:
Ditch "Big Cable" Now – 3 Simple Steps to Cut the Cord
Pick the right streaming service
Get the content you deserve with the best VPN.
Supercharge your internet provider
That's it — you'll save money, take back control, and enjoy TV more!
Page Updates
▼
▲
Updated some sub-sections. Updated some section headings. Put related links.

Added links to streaming services. Added buttons for streaming services. Added sub-section. Updated some section headings. Updated some sub-sections. Pricing updates.

More links. Formatting changes. Misc changes to content.

Updated some sub-sections. Image changes. Pricing updates.

Added buttons for streaming services. Added links to streaming services. Updated some sub-sections. Image changes. Pricing updates.

Image changes. Pricing updates. Put related links.

Updated some sub-sections.
Latest posts by Frank Moraes
(see all)